Posted by

Janine

on 10 Jul 2017 in blog
Last weekend I went to visit James and Eppa who, as of last year, now live in Canterbury. I'd only ever been to Canterbury once before, as a child, and all I remember about it is the toy cat my parents bought for me when we there there. Understandably, I was eager to go again as an adult, now I actually have some idea of Canterbury's long history. (Unfortunately, I got no toy cats on this trip. But I did get to play with James and Eppa's cat, Dale, so it wasn't all bad.)
James and Eppa's new house is lovely, and their new garden is lovely too. We spent a lot of time sitting in it, and I was also fed some fresh garden produce: blackcurrant cordial, blackcurrant jam (on American pancakes), and a gooseberry crumble. Not from the garden, but still good, I was also fed a really tasty lamb and orzo dish, and then just before I hopped on the train home we stopped at Pork & Co for a mound of pulled pork. I have been spoiled.
When we weren't eating, lounging in the garden, or playing with James and Eppa's kids, Rene and Jack (and, by God, aren't they growing fast!) we went to do some sight-seeing. I think it's pretty impressive the amount we saw in two days. Here is the photo tour: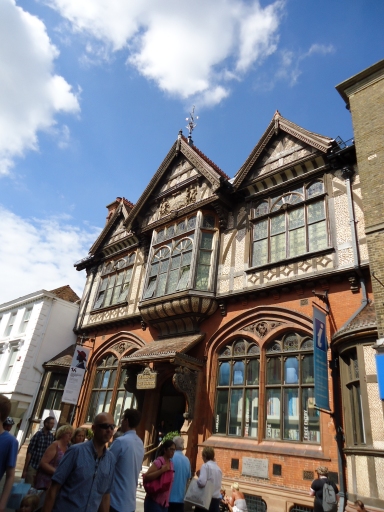 This is the Beaney library and museum. What an impressive frontage! It was built in the 1890s, but they were clearly going for an older style. Inside it's been refurbished and is very swish. They also have a lot of toys and fun things for children, which Rene had a great time showing to me.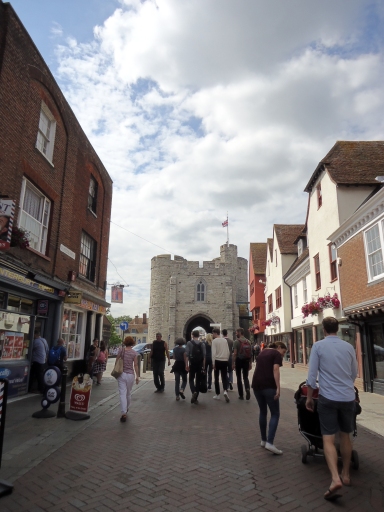 After passing the Beaney we walked to the Westgate, one of the surviving gates through the ancient city walls. At this point I kept boring James and Eppa by pointing out that Winchester (another historic city, which I visited last year) also has a surviving Westgate that contains a museum, just like this one.
I compared Winchester and Canterbury constantly throughout the trip. They have their differences, but they're both quite similar in the amount of history they can lay claim to; both places are fascinating.
In Canterbury, huge swathes of the city walls are still standing, which is rather cool. Also, unlike Winchester, the arch underneath the Westgate is still used as a road into the city. How cool is that? That road has only been in existence for over 1500 years. OMG.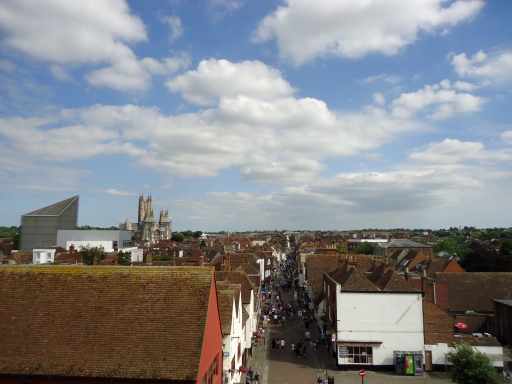 Here's the view from the top of Westgate, where you can see the line of the road in all its glory. Also, Canterbury Cathedral is there in the background. And, while Winchester cathedral is also of historical interest, can it boast an archbishop? Or such a popular pilgrimage destination? I don't think so.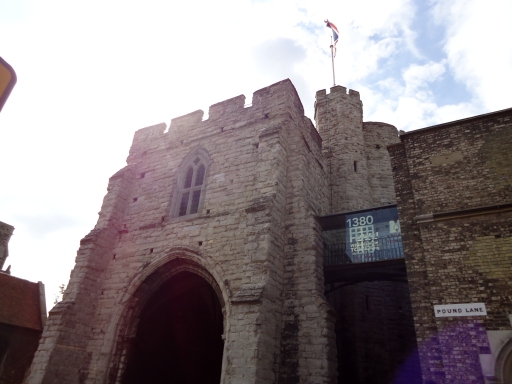 Here's the Westgate from the outside.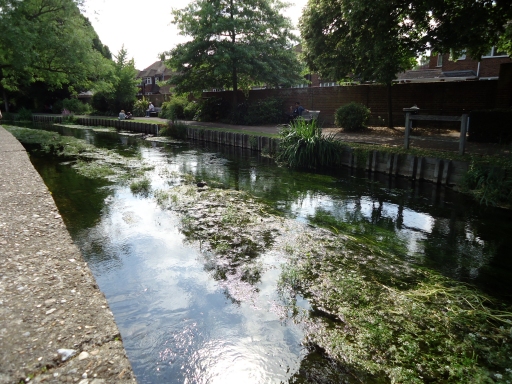 The Westgate is beside the river Stour, which is a small, dainty thing. We went to a park nearby and watched people on boats going up and down.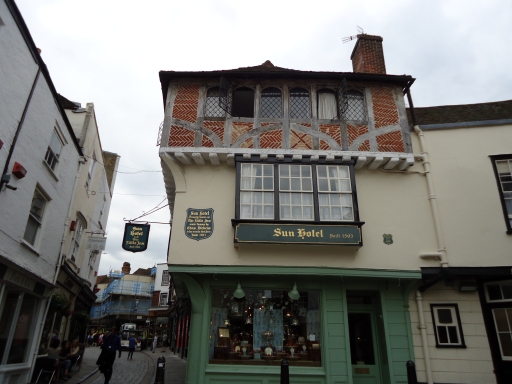 There are loads of old buildings in Canterbury. This one is an inn where Charles Dickens stayed, or something.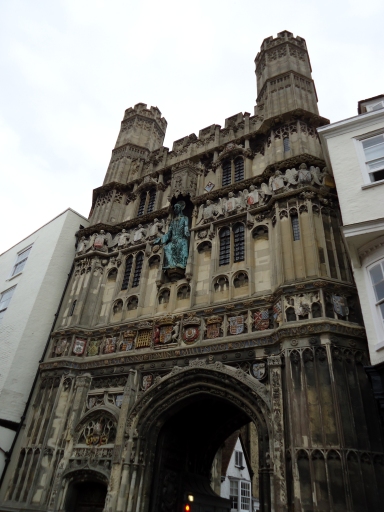 Then we went to visit the cathedral itself. (How can you have a history tour of Canterbury without taking in the cathedral? You can't.) Or rather, James and I went to visit the cathedral while Eppa took the kids to the park so they could run around.
This is the gate to the cathedral in Buttermarket. It's known as Christ Church Gate and is hugely impressive. Look at all those carvings! Apparently it dates from the early-16th Century, although the statue of Christ was added in 1990 after the original was destroyed in a Puritan fervour.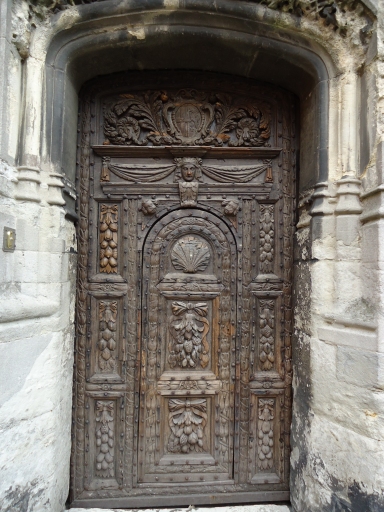 The pedestrian door in the gate is gorgeous. And I can't tell you how much I love little doorways inside big doorways!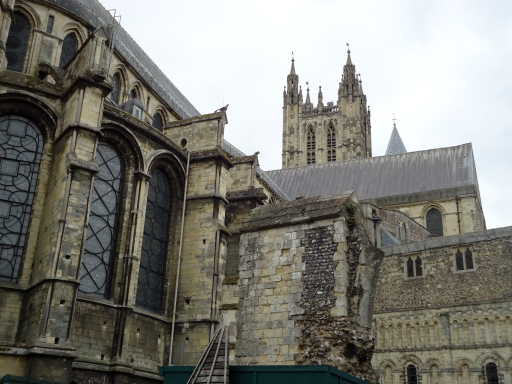 James and I didn't go inside the cathedral, because it sounded like there was a service going on, but we did walk around the outside. (This was almost the only part of the exterior that didn't have scaffolding on.)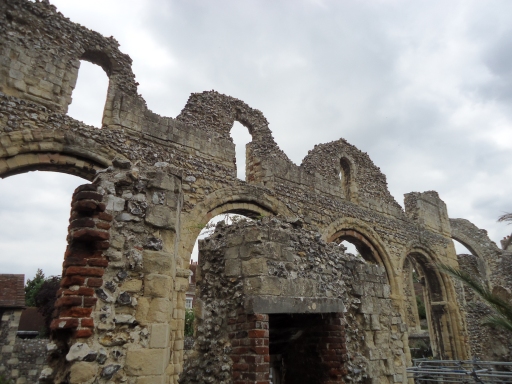 There were some huge ruins beside the cathedral, but we weren't sure what they were. One sign said they might have been an infirmary? Some part of the religious complex, anyway. I would love to learn more about the history of the cathedral. It's so old!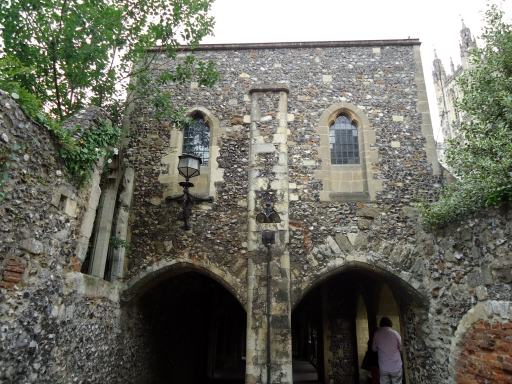 This entry to the cathedral is, I think, known as the Dark Entry. You can tell why!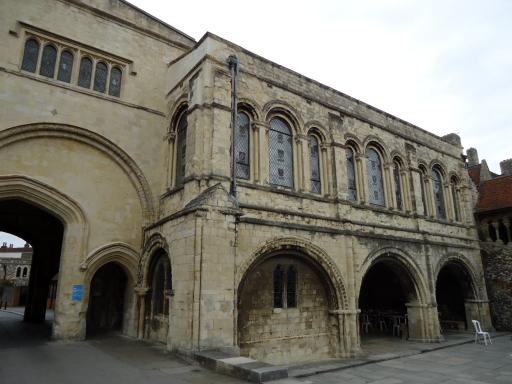 After walking out of the cloister through the Dark Entry, we found ourselves in the middle of some school fête and quite lost. There were still lots of pretty buildings in this part of the cathedral precincts though.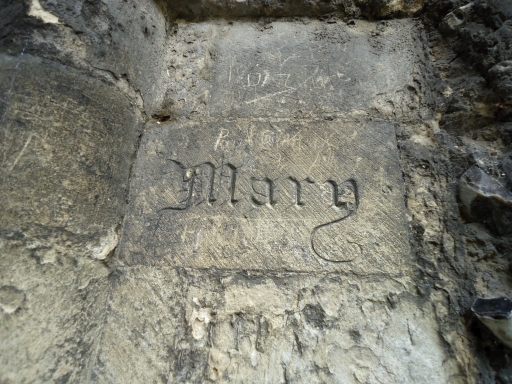 We quickly traced our way back to the cloister before anyone realised we weren't anything to do with the school. In the cloister I found this fab piece of graffiti. (I'm assuming it's religious graffiti rather than written by someone called Mary.)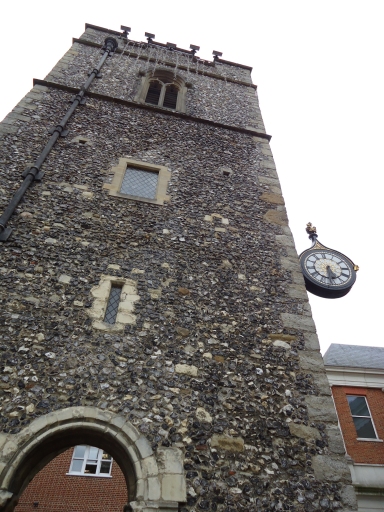 After the cathedral we wandered past this old church (or what's left of it) where Christopher Marlowe was christened.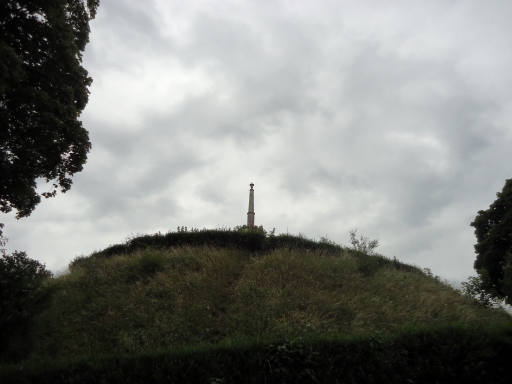 We found Eppa, Rene and Jack in the Dane John Gardens, where they have an awesome-looking maze for kids. Dane John Gardens is also the site of the earliest castle in Canterbury. Here's the mound it sat on.
And that's it for the photo tour. We also went to the Canterbury Heritage Museum (if you have children with you, make sure to head to the Rupert Bear section at the end) but I completely neglected to take photos while we were in there.
All in all, I had a great time. And because James and Eppa live there, I'll be able to go back some other time to soak up more history!