Posted by

Janine

on 17 Jul 2016 in blog
My main purpose today is to give you the lowdown on a lovely trip to Winchester I went on in April. But first I thought I'd share some upsetting family news.
My Nan (my Mum's Mum) died just after Easter. She'd been ill for several years with osteoporosis; but while that had made her very uncomfortable, it wasn't anywhere near fatal. Just before Easter she went into hospital with jaundice and they found out she had pancreatic cancer. In only two and a half weeks she was gone. Thankfully I was able to see her in that time, but it was all very sudden and a shock to everyone. I've come to terms with it now, and it seems like my Mum has too. Everyone (it's a large family) is rallying around my Granddad, who's trying to cope with living alone after over 60 years of marriage. He seems to be doing as well as he can.
Winchester
In other news, my parents and I took a long weekend in April to go on a quick trip to Winchester (while trying to forget other events). It's not particularly far from London, but I'd never been there before. I fell in love with the place almost instantly (despite the fact the it rained pretty much the whole time we were there). Not only did I love the fact that the city was small enough that you could walk everywhere (always a novelty), but IT HAS SO MUCH HISTORY.
So many old buildings in that place! From so many different centuries! The real highlight is the medieval stuff, and there are plenty of gorgeous half-timbered buildings about. The real heyday of Winchester was before most of those buildings were built though, and before the Norman conquest. Apparently King Alfred (he of the burnt cakes) had a lot to do with Winchester. It was certainly important in terms of government back in the Saxon times. A big royal mint was there (and maybe the treasury?) and it was the home to the Bishop of Winchester who was a big cheese.
There was so much history in the place that I basically spent all four days screaming internally. Good times. Let's have a photographic recap.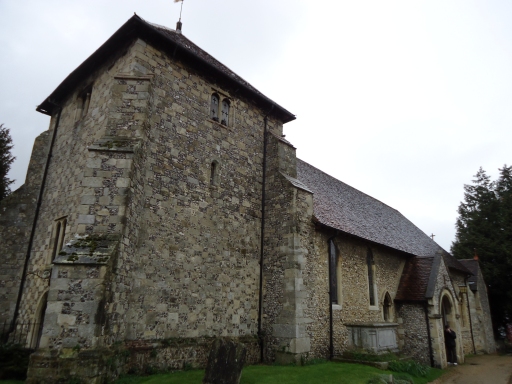 This is the church of St Bartholomew's, which used to be outside the city. It's super old, if the Romanesque doorway is anything to go by.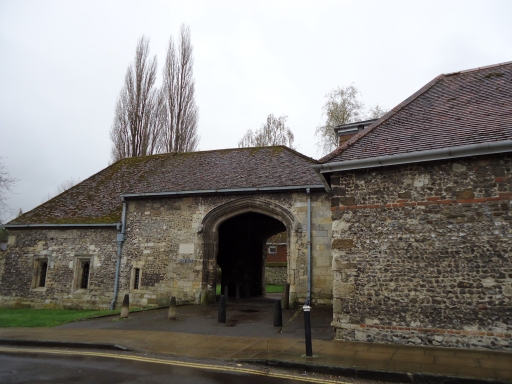 St Bartholomew's used to stand opposite Hyde Abbey, of which this gatehouse is one of the only parts still standing. Also super old. They say King Alfred was buried here. (We saw this on our first walk into the city on our first day there. I was already in love with the place from this alone.)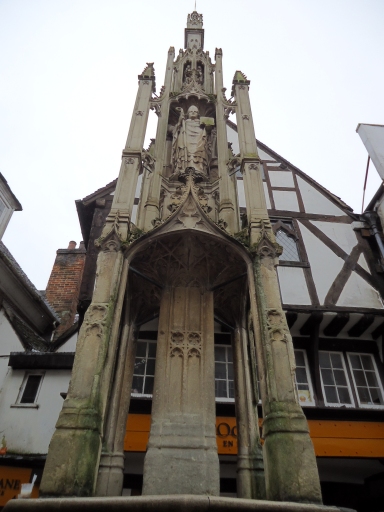 In the middle of the High Street, right in the middle of the city, you have the Butter Cross. I love a good old medieval cross. Apparently on either side of the Butter Cross were two taverns, one called Heaven and one called Hell. (And you can imagine that the people who drank there found those names very amusing.) I was also excited by the fact that just behind the Butter Cross was apparently where William the Conqueror had a palace!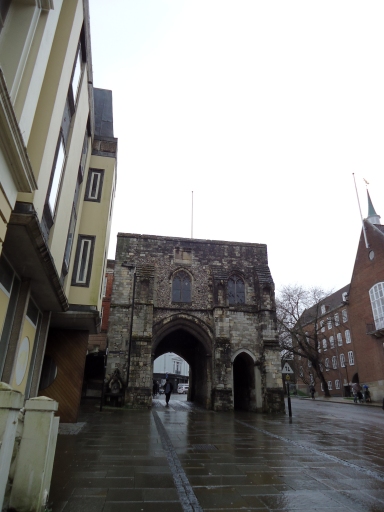 This is the West Gate in the old city walls. It's a tiny museum and you can actually go inside!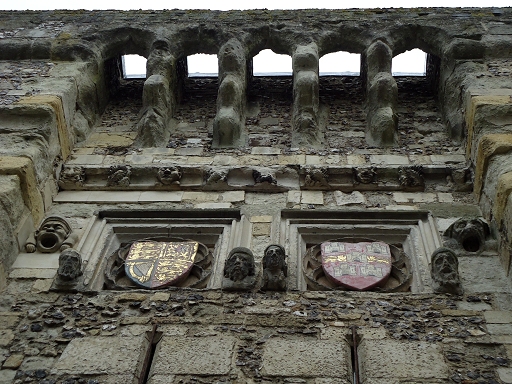 Here's a close up of the west side of the West Gate. I'm loving those carvings.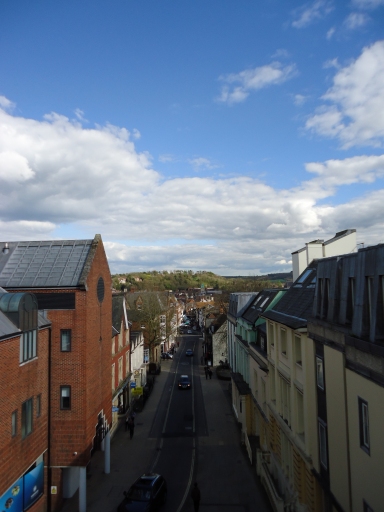 You can climb onto the roof of the West Gate, and because it's up a hill, you get a great view right down the High Street. Apparently the High Street lies along the line of a track that pre-dates the city (we're talking before the Romans, guys). This track has been used for so long that it's actually a hollow way; if you walk along it, you see that all of the side streets coming from it slope upwards. (Cue more internal screaming from me.)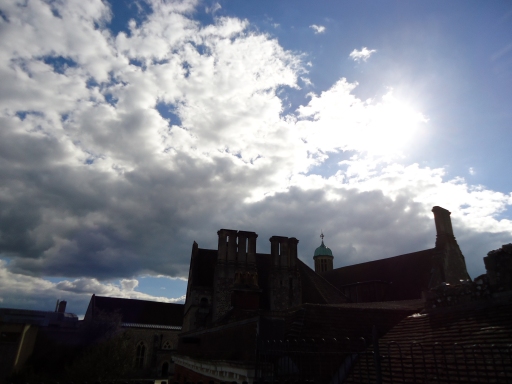 Another view from the roof.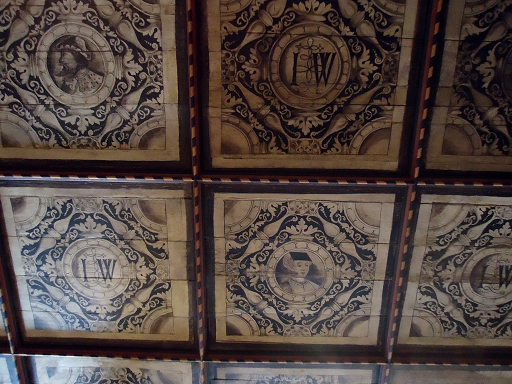 Inside the West Gate they have this lovely ceiling, although I don't know if it's been moved there from somewhere else. Part of my memory suggests that this ceiling was created to celebrate the wedding of Mary I with Philip II of Spain, which took place in Winchester Cathedral. (I mean, I could just be making that up though.)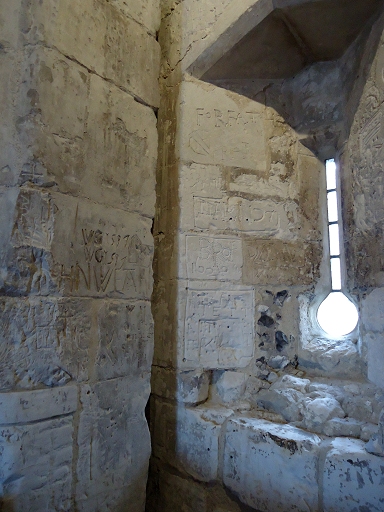 Look at this! At one time the West Gate was used as a debtors' prison. And the walls are full of graffiti from the prisoners. Guys. I LOVE OLD GRAFFITI. Love it love it love it! Yes, that graffiti on the left there does indeed say 1597. I'm not screaming, you're screaming.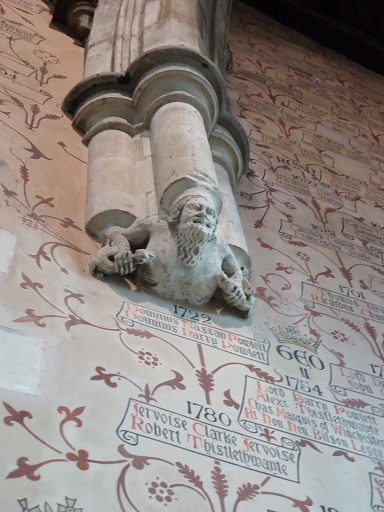 Next up is the Great Hall, another medieval building. This one used to be part of Winchester Castle. I was having fun looking up and noticing all the carvings on the walls.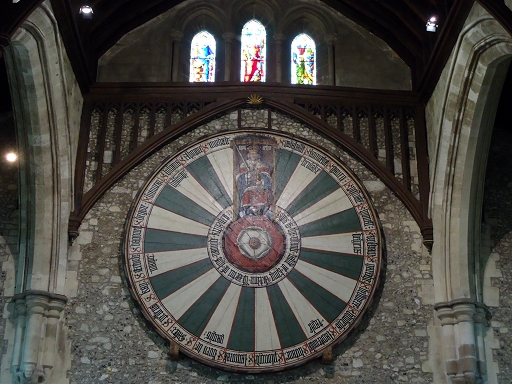 In the Great Hall hangs the round table. The table dates to the time of Edward I (who presumably commissioned it during a bout of Arthurian fanboy glee). It was painted later on the orders of Henry VIII (hence the massive Tudor rose in the centre).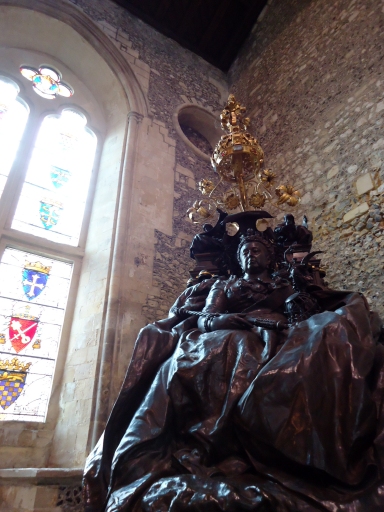 A statue of Queen Victoria also sits in the Great Hall, for reasons I don't quite remember.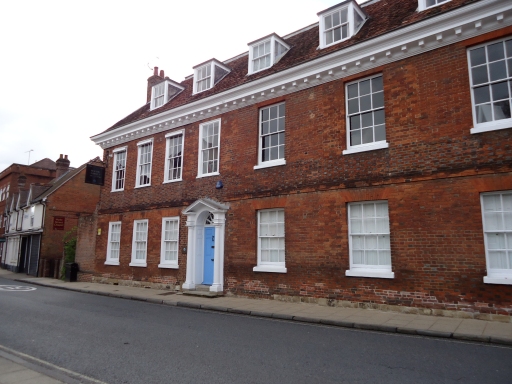 Back out in the streets, Winchester is an odd mix of medieval and Georgian buildings. They proudly proclaim themselves to be the city where Jane Austen came to die. Charming. (No, really, it is charming. The whole place is beautiful.)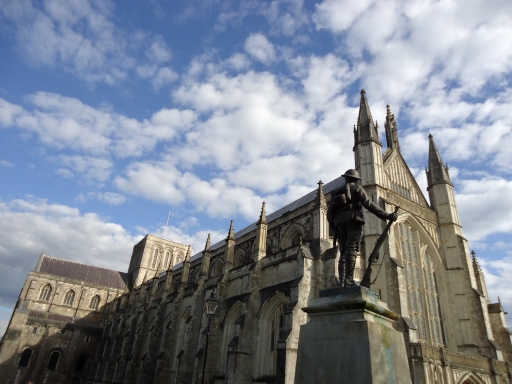 Next we have the Cathedral (with its WWI memorial statue). We didn't go inside the Cathedral, because we didn't fancy paying the entrance fee, but the outside is still pretty impressive.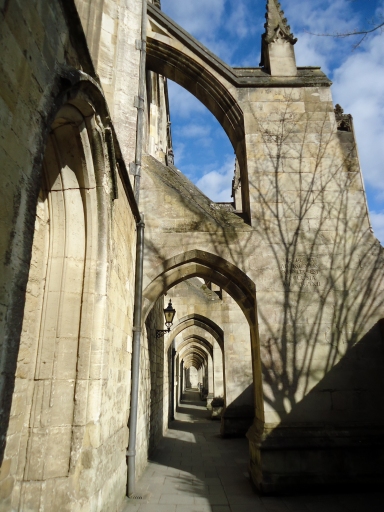 Flying buttresses outside the Cathedral.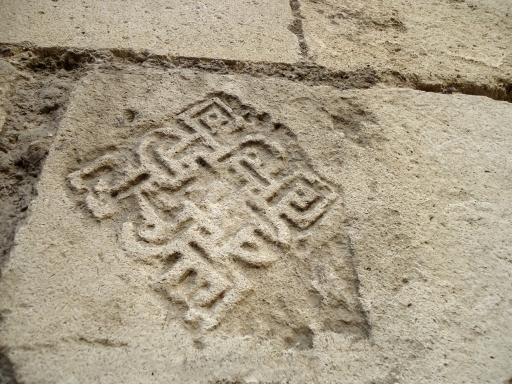 And this happens everywhere in Winchester. You're just walking along and you happen to look at the wall beside you and you realise the stones are really interesting. This carved stone has obviously been cannibalised from another building and plonked in the side of the Cathedral. There are random carvings all over the place.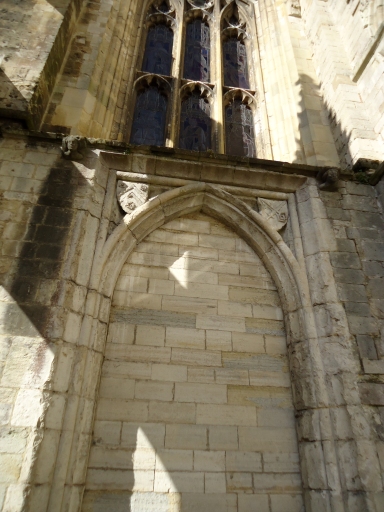 Another thing you find in Winchester: old, blocked doorways. There's not much I love more than a blocked-up doorway. What was it used for? Why did it get blocked up? So many questions! (Every blocked doorway is a story waiting to be told.)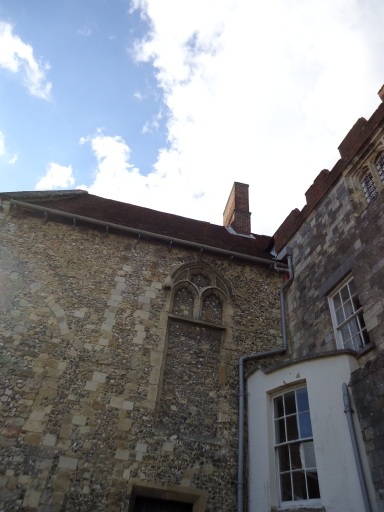 Oh yeah, but blocked-up windows are pretty cool too.
Near the Cathedral you come to this gorgeous place: Cheyney Court. It used to be a court house and is now so picturesque that I was in serious danger of hyperventilating. (None of my photos could quite do it justice.)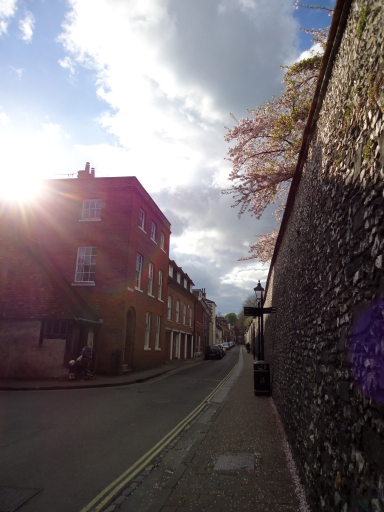 Then you step through the gate next door and you're outside the Cathedral walls again (see that big wall on the right). I love the thought that so much of the city was originally taken up with religious houses. The big walls make it very clear that they were not places that everyone could go into. I wish I knew more about just how religious communal life worked in the middle ages, and what the difference was between an abbey and a minster and a college and all those other terms. Time to read more, I reckon.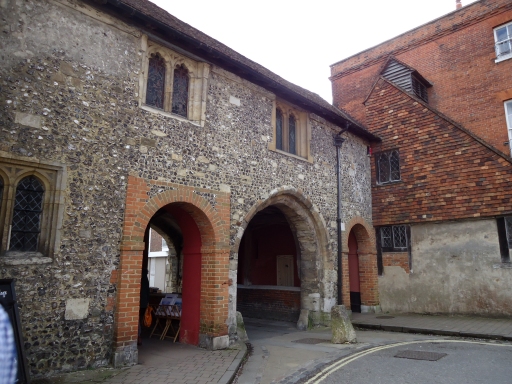 Not to be outdone, we now come to the city walls and another city gate. This one is Kingsgate, which has a church on top! The church is known as St Swithun-upon-Kingsgate. I've never seen such an odd-looking church before.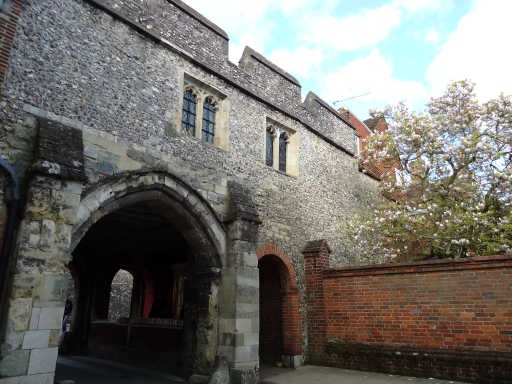 Here it is on the other side, flanked by a lovely magnolia tree. (This trip was in April, remember. Not pictured: how bloody cold I was feeling by this point.)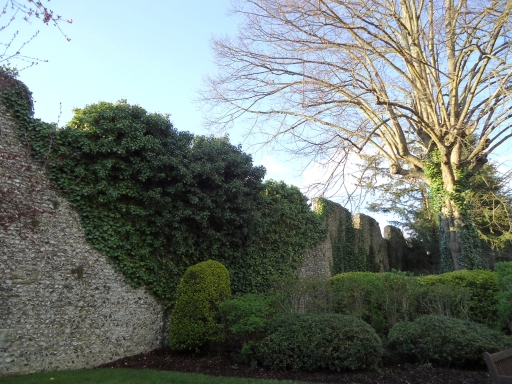 After a brief pub stop to warm up, we then walked around the rest of the city walls. The walls were, I think, first built by the Romans, and then rebuilt and repaired into the middle ages. I remember talking about how King Alfred used them to fend off the Vikings (but I've no idea now where I got this fact from; I may just have made it up). Anyway, the walls have definitely been used over the years!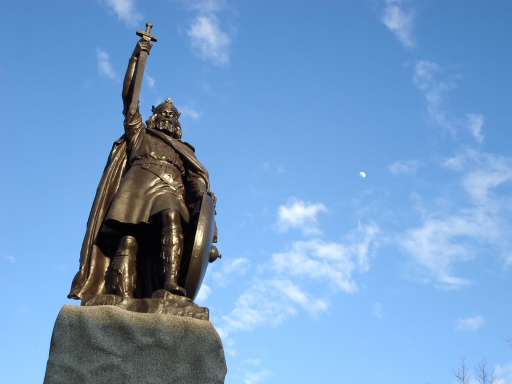 Speaking of King Alfred, the folks in Winchester are rather proud of their association with the guy. Check out this Victorian statue of him. (Just, like, don't mention those burnt cakes, ok?)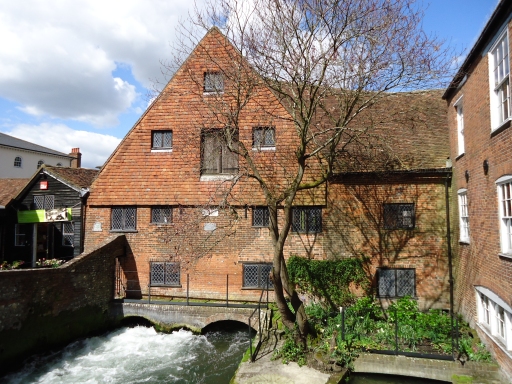 Here is the City Mill, right on the city walls. Apparently a mill has been on this site for hundreds of years. This particular building dates from the 18th Century, making it one of the newer buildings in the city! We didn't go in the mill, but we did spend ages watching a wagtail dart above the water catching insects.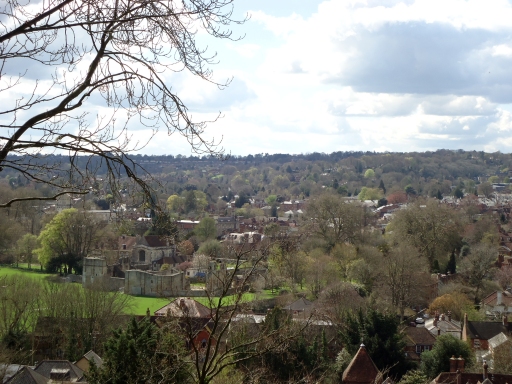 Then we walked up St Giles Hill. This hill is where St Giles Fair used to be held each year. You get a wonderful view over the city from up there. In this photo you can see the ruins of Wolvesey Castle, the Bishop's Palace (yet another large piece of land within the city that was walled off and private). Looking at this really brought it home to me just how much of a big cheese the Bishop of Winchester was.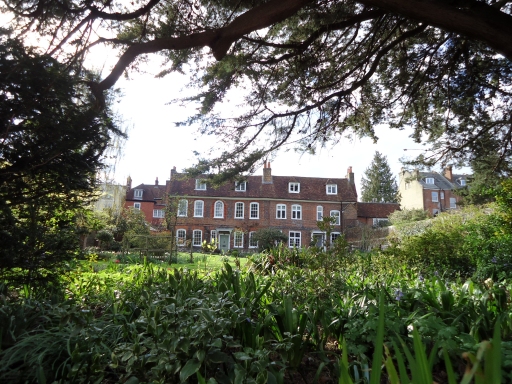 And finally, on the last day, too sad to leave, we spent our last hour wandering the little side streets of the city, looking at all the unexpected, beautiful things. Like these houses. What a wonderful garden that is! It was only when I got home and looked it up that I realised that this garden was so big because it used to be the sight of a church that was later knocked down. And that really sums up Winchester for me. History lurks everywhere in that city. Layers upon layers upon layers of it. I can't get enough. I want to go back!