Food post - 20 March 2016
Posted by

Janine

on 20 Mar 2016 in blog
Look at this! A new food post in an almost timely manner! What happened?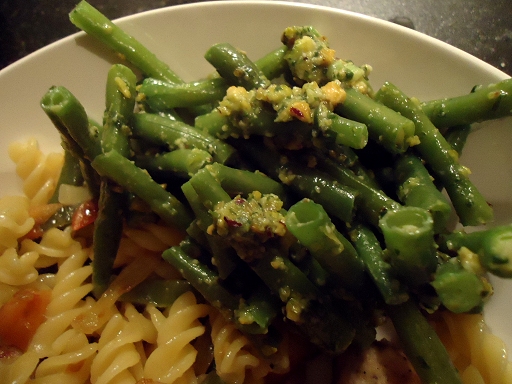 Green beans with pistachio pesto (recipe from "Nigellissima: Instant Italian Inspiration" by Nigella Lawson)
I'd never made green pesto before. This pesto recipe is similar (I assume) to normal pesto, but has pistachios instead of pine nuts. There was something about it, however, that made it taste a little less nice (in my opinion) that store-bought pesto. Could it really be the pistachios? But pistachios are tasty! The problem for me was that it was a little too rich and lacked a tang to back it up (should there have been more basil?) Of course, it doesn't help that the green beans I bought happened to be really tough, stringy ones. I would probably have been much happier with the taste if it wasn't accompanied by the texture of shoe leather.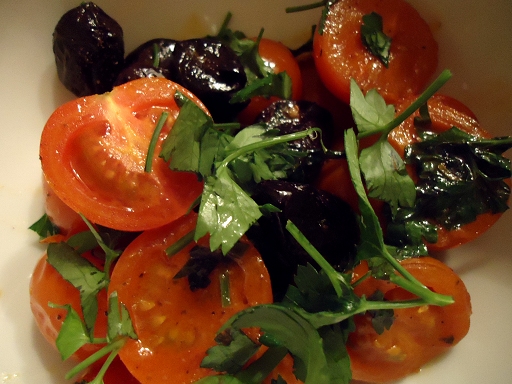 Cherry tomatoes with olives (recipe from "Nigellissima: Instant Italian Inspiration" by Nigella Lawson)
I left out the pink vermouth from this but the dish still had big flavours. The tomatoes were really sweet and lovely. Unfortunately I find the dry-packed black olives that Nigella recommends to be far too salty for my taste. With different olives, I imagine this could be really nice!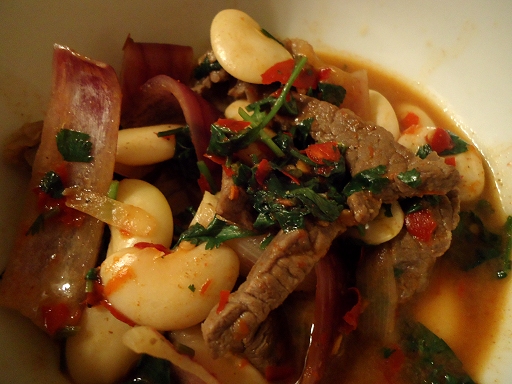 One-pot Mexican beef stew
I couldn't for the life of me find any chipotle chilli paste, let alone chipotle chilli paste with smoked paprika too. Instead I substituted some normal chilli paste and dumped in a whole load of smoked paprika. I don't think I've ever knowingly eaten chipotle chillies so I've no idea what difference this substitution made. But the dish was really tasty anyway. I had worried it would be too hot, but instead it just had a nice warmth. The only issue was a small portion size but, between you and me, I believe I may have got my weights wrong and added less beef than I was supposed to.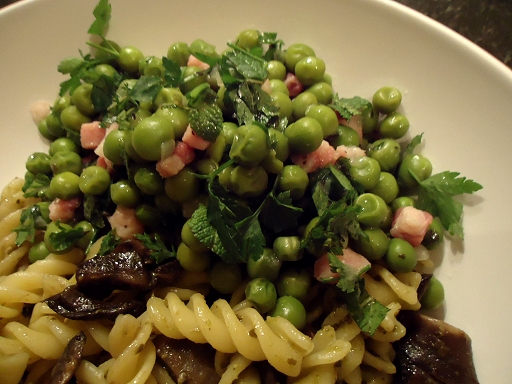 Peas with pancetta (recipe from "Nigellissima: Instant Italian Inspiration" by Nigella Lawson)
Here's a thing that's useful to know about me: I don't like peas. They're not totally abhorrent by any means; I will eat them without fuss if you put them in front of me and I've even gone out and bought some without prompting before! But, if you gave me a choice between peas and almost any other vegetable (barring Brussels sprouts) I would not be choosing the peas. Oh, and one more piece of info for you before we hop to it: I didn't put the vermouth in this. So, I hate peas, and I didn't even bother adding all the ingredients, but you know what? These were actually pretty good! They're not super-amazing (because, you know, peas) but they were pretty darn tasty. Perhaps, even, the best peas I've ever eaten! My problem with peas is that they're too sweet, so the garlic, shallot and pancetta in this added a nice savoury flavour and cut down some of that sweetness. Yummy!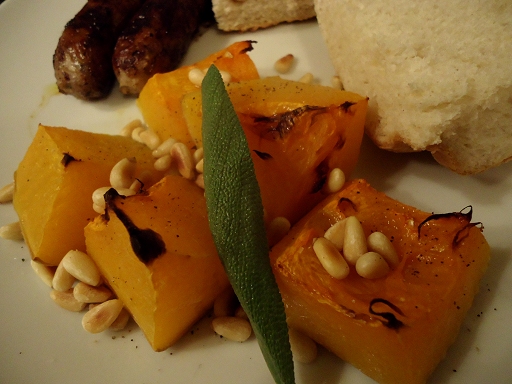 Roast butternut with sage and pine nuts (recipe from "Nigellissima: Instant Italian Inspiration" by Nigella Lawson)
I rarely cook with butternut squash because it's so hard to chop! (Actually, this suddenly explains why one of my hands is feeling a bit bruised today; I made this dish the night-before-last.) Chopping over, though, this is really easy to cook. And you don't even have to peel off the skin! (I hadn't realised before that you could eat the skin of a butternut squash once it was roasted. When I ate this, I started by trying to take off the skin, but it was so soft I gave up and just ate it instead; not a bad taste, and extra fibre too. Score!) It's not my favourite dish though. The butternut squash is too sweet for my taste and there's nothing to cut out that sweetness (the added lemon juice just makes it tart and sweet at the same time). Oh, and I've never been a massive fan of toasted pine nuts; they just become too oily and rich for me. Verdict: edible, but not one I'll be making again.
3 comments
I love tomato salad! It's almost tomato time here in the US (maybe everywhere else too), so I'm going to be eating many versions of #2 soon. Everything looks amazing, as usual, and I'm going to stop here so I don't look more like a stalker than I have to :]
I have absolutely no problem with you looking like a stalker! Not that reading blog posts count as looking like a stalker anyway.
If you want to make this particular tomato salad, you may find it useful to know that other ingredients included garlic oil, parsley and rosemary. Everything was heated (briefly) in a pan so that the tomatoes got all juicy. Sweet tomatoes, like cherry tomatoes or baby plum tomatoes are your friend here. But, man, those dry-packed olives are little salt nuggets :\