Food post - 7 February 2016
Posted by

Janine

on 07 Feb 2016 in blog
Happy February, folks! Here's what I've been cooking recently.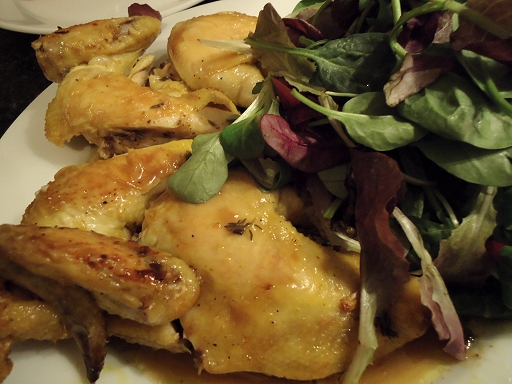 Chicken under a weight (recipe from "Nigellissima: Instant Italian Inspiration" by Nigella Lawson)
Ok, so this recipe is actually meant to be "Chicken under a brick". There are a few bricks in my front garden but they are utterly filthy; there's no way I'm letting one of those near my dinner. The idea is that you first fry the chicken then bake it in the oven, all while it has a house-brick on top; this weighs it down, makes it cook more quickly and also crisps up the skin (so says YouTube). Instead of a brick, I improvised by piling all my pyrex dishes on top. It was awkward though, and the skin didn't get that crispy. I think I would have done much better had I used an actual brick. Oh, and that's not an adult chicken. It's a poussin. I've never eaten a poussin before; they're tiny little things! Before cooking, you spatchcock the poussins (you have no idea how much I laughed while cooking this. Apparently I'm ten years old. This was my first experience of spatchcocking anything and I found it simultaneously easy and hilarious.) And then you marinate them overnight. The marinade, with lemon, thyme and garlic, made for a really punchy, tasty sauce. My kitchen was too cold though to get the poussins up to room temperature before they cooked, so they both took longer to cook than Nigella said, and one was still slightly pink even after that (I ate the fully-cooked one first, and ate the next one after extensive re-heating the next day). Oh, and even though the taste was really good, have you ever tried eating a poussin? Such teeny tiny bones! Eating it took forever. God. If you ask me, it'd be much easier to use the marinade on some bog-standard chicken drumsticks before baking them in the oven, without bothering with any of this brick business: tasty chicken; job done.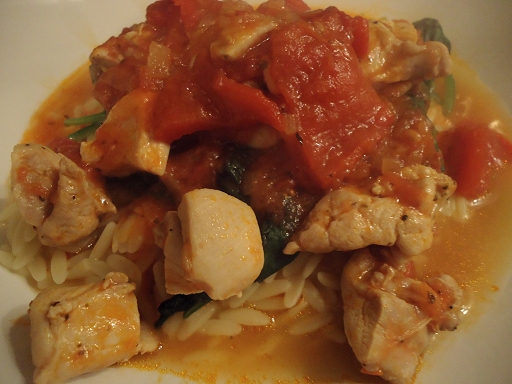 Chicken with tomatoes and peppers (recipe from "Nigellissima: Instant Italian Inspiration" by Nigella Lawson)
This stew doesn't look very appetising, but it was actually really nice. It's easy to make, and while not the most exciting taste in the world (think tomatoes and peppers and you've got it; I left out the Marsala though, as always) it was really comforting. Nigella suggested serving it with orzo pasta, which I did. I've never eaten orzo with a stew before and it was delightful! The shape of the pasta with the sauce has a really nice mouthfeel: soft and warm, like porridge but less lumpy. Goes down a treat.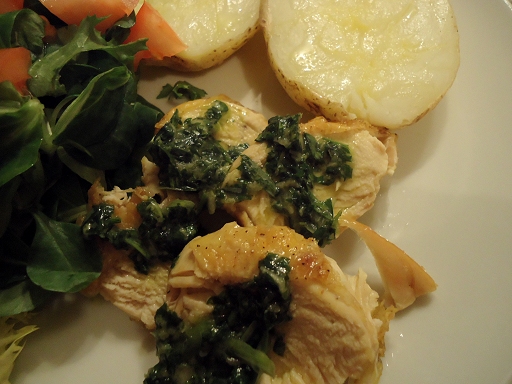 Chicken with tarragon salsa verde (recipe from "Nigellissima: Instant Italian Inspiration" by Nigella Lawson)
A tasty dish! The sauce is another punchy one: really strong with tarragon and lemon. It goes well with the chicken, which is cooked simply in the oven. I don't have a stick blender to make the sauce and had to make do with my food processor; this left my sauce lumpier than Nigella's version, but it still tasted good! Oh, but you don't get much chicken per serving (the recipe had the option to serve six or eight. I choose six. How you would eke this out to eight people, I don't know.) Normally Nigella gives you massive portions so I was shocked at this one!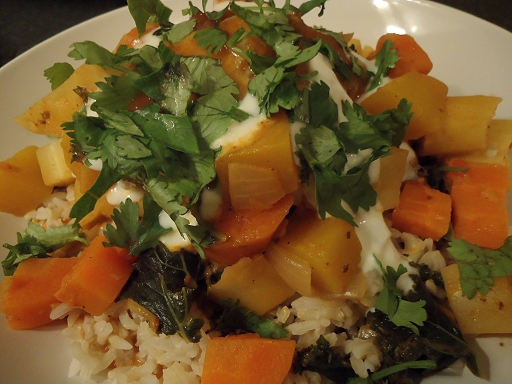 Winter vegetable curry
I wasn't initially sure what this recipe would be like. I often find vegetarian dishes to be a bit underwhelming, and I often find carrots too sweet. The thought of a load of immensely sweet vegetables in a coconut sauce piled on top of rice, with no meat to add any savouriness, wasn't very appealing. Thankfully, I was totally wrong! It was really good! Takes a while to cook, but you get enough for leftovers. The only difference I made to the recipe was that I couldn't find curry leaves anywhere, so I left them out. Even so, the taste of this was really nice. Yes, the veg are sweet and the coconut in the sauce is creamy, but that was actually pleasant. The extra sweetness and creaminess from the yoghurt and mango chutney on top were lovely too. Why did it work? Well, in addition to the sweetness, you've got the curry paste in there, and something (I don't know what) that gave it a really great savoury flavour. I think it was maybe a mixture of the brown rice and kale combined; the savoury chewiness of these meant that I didn't miss the meat at all. Really great stuff! (Also, this is my first time cooking with kale; that and the butternut squash and the lack of meat made this feel like a very fashionable dish. Totally 2016.)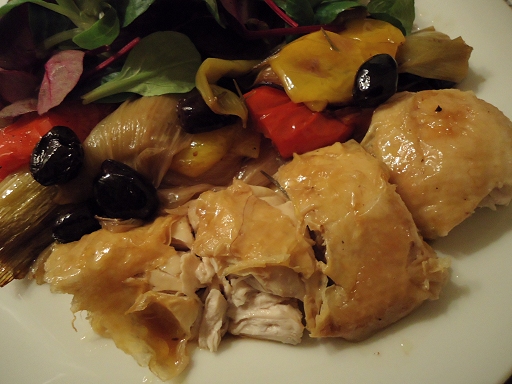 Italian roast chicken with peppers and olives (recipe from "Nigellissima: Instant Italian Inspiration" by Nigella Lawson)
This recipe uses a whole chicken but no spatchcocking this time :( I only got to stuff a lemon and a few sprigs of rosemary into the cavity before roasting, which wasn't nearly as funny. Nigella said to roast the chicken and vegetables all in one baking tray, but I just couldn't manage it; my tray was too small! So I had to put half the veg in a separate tray; these got a little more brown than the others. Nigella says that the veg are meant to be a bit browned, but I found it made them taste a little bitter (or was that the olives?) Either way, this was ok, but not super-duper wonderful.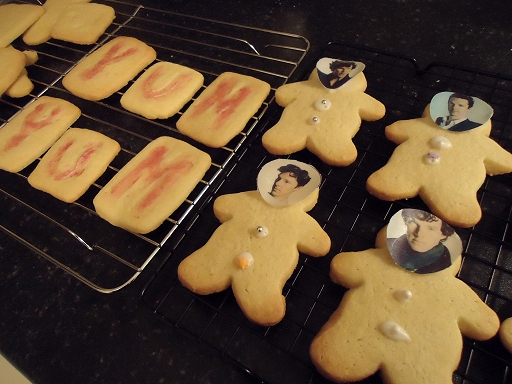 Fred's favourite sugar cookies (recipe from the back of a box of biscuit cutters)
I made this recipe to try out some biscuit cutters that I got last year. The biscuit cutters come with letter stamps, so you can make letter biscuits to spell things (they were a birthday gift from Emma). I also got some lovely biscuit cutters in different shapes when I left my previous job last year; here I decided to try out the gingerbread man-shaped one. On top of that, I also wanted to try out some sprinkles and decorating powder (a gift from Mariya ages ago) and some Benedict Cumberbatch rice paper decorations (left-over from a birthday cake made by Eppa a couple of years back, with the decorations sourced by Nick). What better way to use all this stuff out than by making cookies that spell "yum", and Cumberbiscuits? (I laughed so hard while sticking the faces on the Cumberbiscuits, you have no idea. It was very much a "what am I doing with my life?" kind of a moment.) So, the recipe came from the back of the box that contained the letter-stamp biscuit cutters. I've never had sugar cookies before. Being British (I get the feeling they're very much an American phenomenon), I wasn't even sure what sugar cookies are! Turns out they taste like a shortbread but sweeter. Despite the fact that they tasted nice, I AM NOT IMPRESSED. I had thought that the letter-stamps would work if I used the recipe from the box. Not so! The recipe contains an egg and baking powder, which meant that even though the biscuits had been lovingly-stamped before they went in the oven, the biscuit dough really rose and spread while it was cooking. The letters all-but disappeared :( I'm sure the stamps would work with a different recipe though, even if trying to get the biscuits out of the cutters is really difficult, which it is :/ Attempting to salvage the situation, I tried to paint on the letters with the decorating powder, but this was difficult without a proper brush for the job. I tried out the decorating powder on those six biscuits you can see (I ended up painting it on with a clean finger in the end, after trying a pastry brush, a chopstick, a clean toothbrush, and a spoon) and then gave up. The recipe worked great with the gingerbread man shaped-cutter though! That moment when your joke biscuits turn out much better than your serious biscuits...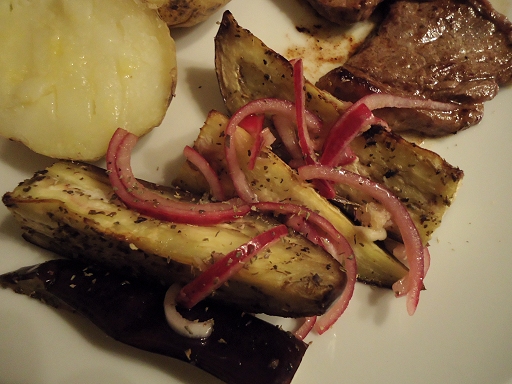 Aubergines with oregano and red onion (recipe from "Nigellissima: Instant Italian Inspiration" by Nigella Lawson)
These were yummy! I was meant to use baby aubergines, but I couldn't find any, so I used a big one and chopped it into smaller pieces. Nigella also suggested garnishing with fresh oregano, but I've never been able to find that. You know, sometimes roasted aubergines can be too greasy, but these weren't at all. Perhaps it's because you've got the tangy vinegar, garlic and onions on top? I don't even normally like raw onions, but they were nice here. A+ a great way to eat aubergines. Well done, Nigella.
2 comments
FOOD POSTS ARE MY FAVORITE.
Everything looks so good, I'm really impressed! I make the same nine dinners over and over, so my hat is really off to you for trying so many different recipes. The people on 'Chopped' allege that baby eggplants are much more bitter than the regular kind (which would make sense, because they're not ripe yet), so probably you made a wise decision using the full-grown ones. Also sugar cookies puff up in the oven like little clouds (or spread out, depending on what kind you make), so they aren't good choices for anything but icing. You can get the kind in a tube that have pre-printed inclusions, but I've never had them & don't know how they come out. Anyway, cookies (which still look tasty) aside — amazing job.
Thank you! I'm glad you enjoy reading them :D :D
Sounds like I was lucky with the aubergine, then. It tasted so good with the big daddy aubergine!
I'm happy to hear that sugar cookies always do that, and that I didn't go wrong with the baking. WHY PUT THAT RECIPE ON A BOX WITH STAMP COOKIE CUTTERS? Ugh. Literally the only reason I choose to use the recipe on the box was because I thought it was guaranteed to work with the cookie cutters in the box. Well done. I'm going to make another batch of sugar cookies and stamp them (unsuccessfully, of course) with the letters UGGGHHHHHH.
But at least they tasted nice? They got me loads of brownie points at work. (Note: I was too embarrassed to share the Cumberbiscuits at work. Those were all for me~)