Posted by

Janine

on 10 Nov 2023 in blog
I'm having a week off work which is the perfect time to write about some food adventures.
As an update on my last post: My Dad is on treatment and doing well, which is great. The waiting time for my mental health treatment was much shorter than I thought it would be, so I'm making progress on that too. It's all moving in the right direction.
Giant rainbow rosti
This dish was lacklustre for me. The beetroot and carrot combination made the rosti too sweet for my liking. The addition of the cheese was nice, but the rosti weren't very flavourful. A bit of onion in the mix would have helped a lot. I had a mix-up with the size of baking tray I was meant to use, so my rosti were maybe slightly thicker than intended. Perhaps because of this, I found that it was quite a soggy rosti, rather than crispy. Pan-frying the rosti would probably have been better; I think the recipe choose to oven-bake the rosti to make them easier but, honestly, any recipe that involves grating a lot of vegetables, including beetroot, is not easy. I prefer my eggs over easy because I dislike the whites being uncooked and slimy, so even the eggs weren't to my liking. Overall, just don't bother with this one.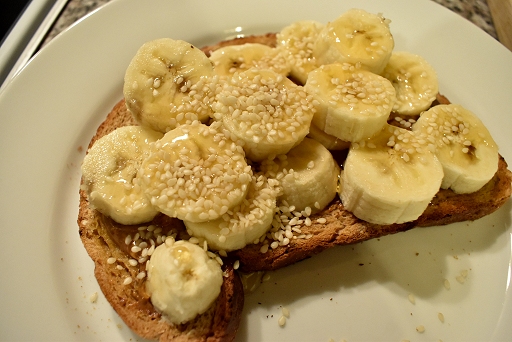 Almond butter and banana on toast (recipe from "Nosh for One: Unique Meals Just for You!" by Joy May)
This was so delicious. The banana and honey was a great mix, and they both went really well with the almond butter and sesame seeds. It's a snack that really feels like a treat.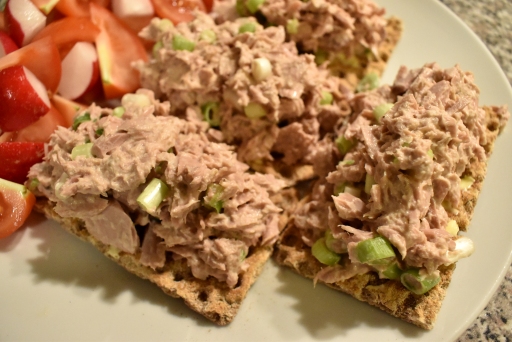 Tuna and mayo cracker snacks (recipe from "Nosh for One: Unique Meals Just for You!" by Joy May)
The recipe says to use two crackers per serving. But the recipe is also for a snack. I wanted a meal, so I doubled the recipe. And boy is that a lot of tuna! The recipe says to use one tin of tuna for two crackers, so I used two tins. But the recipe says to use a 110g tin of tuna, and I couldn't for the life of me find one of those. I bought a 160g tin, which had a drained weight of 112g, and which I thought might be what the recipe was talking about. But, I'll say it again, boy is that a lot of tuna! It was ok to eat. A tasty topping on a crunchy cracker is a joy. I personally would have preferred to add some cracked black pepper to the mix instead of mustard, and I wouldn't have buttered the crackers either. So it wasn't perfect, but to be fair, after doubling the recipe and facing that much tuna, probably no combination of ingredients would have been perfect.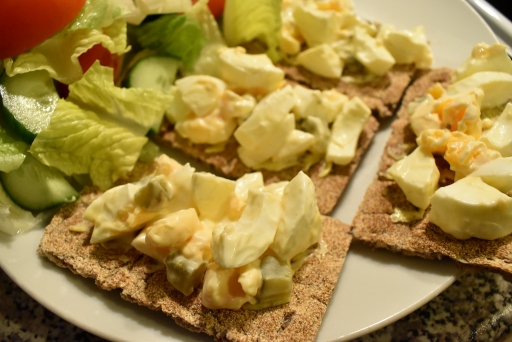 Egg and mayo cracker snacks (recipe from "Nosh for One: Unique Meals Just for You!" by Joy May)
I doubled the recipe once again. I find eggs quite rich, so putting egg mayo on a buttered cracker was a lot for me, but the added gherkins helped cut through that quite well (I used some homemade pickles from my Mum!) As before, soft toppings on crunchy crackers is a really good mix.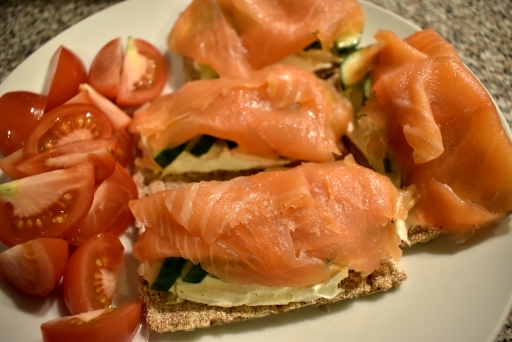 Smoked salmon cracker snacks (recipe from "Nosh for One: Unique Meals Just for You!" by Joy May)
Another doubled recipe. You're meant to use smoked salmon trimmings in this recipe, presumably to keep down the cost, but the supermarket was out of those so I used upmarket smoked salmon. The full slices of salmon were nice, but it was actually quite hard to bite through them without pulling the whole slice off the cracker in an ungainly mess. The cream cheese and cucumber was a really nice addition and particularly pleasant from a textural point of view.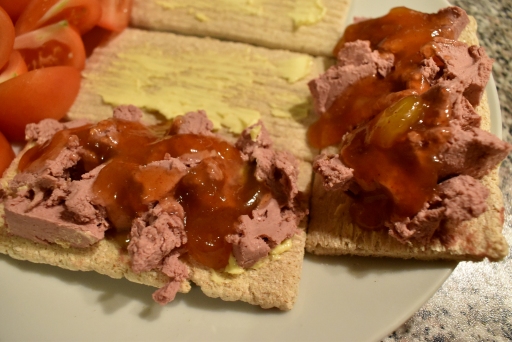 Paté and chutney cracker snacks (recipe from "Nosh for One: Unique Meals Just for You!" by Joy May)
I was going to double this recipe too, but I saw how much paté that would be and had second thoughts. My worry was about getting too much vitamin A, which I know can be bad if you have too much of it, and I know there is a high concentration in liver, and I know I had taken a multivitamin that morning. My worry should however have been: vitamins aside, that is still too much paté! One serving, as seen here, already contains too much paté! This recipe calls for 85g of paté per serving. That's half a pack! Half a pack of paté on two crackers in a real mountain of paté. Paté has a rich and a strong flavour so less really is more. The mango chutney should have cut through the richness, but I found there was also too much chutney which made it too sweet. Lessen the amounts of everything and it would have been perfect, but as is, it's all wrong. This book is aimed at cooking for one person without having odd amounts of packets left over, so I can see why they're trying to use half a pack: so you only have half a pack left over. But that's still too much paté. Sometimes when making one portion you just have to accept that packet sizes won't be your friend. As an aside, this recipe calls for chicken liver paté, which I couldn't find, so I used pork liver paté instead. Maybe chicken liver paté is easier to eat? Maybe this was actually the perfect amount of paté for chicken liver paté? Maybe???