posted on Mar 30, 2018 by
Janine
in
blog
I only have four recipes to write up for this food post. As I mentioned in my last post, I've been kinda busy recently. But, also, these recipes somehow left me with a lot of half-used ingredients that I wanted to finish up before getting stuck into too many more recipes and generating even more open perishables.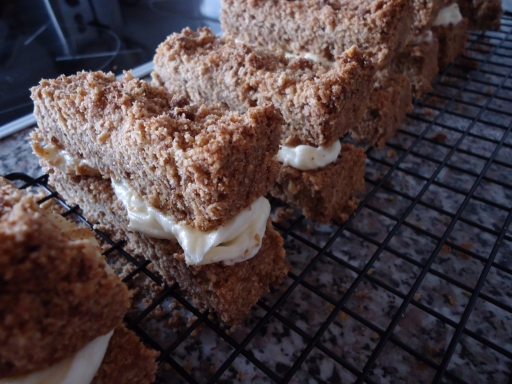 Grasmere ginger shortbread with ginger cream filling (recipe from "The Great British Bake Off Big Book of Baking" by Linda Collister)
Hmmm. I'm not sure what to make of this one. The original recipe in the book is just for the ginger shortbread, but then there's this little paragraph at the end saying how you can posh them up by sandwiching the shortbread fingers together with ginger cream. So I went for the cream version. Does this look posh to you??? Maybe it's not obvious from the photo, but these were the size of actual bricks. Dainty is one thing they're not. Plus the shortbread is quite hard to bite (while the outside of it is really sandy and crumbly, which makes it difficult for the cream to stick) and the cream is soft. Basically, if you try to eat these, you quickly end up with cream and crumbs everywhere. I should add that I had to alter the recipe slightly, because it calls for stem ginger in syrup, but the shop was out of that, so I had to substitute with crystallised ginger. When it comes to taste, the shortbread itself tastes wholesome as opposed to indulgent; I think it's the addition of wholemeal flour and oatmeal. It's not unpleasant. The cream, however, should be nice, but I must have used an ingredient that was past its use-by date, because the cream tasted stale somehow. In conclusion: if you fancy some earthy and not-too-sweet gingerbread then give it a go. Just, for God's sake, don't sandwich them together with cream; don't be that person.
Chilli bean crumble
This is one of those dishes that sounds better than it tastes. You have all these hearty ingredients plus the punch of vegetarian haggis. (I'd never had veggie haggis before; but it's full of salty and umami flavours, much like normal haggis.) Yet, despite all the ingredients, this dish has a very bland, same-y taste; every mouthful tastes like paprika and cinnamon and nothing else. It's boring and heavy and dry. If it weren't for the fact that the textures keep things mildly interesting (the green lentils added a nice bite) it would have been difficult to eat a whole bowlful. Speaking of whole bowlfuls, this dish is really filling; don't attempt to eat it with bread on the side like I did. In fact, don't attempt to eat it at all; it's not worth the effort of cooking it. Yet I can't help feeling that a splash of something sweet and sharp (balsamic vinegar perhaps?) would have made it 5x better.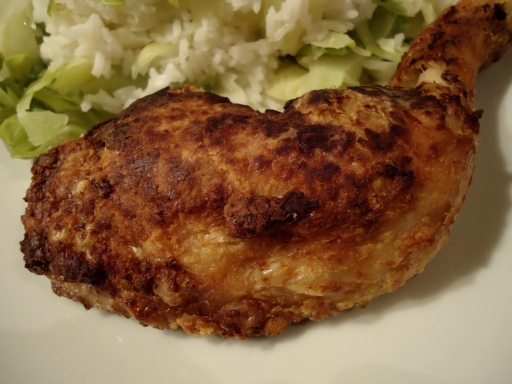 Shrimp paste fried chicken (recipe from "Chicken Leg" by Hoe Yee)
Look at that fried chicken. A tad burnt, perhaps, but so golden in colour! So crunchy! Alas, my friends, the picture can't convey how bad it smelled, nor how bad it tasted. (On the up-side, if you like shrimp paste, you are going to love this dish.) Basically, the recipe was originally called "Belacan" fried chicken. Belacan is Malaysian shrimp paste that is sold in big, solid blocks. I couldn't find any belacan (or any toasted belacan powder, as listed in the recipe) so I instead bought a jar of Thai shrimp paste, which is less solid and more wet. In an attempt to turn it into toasted powder, I then heated it in a frying pan until it turned dry and crumbly. So, I don't know how pan-toasted Thai shrimp paste holds up to belacan, but I have come to understand that Thai shrimp paste is an acquired taste. And it is very much a taste that I haven't yet acquired. Now, I had thought that Thai fish sauce smells bad. But, personally, I think the shimp paste is worse. It smells like a cross between fish food, cat food, and wet dog. And, joy of joys, it tastes exactly how it smells! This recipe really doesn't hold back when it comes to letting the shrimp paste take centre stage. The chicken tastes entirely of shrimp paste; there is nowhere to hide. So, not being a fan of shrimp paste, I found this chicken particularly unpalateable. (I have since discovered that I can eat shrimp paste quite happily, as long as there's only a small quantity of it and you throw loads of really strong flavours on top; it adds great depth to a Thai curry, and you don't even realise it's there!) A few notes about alterations to the recipe. I was meant to batter the chicken with tapioca flour and wheat starch, but couldn't find either so used a mixture of plain flour and cornflour instead. The recipe also calls for the chicken to be deep-fried, but that is too scary to me, so I side-stepped it by shallow-frying the chicken before shoving it in the oven. One more thing about shrimp paste. Your kitchen will smell very strongly of shrimp paste afterwards. For about a week. If, like me, you hang up your coats in your open-plan kitchen/living room, be prepared to smell of shrimp paste every time you leave the house. What can I say? It was a learning experience; I have learnt many deep and valuable truths.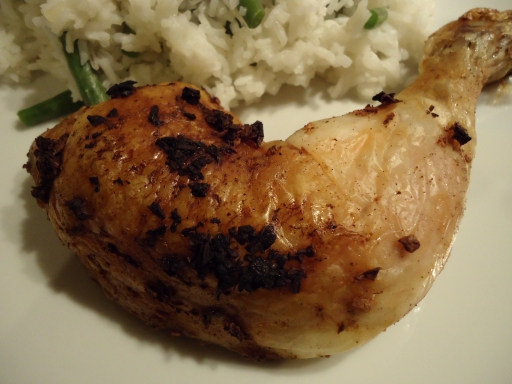 Baked chicken legs with shallot garlic (recipe from "Chicken Leg" by Hoe Yee)
And here we have the dish that looks the worst, but actually tasted the best ¯\_(ツ)_/¯ Ah, yes, we come to that old chestnut: burnt garlic on the outside because I baked the chicken for 50 minutes instead of the 30 minutes the recipe calls for. (In my defence, the chicken on the inside was perfectly cooked and moist.) Part of the reason for the burning may be because the recipe says to blend the garlic and the shallots in a fruit blender. I don't have a blender, so I whizzed them up in a food processor, which left me with larger (and more burnable?) chunks. The marinade is otherwise fairly simple, including salt, five spice powder and Shaoxing wine (I left out the wine). And it works! The reason why I say this dish tasted the best is because the chicken really took up the taste of the marinade. I think the key to success here was that the chicken sat in the marinade overnight, so had soaked up tonnes of flavour. Very nice. Just don't eat the burnt bits on the skin; you will not have fun if you do.