Posted by

Janine

on 02 Jul 2023 in blog
It's been (checks the date) three months since my last post. I have been cooking a lot, I just haven't been writing about it. Trying to find the time to sit down with my photos was somehow difficult, and the more I cooked, the more photos I had and the more daunting the task seemed!
One of my resolutions for this year was to start making more sweet things, and once spring rolled around I was invigorated enough to get going. It has been joyful.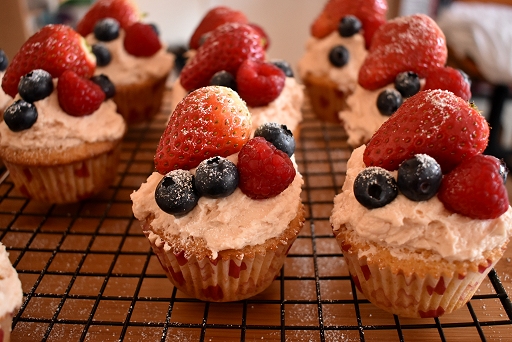 Summer berry cupcakes (recipe from "Mother's Little Book of Home-Baked Treats")
I made these in the spring, so they might have been even more perfect for where we are now in July, when berries are abundant and delicious. But even with sub-par spring berries, these cupcakes were great. Look at them! I'm so proud of the way they turned out. And the taste was divine. The strawberry jam in the vanilla buttercream goes really well with the fruit, and the vanilla cupcakes were lovely and moist, which was probably due to the addition of buttermilk. Despite all that, there was the usual moment mid-bake where I thought everything had gone wrong and was disastrous. The buttercream here is meringue buttercream and I know from previous experience that it is difficult to make. This one is Swiss meringue buttercream, which I haven't made before. I found Swiss meringue slightly easier than Italian meringue, because you don't have to worry about pouring scalding sugar into a bowl of egg whites while whisking and attempting not to burn yourself. In Swiss meringue you heat the sugar and egg whites together and then remove from the heat to whisk, which seems much more civilised. Still, I found the whisking stage not easy. I think my egg whites got some water in by accident because they wouldn't whisk to stiff peaks no matter how hard I tried (and I whisked them for about 35 minutes, where the recipe said it would take 3 minutes!) In the end I gave up and added the butter anyway and thankfully the texture turned out fine. By this point I was too tired to put the buttercream on the cakes neatly and was beginning to hate the messy cake blobs I'd made. But, surprise! Like magic, adding the berries on top made everything look miles better. And once I'd tasted one of the cakes I didn't care how they looked anyway. All in all, I'm classing this one as a success.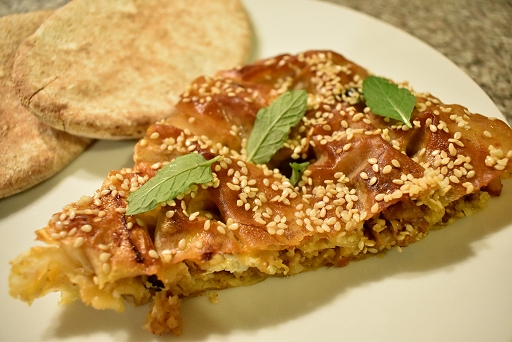 Lamb filo swirl pie
I have never made anything like this before. I've never even cooked with filo pastry before! Trying to keep the unused filo under a damp tea towel while assembling the pie was a messy experience. However, despite the mess, making the pastry into a big spiral shape was surprisingly not difficult. The recipe took a while to make but it didn't fill me with horror. As for eating the pie, the filo goes nice and crunchy and the taste was ok: pleasant, if you will. The raisins (which I was scared of) weren't bad and actually added a nice sweetness. My issue is that there wasn't enough sharpness in the pie to cut through the greasiness of the lamb and the pastry. All it needed was a bit of lemon juice and this recipe would have gone from pleasant to amazing.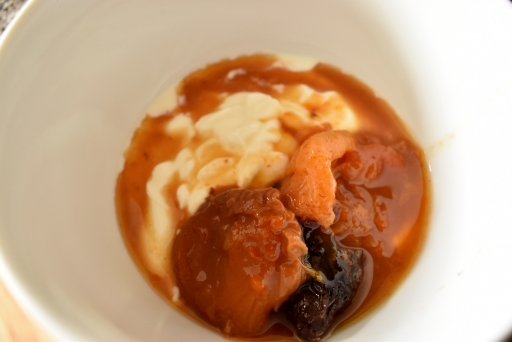 Dried fruit compote (recipe from "The London Cookbook" by Jenny Linford)
This recipe wasn't what I was expecting. When I've had compotes before they've been like slightly more chunky jam. Whereas the result of this recipe was more like stewed fruit in syrup. I had to do some frantic Googling to find out that, yes, dried fruit compote normally looks like this. The recipe calls for dried apple rings, prunes, apricots and pears. I couldn't find any dried apple rings so substituted those for dried peaches. The recipe also calls for dessert wine, which I left out. As for eating it, the resulting compote tasted old-fashioned. It feels rare nowadays to get sweet things that are strong with spices and with the tang of dried fruit. The taste actually worked nicely when mixed with plain yoghurt. An enjoyable, old-fashioned, spiced fruit treat.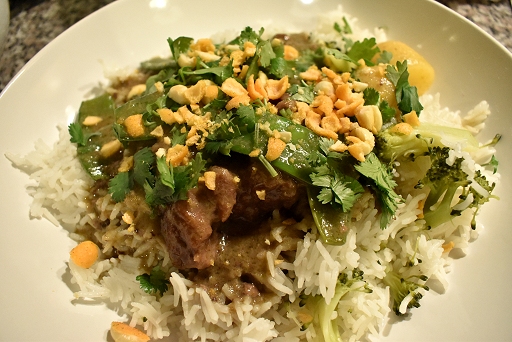 Tinned beef massaman
This recipe is a bit odd, but that's partly my fault. The main flavouring of the recipe is a jar of massman curry paste; I couldn't find that and substituted with Thai green curry paste instead, so my flavours might have been unusual. However, I'm not entirely blaming myself. I have never ever cooked a curry using tinned steak in gravy before. I found that the tinned beef and the tinned potatoes added an odd metallic taste to the dish which took a while to get used to. The chilli-coated peanuts were a nice addition on top, but combining them with the tinned beef made the dish too salty for my tastes. And, wow, my curry paste was quite strong with chilli heat, so this was a hot one to eat! The other change I made was to add a bit of broccoli to my rice, because 38g of mangetout per person just doesn't feel like enough vegetables to me. In conclusion: it's fine, it's fine I guess, but I'm looking at this recipe and asking it if it's ok.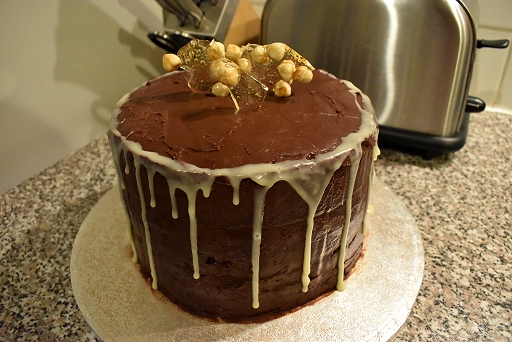 Vegan-ish chocolate cake with praline (recipe from "Baking with Kim-Joy: Cute and Creative Bakes to Make You Smile" by Kim-Joy)
Guys. Guys. Massive cake time! Massive cake! It's time for massive cake! The last time I made a massive cake from Kim-Joy's book, it was two weeks before the first lockdown in 2020, and so I really felt the weight of history on me when I cracked open the book again. This recipe is meant to be entirely vegan. I called my cake vegan-ish because the white chocolate in my drip had dairy in and some of my ingredients were made in factories that also handle milk and eggs. So it's mostly vegan, but not fully. I fed it to my colleagues without telling them it was mostly vegan until they'd tried some (I didn't want any vegan colleagues to eat it by accident) and none of them would have known it was vegan. Truly, you can't tell. The sponge is just a really nice sponge: moist and light. The only different between this and a cake containing eggs was that this one started to go dry slightly more quickly (but we're talking about day five when there wasn't much cake left anyway). Kim-Joy uses vinegar, soy milk, self-raising flour and lots of baking powder and baking soda to make her vegan cakes rise. It works nicely! The icing is a dark-chocolate ganache made with coconut milk, and the filling is the same ganache mixed with some praline which has been blitzed into a paste. The filling tasted just like ferrero rocher! I put extra praline shards on top for decoration and added a white chocolate drip, made with dairy white chocolate and coconut milk. It was my first time ever attempting a drip and it was half-successful. Kim-Joy says to add white food colouring to the drip to stop it looking kinda yellow. But I couldn't find any white food colouring so went without. And either coconut milk ganache isn't as thick as ganache made with cream, or there are issues with my dripping technique but the ganache was see-through enough that it looked unappetisingly mucousy. No-one who ate the cake seemed to care too much. Who's going to gripe about a drip when they're faced with a massive chocolate cake? I actually bought a cake turntable, an off-set spatula and a scraper for this so I could get my icing smoother than my previous Kim-Joy cake. It still wasn't perfect but it was a lot easier to do. And as for the taste? My God. MY GOD. The dark chocolate ganache isn't too sweet but it is deliciously sticky. You couldn't really taste the praline but that didn't matter. The taste was the same as an excellent dark chocolate brownie and the cacao nibs added a really nice texture. It was wondrous. Every vegan needs to make this cake. You can skip the praline if you like and just fill the cake with ganache. It's so delicious.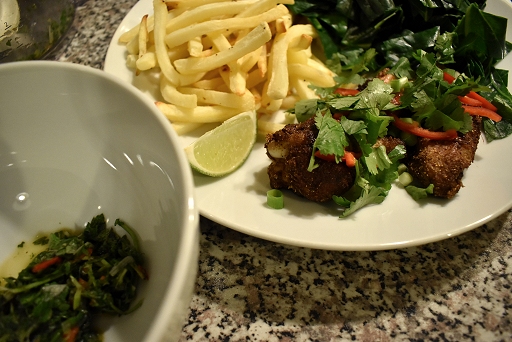 Gunpowder chicken wings
These are tasty! I used to think I didn't like wings, but each time I've made them so far they've been really enjoyable. The spices on the chicken are yummy, but the fresh chillies, spring onions, coriander and lime juice on top really make them sing. The chutney on the side is nice, but not fully necessary if you can't be bothered. Oh, but if you do make the chutney, eat it soon after it's made. I made extra for the next day, and after 24 hours, while it still tasted good, it had turned a disgusting brown colour.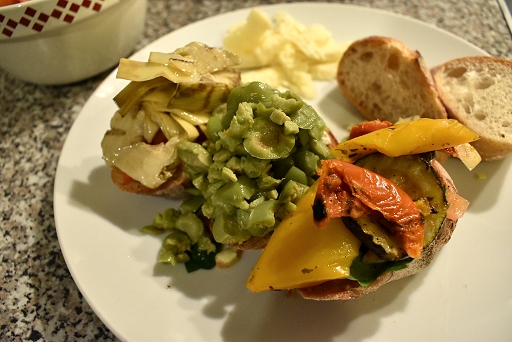 Antipasti bruschetta
The only ingredient I wasn't able to find here were pitted Nocellara olives; the ones I found had stones in, and removing the stones was difficult, hence the pile of olive crumbles you see here. In taste, these were as delicious as you might expect. The toppings went really well with the base "sauces". My only issue (it's not really an issue) is that there was a lot of topping for the bread, meaning lots fell off when you tried to eat it. I'm considering the mess all part of the fun.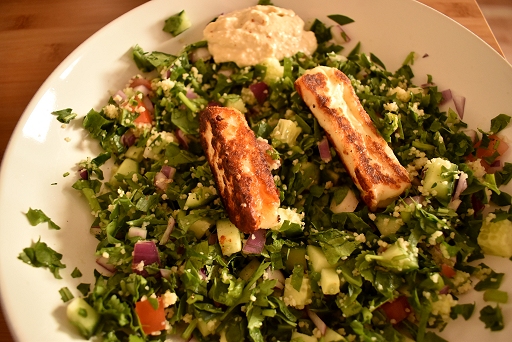 Crispy halloumi tabbouleh
I'd never had tabbouleh before. In the image here it looks like the halloumi to tabbouleh ratio is all wrong, but I find halloumi very salty to eat, so I enjoyed just having a small amount! It was a very pleasant dish; nice and fresh on a summer's day. I had mine with pitta bread on the side.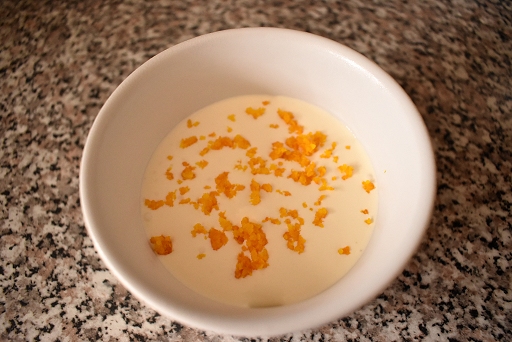 Instant chocolate-orange mousse (recipe from "Nigellissima: Instant Italian Inspiration" by Nigella Lawson)
This photo looks very unassuming. What it doesn't show you is that under that layer of soft cream and orange zest is a pot of dark chocolate-orange mousse. It was so so good. I started eating it while watching TV and had to pause the show just so I could savour the mousse. In fact, I had a particularly miserable day the day afterwards and I half wonder if that's because I used up my allocation of endorphins when eating the mousse. It was so tasty. Rich and orangey. Again, like the chocolate cake, not too sweet. And the cream on top cuts nicely through the strong chocolate flavour. I didn't add the orange liqueur like Nigella says and instead added extra orange juice; I don't think it affected my enjoyment any. And the mousse was pretty easy to make! I thought I had seized my chocolate when I added the whipped cream to it but the texture of the final mousse was smooth and lovely once I'd mixed it in. A real triumph. I'm still thinking about it.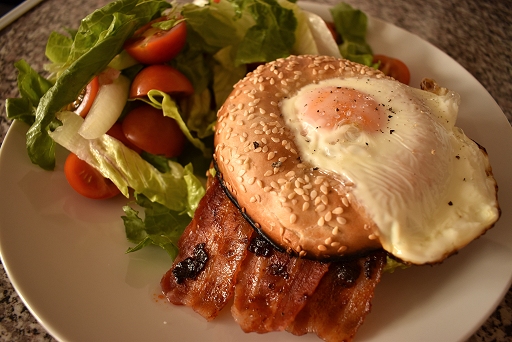 Egg in a hole with spicy bacon and gaucamole
This felt very indulgent to eat. The ingredients aren't particularly indulgent, but when you bite into the bagel, the guacamole and egg yolk and chipotle maple bacon gets everywhere so that it feels decadently messy. The taste was nice, and the chipotle maple bacon was particularly tasty (I'm going to have to remember how to make that). I feel like the timings in the recipe were a little off for my kitchen. The bacon could have been cooked for longer or at a higher temperature to make it more crispy, and the bagel could have been cooked at a lower temperature to stop it from burning. If I mastered those tweaks I bet it would be even more delightful.