Food Post - 16 January 2023
Posted by

Janine

on 16 Jan 2023 in blog
It's time for the first food post of the new year! Most of these recipes are warming and good for winter. In fact, most of these recipes are soup.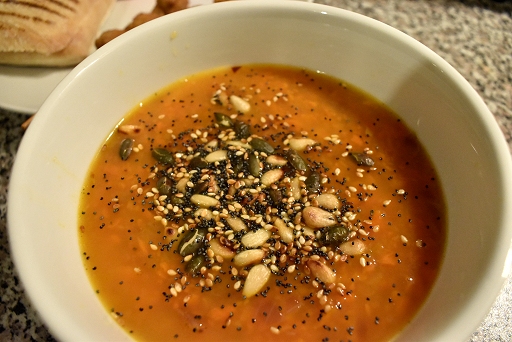 Roasted carrot and apple soup with toasted seeds
The first mouthful of this soup is absolutely delicious. It's rich with cumin and nutty roasted seeds, with the slight warmth of chilli underneath and a punch of sweetness from the apples. Unfortunately, that's where the soup falls down. In successive mouthfuls you realise (or at least I realised) that this soup is too sweet. It might have been ok with just apples, but adding apple juice as well was a mistake. Without the apple juice, the soup would have been really good. With the apple juice, the soup just isn't for me (apart from the first mouthful, before the sweetness overpowers me). Additionally, this recipe seems to think you can roast carrots at 180°C for only 25 minutes and they'll come out soft. That wasn't my experience. The carrots were still kinda raw, making this soup oddly crunchy...
Fancy frozen peas
These peas are intended as an accompaniment to Christmas dinner. I made them a few days after Christmas because I was still feeling festive. The name of the recipe doesn't lie: these peas are fancy! I don't normally like peas (they're too sweet for me) but all the extra flavours in this recipe helped to tone down the pea-ness of the peas. With garlic, lemon, sage, shallots, and the peas all toasty from the frying pan, these peas were absolutely delicious. The butter content was ever so slightly too high for me, as I found the peas a bit too rich to eat comfortably, but then, this recipe is meant for Christmas after all.
Peppers, chickpeas and spinach with shakshuka-style eggs
I was uncertain before making this recipe because I'm not a fan of shakshuka. In my book tomatoes and eggs are enemies and should never mix. That said, this is the third time in my life eating shakshuka, and while the first time was bad, the second two times (including this one) were great. On balance, I might have to begin saying that I like shakshuka! For me, this recipe worked because it wasn't too tomato-heavy. There were more chickpeas and spinach than anything else, and they went really nicely with the eggs. And well done to the recipe because the eggs came out perfectly cooked too (so perfect, in fact, that a chickpea wanted to land right in the centre of the egg when I was serving it up).
Smoky black bean and tomato soup
I realise this photo doesn't look like soup. But often if I want to make a meal out of soup and I don't fancy having bread with it, I'll pretend it's stew and eat it over rice. This recipe was spectacularly delicious! So so good. The beans and the smoky chilli and the tomatoes make it wonderfully umami. As the recipe says, though, the toppings are what makes it. They up the flavour to max levels. You can never go wrong with lime and coriander, and then the little crunchy tortilla pinwheels were delightful! An absolute treat, and it goes great with rice too if that's your bag.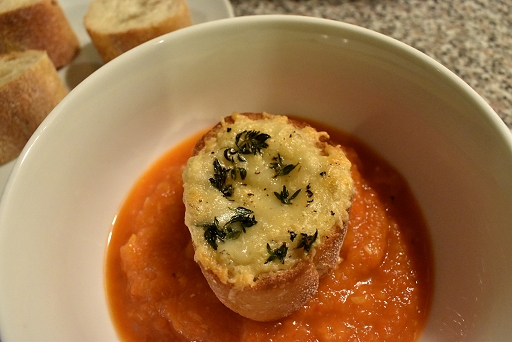 Roast squash and chilli soup with Gruyère toasts
I am happy to see a recipe that asks you to roast the vegetables for long enough that they're actually soft when you put them in the food processor (I don't have a blender). That's where my happiness ends. Well, not quite: the Gruyère toasts are very delicious and go great with the soup. The soup itself is eeeh. All the vegetables going into this soup are very sweet, making it too sweet for me. The sweetness is balanced by the toast, but when the toast runs out you're faced with too much sweetness. Still, I might have been able to bear the sweetness if the soup hadn't been so hot! This recipe calls for half a red chilli per portion, and I think my chillies were particularly hot ones. I normally remove the seeds before cooking with chillies, but this recipe said to keep the seeds in, which I did. I shouldn't have done. I am not a person who can take much chilli and so eating this soup was actively painful (on my mouth while eating, and on my stomach afterwards). One other minor gripe: this recipe claims it is easy, and then asks you to peel both a red pepper and a chilli. Peeling a chilli? Do you even realise how fiddly that is? Why are we even bothering? If the recipe wanted to be as full of fibre as it says it is, why not leave the skins on?