Posted by

Janine

on 15 Jan 2017 in blog
Happy New Year!
Hi folks. How's it going? Are you having a good 2017 so far? Let's hope it's better than 2016 by a long shot.
Man, it feels like Christmas was ages ago. Now all we're left with is cold, wet (and sometimes snowy) January. Oh, and Sherlock is on too. I don't have time to write up my normal Sherlock reviews, so here's a very quick lowdown of series 4:
The first episode was so bad it made me question why I was still watching this show. The second episode was quick and funny and amazing and everything Sherlock does best. So, swings and roundabouts really. Will the final episode in the series be as good as the second? Who knows? But there aren't many more hours until we find out!
Right. Back to my Christmas blog post, which seems to be an annual tradition for me. This year Christmas was good, and was actually relaxing for once! I learned from previous years and made sure not to schedule too much in. I also took myself away from my parents and back to London for a few days in the middle of things, which was a great way to recharge my batteries.
As well as visiting parents and family, I saw a few friends. This included visiting Steve and Heather and William in Bristol for New Year. Almost everyone was there: James and Eppa with Rene and Jack; Nick; and Linda with Alex and Cara. I'd never met Cara before! She is tiny and cute (and was well-behaved). It was lovely to have everyone together, even if Linda and I only crossed paths for 45 minutes. Smooches to you all!
That was the people-side of things. When it comes to the materialistic-side, we have the following: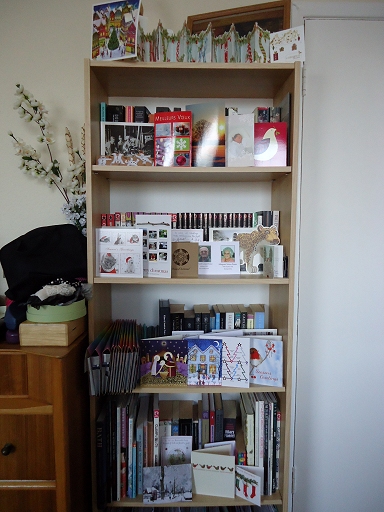 Christmas cards. I seemed to receive a lot of cards this year. It was difficult to fit them all on the bookshelf!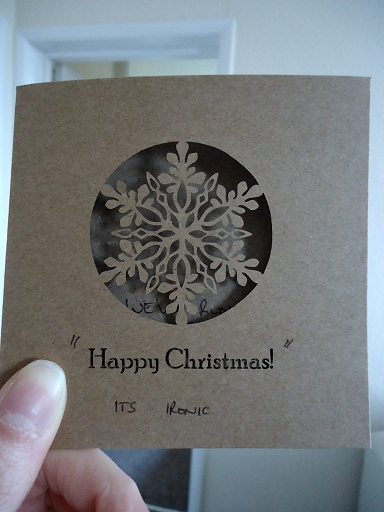 A special card mention this year goes to Steve and Heather and William for another very stylish hand-made card. Also, it's not ironic; I don't believe you.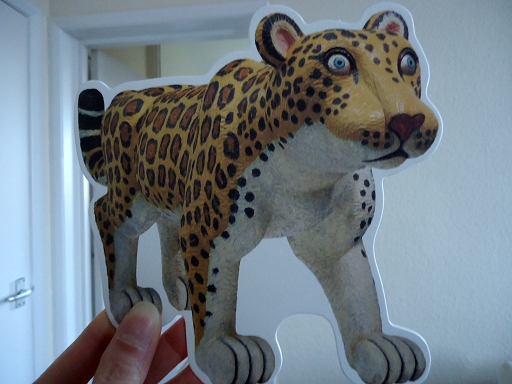 A second card mention goes to Mariya for this staring leopard. Yeah. That's how I feel when Christmas is over too.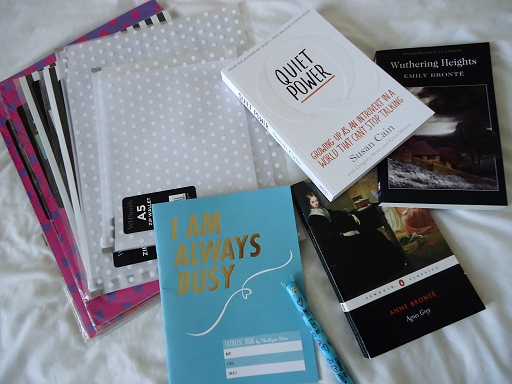 On the present-front, first up is books and stationery. One of my resolutions is to tidy up my filing system. Hopefully these folders from my parents will help.
The cute notebook and pen are from Mariya and will help me feel busy and important at all times.
As for the books, I read Jane Eyre last year and enjoyed it, so for Christmas I requested that my parents get me MORE BRONTËS. I didn't actually watch that drama about them that was on over Christmas. Did any of you folks watch it and was it any good?
Oh, and I requested Quiet Power from my parents too. I didn't realise that all it is is a rehash of Susan Cain's first book, but for a YA market. Useful for some, I'm sure, but I wouldn't recommended it if "speaking up more in class" and "working out what you want to do with your life" aren't on your radar.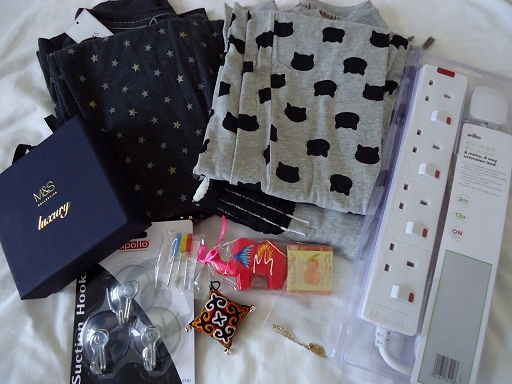 Next up is the clothing, accessories and housewares section. (Shut up, it doesn't have to make sense.) Pyjamas from my parents, including cute cat pyjamas :D and Mariya continued on the cat theme with a tiny, adorable cat necklace (which I'm wearing right now).
There's also a soap from Mariya from Bali, various housewares, and the box that says "luxury" on it contains a purse from my parents.
And then we have the cooking and food section, featuring CHOCOLATES from my parents and from Asia, some plastic bags with slightly scary cat-shaped ties from Mariya, and powdered Bali vanilla from Mariya too (I've been putting it in my hot chocolate!)
Also pictured is a tonne of Japanese ingredients from my secret santa. Thank you, secret santa, whoever you are! (Because you are totally still secret of course.) I have been cooking a lot of things with them, the results of which you'll see in my upcoming food post (whenever I write it, which will hopefully be soon).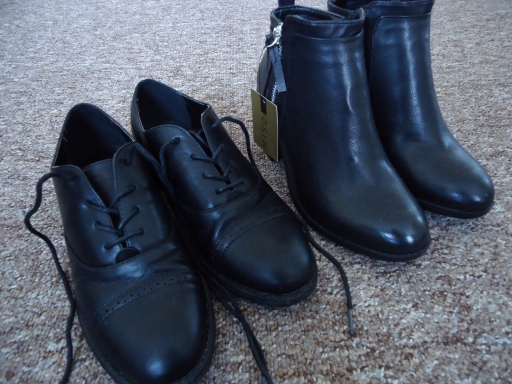 Finally, I did the same thing I did on my birthday, which is that I indulged in buying some shoes for myself, and later received money from my Nan to help cover some of the cost. Thanks, Nan!
That's it for present-talk, but not for grandparent-talk. If you have been following my blog posts you will have read that I lost two grandparents this year (leaving me now with one only; she of the shoes).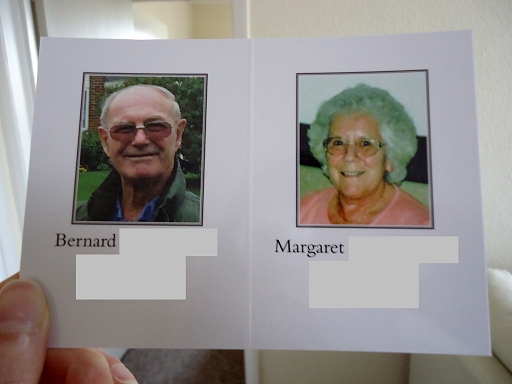 The two grandparents I lost were my Mum's parents. My Nan died in the spring and my Granddad lasted only six months without her. One of my aunts sent this memorial card in with her Christmas card to me. Apparently it's a normal custom in Ireland. I think it's absolutely lovely.
These two folks meant a lot to me. They looked after me a lot when I was a child so they were always close to my heart. Just recently, I've been wondering what I inherited from them, and I think it was a lot:
- The ability to sleep easily (thanks, Grandpa Bernard)
- Appearance (both of them, including shortness (Nan) and glasses (Granddad))
- Stoicism and patience (thanks, Nanny Margaret)
- A love of maps and history (thanks, Grandpa Bernard)
- A knack for science (thanks, Nanny Margaret)
- The ability to organise things well (I don't know who this comes from, but MY GOD it's gone through the whole family. We are punctual to a fault. Turning up on time to a family gathering, rather than turning up at least five minutes early, is seen as almost as bad as turning up half an hour late.)
- A love of walking and the countryside (both of them, very much so)
And because the love of walking has also gone through the whole family, we went for a family walk at Christmas to give them both a good send off and to scatter my Nan's ashes (my Granddad was buried rather than cremated, so scattering him would have been rather difficult).
The walk chosen was a favourite of my grandparents'. My Granddad had already chosen it and started making arrangements when he passed away (this was at least three months before the event; I told you we were good at organising.) On the day we finally went, it was cold and rather misty, which made it very atmospheric. Let me leave you with some photos: