Posted by

Janine

on 28 Dec 2016 in blog
Hi folks. Don't forget to scroll down and check out the other post I wrote today. (Two posts in one day OMG!)
This summer I went traipsing around on a couple of holidays, and one of those holidays was to Edinburgh in August for the festival. I have never been to the Edinburgh festival before. I've never been to Edinburgh before. I've never even been to Scotland before! Yes I am appropriately ashamed about this.
Well, I went this year because Deborah was acting in a show and Claire and I went to give her some support. Deborah's show was really good. It was one of the better shows I saw.
I had worried that the atmosphere at the festival would be a bit drunk, a bit lary, and too busy, but I was utterly wrong. The atmosphere was completely touristy. There were just loads of people milling around and happily sightseeing or heading off to shows. And because there were so many tourists, there were so many places to eat! And all the restaurants opened late, so you could rock up at 10pm and stay for a long three-course meal. I ate so well.
Out of the shows I saw, highlights included the Cambridge Footlights (they were very professional, unsurprisingly). I also really liked seeing Josie Long. Out of all the stand-ups I saw, she was able to get the best atmosphere going. And I didn't realise that I was so close to her in age! A lot of her stuff was very relatable. Here are a couple of videos of her if you're interested:
Edinburgh itself is beautiful. Part of it is really Georgian; I felt like I was walking through Bath, only built from slightly darker stone. And then the old town is proper old. I was expecting winding Medieval streets, but it wasn't that at all. The streets were Medieval, certainly, but they were all straight and really really steep, with tall buildings on either side. Here's a picture: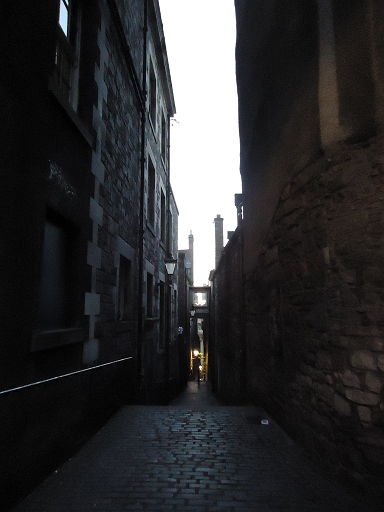 We went to Mary King's Close, which explained the history of these little streets and I loved it! Oh man, I really need to learn more about the history of Edinburgh because it's fascinating.
Here, have some more pictures of the place: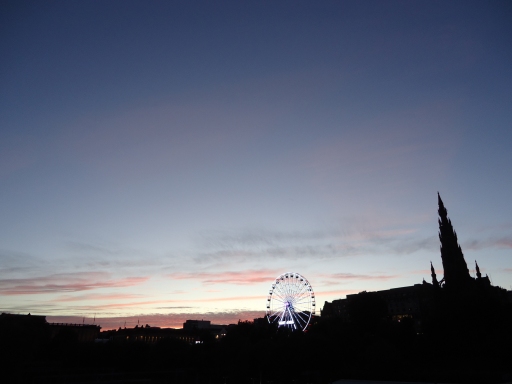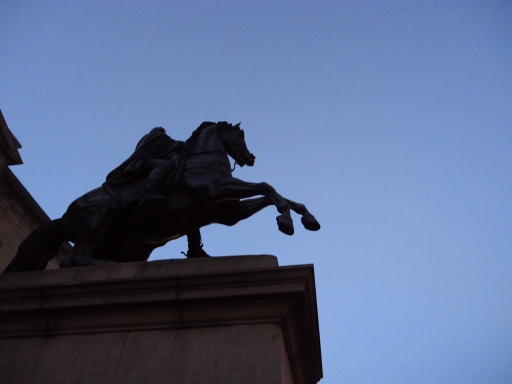 I didn't take many photos (and all the photos I do have were taken at night) because I was too busy the rest of the time a) watching shows, b) eating, and c) having a great time chatting with Deborah and Claire.
We were only there for three nights but I loved it all! If it weren't so expensive, I'd go every year!
2 comments
How in the name of god is that old-ass cobblestone road so straight? I feel like I fell through a Tolkien story! I was going to say, "One of the cute ones he wrote for his kids," but the Wikipedia tells me that the Celtic name for "Edinburgh" is actually "Dunedin," so now I need to go lie down for a minute.
Sounds like a really fun time. I've never been to a big open-air drama festival! But I'm not dead yet [DETERMINED FACE].
Your photos are amazing, as usual.
…Every picture I've ever seen of Scotland has been stunningly beautiful, though. It's weird. I feel like Scotland can't possibly be that photogenic, or it would have a population of 982 million. I have to say, these aren't helping.
the Celtic name for "Edinburgh" is actually "Dunedin," so now I need to go lie down for a minute
Whoa. I did not know that!
The festival itself isn't actually open air (although you do get a few people performing in the streets). The majority of the shows are in indoor venues, and I was tickled by what became a venue. It seems like every single business or organisation in Edinburgh with a spare room is turned into a venue and is running five shows every day. So you'll head up some stairs and find yourself in the tiny back room of a pub that has squeezed in enough chairs for 30 people. It was great.
Every picture I've ever seen of Scotland has been stunningly beautiful, though.
From what I saw, it is indeed that beautiful in real life! Heading up there on the train was great; the scenery from Newcastle northwards was gorgeous. (While the scenery south of Newcastle was dull dull dull.) Did I mention to you that I passed through York on the train? (aka the only time I've ever been in the vicinity of York ever.) I was looking excitedly out of the train window as we approached, trying to savour the feel of Yorkshire (while also thinking that the piece of Yorkshire I was seeing was rather flat and not very different to anywhere else in England). As we passed through York I discovered that the only prominent building you see in the city is the cathedral. I had thought that nowadays the skyline of York would be all tower blocks, like everywhere else, but no, the cathedral is huge and still towers over everything. Suddenly the opening of JS&MN makes a lot more sense.
In other JS&MN news, the last photo in the blog post is of a statue of the Duke of Wellington. My friends were very patient in waiting for me while I was like "GUYS I NEEEED A PHOTO OF WELLINGTON GUYS GUYYYS".