Posted by

Janine

on 13 Jan 2013 in blog
Hello!
I hope you're all having a fantastic 2013. For me, Christmas was a time spent running around visiting friends and family and trying not to give my Christmas cold to everyone I met.
There's been so much running around, in fact, that it's only now that I've had a chance to sit down and go through my photographs.
Christmas day I spent with my parents. We were all in varying stages of illness, so we spent the time filling our bellies and watching Kung Fu Panda. It went well, all told.
Here's the Christmas tree, complete with presents underneath.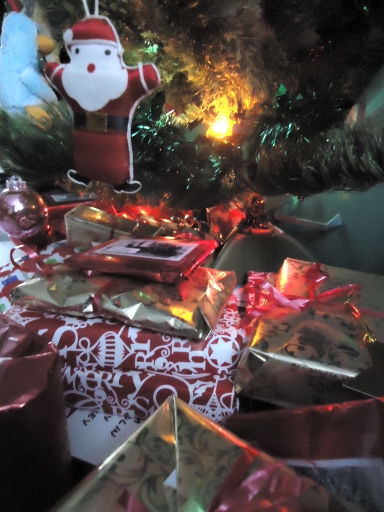 Present-wise, I got lots of nice small things, including: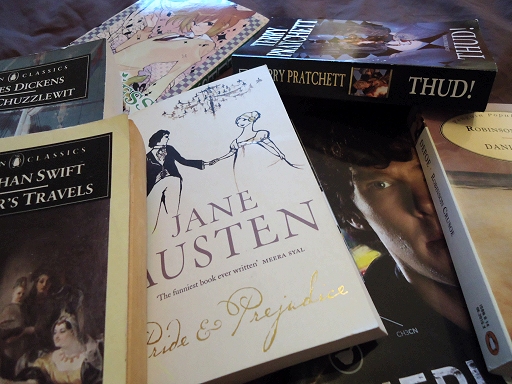 Shit-loads of books! Before Christmas I made sure to complain loudly about the fact that I was running out of books to read. This was the result :D I am particularly excited to read Gulliver's Travels and Robinson Crusoe because they are so old-school.
Thud! is one I've already started reading. I haven't read any Terry Pratchett for a couple of years and it's great to get back into his stuff. This book is clever, funny, and has a plot that just sweeps you along. I am loving it.
Sherlock: The Casebook was a book that I requested specifically. I loved the Sherlock tie-in websites and the glimpses they give you into the characters' lives, and I thought that this book might provide more of the same. There are a few post-its in The Casebook, with John and Sherlock snarking at each other, that are interesting, but the rest, unfortunately, is dull. My problem is that they give us the same old interviews we've heard before and then summaries of the episodes that we've seen already. There is practically no new content. If you were wondering whether or not to buy this book, I would say: don't waste your money. It's not worth it.
And among my non-book presents, I got these: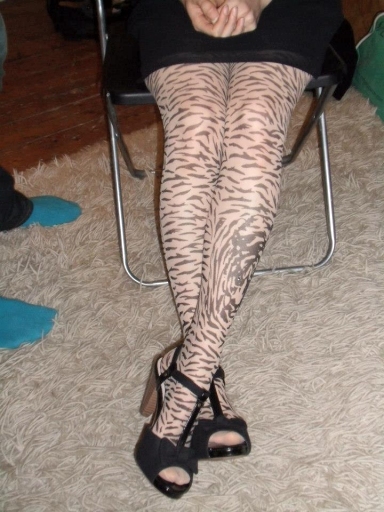 Tiger tights from Mariya! You can just about tell that they've got a tiger's face with sparkley eyes on the left shin. I decided to wear them for New Year's Eve and I went out and bought a new dress, just to go with them. (Thanks to Nick for letting me steal his photo btw.)
New Year's Eve itself was spent with James, Eppa, Steve, Heather, Nick, Linda and Tom and various other friends and acquaintances. We went to a ballroom that dates back to the 1950s and still has its original décor. It was very pretty.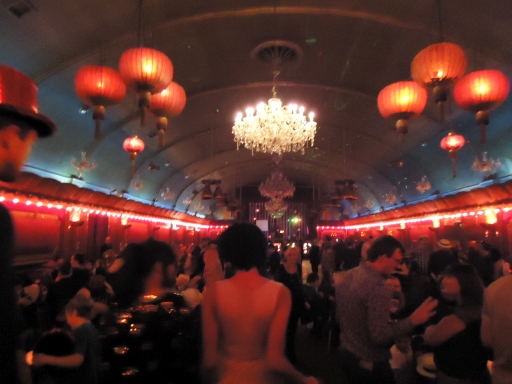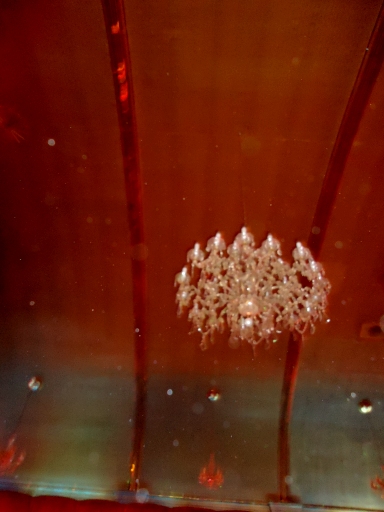 The fact that the ballroom was a family-friendly place and that there were a lot of young kids running around made it a little weird. I can't say I've ever rung in the new year by dancing to the hokey cokey with adults and children alike before, but it was lots of fun. Besides, a place that plays Gangnam Style twice in one night can't be bad, right?
At James and Eppa's house, as always, we were treated to some very nice food. In most cases, I was too busy stuffing my face to take photos of it, but here we have: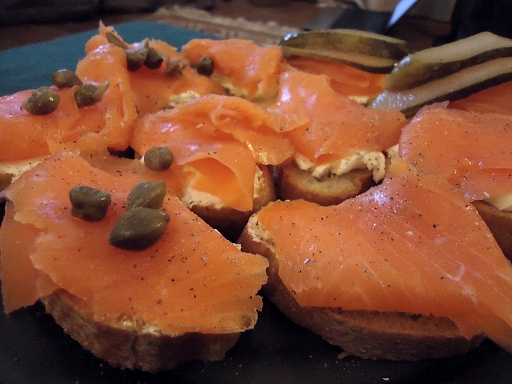 Exhibit A: Smoked salmon.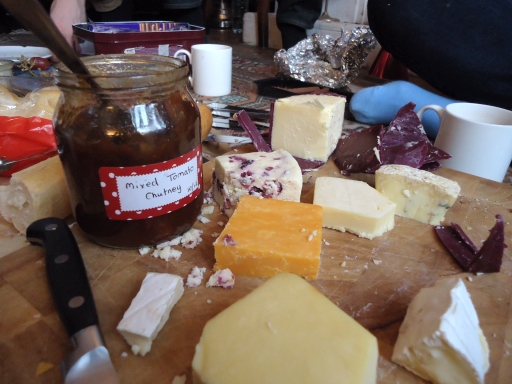 Exhibit B: A great cheeseboard with some home-made chutney. And, seriously, you should have tasted that cheddar in purple wax at the back there. It was good stuff. I was still thinking about it for days afterwards.
And if that's one of the first things you eat in the new year, you know it's going to be a good year to come.