Visiting Mariya in New York
Posted by

Janine

on 22 Apr 2013 in blog
Hi! Things have been exciting around here.
Last weekend I went to visit Mariya who lives in New York. Mariya and her parents kindly let me stay in their apartment and a good time was had by all (at least, a good time was had by me; I can't vouch for anyone else).
It's been about three years since Mariya and I last met up so it was great to see her again. Chatting by email is fine but it doesn't beat seeing each other face to face :D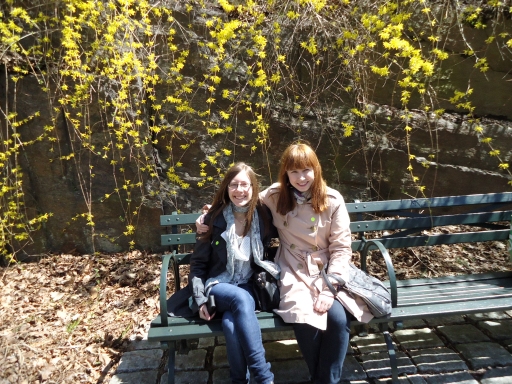 Be warned: this is going to be a very long, very image-heavy post. Not only is Mariya an enabler when it comes to indulging my penchant for taking photos, she is also very good at organising time and knowing good places to go. Despite only being in New York for four nights, we still did tonnes of stuff.
So, to make things a bit more clear, let's have a table of contents:
Contents
1. Itinerary and general touristing
2. Metropolitan Museum of Art
3. High Line
4. Bronx Botanical Gardens
5. Bronx Zoo
6. Food
7. Souvenirs
***
1. Itinerary and general touristing
Here's the story of my trip:
I arrived late on Thursday evening after my flight had been delayed for four hours and after an excruciating amount of time spent going through immigration (we'll not talk about me missing the bus as well). Thankfully, Mariya was at Grand Central Station to meet me and she brought pastries too! Mariya, I am so sorry I made you wait for so long!
On Friday I woke shockingly late considering my jetlag. After a big breakfast (a staple of every day, it turns out) we went into the City for a massive day of museums and culture. We made it to the Metropolitan Museum of Art, the Guggenheim, and Shake Shack for fast food burgers (and great shakes). Then we failed in our plan to go to an extra museum. Instead, we took an impromptu decision to go to a show on Broadway.
This show though. It wasn't a big production. It was, in fact, in a tiny theatre many stories up in what appeared to be an unassuming office block. The show? Shakespeare with burlesque. (Yes, that's right: people reciting Shakespeare and taking their clothes off at the same time.) It was funny in parts and ramshackle and strange in others. I can honestly say that I'd never seen Henry V give his (or rather, her) St Crispin's Day speech while naked before but, oddly enough, it worked (I imagine I'd have enjoyed the BBC version last year a lot more if they'd gone down the same route).
Finally, there was just time to go to Whole Foods (as part of my supermarket tour of America) before heading home.
The next day we went and walked along the High Line, which is a disused elevated railway track that has now been planted with plants and made into a walkway. The weather was rather pleasant and the walk seemed to fly by, especially as we stopped at Chelsea Market along the way. We then walked further south and down into the West Village in search of a café that turned out to be closed when we got there. Dizzy from hunger, we stumbled east (passing through a shop selling macarons as we went) and finally found ourselves in Blue Smoke for BBQ.
Once sated, we headed up to the Lincoln Centre to watch the new Studio Ghibli film, Up on Poppy Hill. It's a very sedate film full of nostalgia and rather odd plot twists, but it was pleasant enough to watch. When we were done and thinking of going home, we happened to see loads of people wandering into the Metropolitan Opera. Completely on a whim, we went in to see what was showing and ended up with two tickets to Rigoletto (set in Las Vegas, would you believe). For my first trip to the opera ever, I really enjoyed it! I never realised quite how much the music would compliment the action. Very good, especially the third act, even if my jetlag was making me fall asleep a little during that part.
Another late night so the next day we set off at around noon. Mariya's parents drove us to the Bronx Botanical Gardens, which are very pretty. Unofrtunately, spring in New York seems to be as late as spring in the UK, so there were very few trees in blossom about. Oh, and we spent ages going around the orchid exhibit, which was stiflingly busy but worth it.
On the way back, we persuaded Mariya's Dad to drive us to Trader Joe's for another stop on my supermarket tour of America. (Here, I discovered that an English accent works well in the US, because I was given a free chocolate bar from the guy at the checkout. Score!) Dinner was a quiet family affair, followed by the very pretty photos of Mariya's recent trip to India.
And then it was my final day. We had time to wander around the Bronx Zoo in the morning and early afternoon. It's a good zoo, but with maybe more ducks than is strictly necessary (seriously, I can see ducks anywhere. Give me a lion instead!) After that there was only time left for a quick dinner, some quick goodbyes, and then I was off to the airport to catch my flight home!
Speaking of flights. Life of Pi was meh, considering how much I'd enjoyed the book; Rise of the Guardians was far more fun and far prettier to watch than I'd expected; Skyfall was apparently easy to fall asleep to at 1am in the morning; and The Hobbit was comforting for a very tired me considering the tube journey home from Heathrow (Bag End is my ultimate comfort food).
So, as you can see, we did a lot of stuff but not much specific sight-seeing. Any sights we saw along the way were rather incidental (and I forgot to take photos for a lot of them). The ones I did remember to catch on camera are below: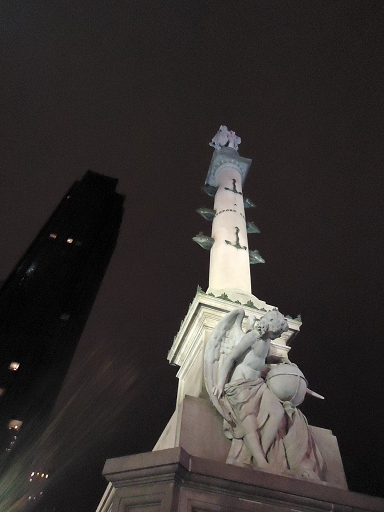 Columbus Circle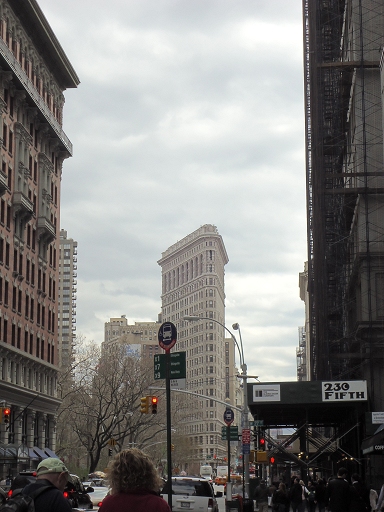 Flatiron Building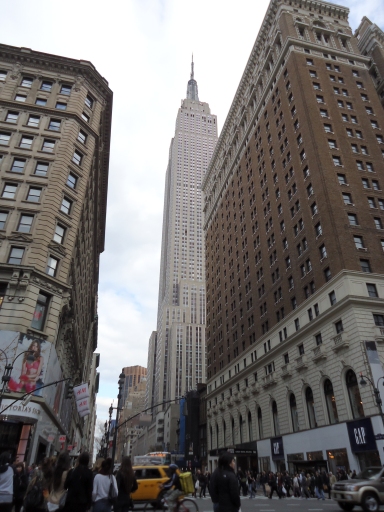 Empire State Building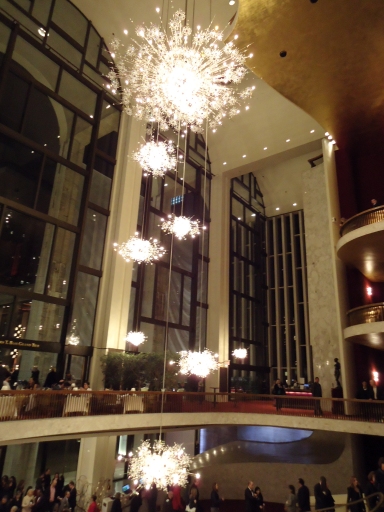 Metropolitan Opera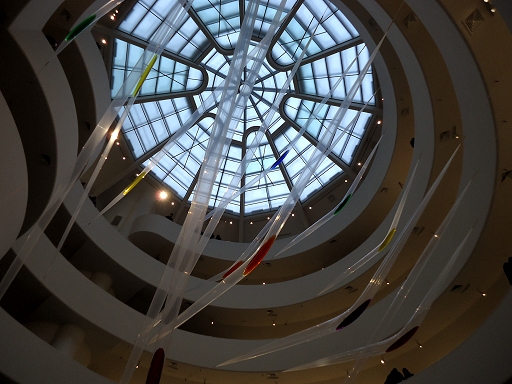 Guggenheim
***
2. Metropolitan Museum of Art
I love this museum so much. It's like the British Museum and the V&A all rolled into one with even more stuff. And the exhibition of late-19th century dresses was particularly lovely.
If you're hoping that I can remember what exhibits I took photos of, you're out of luck.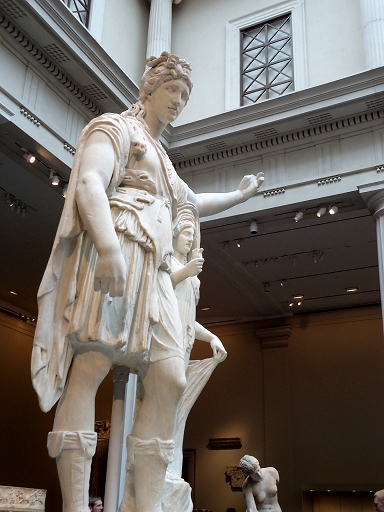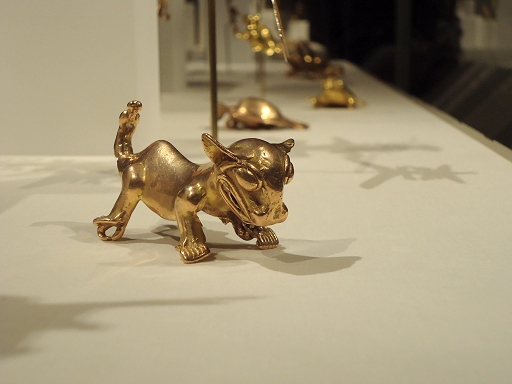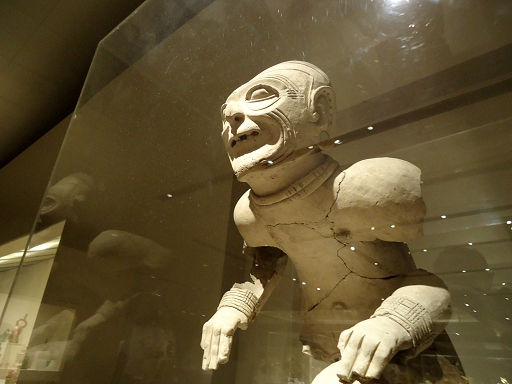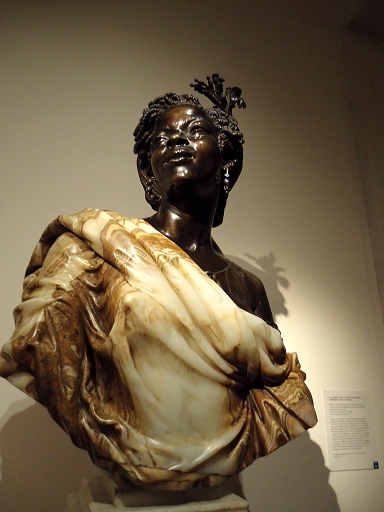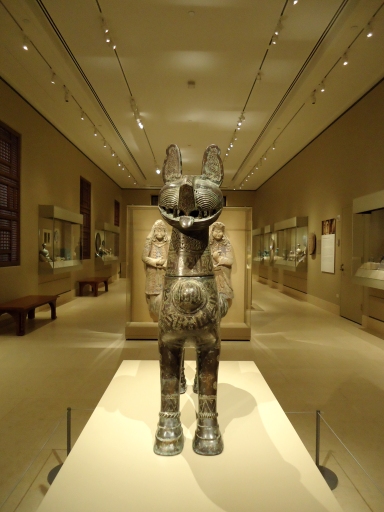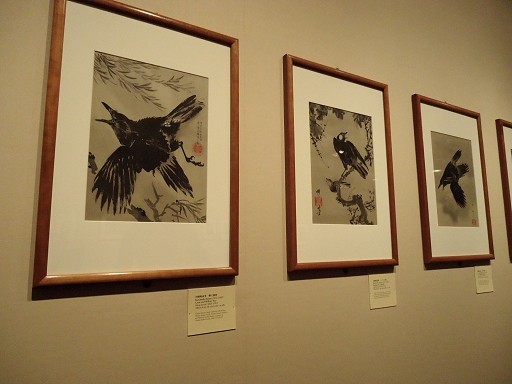 ***
3. High Line
Very busy, but a jolly nice walk all the same.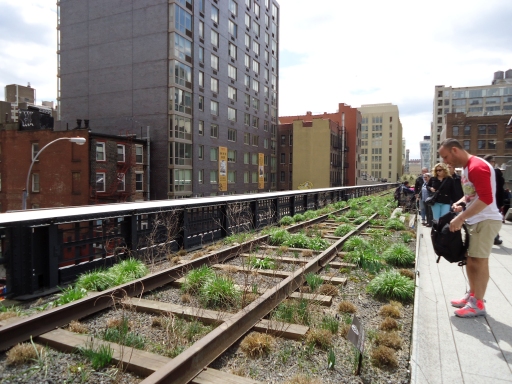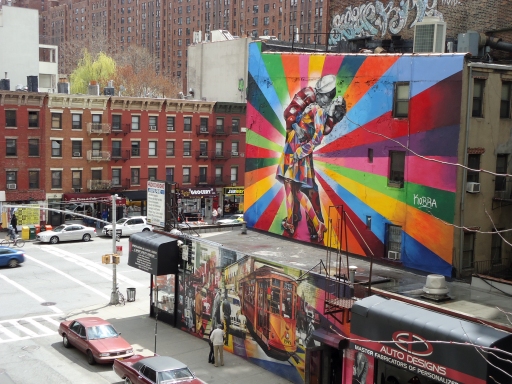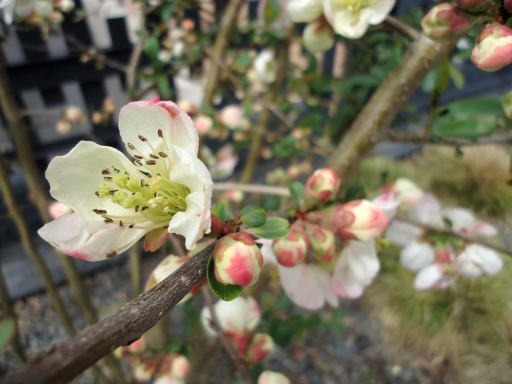 ***
4. Bronx Botanical Gardens
This place is great for taking photos. You might not believe me, but I've been very restrained with the amount of photos of tree blossoms I've put up here. And then, when you're tired of taking photos, the tram tour of the gardens is a great ride to fall asleep on.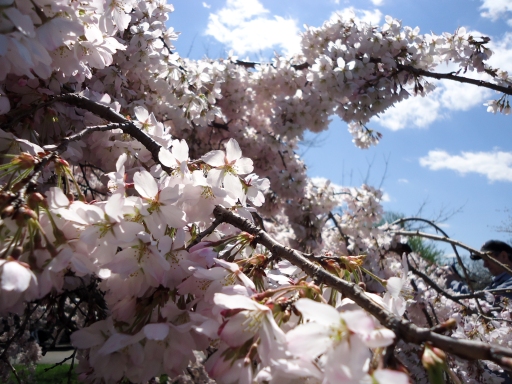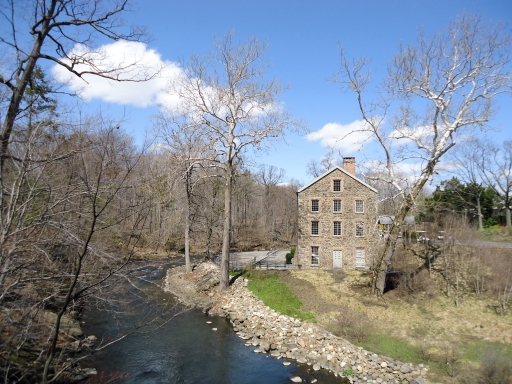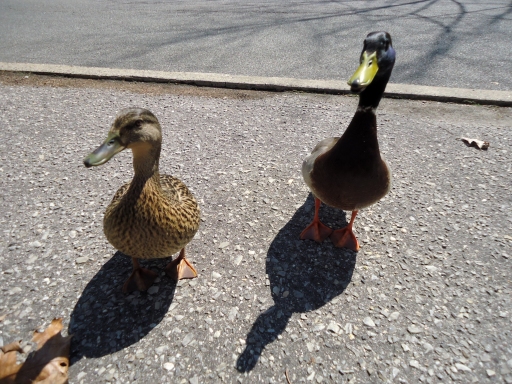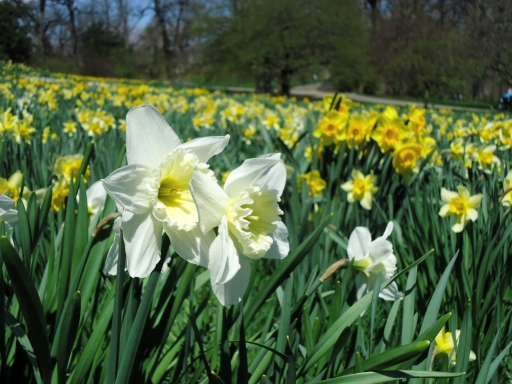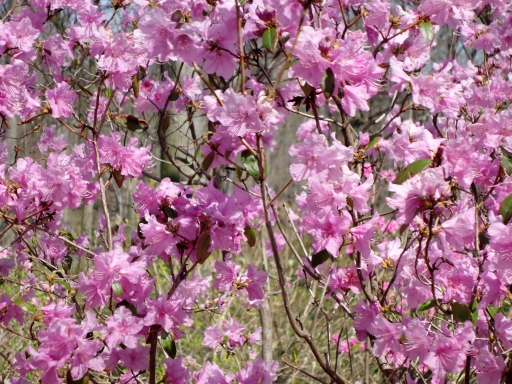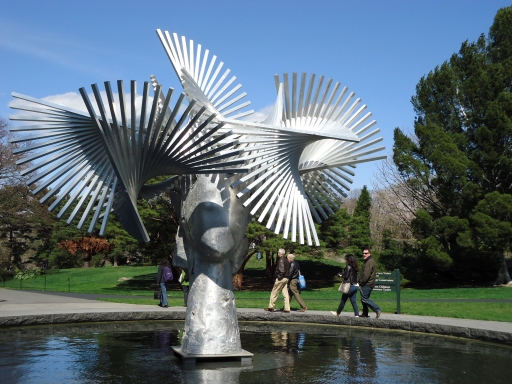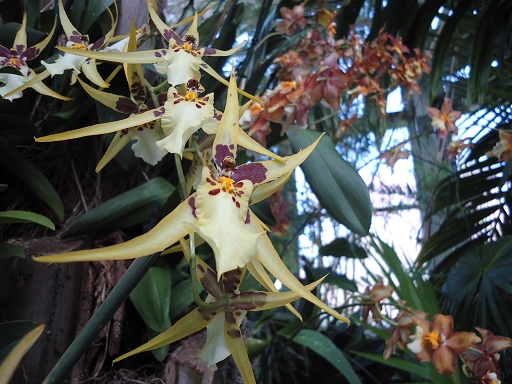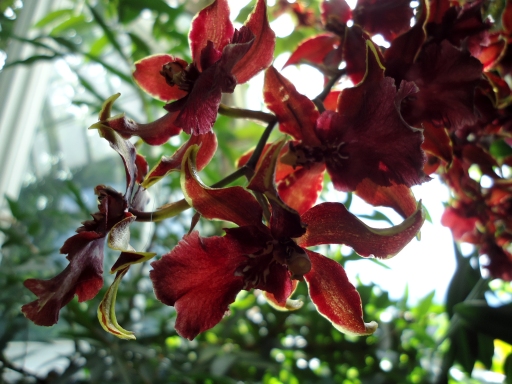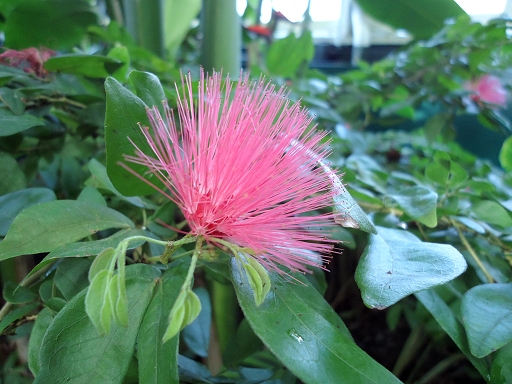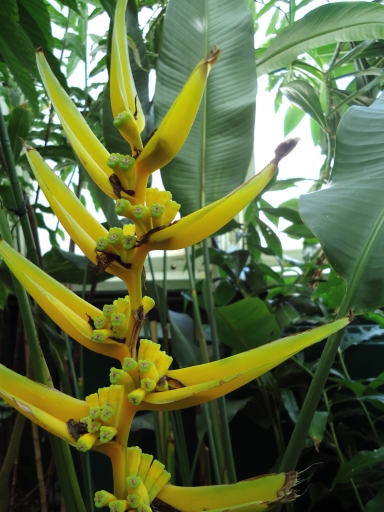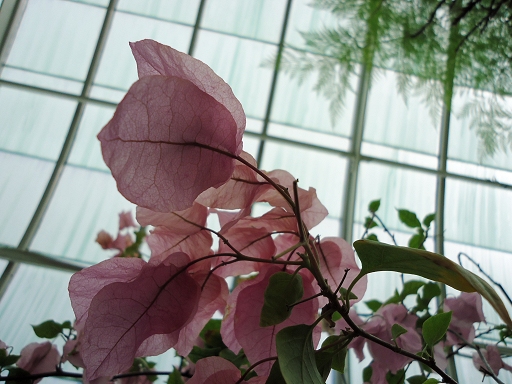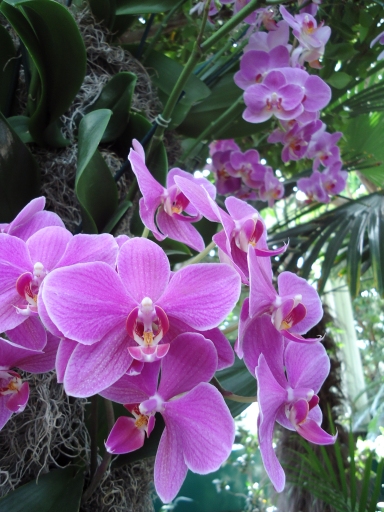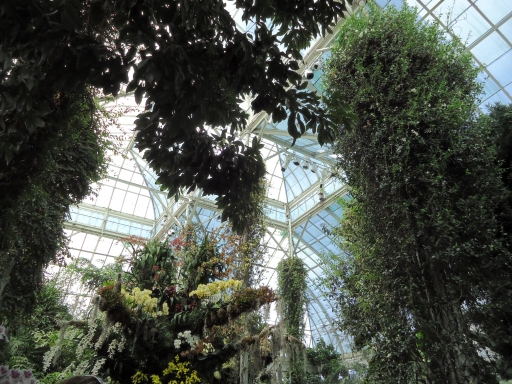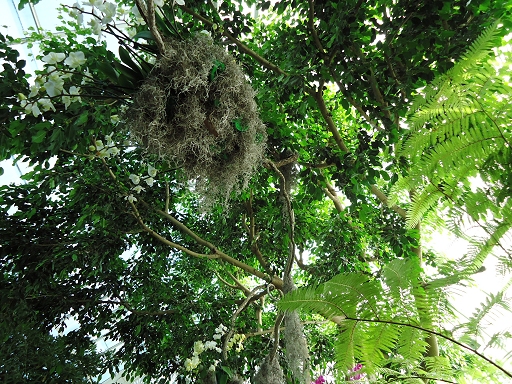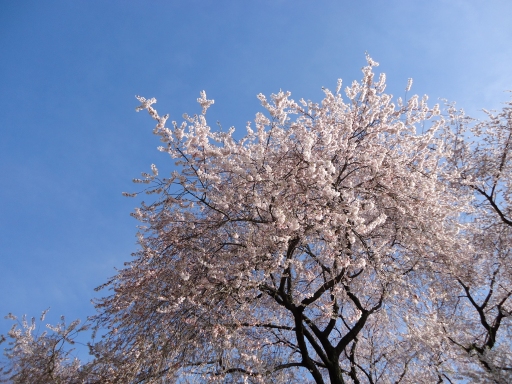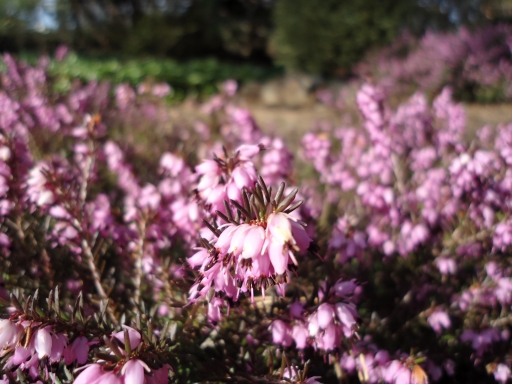 ***
5. Bronx Zoo
Zoos are great for feeling 10-years old again. The animals are always asleep, hiding, or moving too fast (See also: the red panda. Adorable adorable creature but it would not stay still for one second) so I'm shocked I got as many photos as I did.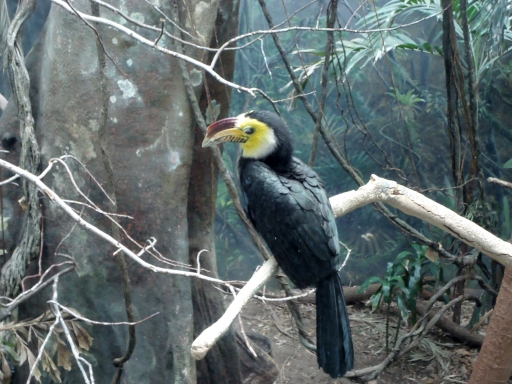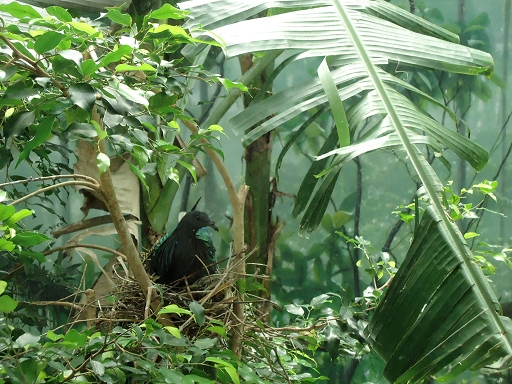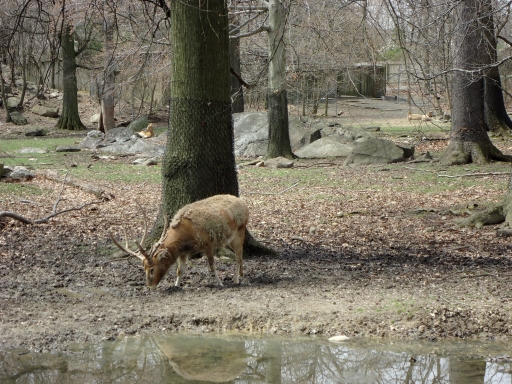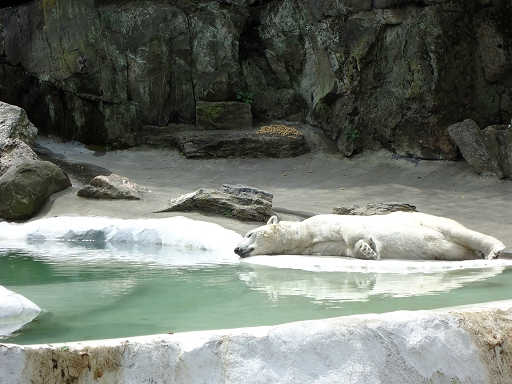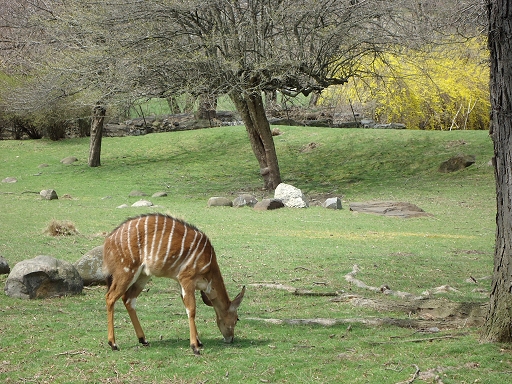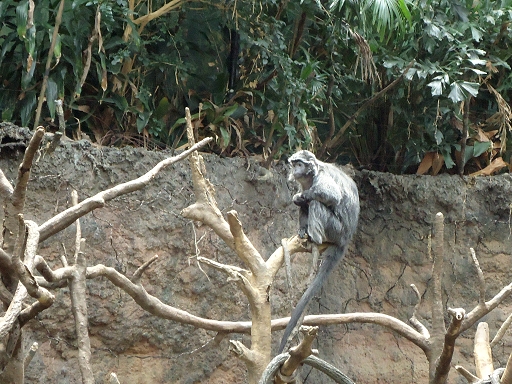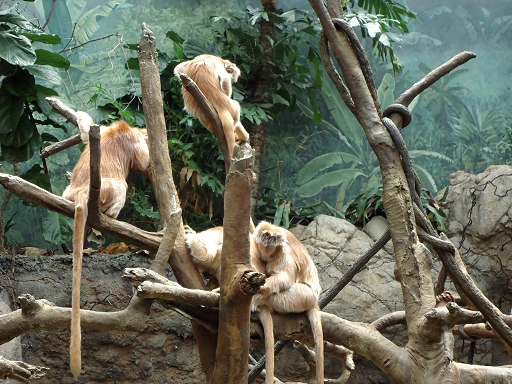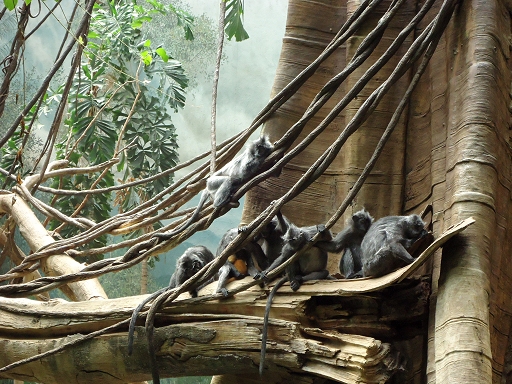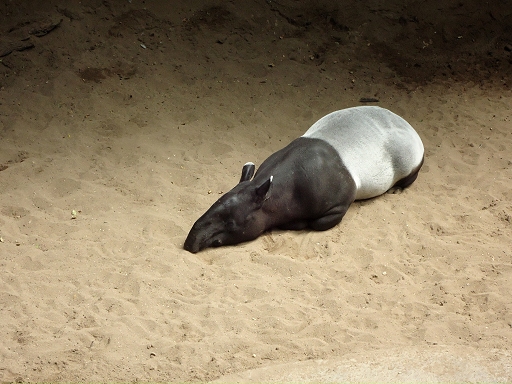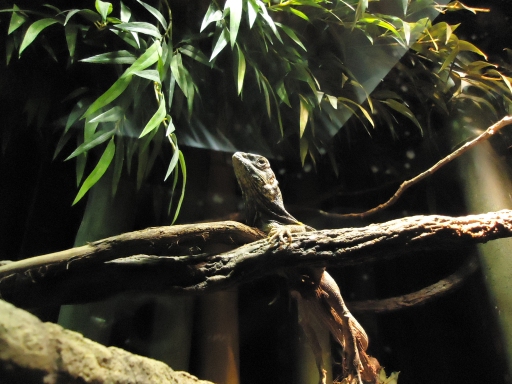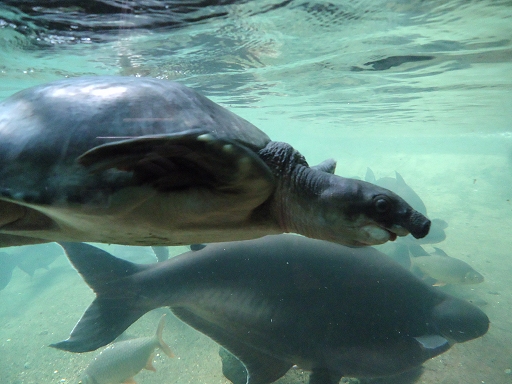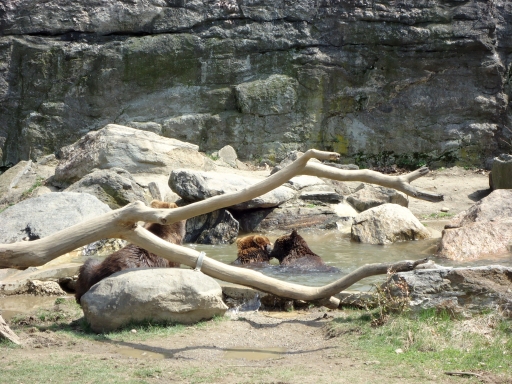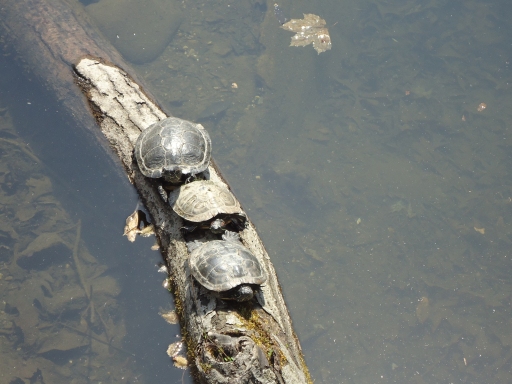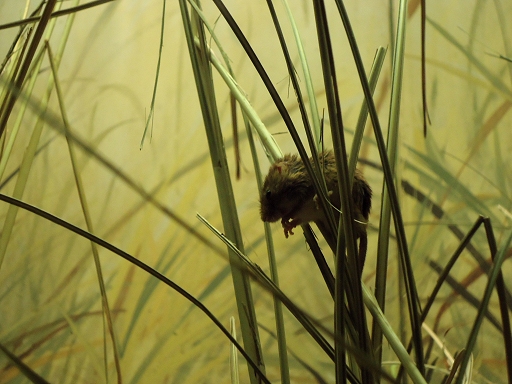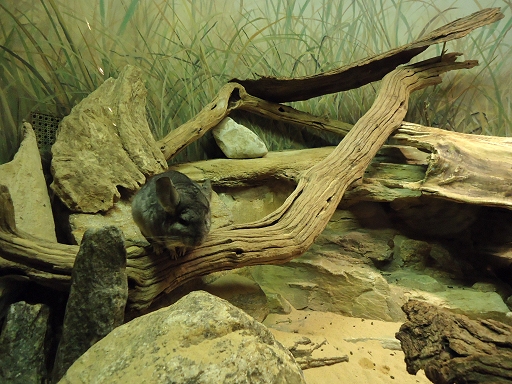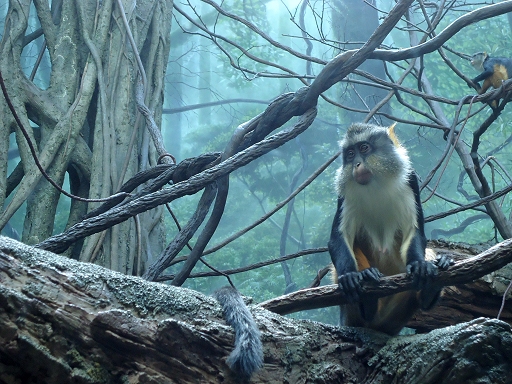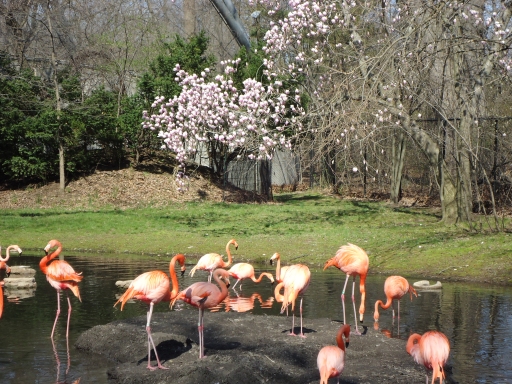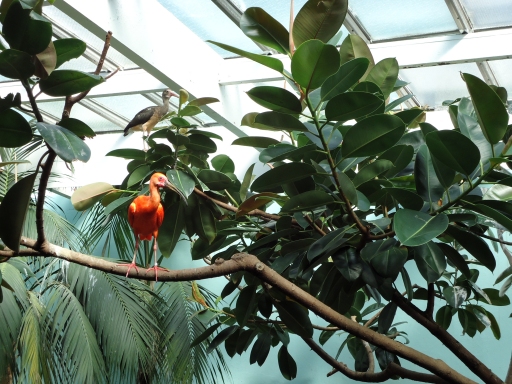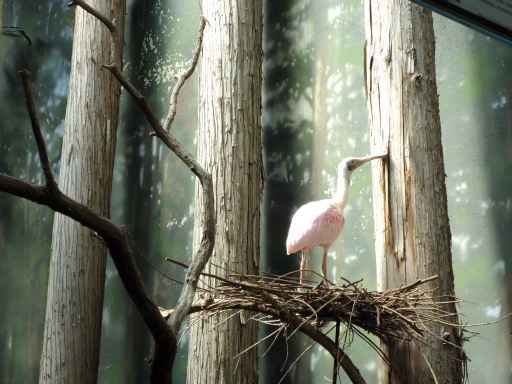 ***
6. Food
I did some very good eating on this trip. American food is so full of fat, sugar and salt that it's super-tasty by default.
The highlight is right below.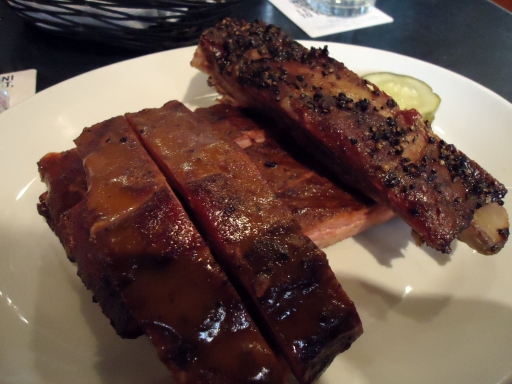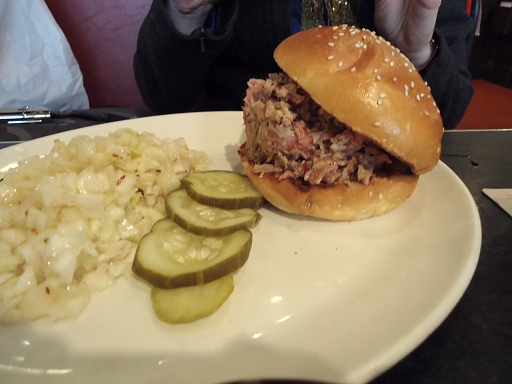 American BBQ! Oh, I have never had proper Southern-style BBQ before (well, it's up to those of you who know better to decide if this was proper or not). I didn't even know it was a thing! But those ribs. Those ribs! There must be a place in London where I can get this kind of food, right? Right?
(I'm going to sound like a heathen and say I'm not sold on the cornbread though. It's so sweet! It's like eating cake with your dinner!)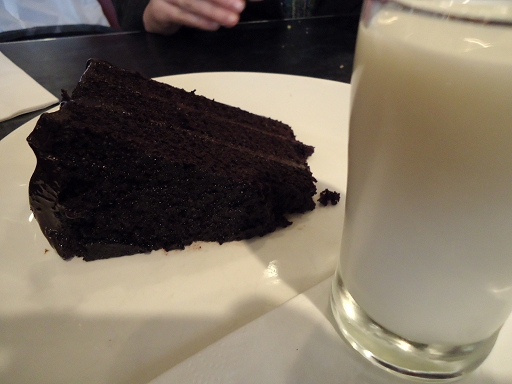 Oh, but we had actual proper cake afterwards too.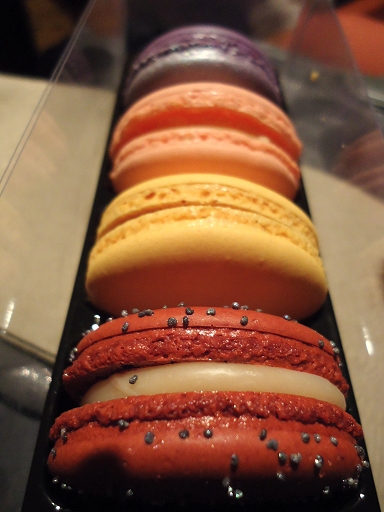 Would you believe that this is the first time I've eaten macarons? They're far more tasty than I thought they were going to be. These came from a shop called Sugar and Plumm.
(Handy hint: It doesn't go down well if you mention that they look a bit like vulvas. Just saying.)
In terms of cute food that doesn't look like ladies' bits, Mariya and I tried to make cute lunches for our trip to the botanical gardens.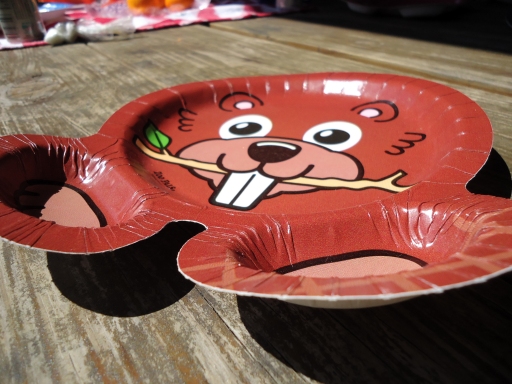 The plates we used were cute.
As for the sandwiches, they started cute, but after travelling in a lunchbox: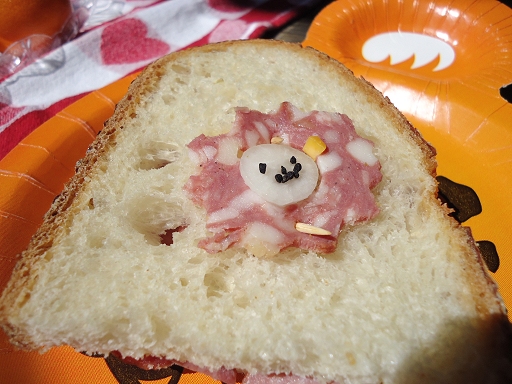 OH GOD WHAT IS IT
This was meant to be a lion but it lost an ear, and our plan of holding everything together with cocktail sticks produced a result that was both creepy and highly unsuccessful. If anyone out there is experienced in the world of bentos, please let me know how to stick stuff onto bread. There must be a way!
The radish birds and apple bunnies made by Mariya were cute though.
And then there's the food I didn't take photos of. Like the pastries! Or Mariya's Mum's super-tasty green borscht. Or the Shake Shack burgers. Or even the cereal I used to love the most, back when I lived in NYC for a bit (hint: it's Honey Bunches of Oats).
All in all, the eating was very good, and has left me reminiscing very fondly about my trip.
***
7. Souvenirs
Finally, it's impossible not to come back from holiday without at least some stuff. Here's what I arrived home with.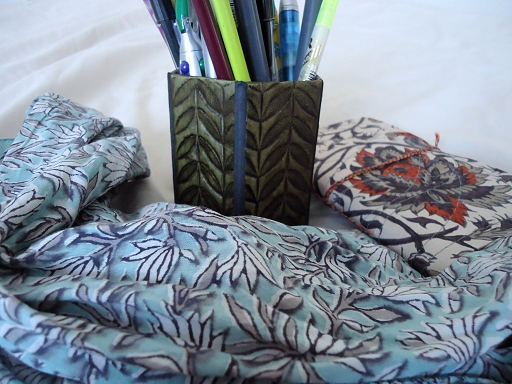 Mariya was so kind to get me these lovely gifts from her trip to India. There's a pen pot (which is something I'd actually needed for ages but hadn't gotten around to buying), a notebook, and a scarf that I've worn almost every day since I received it.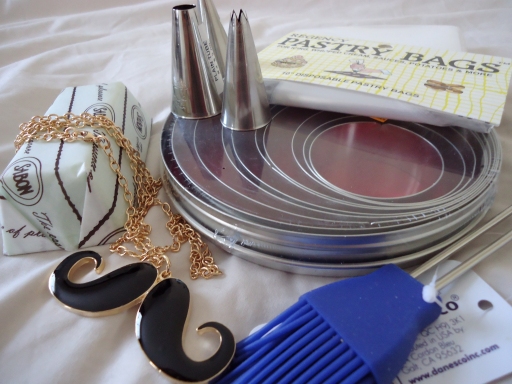 Then I bought some things for myself too. I told myself that I couldn't afford to buy any new clothes. Apparently, though, in my head, buying kitchen stuff that I will probably never use is just fine, hence the cookie cutters, piping bags and pastry brush. The moustache necklace cost me three whole dollars and so doesn't count. The body butter? Well, the staff in Sabon were so nice and it was so fun to try out their stuff in store that I couldn't help myself from getting something. This one smells of lemon.
And that's it. All in all, it was a great trip. Thanks again to Mariya and her parents for being wonderful hosts!
8 comments
@Mariya: Thanks! And, yes, at least they weren't exhibitionist ducks. Some animals just have no sense of propriety.
@Emma: Thanks! I'm glad you liked the photos. I discovered the zoom function on my camera. That's all there was to it. The zoom function and taking about a million photos with it so I could discard the many blurry ones.
The Bronx Botanical Gardens were great, and full of people taking photos. I imagine it must be a lovely place in the summer when it's a bit warmer.
And thanks for the info on the barbeque and the cornbread. I need to find some of this stuff in the UK (I've been too lazy to Google it so far).
Man, so many great pictures! I'm particularly impressed with the zoo photos (especially the monkey photo, which looks professionally done).
The BBQ seems pretty good to me, just from the picture. People fight a lot about barbecue here in the US, because we've seriously settled literally every other issue in public discourse for the better and we have to have something to talk about (?), but honestly — I say: If it tastes good, eat it.
Well, unless it's compost or something.
Cornbread is actually designed to compliment beans and/or fried chicken, and nourish poor people; it isn't normally super-sweet, except when corn is in season in the summer and tastes naturally sugary.
American food is so full of fat, sugar and salt that it's super-tasty by default.
And then it kills you. THEN IT KILLS YOU. AND THEN IT EATS YOU.
I have never been to the Bronx Botanical Gardens. So pretty, wow!
Looks like it was a really fantastic trip.
Now I want some BBQ :[
P.S. — I imagine I'd have enjoyed the BBC version last year a lot more if they'd gone down the same route
I would watch a show called Naked Plantagenets, absolutely, no matter how bad the acting was.
P.S. - I'm not sure if I wanted to see more of those lions vs. the ducks…at least the ducks behaved
One simply cannot compare Frankfurt to the capital of the world! :p
Also, Janine, I'm so happy that you enjoyed your stay, you were a wonderful house guest and you're welcome anytime!
Ahaha. I did wonder what you meant!
It's OK. And I obviously meant pimped rather than pumped.
Sorry about the length, man. I just had so many photos that once I started, I couldn't stop!
I enjoyed this even though it was much longer than your Frankfurt report. Well jel.
Your moral standing has gone down though. Pumping yourself out for chocolate and fanny biscuits.