Posted by

Janine

on 06 May 2013 in blog
Have I told you how much I'm loving my new kitchen? Because I'm loving my new kitchen.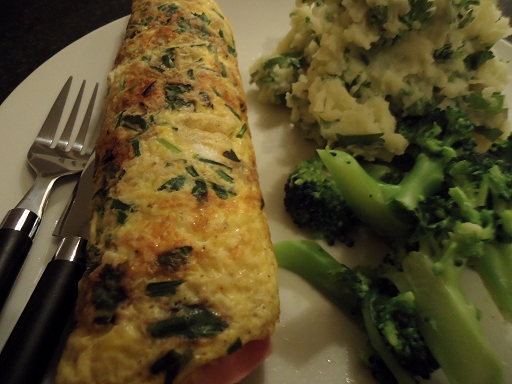 Rolled omelette
This came out a bit more bland than I was expecting, but it was nice enough. The one thing of note is that the recipe says it feeds four but, God, I reckon it could feed eight! That's one hell of a lot of egg and ham in there.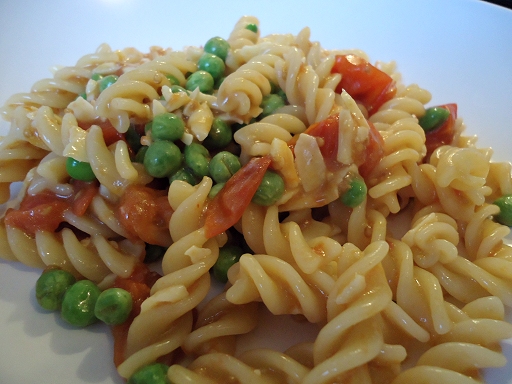 Tomato pasta salad
And another bland one; I'm sure it's not because I substituted the Red Leicester for Cheddar or used a different shape of pasta either. There's nothing offensive about it but it's a bit of a chore to eat if you're not a massive fan of peas. I'm not a massive fan of peas.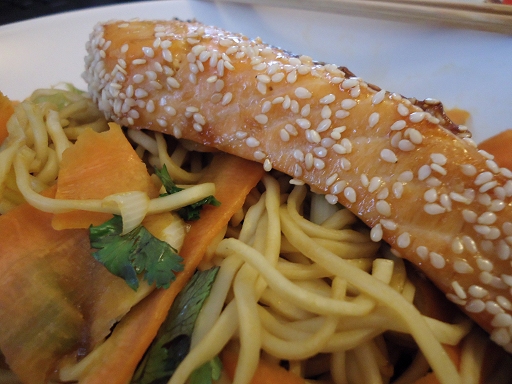 Asian salmon with stir-fried noodles
This was pleasant, if not quite as sticky-sweet as my own recipe for Asian-style salmon. Using the marinade in the stir fry was a great idea though; tasty noodles ahoy!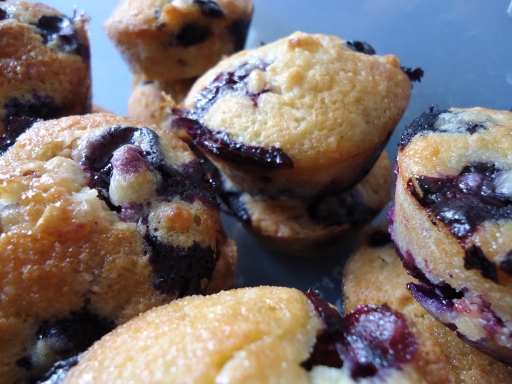 Blueberry lime friands (recipe from Mother's Little Book of Home-Baked Treats)
Everything I've cooked from this book so far has come out great. I'm impressed! Friands are new to me and they were terrifying to make because I was certain that I'd knocked all the air out of them and that they weren't going to rise at all. Happily, I was proved wrong. I had to chop the hazelnuts by hand, which added a crunchy texture, but I don't think that detracted from anything. In fact, the hazelnuts gave a nice undertone to the sweetness of the lime and the blueberry. And they are sweet; you will feel a bit ill if you try to eat two in one sitting.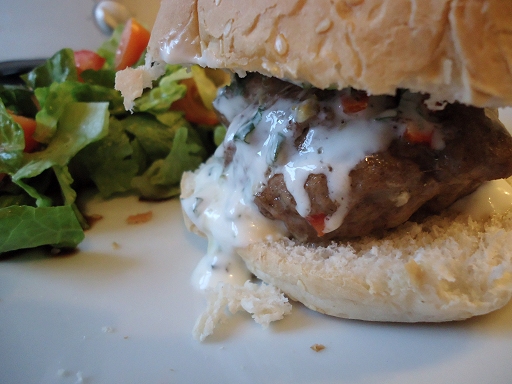 Indian lamb burgers
I used a red chilli instead of green and they didn't come out hot at all (luckily for me, that's just the way I like it). These burgers promised to be more tasty though. They're fine enough, yes, but I always find that burgers without onion in are a little lacking. That said, I cooked these under the grill and they came out super juicy, which is rather satisfying.
2 comments
It really is a good book, thanks! I've had a lot of fun with it and it's not let me down so far.
Yes! We should have made cupcakes. I don't know when we would have found the time, but we should have made some. At least we made a picnic!
The friands look delicious - we should have made cupcakes and decorated them while you were in NY. But did I get you the best recipe book or what?!