Posted by

Janine

on 11 May 2013 in blog
I've got a few things I want to talk about, so here's an odds and ends post today.
Contents
1. Spring
2. TV
3. American Gods
***
1. Spring
Spring is finally here! I've turned off the heating at home and have changed my morning commute so I can walk part of the way through the sunshine and spend less time on the train.
Ok, so it's not all sunny, hot fun-times constantly; today, for example, it's cold and wet. But it's not cold cold. Not snow and woolly hats cold, just I'll throw on a light scarf and turn on the heating a notch cold. After all that time when I thought winter wouldn't leave us, this is still wonderful.
Last weekend, being a bank holiday weekend, I went to visit my parents. We took advantage of the nice weather by going on a walk through the countryside.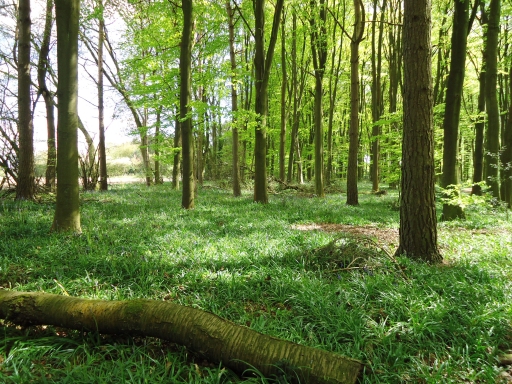 The attempt was to go find some bluebells but we were about a week too early. There are bluebells in this picture, but not enough to give the ground that purple haze that makes bluebells so nice.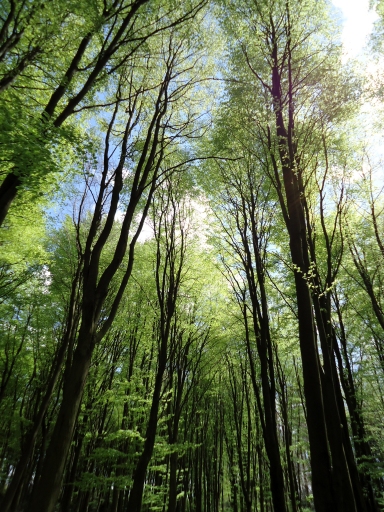 The trees were gorgeous though. It was a beech wood so the trees were all tall and straight and the leaves were so fresh and new that they were a vivid green. All in all it was rather majestic.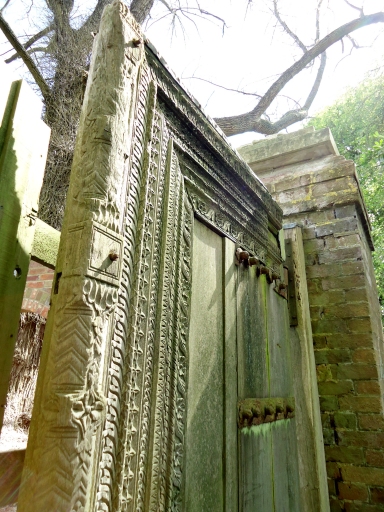 Oh, and we found this cool old gate too. We figured that it was probably part of a much nicer, grander door at some point in the past, but then it got broken and so was relegated outside for gate duty.
***
2. TV
I have been watching so much TV recently! Let me run down the main ones.
MasterChef
This show is my guilty pleasure. It's so over-the-top that it's very funny to watch. I like the crazy dance music used to heighten the tension; I like looking at all that food; I like cheering on my favourite contestants; but most of all I love to watch Gregg Wallace pull a million faces.
The Village
BBC's glossy drama about the life in one village during the First World War. It was beautiful to watch; well-acted with writing that was often subtle and clever in the best way. But. Jesus! It was so depressing! I know it was dealing with a tough period of history, but I think I can count only two happy things that happened over the whole 6-hour course of the series! If you want to feel miserable, then watch this show.
Game of Thrones
If I ever watch all of this, it's going to take a long time, because I only watch it at my parents house. I've only seen the first three episodes of the first season so far but I have been enjoying it! Very well made. My favourite part though, might just be the opening sequence; that theme tune is epic.
Doctor Who
I've got nothing to say about this one. The show continues to be as silly as ever, as rickety as ever, and as great for light-hearted, escapist fun as ever. p.s. The ghost episode gave me the chills.
It's Kevin
Kevin Eldon's sketch show was disappointing. It had some funny moments in it, like this sketch, this sketch and this sketch. But it wasn't as funny as I had hoped it would be, given all the talent that was in it. A part of it may have been down to the style of the show, which I think was meant to be corny in a tongue-in-cheek way, but actually just came across as corny in a corny way.
Plebs
The surprise winner though, is Plebs. Here's a clip. I am still shocked that ITV3 has managed to make a sitcom that's worth watching. Apparently, it's a bit like The Inbetweeners, but having not really watched much of that show, I can't say. What I can say about Plebs is that it's set in ancient Rome, is not ground-breaking as far as comedy shows go, but has enough good jokes in it to make it worth watching. Oh, and the ska music ties everything together really well. If you get the chance, give it a try!
***
3. American Gods
I just finished this book, which I'd borrowed from my Mum, and I need to tell you about it. It's a thick old thing and thoroughly enjoyable to read, down to every last page. It's very good! I spent most of the book trying to work out exactly what made it so compelling. Neil Gaiman, it turns out, writes very well. The world-building is great, in that things are only hinted at and half-spelled out, giving the sense of this mysterious other world that could easily be studied if you could just grasp hold of it. Meanwhile, the plot has this kind of momentum that's not obvious but is still there in the background, driving the story forwards.
That's too wordy. tl;dr what I'm trying to say is: this is a great book and I really liked it a lot and if you read it I think you would like it too.
After that, I moved onto Dickens, which is very different but no less enjoyable. Maybe more on that later.