Posted by

Janine

on 05 Nov 2019 in blog
I haven't tried out too many recipes since my last post (instead I've spent ages working out what to do with that shrimp paste I had left over). Here are the few recipes I've given a go: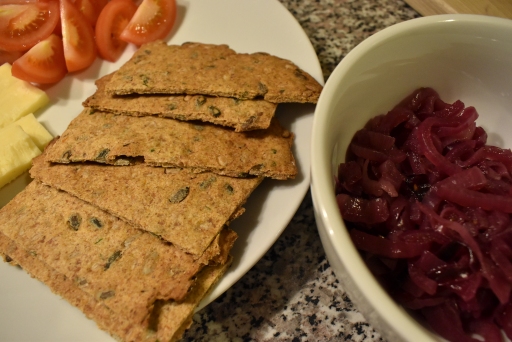 Enwezor's pumpkin and sunflower biscuits (recipe from "The Great British Bake Off Big Book of Baking" by Linda Collister)
This is a recipe for pumpkin seed and sunflower seed savoury biscuits with a red onion chutney. Enwezor was one of the contestants in the 2014 "Great British Bake Off". He was eliminated in week two, so you might not remember him, but he was made infamous by using shop-bought fondant rather than making his own (cue horrified gasps. Mary wasn't impressed, and I wouldn't be either, if I actually knew what fondant was.) Anyway, I wasn't sure about making a recipe from someone who left the competition so early; would it be any good? The recipe looked suspect too. You're meant to roll the biscuit dough into a flat sheet, bake it, flip the sheet over, bake it on the other side, then cut out the biscuits using a biscuit cutter and bake them some more. It sounded like a disaster waiting to happen. I was worried about flipping my sheet of dough over to bake it on the other side, but actually it was quite strong and didn't show any signs of collapsing when I manhandled it. This became more of a problem when I went to cut out the biscuits because my biscuit cutter wouldn't go through the dough at all. It was so solid! In the end, I followed the recipe's alternative instruction of cutting the biscuits into rectangles with a knife (this was still a tough job, but I like that it used all of the dough without any of the waste that circular cutters would have left). The reason for all the nonsense with the baking makes sense when you bite into the biscuits. They are so crisp! And the taste is great too: as well as the seeds, there's rye flour, chives, mustard and sun-dried tomato purée in those babies. The recipe recommended eating the biscuits with cheese, but honestly the biscuits were so savoury and tasty by themselves that the cheese didn't add anything to them. Coming into this recipe I thought the biscuits would let me down, but it turns out that the part I didn't like was the chutney. I didn't add the red wine to my chutney, which is maybe where I went wrong. As well as red wine, red wine vinegar, and caraway seeds in the chutney, there is also blackcurrant squash and 50g sugar. The end result was too sweet for me. It tasted quite a lot like Branston pickle, which is also too sweet for me. Perhaps I could have stomached the chutney in smaller quantities, but with four large onions, I was left with tonnes of the stuff. In conclusion: the biscuits are a faff to make but are fabulous; just don't bother with the chutney.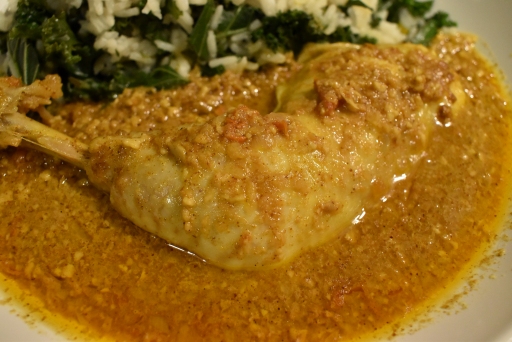 Bombay butter chicken legs (recipe from "Chicken Leg" by Hoe Yee)
This dish smells so good. It smells like proper curry. Maybe it's the tomato and shallot base? (The recipe calls for red shallots but, as always, I don't know what those are so I just used normal shallots.) The tomatoes and shallots are meant to be whizzed up with cashew nuts in a blender to make a paste. I don't have a blender, so used my food processor instead, which resulted in a chunky paste. Then you're meant to fry the paste, add the chicken, seasonings, butter and water, cover with a lid, and simmer "until the chicken legs are cooked and the gravy is thick". I honestly don't know what it is about this book and thinking that sauces are going to reduce with the lid on. My sauce didn't get very thick, but I didn't mind it soupy. It turns out the only thing I did mind was that this recipe calls for 50g butter per portion. 50g! I think you can see the butter floating on top of the sauce in my picture. The resulting sauce was really tasty but incredibly rich. I couldn't eat much of it because it was so rich I actually found it sickly. Reduce the amount of butter however (to half a tablespoon or something) and you'd end up with a really excellent curry.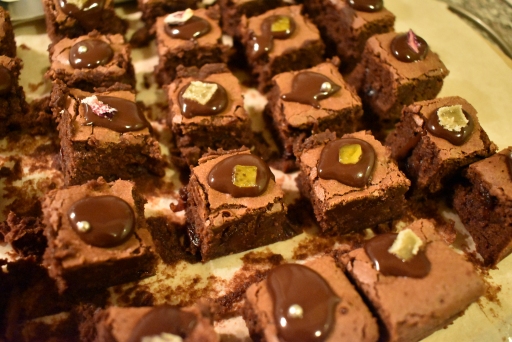 Petits fours (recipe from "Mother's Little Book of Home-Baked Treats")
As the name suggests, these are meant to be really dainty and pretty. I think you can tell from the picture that my "pretty" icing job on the top left a lot to be desired. The cake itself is a cherry chocolate brownie (and the brownie crust on top means there's no way to cut it prettily either). I'm not normally a fan of fruit in my brownies, but these brownies were so chocolatey that the cherries just added a nice moistness and didn't detract from the chocolate at all. The cherries were actually meant to be soaked in brandy, sherry or Marsala, but I ignored that part (because why would I ruin my chocolate with fruit and booze?) I found that the bake time stated in the recipe was off. You're meant to cook the brownies for 15 minutes at 170°C. Maybe it's because I couldn't find a 6.5 inch square tin as stated in the recipe and used a 6 inch one instead, or maybe it's because most other brownie recipes call for them to be baked at a higher temperature for longer, but after the baking time given in the recipe, my brownies were still pure, liquid batter. I mean, sure, maybe these brownies are meant to be fudgy, but I still don't think they're meant to slop out of the tin. So I shoved mine back in the oven and tested them every now and again until a skewer test suggested they'd be mostly done but still a bit fudgy. That turned out to be 30 minutes in total. I think I made the right call there, because these brownies were moist, dense and intensely chocolatey. Oh, they were good. Where I let myself down (as you can tell) was the decoration. The icing is a dark chocolate ganache, and I have never had any problems with ganache UNTIL NOW. The ganache was meant to be piped in pretty rosettes, but I don't think anyone can tell that I actually piped these. Basically, my ganache split when I was making it (in hindsight, I think I started stirring too quickly without letting the cream warm the chocolate first). I frantically Googled how to save split ganache and was told to add a little warm milk. Doing this did indeed save my ganache (hurrah!) so I left it to cool while I had a chat to my Mum on the phone. Alas, when I came back to the cooled ganache, I found that it had split again in my absence. So, I angrily heated it again and added more warm milk to save it for a second time. At this point I should have left it to cool for another hour or so, but I was so worried that it would split again when cooling (and I also thought that perhaps I'd made it more runny now anyway, with all that extra milk) that I waited for it to cool for only 15 minutes before I gave up and piped it into those pretty rosettes you see above. (Turns out that it didn't split again and it did firm up nicely in the fridge, but you live and learn.) The toppings are a mixture of candied ginger, candied orange peel, silver balls (the recipe asks for silver "dragees" which the internet seems to tell me are silver balls) and crystallised roses. I couldn't find the recommended additional gold dragees or crystallised violets. Come to mention it, I couldn't find crystallised roses either, but I improvised with a tub of dried rose petals, some egg white, and sugar. My rose petals took longer to dry than various recipes would have me believe, so perhaps submerging them in the egg white, rather than brushing it on with a paintbrush, was a bad idea. Still, they turned out crunchy, tasting strongly of rose, and nobody died of raw egg white poisoning (which is always a bonus). So, to sum up: these little brownies (they're like an inch square, guys) were not the pretty, dainty things that the name "petits fours" suggests, but my God did they taste good. Thankfully brownies are very forgiving; that much chocolate can never go too wrong.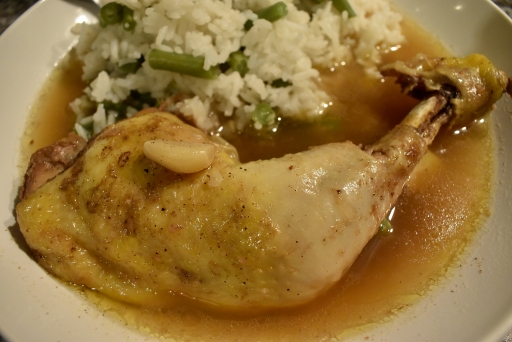 Chicken legs simmered with galangal (recipe from "Chicken Leg" by Hoe Yee)
This dish was rather underwhelming. It may be due to the fact that I couldn't find half of the ingredients: I was meant to include galangal (I could only find galangal paste, so that's what I used), rock sugar (I used caster sugar instead), a head of smoked garlic (I used a normal head of garlic, which I peeled, and then added some liquid smoke as well), and preserved red bean curds (I had no idea what I could use in place of these, so I just left them out). Hmmm. The cooking method is slightly odd. This is the only savoury recipe I've found where you start by melting the sugar to make a caramel. What?? You then add the other ingredients, 500ml water, chuck the lid on and simmer it all for 30 minutes. I simmered mine for 50 minutes to fully cook my chicken, but the gravy still wasn't thick like the recipe suggested it should be by that time. Am I getting déjà vu? I was worried that the resulting dish would be too sweet, even if it did smell good when cooking. It turns out that the 500ml water diluted the sweetness to make it bearable, and it also diluted the other flavours so you couldn't taste them much at all, not even the galangal. I'm wondering if the 500ml water was a typo, because you'd have to boil that much water with the lid off for a long time to get the sauce to thicken in any way. So this dish was edible, but not at all as tasty as it could have been. Was it the water or was it the missing preserved bean curd?