Food Post - 1 July 2019
posted on Jul 1, 2019 by
Janine
in
blog
After the conclusion of my last food post, I have now been altering my oven temperature according to my oven thermometer. I can confirm that things come out a lot less burnt if you cook them at the right temperature. Not that everything has been successful, mind; it's just that I can't blame any mistakes on the oven any more.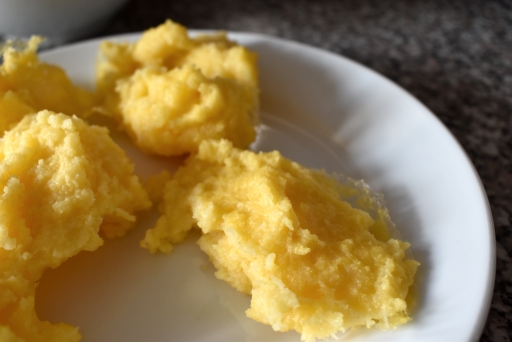 Ugali (recipe from "The Groundnut Cookbook" by Duval Timothy, Jacob Fodio Todd and Folayemi Brown)
This is not a meal in itself, but a widely-eaten side dish from East Africa. Ugali is made from maize meal, which I think is polenta. At least, I used polenta, hence the yellow colour (the picture in the recipe book suggests that maize meal is paler than polenta). Most ugali recipes I've seen show it moulded into a mound by using a bowl. This recipe instead wants you to lovingly create quenelles. Having never quenelled anything in my whole life before, especially not solid polenta, I ended up with the "rustic", lumpy photo above. In taste, ugali is bland, like unseasoned polenta, because that's exactly what it is. The neutral taste makes it great for stews though. I had it with a curry, and while I failed at the attempt to eat it with my hands and use it to scoop up the sauce like you're supposed to, I can see how this could be a great comfort food. As a bonus, cooking this recipe has taught me that if you cook polenta on a very low heat, you don't get the chaotic bubbling that sprays polenta onto everything within a metre radius.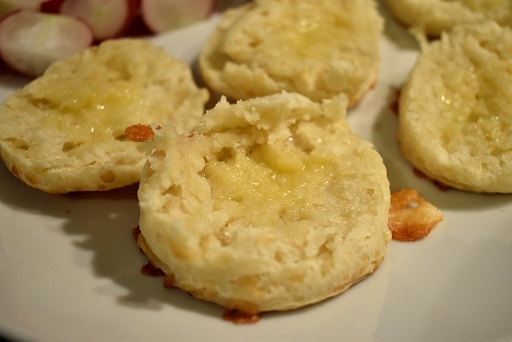 3-ingredient savoury cheese scones
Do you know I had never made scones before? I was beginning to feel rather foolish because of it. Time to set things right! What I learned is that making this scone dough is stupidly easy. I also learned that even if your oven is the correct temperature, the scones might not be fully baked when the time is up. How do you check for doneness in scones? I don't know. Mine were golden on the top but still a bit squidgy in the middle. I think they were probably underbaked, but the squidgyness could also have come from the cheese. There is a tonne of cheese in these scones, making them dense but very tasty.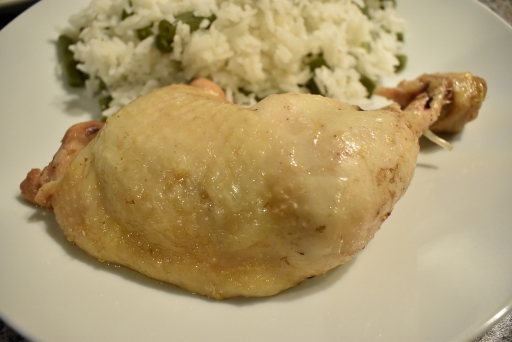 Smoked chicken legs (recipe from "Chicken Leg" by Hoe Yee)
I fudged this recipe a little. Ok, a lot. You're meant to simmer the chicken legs in water with a number of spices, and then put the cooked chicken in a wok and smoke it by burning a mixture of sugar, tea leaves and star anise. Setting things alight in my kitchen sounded like more risk than I was willing to take for a piece of chicken, so I didn't. Instead of smoking the chicken, I bought liquid smoke, which I added in with the spices when cooking the chicken; and then when the chicken was cooked (I left it simmering for 50 minutes, rather than the 30 minutes stated in the recipe) I rubbed a little more liquid smoke onto the outside of the chicken for good luck. What I didn't realise is that liquid smoke isn't pure smoke, but has other flavourings added, like onion and things. Seeing as the liquid smoke I'd bought contained almost as much salt as soy sauce, and seeing as there was already a lot of soy sauce in the recipe, I went a bit light on the liquid smoke. The resulting salt levels were fine, but the resulting smoky taste was lacking a little. All in all, the chicken tasted ok, but it's probably a long way from what the original recipe intended.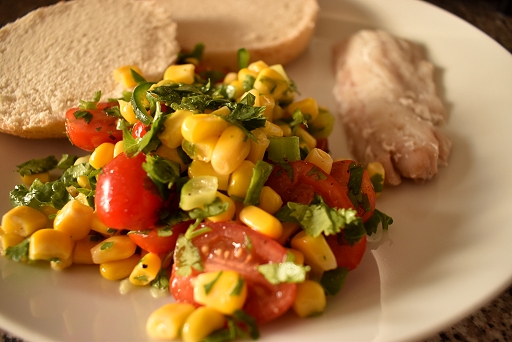 Tomato and corn salad
This recipe was a great success. It's super easy: chop, mix, done. And the taste is bright, fresh and sweet; really yummy. I always love anything with lime and coriander in, and this was no exception. The raw spring onions added a nice flavour without being too overpowering and the chilli (I couldn't find red, so used green) was not too hot (in fact my chilli was bordering on too mild, because I could barely taste it). A lovely side dish and perfect for summer.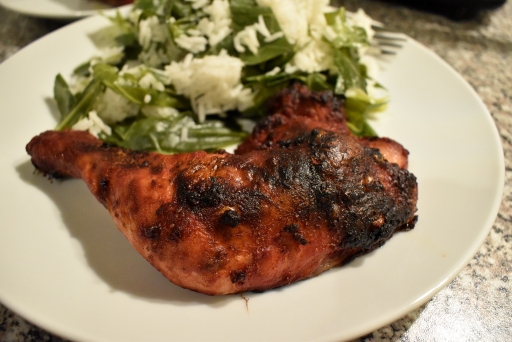 Tandoori chicken legs (recipe from "Chicken Leg" by Hoe Yee)
Look! Look at that! It is red. This time I bought bake-stable red food colouring and I am so happy with the way it came out (I had to use quite a lot of the food colouring to get a bright colour, but it's completely worth it for that proper tandoori look). After marinating the chicken, it is baked at a high heat (250°C). The recipe said to bake it for 30 minutes, but I left it in for 50 minutes so the chicken could cook fully. Normally this extra cooking leaves me with properly-burnt chicken on the outside, but now that I can adjust my oven temperature correctly, I only had mildly-burnt chicken! Thankfully tandoori chicken is a recipe that should look a little blackened on the outside, so I'm counting this as a win. In taste, this dish tasted just like tandoori chicken should; I was very impressed. Plus, the melted butter in the marinade means that it smells gorgeously buttery while cooking.