Posted by

Janine

on 04 Aug 2019 in blog
A little while ago I went on holiday to the south of France with Deborah and Claire. It was a rather last-minute thing, which I don't recommend, because the prices of the flights will sting you!
It's been about 15 years since I was last in France, and it's been even longer since I'd learnt to speak any French, so my ability to communicate was very clunky. To be fair, most people spoke English, but I still gave some French a go (and when that didn't work, I had a terrible habit of saying English words in a French accent, because my subconscious mind seemed to think that was just the same as speaking a foreign language????)
So, the holiday was nice, but not without some hiccups. They were, in order:
- Claire missing her flight out, and having to pay for another flight the next morning.
- Claire getting heat exhaustion of her first day in France because she hadn't slept well at the airport (see above).
- A freak wave on the beach catching Deborah's phone and Kindle. The phone later came back to life (I have yet to hear about the fate of the Kindle).
- Deborah missing her Eurostar home because her train to Paris was hugely delayed due to forest fires.
Forest fires! Yup. We went to France during the heatwave. Thankfully this was only a heatwave in the 30s, and not the ridiculous above 40C temperatures France has had on other weeks.
Despite everything, we had a fun time. It was great to eat well and enjoy each other's company. (Turns out Basque food is tasty. Gateau Basque, oh my.) We stayed in Biarritz, which is on the Atlantic coast in the Basque region. Biarritz has all the quaint little streets you could ask for, some old-school jet set glamour, and lots of surfing (and even if you don't surf - we didn't - it's still fun to watch the surfers try to catch the waves).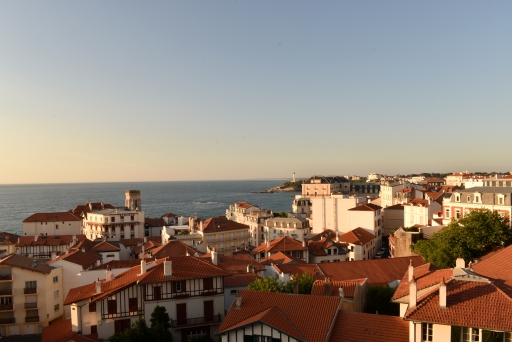 This is the view from our hotel balcony. The hotel wasn't air-conditioned, which made sleeping very difficult. It was such a relief to step out onto the balcony in the cool of the morning and enjoy the view over a leisurely breakfast.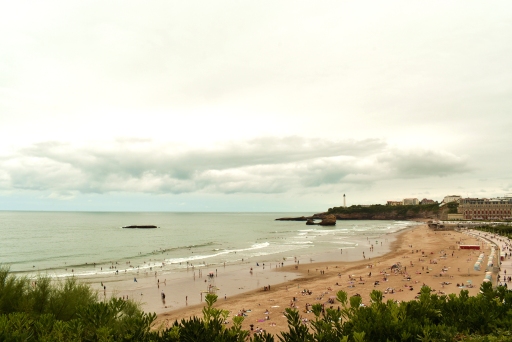 There are quite a lot of beaches in Biarritz. This is the Grand Plage, which was the best beach for watching the surfing. Alas, this is also the beach where the wave/electronic device disaster struck.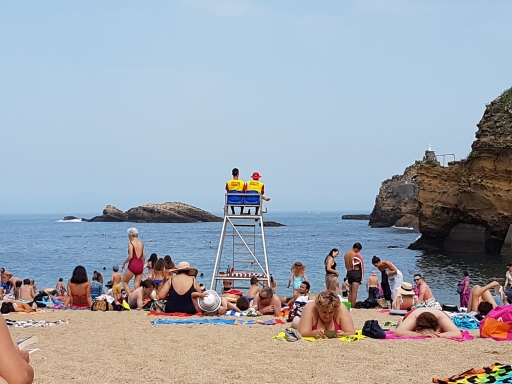 I preferred this beach, called Port Vieux. It's smaller and so more manageable, even if the sand is stonier. Plus, on the right-hand side you get a view of the Virgin Mary statue on the Rocher de la Vierge.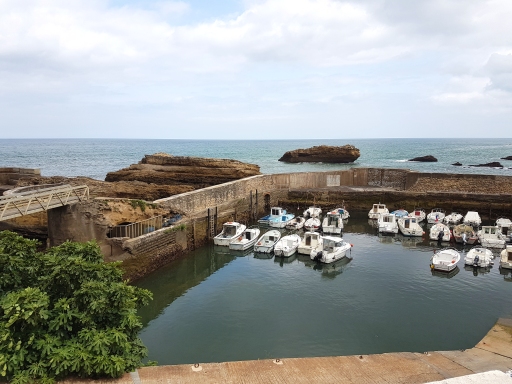 Near Port Vieux beach is the Port Vieux area. As the name suggests, this was the old port (historically the town was known for whaling, before the tourists moved in). No whales are caught any more, but there must still be some fresh fish coming in because the Port Vieux area has some great seafood. My tuna salad was delicious!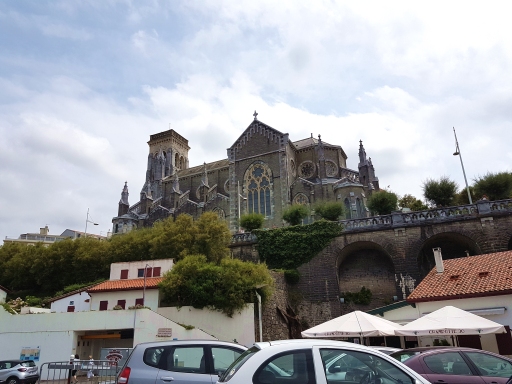 Behind the harbour you can look up to see the church of St Eugénie, which was built in the 19th Century. We could see the distinctive bell tower from our hotel balcony.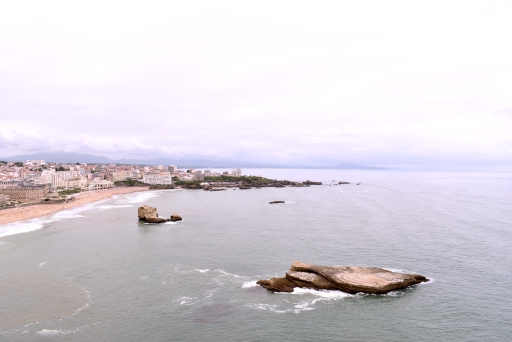 The other thing you could see from our balcony is the lighthouse. Great, you might think, unless your bed is by the window and the flashing light is stopping you from sleeping (poor Deborah and Claire; I slept around the corner). For a small price you can climb up the lighthouse to the top. It's quite a climb, and the stairs get very narrow at the end. The view is worth it though. This photo is looking towards the Grand Plage.
Speaking of views, the sunsets in Biarritz were so beautiful that I took several photos.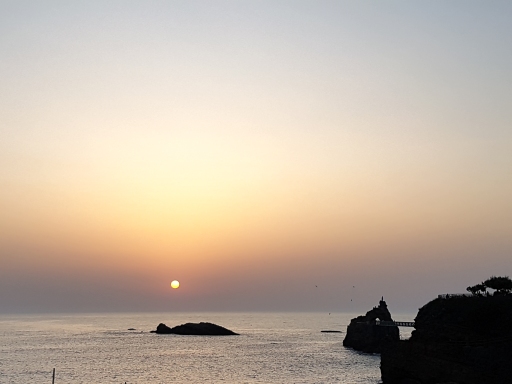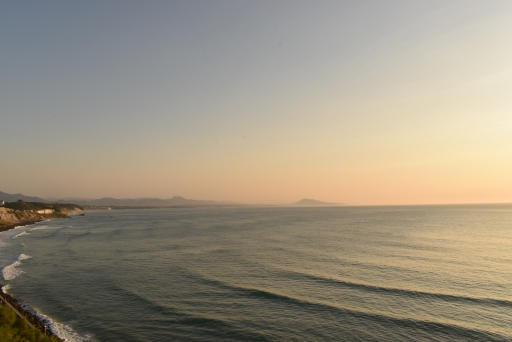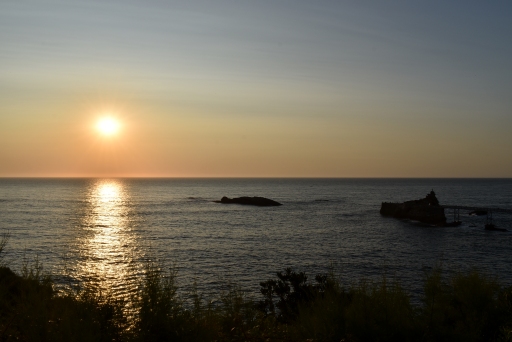 <3
2 comments
This looks like an absolutely amazing vacation. I can't imagine being able to go to France for a few days, just for fun; it's such a big deal when you're traveling from the US. Also I have trouble flying, and worry to the point of panic that my scleral buckle is going to explode if the cabin loses even a tiny amount of pressure. But. Nevermind. You don't have a scleral buckle, and don't need to ever think about your eyeballs exploding ever again I apologize.
The beaches look like book covers from the 60s. I extra-especially love that first "Sunset in Biarritz" photo (even sounds like a novel from the 60s), which is breathtakingly beautiful. Actually, all three of those last photos are to die for.
Google translate tells me the word I'm looking for here is "spectaculaire." I'd go with "wow," also.
I have heard of people who take the train to France from London, just to go to lunch! That's a bit beyond my budget though!
The lifeguard uniforms tickled me greatly; they looked just like I thought they should do. I agree with "Sunset in Biarritz" sounding very 60s. It would have been great to be able to go to Biarritz in the 60s and see it in its heyday.