Food post - 18 March 2019
Posted by

Janine

on 18 Mar 2019 in blog
Hi again! Let's have a food post.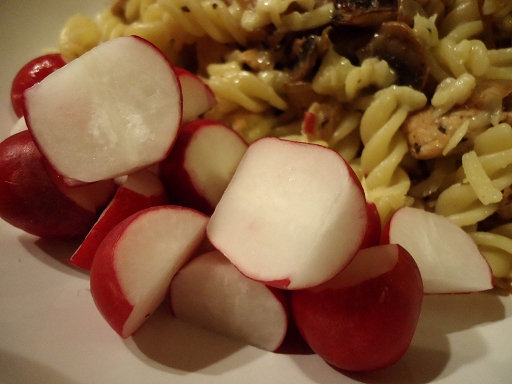 Radishes (recipe from "The Groundnut Cookbook" by Duval Timothy, Jacob Fodio Todd and Folayemi Brown)
Ok, it's a real stretch to call this a "recipe". This dish is what it says it is: radishes. Just radishes. The recipe book basically says: "Have you considered eating radishes as a side dish? They're great. Chop them in half and eat them." And, do you know what? I hadn't considered eating radishes as a side dish. In fact, I rarely ate radishes; they'd never really made it into my food repertoire (probably because I tried them as a kid and disliked the pepperiness). It turns out that radishes really do make a great side dish. They're fresh and crunchy, and I'm always fond of side dishes that don't require any cooking whatsover (after all, some evenings I just want to bung stuff on a plate then shove it in my mouth in 5 minutes flat). I am now a convert and have been eating radishes almost every other week since.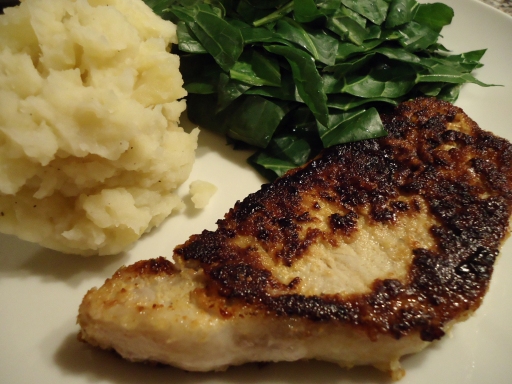 Sage pork with potato and apple mash
I cooked this on Valentine's day as a little romantic treat to myself. Alas, as treats go, this one isn't very indulgent or inspiring. Part of that is my fault: I don't cook pork often, so I'm not very good at getting it fully cooked without being overdone. I didn't want pink pork, so I fried it for longer than the recipe stated, but that led to the breadcrumb coating getting a little burnt. But then, part of the boringness of this dish is the recipe's fault too. You are told to cover the pork and let it rest after cooking. Resting I can understand, but covering it? For this recipe? Basically, covering the pork while resting it meant that all the steam made the breadcrumb coating turn from crispy to soggy. Does anyone want to eat a soggy breadcrumb coating? No they don't. And the breadcrumb coating wasn't even that tasty. I mean, you could taste the mustard and the fennel seeds, but I wasn't getting much sage. And when it came to the mash, I could barely taste the apple at all (I just used whatever apples I had lying about, so I obviously picked the wrong type for this dish). Plus the mash wasn't anywhere near as creamy as I like it. Basically, this recipe involves quite a lot of faff, none of which is worth it. I mean, the dish is ok; none of it is horrible. But if I wasn't following a recipe, I could have probably made something nicer :/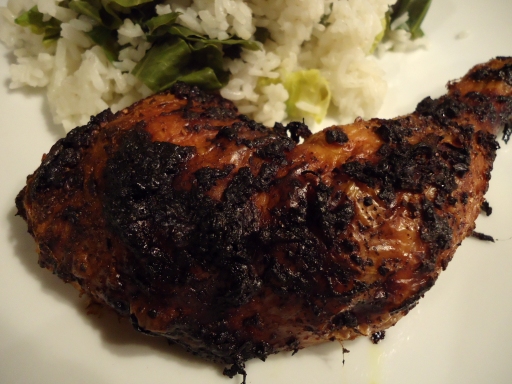 Indonesian baked chicken legs (recipe from "Chicken Leg" by Hoe Yee)
Look, I'm not even going to attempt to blame this one on the recipe. This disaster was all on me. STOP LAUGHING. As I say, this recipe had all the makings of a really tasty dish before I got my hands on it. You marinate the chicken in this really thick sauce, which includes coconut milk, coriander, lemongrass, garlic and turmeric among other things. (By the bye, it's been long enough since I last cooked with fresh turmeric that I had entirely forgotten how catastrophic it is. Things that became stained yellow included my food processor, my fridge, my kitchen work surface, my chopping board, my hands, MY TOOTHBRUSH, and a long line of tea towels. I'm not sure I'll ever own a tea towel that's not yellow ever again, even though I'm using industrial amounts of stain remover in my washing machine.) The marinade also asked for candlenuts, which I couldn't find, so I substituted with cashew nuts. When it was all mixed together, the marinade smelled great. Alas, I wasn't thinking. The recipe calls for the chicken to be cooked for 30 minutes at 250°C. I know from experience that my chicken legs only come out fully cooked if I give them 50 minutes. The problem is, that's normally 50 minutes at 200°C (and even then the topping comes out burnt more often than not). 50 minutes at 250°C was basically incineration o'clock. I mean, my chicken was still nicely cooked inside, but most of the taste from the marinade was gone; it was just carbon (well, carbon and yellow staining everywhere).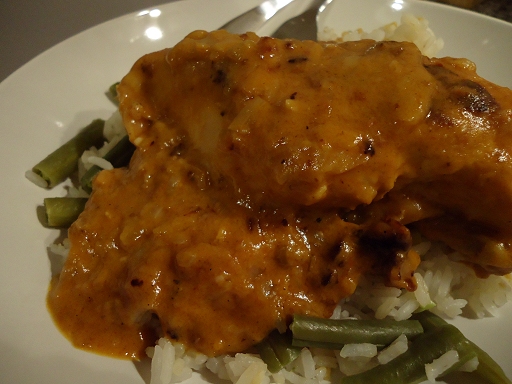 The groundnut stew (recipe from "The Groundnut Cookbook" by Duval Timothy, Jacob Fodio Todd and Folayemi Brown)
Here we have one of the ugliest photos in this post to accompany one of the best recipes. This is the dish that the Groundnut Cookbook takes its name from. The cookbook was born from a supper club, which was called The Groundnut Supper Club. The blurb alongside the recipe tells us that this is a recipe from Duval Timothy's family and is basically the reason why the three of them started the supper club together. I CAN TELL WHY. This is a gorgeous dish and perfect for this time of year: warm, rich and comforting. That's not to say that it's easy to cook! The hardest part is, without a doubt, the chicken. You see, the ingredients list blithely calls for "1 chicken, skinned and chopped into 8 pieces". That sounds so easy! Unfortunately, if you have zero experience in butchery, plus a knife that's not really sharp enough, you are going to struggle. Honestly, there was one part, where I was busy trying to saw off a leg, that I felt like a living incarnation of Judith beheading Holofernes. It was carnage. And to have to skin it as well as butcher it; my God! I'm sure an experienced cook could do it in five minutes. It took me an hour. Then the recipe says that you have to sear the chicken before making the stew. Doing that in batches (because I have a small pan) took almost another hour. By this point I was worried that my chicken had been sitting at room temperature, half-cooked for a long time. I made sure to cook the final stew for longer than the 25 minutes the recipe says, because I wanted to make sure the chicken was fully cooked. (In some cases 25 minutes may be fine, but when I checked my stew at the 25 minute mark, parts of the chicken were still merrily oozing pink juices.) There are two more issues with this recipe, one of which is an error on my part, and one of which is an error on the recipe's part. My error was to take the scotch bonnet pepper out too soon. The recipe says to pierce the pepper and let it cook with the stew, with the caveat that you can take it out whenever the stew is getting too hot. I had never cooked with scotch bonnet peppers before, and I was worried they were going to be way too spicy for me. Fairly early on in the cooking, the pepper got so soft that it split open; I panicked at this and removed the pepper before the seeds could go everywhere. This left me with a stew that didn't have any heat at all. Note to self: leave the chilli in next time. The recipe's error is a typo: the ingredients list says to use groundnut oil, while the recipe instructions say to use olive oil. It was only once I'd used olive oil in the dish that I realised the ingredients list said something different. The dish still tasted great with olive oil, but the smoke point is too low if you're searing cuts of meat; I think groundnut oil would have been better. Ok, all that aside, this dish was almost worth the effort. It tasted so rich! Sweet onions and creamy peanut butter in this thick sauce with moist chicken (and I say this as someone who doesn't care much for peanut butter in normal circumstances). The groundnut stew is comfort food at it's finest. So so tasty. The only reason why the dish isn't fully worth the effort is because it would be so much easier to just buy a pack of chicken drumsticks and use them instead of all that butchery. But if you go down the drumstick route then it would be well worth the effort. Your tastebuds will thank you.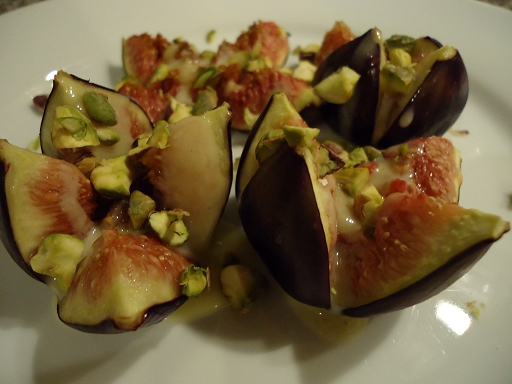 Figs with honey-cream and pistachios (recipe from "Nigellissima: Instant Italian Inspiration" by Nigella Lawson)
I wasn't sure what to expect from this dessert. 1) I'd never eaten fresh figs before, and I'd always found dried ones kind of lacklustre. 2) How exciting can baked fruit really be? But I was wrong. I WAS SO WRONG. This dish was easy to make and amazing to eat. My figs were small, so I used more than the recipe says and baked them for less time. I might still have baked them for too long, because you can see how one has just collapsed at the back there. Still, who cares if it doesn't look that pretty when it tastes so good? I felt like I was eating a fancy restaurant desert. The mixture of the olive oil, cream and honey on the figs made it so rich and creamy, and the pistachios were the icing on the cake. I am astounded that a dish that's 90% fruit can be this indulgent. It was gorgeous.
2 comments
Okay, a FOOD POST. That's excellent.
I feel as though I should deduct points, however, for "radishes." Radishes is not a recipe, Janine. Radishes is not what a FOOD POST is all about.
A FOOD POST is mostly about watching you cook psychotic chicken leg recipes from other cultures that have ingredients lists that look like free association exercises, and then being astonished when you write, "Well, I didn't have the ground-up rubber tire flour, so I used regular flour, and I could only find Thai shrimp paste instead of the hard-edged deframbulated prawn powder, also I had to cook it for three weeks instead of the twenty-seven seconds the recipe called for, but all in all it wasn't too bad." That is a FOOD POST, Janine.
You are letting everyone down.
The pork doesn't look too bad! I like burned bits and will take any kind of baked breading, so I would probably actively enjoy that dish. I don't know how apples could go in a mash, though. Not with potatoes? They have so much water in them, eww. I feel like someone let you down with that recipe. Root vegetable mash is really good, but you don't put anything in it that releases a bunch of water like an apple does. A quick Google suggests that lots of people put apples and potatoes together in their mash, but I feel like they're swapping the dish out with an all-potato version for the photos.
The figs look amazing.
I think the judges can be persuaded to overlook the "radishes." This time.
Oh my goodness. I am cackling! "Ground-up rubber tire flour" my God. I am so sorry to let the side down with the radishes, but my diet now contains 300% more radishes than it used to; I'm not sure any of the chicken leg recipes can claim to have caused as much personal growth as that.
Perhaps one day I will try to mash potatoes with apples again. But not any time soon.