Posted by

Janine

on 06 Jan 2020 in blog
Happy 2020, all! How are you? Are you good?
I was going to do a round-up of the last decade but, really, what is there to say? Am I supposed to sit here and pretend that I remember it all? Well. Let's see. I lived in four different places, including moving back to London, for my sins. I worked in four different organisations, learned things and met people. I was able to clear up my mental health problems to a very satisfactory degree. I travelled to Asia for the first time. I started trying out new recipes and discovered a hobby that wouldn't let me go. I lost several grandparents and an aunt. They will be much missed.
In essence: time has passed and things have happened. I am happier now than I was, but that's down to the mental health stuff mentioned above. Honestly, if the next decade continued on much like the last (excluding the deaths in the family), I'd be very content.
My New Year's resolution this year is an attempt to cling onto that contentment. I don't want to do anything big or special; I just want to enjoy every day for what it is. That means no more worrying about what tomorrow might bring. If something is worrying me, then I'm going to set aside a time to plan for it, and sort it out then. I shall worry no more. If at the end of each day I am alive and fed and have a comfortable place to sleep, then there's nothing else I need. I will have done some enjoyable things that day, and I will have helped other people to have an enjoyable day too (even if just in the smallest of ways), and that's all I need to focus on.
So, thinking of enjoyable things: I went to visit my parents over Christmas. I'm not normally with them for so many days, so it was nice to have some quality family time. We watched lots of TV ("Moana" was very enjoyable, "The Goes Wrong Show" less so). We ate lots of snacks (all the snacks; so many snacks). And we saw some friends. We also visited my Dad's side of the family on Boxing Day for an enjoyable buffet, including my uncle's excellent samosas. Then on the Sunday after Christmas we went on a country walk with my Mum's side of the family (the mud! So much mud!)
Returning back to London, I went to see Deborah for New Year's Eve, and Esha came too. There I partook of more snacks, a visit to a local pub, and shameless karaoke pretending to use remote controls as microphones. The less we say about our attempt at "Despacito" the better.
As is traditional, let me show you my presents:
Lots of Christmas cards. The one at the top with the swans came from one of my uncles. I have never seen so much glitter come with a card before! It just poured out of the envelope! I don't think my flat will ever be free of glitter again.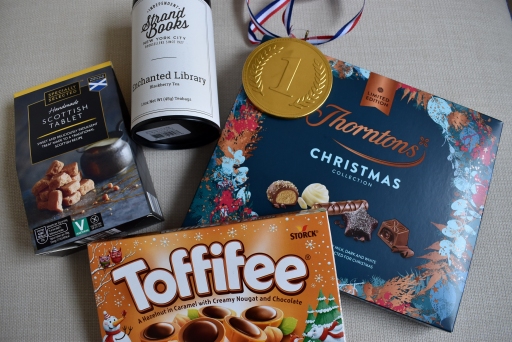 Edible presents, including library tea from Mariya and some lovely chocolates from Asia. The medal is a large chocolate coin and is from my uncle. At the end of our family walk in the country, he handed one out to everyone. It was unexpected and silly and much appreciated.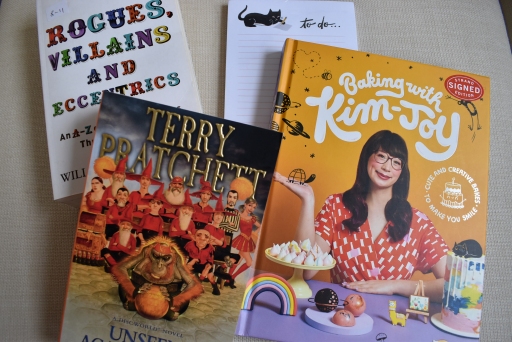 Books and notebooks, including a signed Kim-Joy cookbook from Mariya. I am going to get stuck into those recipes soon. Every bake in the book looks so cute, and I'm pretty sure that I'm not going to be able to recreate that level of cuteness in the slightest. I foresee some terrifying attempts coming out of my kitchen in the future. Be warned.
Toiletries, all from my parents. More wash-bags, because the ones I received for my birthday weren't entirely big enough for my needs (I don't travel light); a new perfume to try out (it smelled very nice in the shop); and the grey pouch is a tissue-holder, which was hand-made by one of my Mum's colleagues.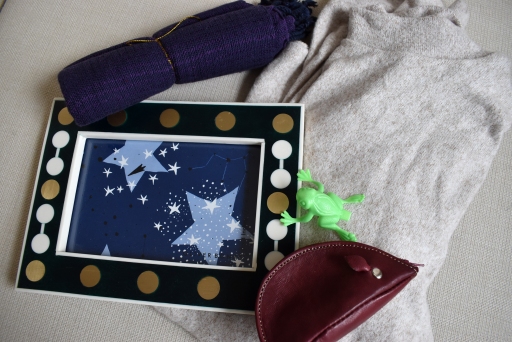 Finally, we have category: other. Featuring a lovely scarf and cute mouse purse from Mariya, and a photo frame from Deborah. The beige top is from my parents and the frog was found in my cracker; it's my friend now.
Not pictured is the scratch card I was given by my cousin (he bought a roll and gave one out to everyone). I won £2! Now I'm rich! No wonder I'm enjoying the start to this decade.
Have a good one, all!
2 comments
Well, Happy New Year! Ten days late, but better than nothing! Probably!
I'm so happy to hear about your embettered state of mental health. I myself am going to a new therapist the second week of February, and she specializes in CBT, and other weird things that may or may not be woo. Perhaps I'll be able to emulate your general state of contentment in January 2021! Here's hoping. (I too worry my pants off over usually nothing, which sometimes causes me to let actually important stuff slide.)
Your presents all look very excellent; I remember Kim-Joy! I thought she was so uniquely beautiful and made such amazing baked stuff. A real, remarkable talent. I was sad she didn't win (I don't remember who did, but that's nothing against the winner; I forget everything that isn't random minutiae).
Your year sounds so exciting! I hope this one will be even better. All the best to you and your lovely family and your consistently adorable-sounding friends! VIVA LA… UM… 2021!!!
I hope the new therapist works out for you! I'm not so sure about woo, but for me I found that CBT was really helpful.
I don't remember who won Bake Off when Kim-Joy was a contestant either. Wait. I just Googled it. Rahul won; he was the Indian guy with lots of talent and zero self-confidence.