Food Post - 24 February 2020
Posted by

Janine

on 24 Feb 2020 in blog
Welcome to the first food post of the future (aka 2020). Let's start this year as we mean to carry on: by eating.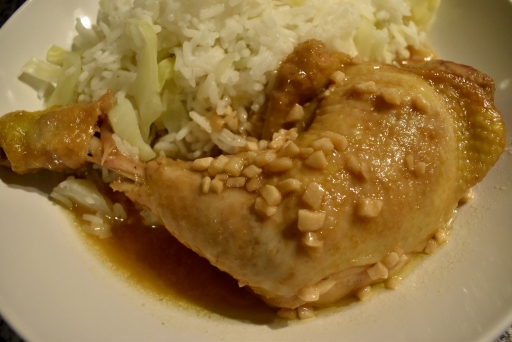 Simmered chicken legs with sugar garlic sauce (recipe from "Chicken Leg" by Hoe Yee)
The actual title of this recipe should say "rock sugar garlic sauce" but I couldn't find rock sugar, so I used caster sugar instead. I also left out the Shaoxing wine as is my usual way. This is now the second chicken leg recipe from "Chicken Leg" that starts with making a caramel. You then add marinated chicken legs, some water and let it simmer away (I went for 50 minutes of simmering, instead of the 30 minutes the recipe stated). The recipe also thinks that simmering this dish while covered will make the sauce thicken; unsurprisingly, that didn't happen. Regardless of consistency, the caramel turned the sauce and the chicken a lovely golden colour. I don't really like sugar in my savoury dishes, but due to the amount of sauce diluting the sugar, it was only after eating almost a whole chicken leg that I began to think the amount of sugar was slightly too much. This makes sense: rock sugar is meant to be less sweet than caster sugar, so if you actually used rock sugar in this dish like you're meant to, I think the level of sweetness would be perfect. In taste, the dish was sweet, garlicky and a little savoury; nothing to write home about, but pleasant enough.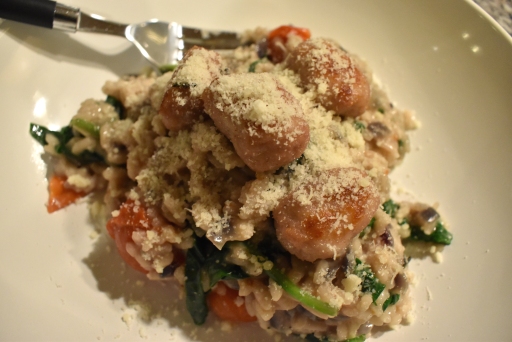 Meatball, spinach and tomato risotto
There's a lot of cheese sprinkled on top of this risotto, which makes it look rather beige. Despite the cheese, the taste of the risotto was bland and beige too. I normally love risotto to pieces and, sadly, I think this is maybe the most boring risotto I've ever made. Oh, it was ok, but it was lacking in flavour. There didn't seem to be enough stock, cheese, sausage or salt to make it tasty. The tomatoes added some flavour, but spinach is so watery that I think it washed the other flavours out. If you're going to go to the trouble of making a risotto, and all the stirring that that involves, don't bother with this one.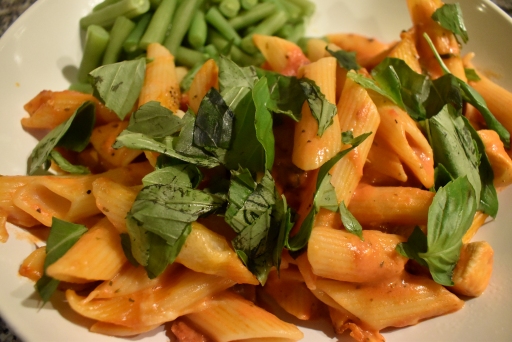 Creamy chicken, tomato and chorizo pasta bake
Here we have another lacklustre Italian-style dish from the Tesco website. How can a recipe with three types of cheese in it manage to be boring? Somehow this dish does it. Again, we were lacking in umami and depth of flavour. All I could really taste was tomato and basil. But then maybe I shouldn't be surprised: chicken doesn't have a strong taste and I've never been a big chorizo fan. Some bacon, or the pork sausages from the last recipe, would have been much better. Or even some onions? Why aren't there any onions??? But maybe it's my fault: instead of adding one tin of cherry tomatoes and one tin of chopped tomatoes, I read the recipe wrong and added two tins of cherry tomatoes and no tins of chopped tomatoes. Would following the recipe correctly have resulted in a tastier dish? (Probably not, to be honest.)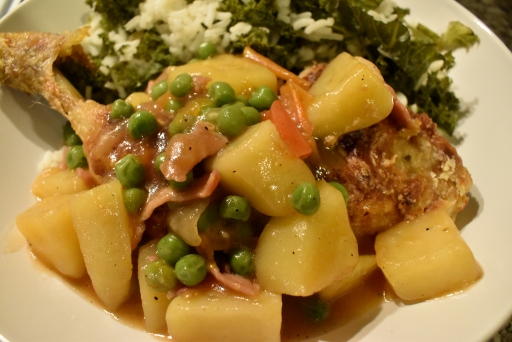 Hainanese fried chicken legs (recipe from "Chicken Leg" by Hoe Yee)
A lack of flavour absolutely wasn't an issue here. Eating this dish (which is commonly known as Hainanese chicken chop; thanks Google) is like an umami punch to the face. But oh boy. Oh wow. What a lot of work to get to that end result. I'm coming close to the end of "Chicken Leg" (I'm cooking the recipes in order, front to back, did I say?) and this one feels like it ought to be the very last recipe in the book. It contains almost all the difficult parts of previous recipes; so much so that it feels as if this is the final boss battle you have to win to finish the game. "Everything you have learned so far will be put to the test, young squire." It took me like four hours. Oh God. You start by having to create two tablespoons (two tablespoons!) each of ginger juice and shallot juice. DO YOU KNOW HOW MANY SHALLOTS YOU HAVE TO GRATE TO GET TWO TABLESPOONS OF JUICE? No, I didn't know either, resulting in me seriously over-buying shallots. The juice goes in the marinade for the chicken. After marinating, the chicken is floured (or at least I guessed it should be; the recipe called for three tablespoons of tapioca flour but didn't at all tell me what to do with it. So I decided to coat my marinated chicken in flour, but I used cornflour because I couldn't find tapioca flour). The chicken is then deep fried, which I am too scared to do, so I pan-fried it and finished it off in the oven. But don't rest yet. Now you have to make a sauce, which inexplicably contains potatoes, tomatoes and bacon. (The recipe also says the sauce should contain mixed peas. What the hell are mixed peas? I used frozen peas, and it was only when I later studied the picture accompanying the recipe that I realised that "mixed peas" seems to be the Malaysian term for frozen mixed veg: you know, peas, sweetcorn and carrots.) Finally, the sauce is thickened with cornflour (of an amount you have to guess) and then poured on top of the fried chicken. The only difficult thing the recipe didn't include was shrimp paste, and for that I'm very glad. Seriously; I was exhausted at the end of it. I felt like I deserved some kind of reward for turning out a presentable dish. But do you know what? The reward is in the taste. It was absolutely delicious! The chicken was crispy and had a lovely ginger and shallot flavour (that juicing works, guys; it works). The potatoes had cooked in a sauce made of chicken stock, soy sauce, oyster sauce and sugar, and so were sweet and tasty. And the bacon and the tomatoes in the sauce took it to another level. As to what the dish tastes like altogether? (Because it's impossible to tell from the picture alone.) It tastes, unnervingly, like a British roast dinner. It's chicken, peas, potatoes and gravy, only with a few extra things (plus deep frying) to make it extra crispy and tasty. I was very confused to find a British roast dinner in a Malaysian cookbook until I looked it up and discovered that this dish was first invented by Hainanese chefs in Malaysia for their colonial British employers. Well, what do you know? The effort involved means I won't be making this again, but I'm so glad I made it just once (even if I would prefer it without the peas; I'm not a pea fan). When this cookbook gets it right, it gets it really right.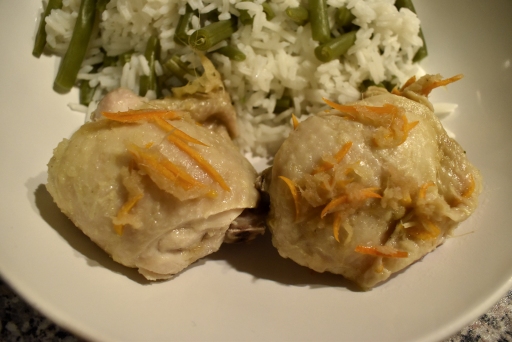 Steamed chicken thighs with mashed ginger and mandarin peel (recipe from "Chicken Leg" by Hoe Yee)
No chicken legs! My supermarket didn't have any chicken legs in stock so I had to use thighs instead! When I started this book, I thought I would have lots of difficulty finding chicken legs, but this is the first time the issue has occurred, three years in. But that's not the only thing I've changed about the name of the recipe. The recipe is actually called "Steamed chicken legs with mashed ginger and dried tangerine peel". I couldn't find dried tangerine peel, which I wasn't surprised about, but I was surprised to find that my supermarket had run out of fresh tangerines. I ended up buying mandarins, because that's what they had in stock. The mandarins were then peeled and and the peel shredded, but I didn't bother soaking the peel first (which is what the recipe had said to do with the dried tangarine peel) because that seemed a bit of a redundant step when you have fresh peel. I left the Shaoxing wine and glutinous rice wine out of the marinade, and I steamed the chicken for 50 minutes instead of the 25 minutes I was told to. In essence: I'm not sure there's any part of my dish that was cooked the way the recipe intended. The result was... God, steamed, skin-on chicken does not look appetising to a Western audience does it? Looks aside, it tasted orangey and a bit gingery (NO-ONE IS SURPRISED). I'm not normally a fan of fruit in savoury dishes, but orange chicken is always pleasant, and that's what this tastes like.
2 comments
Oh, lord… a FOOD POST!
First of all, please allow me to address this:
The recipe also thinks that simmering this dish while covered will make the sauce thicken; unsurprisingly, that didn't happen.
Why do recipes keep saying this? They all say this. If you simmer something with a lid on it, there's nowhere for the steam to go, so it condenses on the underside of the lid, drips back into the food, and prevents it from reducing. You cannot thicken anything with a lid on it unless you want to leave it on the stove overnight. I babysat my neighbor's young children over the weekend, and they wanted Hamburger Helper (a vomit-flavored shelf-stable boxed dinner product advertised by a talking glove with an alcoholic's nose; idk if you have these abominations in the UK) (I didn't know we still had them in the US) for dinner, and the instructions told me to simmer the food with the lid on for twelve minutes. I tried, as I always do, to see if the sauce would actually reduce with the lid on — but the laws of physics held fast, sadly, and I had to take the damn thing off to make sure I wasn't going to be serving a bowl of fake cheeseburger soup to a 7-year-old. This bothers me a lot!!!!!!!!!!!!!
That risotto looks great, I'm sorry it didn't taste great. One wonders how often recipes with that specific ratio of appearance:taste make their way into cookbooks and recipe guides.
How can any tomato sauce-based recipe fail to include onions? I am looking at the Tesco website very suspiciously right now, even though it can't see me. Also, cheese can really mute umami flavor with its fattiness; butter and cream sometimes do the same thing, which is why alfredo sauce (in the US, anyway) is usually heavily herbed & served with black pepper. Maybe you should stop trusting Tesco's, Janine. They're doing you dirty right & left.
The "Hainanese fried chicken legs" portion of the post was actually really interesting; one of the weirdest adaptation of native ingredients into colonial cuisine I've ever seen. It actually looks super-delicious, and like a photo off a restaurant website. 10/10 would eat. When I saw it, I thought, It's kind of weird that a New World vegetable like a potato is in a traditional Malaysian recipe, but of course wherever the inhabitants of the British Isles go they take potatoes with them too (as do I). I'm sorry making it was such a chore, but it made a really delightful blog post as well as a meal, apparently. I doubted you, Hoe Yee, and yet you came through for everyone at the end. It's like an Avengers movie up in here. Where's fat Thor? He'd love that chicken.
I'm going to be so sad when you finish this cookbook! So sad. My poor heart.
(I love styling text on this blog bc I get to push the little buttons & I'm not even semi-ashamed of myself.)
I'm so glad you've had the same issue re trying to thicken things with the lid on. I was worried I was going mad; like, who's testing these instructions and how are they getting it to work? Is it some kind of drop lid situation? Do they even have drop lids outside of Japan? (I've only ever seen them used on Cooking With Dog.)
Thank you for your nice comments about the Hainanese fried chicken legs. I'm glad you enjoyed that part (and the photo!) One of the things that helped me soldier through was the thought of how much fun I was going to have writing about it afterwards.
We're not quite done with the Chicken Leg cookbook yet. There's at least one more recipe to go and it looks like just as much hard work as the Hainanese fried chicken legs. Maybe this one will be the real final boss battle. It'll be the chicken equivalent of "What a Feeling" from "Flashdance". If I practice enough outside of my day job as a welder, maybe I'll achieve it.