Posted by

Janine

on 15 Dec 2019 in blog
As we draw closer to Christmas, I find myself thinking excitedly of Christmas foods: Yule logs, crispy roast potatoes, mint chocolate selection boxes, Cheeselets in the shape of Christmas trees, panettone. What I'm actually eating, however, is chicken legs. Are you surprised? Of course you're not surprised.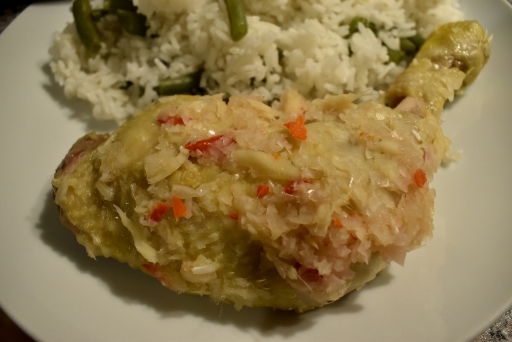 Steamed chicken legs with ginger and lime juice (recipe from "Chicken Leg" by Hoe Yee)
This recipe was actually called "Steamed chicken legs with ginger flower and lime juice", with ginger flowers being the edible flowers from a certain type of ginger plant. I couldn't find ginger flowers at all, so I left them out. I didn't substitute the flowers with root ginger because there was already plenty of root ginger in the recipe. But do ginger flowers even taste like root ginger? Perhaps I will never know. Without the ginger flowers, the main ingredients we have are root ginger, chillies, shallots (the recipe asks for red shallots, but I never know what they are so I always use regular shallots) and lime juice. You're meant to whizz them all up in a blender (I don't have a blender, so used a food processor, which left my ingredients a little chunky), then use the paste to marinate the chicken, which is finally steamed (for 25 minutes according to the recipe; I went for 50 minutes to cook it thoroughly). The end result was not particularly tasty. Steaming the ginger and shallots leaves them with a sharp, almost-raw taste; nothing like the caramelisation you'd get from frying or baking them. Add in the sharp lime juice and all you can taste it sharpness and a bit of heat. Not my favourite thing. Would the ginger flowers have saved it? Who knows?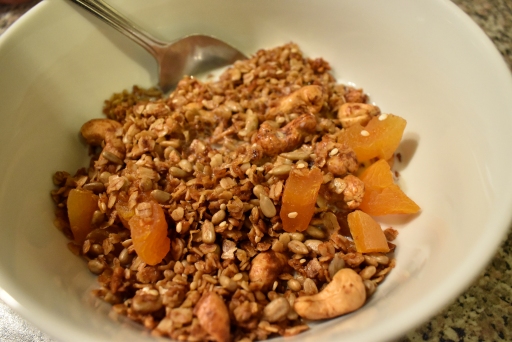 Apricot cashew granola (recipe from "The London Cookbook" by Jenny Linford)
I've never tried making granola before. How shameful. How on Earth can I claim to run a (mostly) food blog without having my own go-to granola recipe? So I was excited to give the recipe a try, and I was interested to know what the dried apricots and cashews would add to it, because I've never had granola with those in before. There are also sunflower seeds and sesame seeds in this recipe. The result? Look, this starts like most granola recipes (I had to research other ones in a fit of panic halfway through cooking) in that you heat honey and oil, mix it in with the other ingredients and bake it all in the oven. Only, most granola recipes seem to call for a baking time of 30 minutes or so, while this recipe says to bake it for 2 to 2.5 hours. The oven temperature in this recipe is really low at 140°C, but it's not actually that low against other recipes. I cooked mine for 2 hours as per the recipe (in case that's where the magic lay) but I reckon my granola was done by the 45 minute mark. After two hours, my granola wasn't blackened or burnt, but it was pretty dark and there was a slight burnt aftertaste that I could have done without. So, if I made this again, I wouldn't bake it for so long. But would I actually make it again? It was nice. It was an ok granola. But given the effort, and the fact that all those seeds, nuts and apricots are quite expensive, it's honestly so much easier and cheaper just to buy your granola ready-made. Oh, you might say, but if you make it, you know what's gone into it. Exactly, I reply. I know that a whole load of oil and honey has gone into this; it's not healthier than the shop-bought version. (Unless you buy the chocolate curl version from Waitrose, which isn't healthy in the slightest but boy will you enjoy every mouthful.)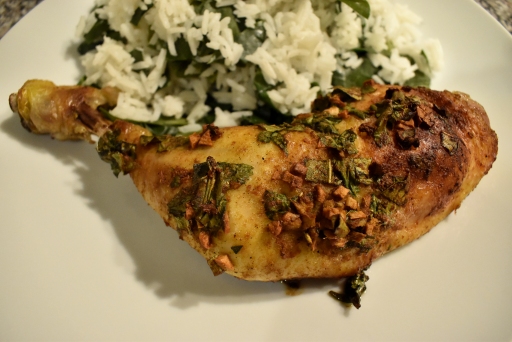 Thailand baked chicken legs (recipe from "Chicken Leg" by Hoe Yee)
These are so tasty! They're the complete opposite of that last chicken leg recipe. There are too many ingredients in this recipe to name, but highlights include fresh coriander, fresh garlic, curry powder, kaffir lime leaves and oyster sauce. There's also fresh galangal, which I can never find fresh, so buy in paste form instead. And then there's the fish sauce. When mixed in with all the other ingredients, the fish sauce gave this dish a really appetising, savoury smell and taste. (The appetising smell will linger in your tiny flat - ok my tiny flat - for at least two weeks afterwards, but at least it's appetising.) You're meant to marinate the chicken legs then bake them in the oven for 30 minutes. I went for 50 minutes as per usual, which dried up the marinade a little but didn't make it any less tasty. It was salty, savoury, rich and fragrant. A win all round.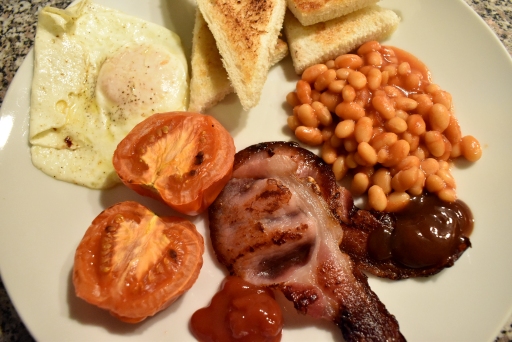 Classic fry-up (recipe from "The London Cookbook" by Jenny Linford)
It seems a bit weird to have a recipe for a fried breakfast. Surely you just cook all the components you want and then put them on a plate? I get the feeling that maybe this cookbook is aimed at an international market. But, well, I decided to follow the recipe anyway and see what it taught me. I do admit to side-eyeing the choice of ingredients. I know that a fry-up can be as individual as the person making it, but do you dare to call it a "classic" fry-up and not include sausages? And if you were going for the full English (which, admittedly, this recipe doesn't claim to be) I would put some fried mushrooms in there. But, you know what, I rarely have sausages in a fried breakfast when it's not a special occasion, so maybe I shouldn't complain. I was also side-eyeing the instruction to serve it with "lashings of brown sauce and ketchup". Ok, that's a normal thing to do, but it's not for me. I struggle with eating tomatoes and eggs together (something about the sweet tomatoes with the greasy, sulphurous eggs makes me feel a bit nauseous). I will allow myself to have the two on the same plate in a fry-up but the thought of adding extra sweet sauce, of either the ketchup or brown sauce variety? No thank you! (To be honest, I don't really like a fry-up much. It's too greasy for me, I'm not a fan of eggs, and I dislike starting my day with nausea. I'm also far too lazy to make one for breakfast, so I only eat them when visiting people or when I have guests.) But wait. Do you, gentle reader, see what I've done? I appear to have said, "This recipe is silly because it doesn't cook the dish the way I normally have it, but I also dislike the way I normally have it." Hmmm. So, it turns out that I really enjoyed the dish that resulted from this recipe. (Egg on my face, much?) I'm normally far too impatient to cook my bacon long enough for it to go crispy, so this bacon was some next-level stuff. I never season a fried egg or cook it in butter either, which makes the flavour better and not as salty as I was scared it would be. Fried bread is something I haven't eaten in decades, so that was a wonderful addition (although I could happily have had another slice, or maybe some toast on the side to fill me up). And it turns out that adding ketchup and brown sauce really works! I didn't eat them with my egg (don't be ridiculous) but they helped to give the beans and tomatoes an extra sauciness, and the sharpness helped to combat some of the grease that I normally have problems with. Lessons have been learnt here. My worldview has changed. In 2020 I'm going to have to have a serious think about who I am and what I believe in.