posted on Apr 24, 2017 by
Janine
in
blog
Hi all. I've been quiet here recently because I just moved house! Oh God it takes up so much time. Oh God please never make me do it again.
Because, of course, there's not just the packing and the unpacking. There's also the buying new furniture (because the old place came part-furnished) and there's the putting together of the new furniture, and then there's the cleaning (so many years of grime to remove), and then THE PAPERWORK.
I'm being melodramatic. You've all moved house; you know what it's like. But having just finished everything, I am really looking forward to getting some free time again.
Speaking of free time, I moved so I could be closer to work. I have now shaved two hours off of my daily commute. Two hours! It's bliss. I'm currently filling my evenings with "Masterchef". The added bonus of moving is that while my rent is more expensive (let's not talk about it) I do this time get a separate bedroom. I don't have to sleep in the living room any more! What luxury is this???
Let's have a photo tour.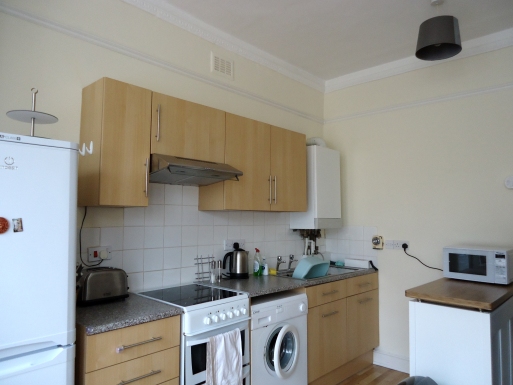 The kitchen part of my open-plan kitchen/living room. (Ok, so what I gained in a separate bedroom, I lost in a separate kitchen. Still, it makes watching TV while cooking very easy.) This kitchen is smaller than my old one, which made me sad. So I bought (and then put together) the kitchen island thing you see. I feel very proud of my DIY achievements.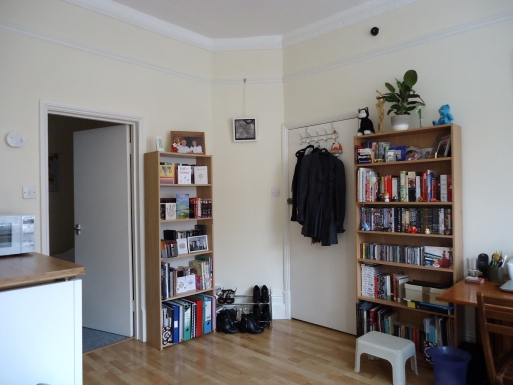 The other part of the kitchen/living room. (Not pictured: the sofa.) Moving into a blank space is kinda sad. As soon as I'd unpacked all my books, the place became instantly more homely. Also, I love that the room comes with a picture rail. It makes hanging pictures so easy! One of my pictures (which I just received) is an heirloom from my late grandparents. (It's not rare or expensive, mind, just sentimental.)
See also: the plant on the bookcase was a house-warming present from my boss. How nice of her!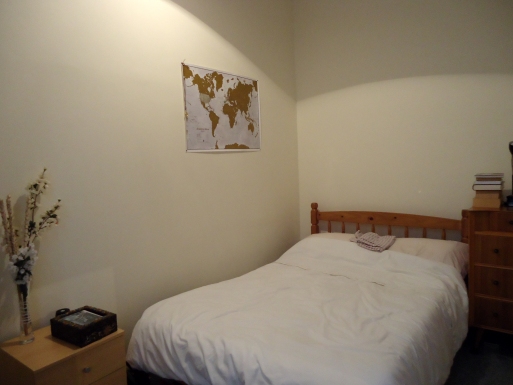 The bedroom. I had to turn on the lights, because it is grey and rainy today and this side of the house gets no light at the best of times (which is actually a boon for sleeping). The map on the wall was a present from colleagues. It's covered in the material you get on scratch-cards, so you can scratch off all the countries you've visited. (I've done well on Europe, and terrible everywhere else.)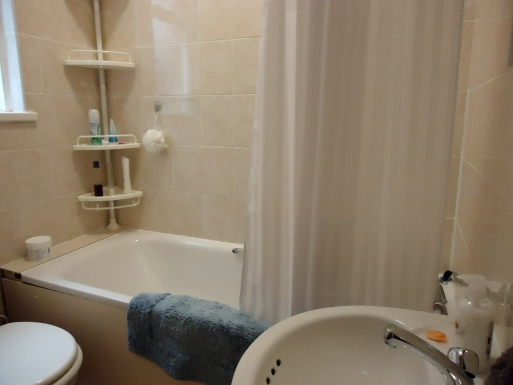 The bathroom is tiny, but the shower has a good heft to it.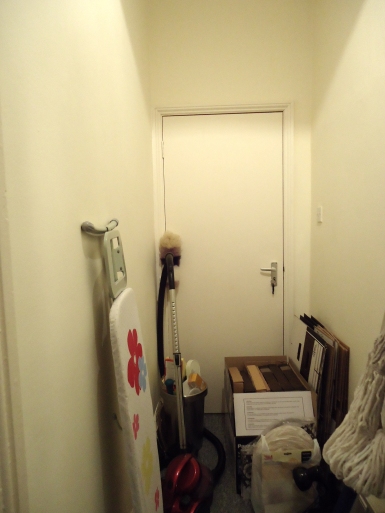 Finally we have my random corridor that leads to nowhere! This flat comes with zero (0) cupboards (why????), so I've decided to fill the corridor with all my ugly household stuff.
That's it for my new and glamorous lifestyle. I've been breaking the kitchen in with some cooking (including more turmeric than I ever thought possible; everything I own is now stained yellow) so you'll be getting a food post at some point.