Posted by

Janine

on 18 Aug 2012 in blog
Ink came to visit last week, which was a perfect excuse to gad about an Olympic-flavoured London.
We had lots of fun, which apparently means lots of photos on my part. Be warned for a very image-heavy post ahead!
Contents
1. Sherlock
2. Olympics
3. Touristing
4. Modern art
5. Brighton
6. Food
7. AOB
***
1. Sherlock
First there was the obligatory Sherlock sightseeing.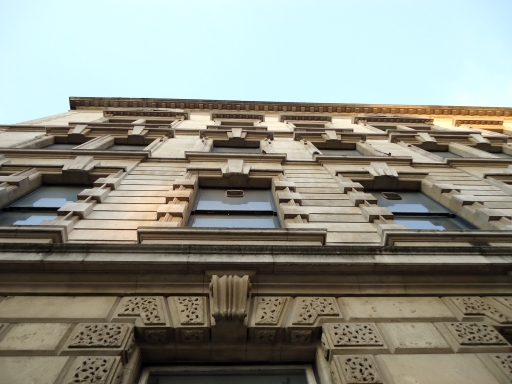 THE LEDGE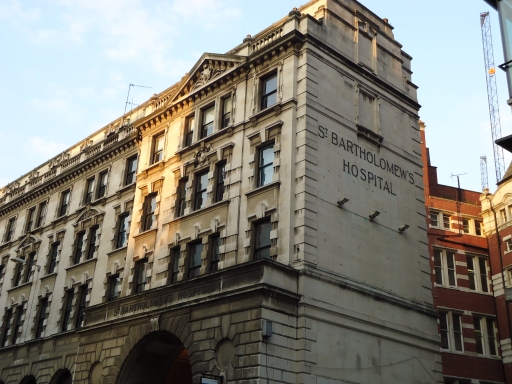 St Bart's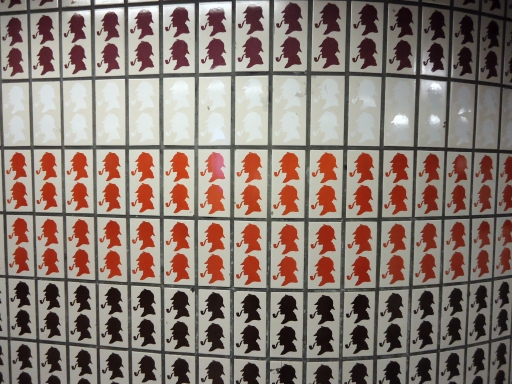 Baker Street station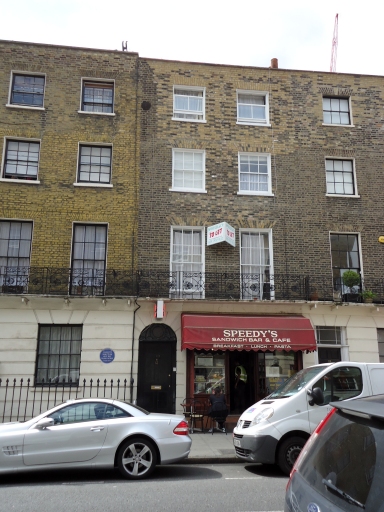 Speedy's. (OMG flat 221B is to let :O)
***
2. Olympics
It was impossible to go around London last week without bumping into the Olympics. We also watched the Olympic Closing Ceremony on Sunday, which was comfortingly mediocre. (Thank God. After the Opening Ceremony, the super-efficient public-transport, and the Team GB medal successes, I was starting to worry that I'd secretly been teleported to a different country.)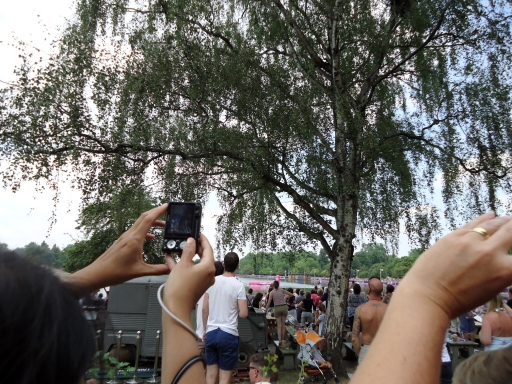 Men's marathon swimming in the Serpentine. (There are swimmers in this photo somewhere, I'm sure.)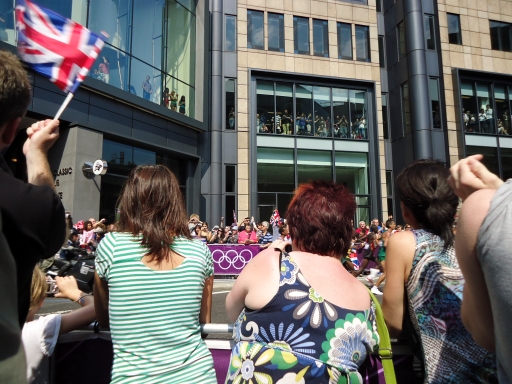 Men's marathon running by the Museum of London. (There are definitely runners in this photo.)
A view of the Olympic Park from the massive new Westfield Shopping Centre in Stratford.
***
3. Touristing
Mandatory photographs of London landmarks were taken.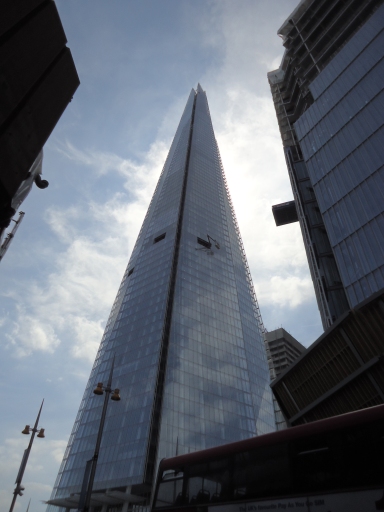 Apparently it is my aim on this blog to post photographs of the Shard Building from every conceivable angle. I'm sorry, guys (but not sorry enough to stop). The Shard is just so new and thrusting; I love it.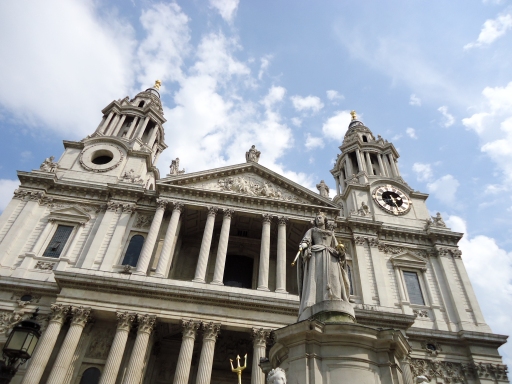 St Paul's Cathedral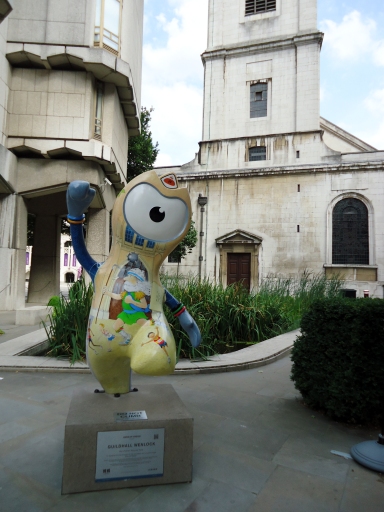 Guildhall Wenlock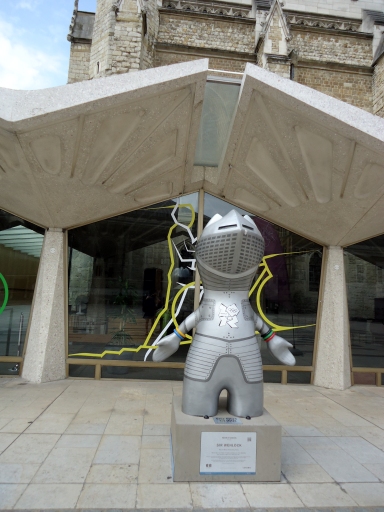 Sir Wenlock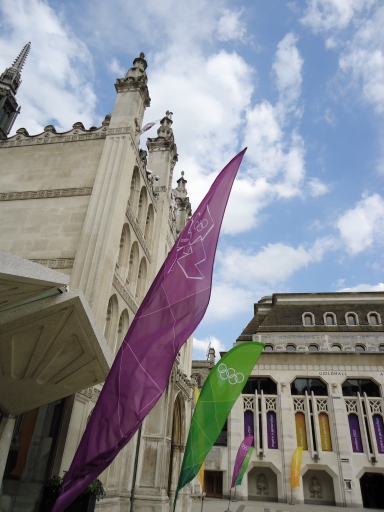 Olympic flags at Guildhall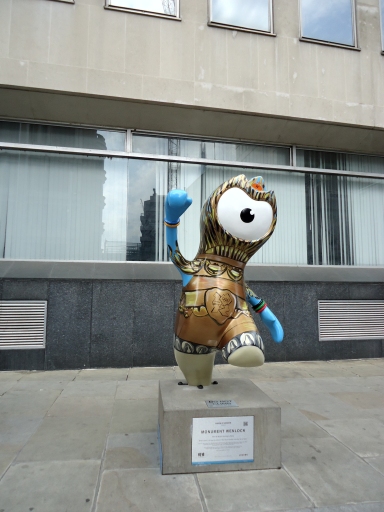 Monument Wenlock
The Monument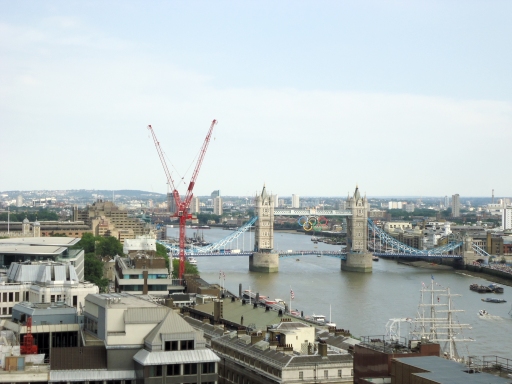 Tower Bridge, as seen from the Monument.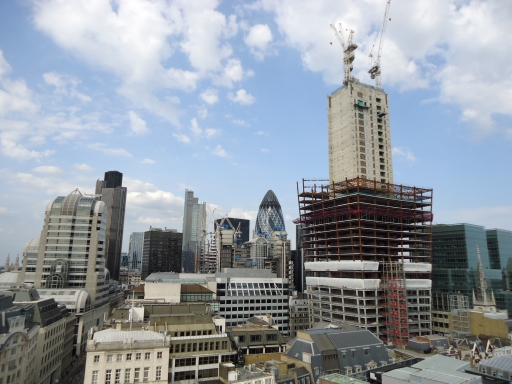 The Gherkin, as seen from the Monument.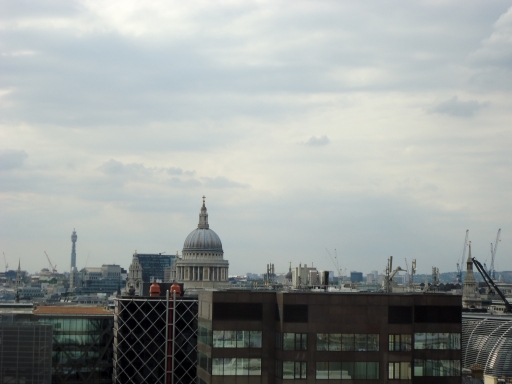 St Paul's, as seen from the Monument.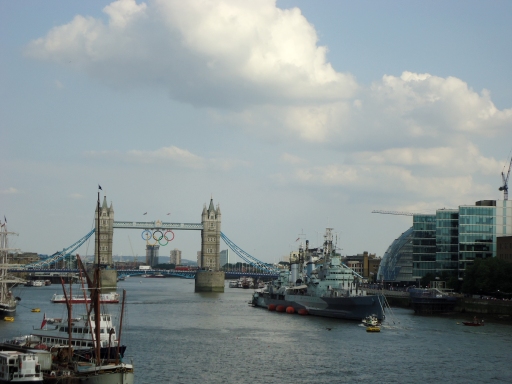 Tower Bridge, as seen from London Bridge.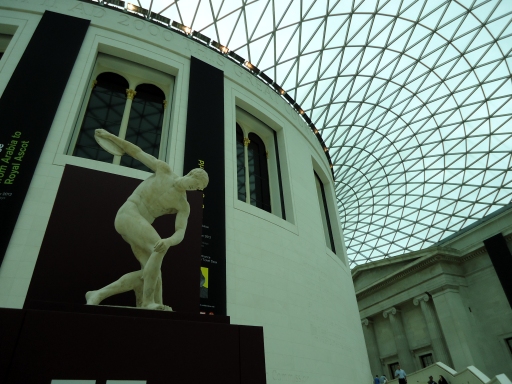 Inside the British Museum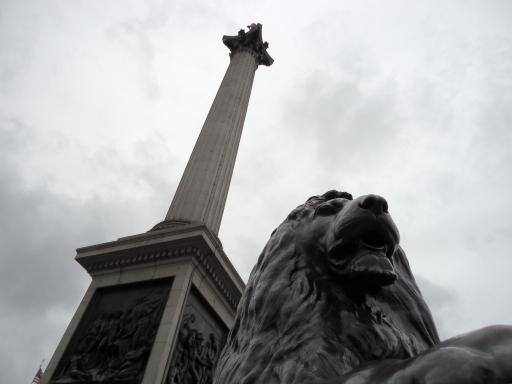 Lions in Trafalgar Square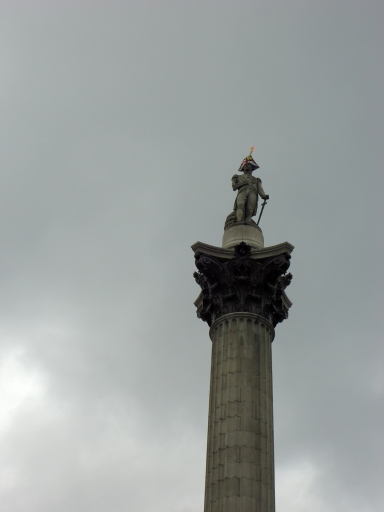 Nelson's hat has got an Olympic torch on it!
***
4. Modern art
Just south of the British Museum, we came across an exhibition by Mr Brainwash. I hadn't heard of the guy before, but apparently he featured in the documentary Exit Through the Gift Shop and may or may not be a practical joke played on the world by Banksy.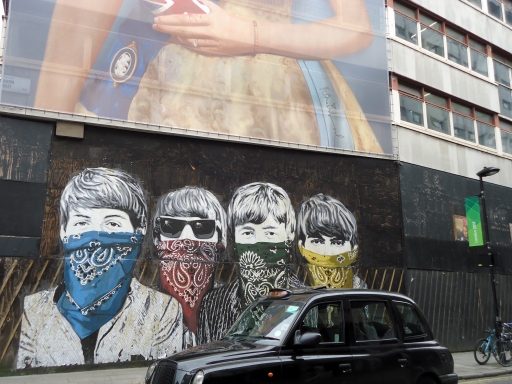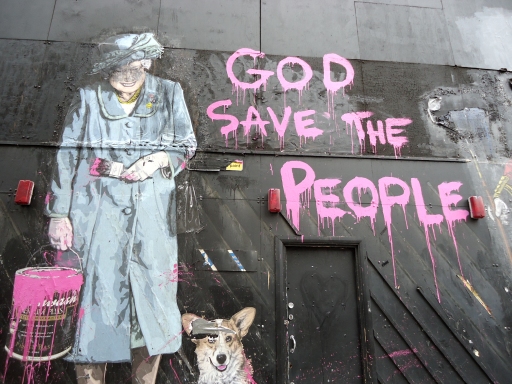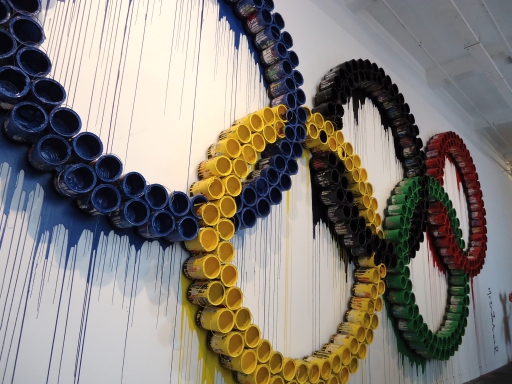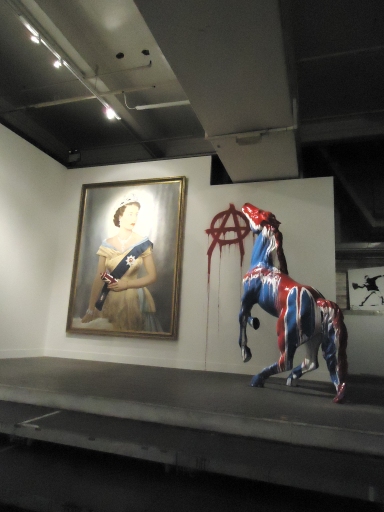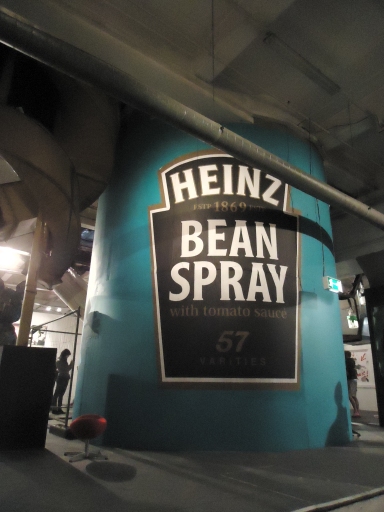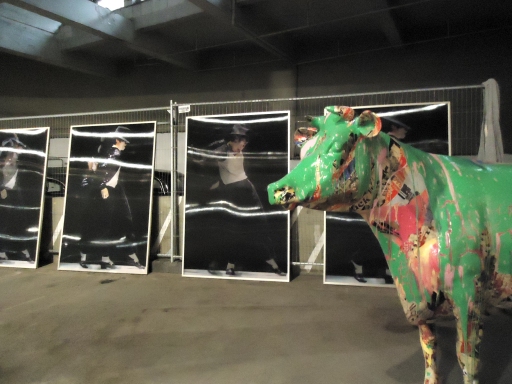 ***
5. Brighton
Last Saturday, we went on a day-trip to Brighton. I've never been to Brighton before, but I was quite taken by how old-school and cheesy it is. Also, the weather was lovely and the train fare was only £10 each for a return! (Even cheaper if, like Ink, you won the £10 back on a slot-machine on the pier. Take that grumpy man on the slot-machine next to us who refused to believe we were over 18. OMG I'm nearing 30 but that still felt like an insult D:)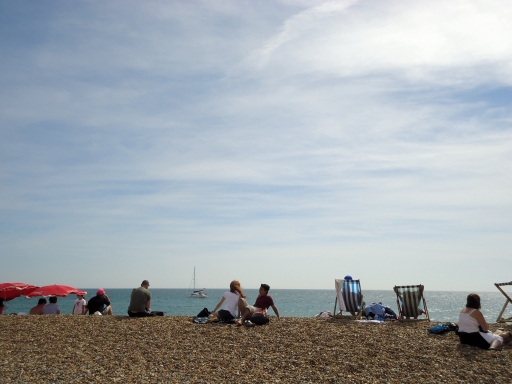 I introduced Ink to the wonders of a British pebbly beach. Sand? Warm seas? What're those?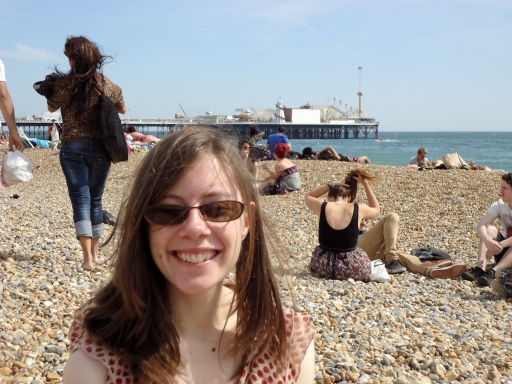 It was a bit windy.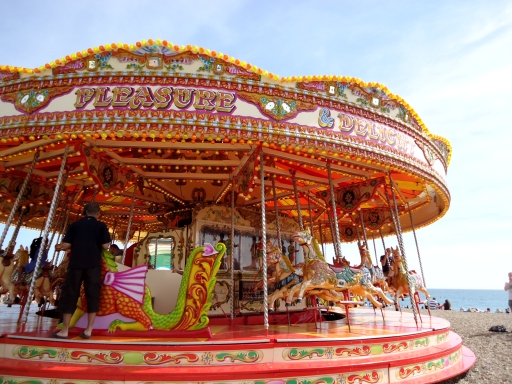 Merry-go-round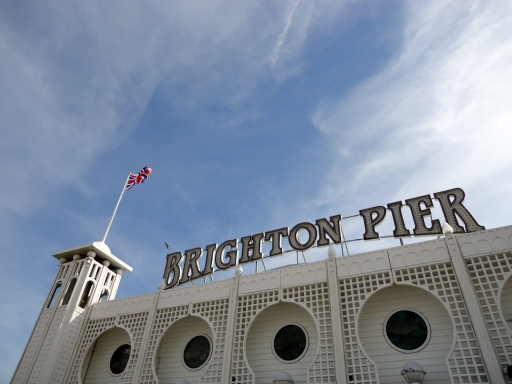 The pier is so old-school.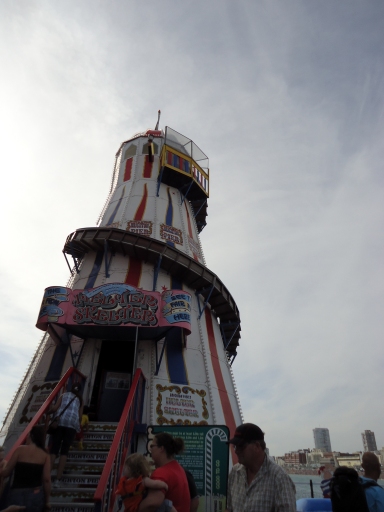 Helter-skelter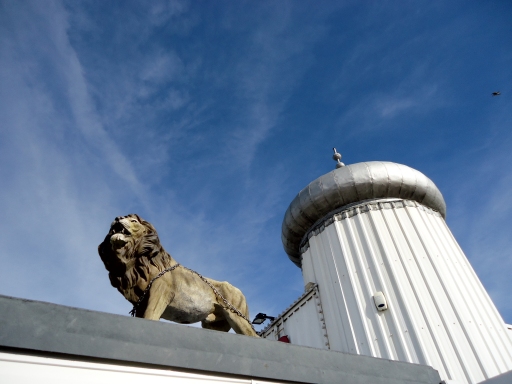 Random lion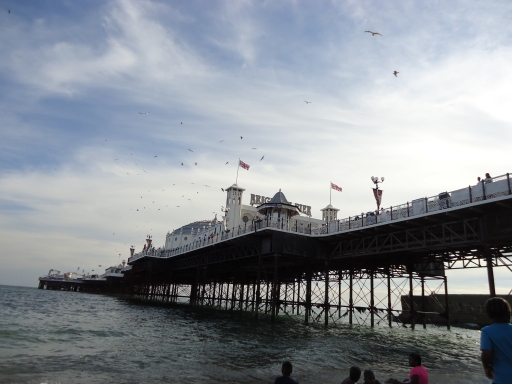 Seagulls swarmed above the pier because there were fish and chips and ice-creams going on up there.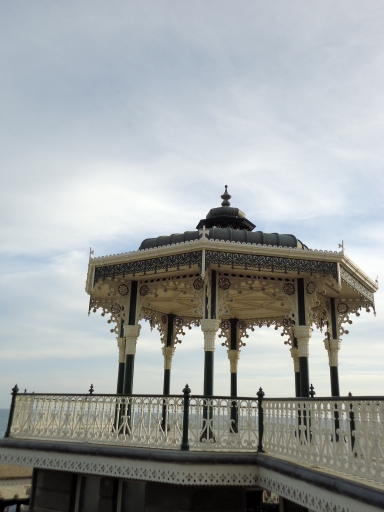 A gorgeous bandstand.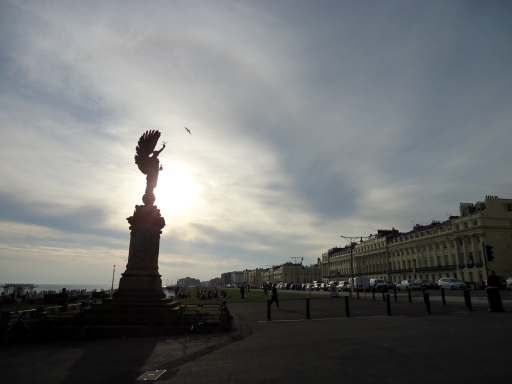 A statue of, um, something.
They also had a live-screen on the beach showing the Olympics. We watched Mo Farah win his second gold and the atmosphere was wonderful.
***
6. Food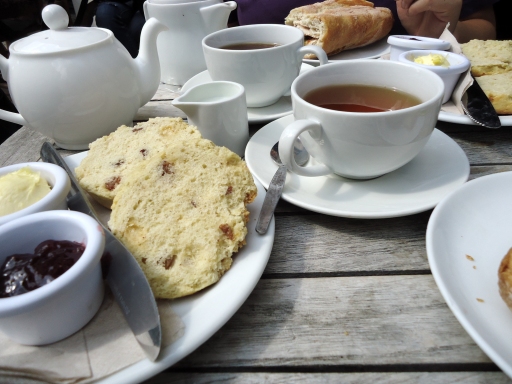 A cream tea outside St Paul's.
Ink was determined to try all the British food she could get in the few days she was here. British things we ate included:
- Scotch eggs
- Chunky chips in a pub
- Crumpets
- Cornish pasties
- A pork pie
- Party rings
- English muffins
- Sandwiches with butter on the bread (I seriously had no idea that American's didn't do this. Butter/margarine is as integral to a sandwich as the bread! You guys are crazy.)
- McCoy's crisps
- Jellied eels (I didn't partake of these because I can't get over how revolting they sound.)
- 99s
- A steak and kidney pie
- Fish and chips (They were really mediocre ones. Sorry, Ink.)
- Beans on toast (With Worcestershire Sauce, yum yum.)
- Toad in the hole
- Strawberries and cream
- Rock (From Brighton!)
- Flapjacks (Note to Americans: these are not pancakes.)
- Custard creams
- Chocolate buttons
- Poached eggs on crumpets (Not traditional, but I stole the idea from Eppa because they're so tasty.)
- An Indian takeaway
- A sausage roll
***
7. AOB
We came across this poor little guy in South Kensington.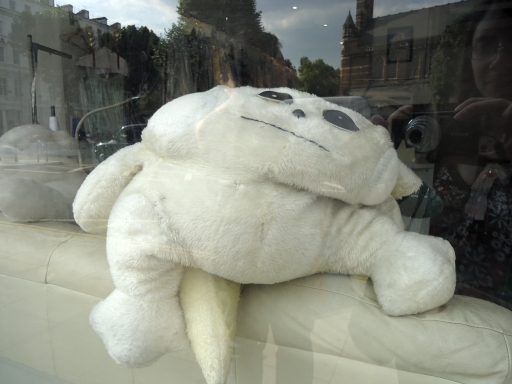 Pikachu, what's happened to you, man?