Posted by

Janine

on 15 Jul 2012 in blog
Hi! I've been busy these past few weeks visiting people and watching Shakespeare on the telly. And I'm going to tell you all about it. At some point.
For now, more food pictures!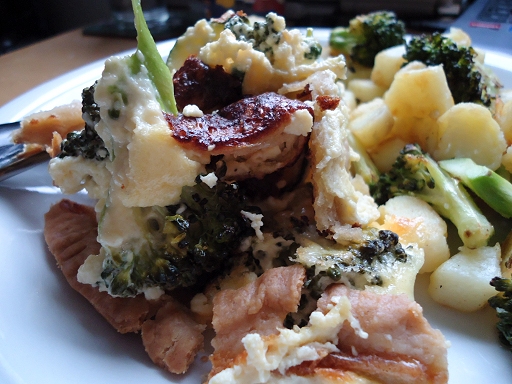 Broccoli and courgette quiche
Ahahaha. Bwahahaha. Haha. Ha. You may be able to tell from the photo that this didn't turn out very well. This is mostly because I haven't made pastry in four years (I think my flour was four years old too); it's safe to say that I'm a little rusty. Aside from the pastry disaster, the filling was far too rich and the broccoli managed to be both undercooked and burnt at the same time! Hands down, this is the most horrible thing I've made so far. Well done me.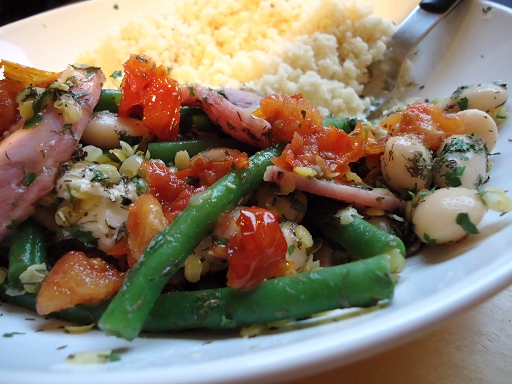 Bacon, bean and herb salad
The beans and mozzarella were a little bland, but the bacon and the sundried tomatoes added a really nice oomph to balance it out.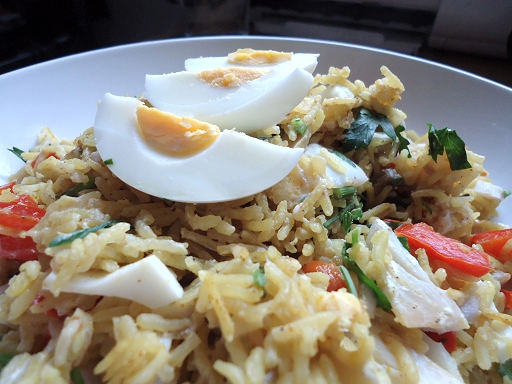 Haddock kedgeree
I dislike prawns so I left them out of this recipe. I have to say, I'm not a big fan of smoked fish either, so I found this dish a little smoked-fishy for my liking. It was still really tasty though. I ate it for dinner (blasphemy!) but you I can easily see how eating it for breakfast would really set you up for the day.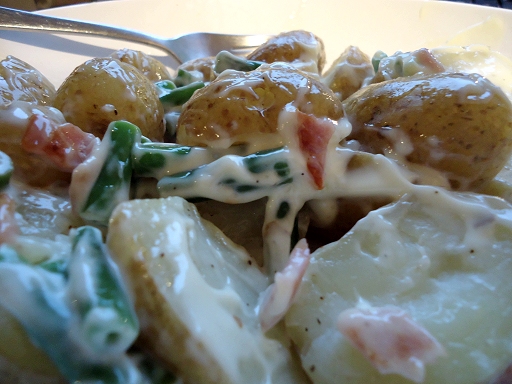 New potato salad with green beans
This salad is supposed to be made with broad beans, but I couldn't find any in the supermarket so I improvised instead. You might be able to tell from the photo that this contains a lot of mayonnaise. And, as with all things that contain a lot of mayonnaise (plus bacon) it was really nice. The white wine vinegar and lemon juice meant that the mayonnaise didn't get too rich either.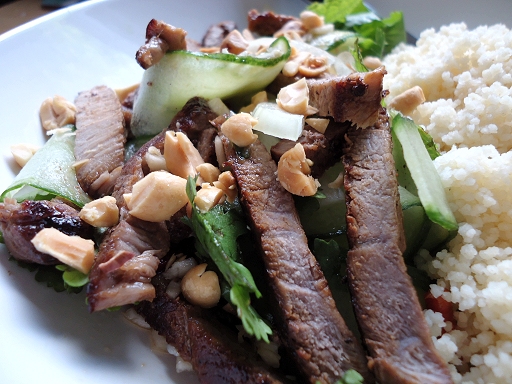 Beef and cucumber salad
This one looked nicer than it tasted! I think it's down to my own preferences than the recipe though; I found it a little too hot, too sweet, too minty and too peanut-y for my own tastes. This may have something to do with the fact that I didn't add any fish sauce because I couldn't find any. That said, when I made it a second time, I altered the amounts of mint, salt and peanuts, and chopped the chilli a little more finely, and it came out a lot nicer and really quite refreshing.
8 comments
I didn't know this about you, but I think this helps cement our friendship and has convinced me to come to the wedding after all!!
Linda too? There are sides to you guys that I've never seen before!
i hate it! its so boring…and crap
I hate it!!!!!!!!!!!!!!!!!!!!!!!!!!!!!!!!!!!!!!!!!!!!!!!!!!!!!!!!!!!!!!!!!!!!!!
And everybody else seems to love wacking it on. Sick.
I love Saturday Kitchen! God, we're just like chalk and cheese we are.
Wow. I thought you were actually searching through the Tesco website, but they are actually telling you what to cook. This is what communist regimes are all about!!
But don't feel bad. They have manipulated you. We're helpless. (I think the BBC food site is quite good. Has a wide selection.)
Are you aware that despite being a hobby cook, I hate cookery programmes? My idea of TV hell is Saturday Kitchen. Give me cd:uk any day!!
I'm sorry for being so one dimensional, Nick. I'm not being sponsored at all! But Tesco sends me an email each week with recipe ideas, which means I don't have to make annoying decisions about what to cook.
I've fallen for their marketing ploy like a kipper, haven't I?
(None of the other supermarkets send me an email because I don't shop with them so often. Also, I did have a fling with the recipes on Delia's website once, but her stuff often sounds quite old-fashioned and boring nowadays.)
Are you sponsored by Tesco? I feel like this blog is some kind of marketing trick!!! Have you been fooling me all these years? Are you just there to make me go to Tesco's?
p.s. I don't like broad beans, so good job you couldn't find anybody!