Posted by

Janine

on 15 Oct 2012 in blog
Hi guys! I'm still really enjoying this 'trying to cook new stuff' lark. You never quite know how it's going to turn out; that's the fun of it. The fact that so much of it turns out tasty is a bonus :D
Not pictured below but a special mention goes out to almendras garrapiñadas, which Claire made me for my birthday. They are gorgeous; sweet and crunchy and really good. I'm going to have to try to make some at some point because it is horrendously easy to eat fistfuls and fistfuls of them in one sitting.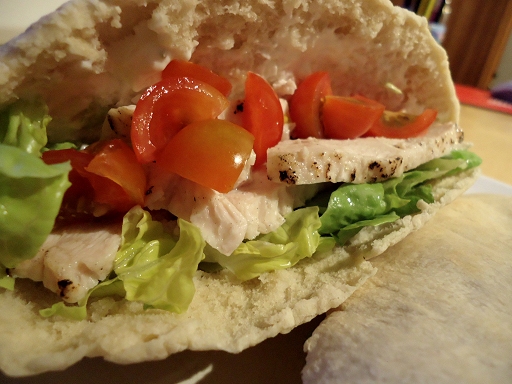 Roast chicken and tomato pitta pockets
These almost feel too easy to put up here. Quick, tasty and nice on a hot day. I made these with normal-sized pitta breads instead of mini ones because I wanted something to fill me up good and proper.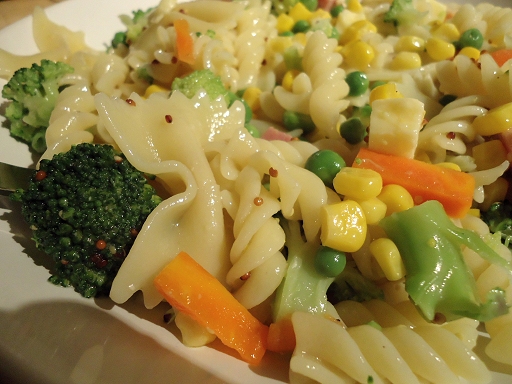 Ham, broccoli and cheese pasta salad
You can tell this is a recipe meant for kids. The pasta salad is nice but bland (even when I subsituted the frozen peas with frozen mixed vegetables instead). On the plus side, I never realised that honey and mustard dressings were so simple to make.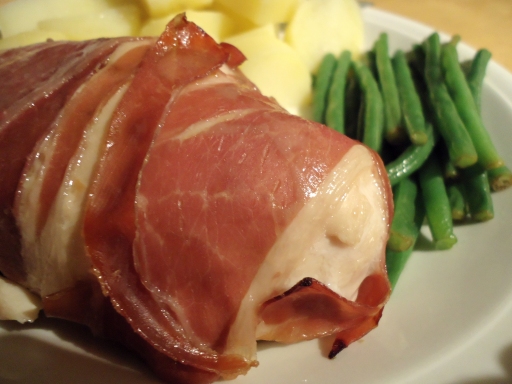 Chicken breast stuffed with soft cheese
This is definitely one for the 'tastes better than it looks' category. The mix of all the flavours together is lovely and the green beans are shockingly good. I made this again for my parents and they loved it too. (I used Parma ham rather than pancetta in the above picture because there was no pancetta in my supermarket, but I think it tastes just as nice with either.)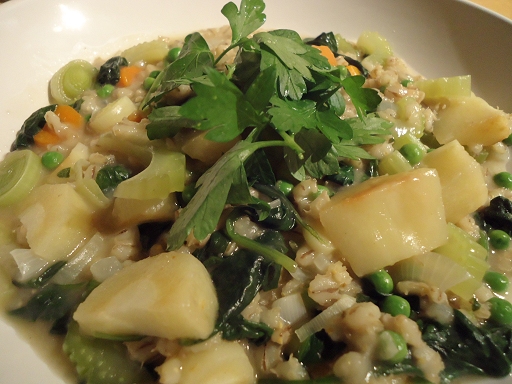 Winter root vegetable and barley pot
I couldn't find any swede or turnips, so I made do by throwing in extra carrots and parsnips. After a week of fish and chips in Cornwall, I was dying for some vegetables, so I made this. It tastes almost exactly as you think it would taste; nice enough, and you feel healthy, but it would go down a lot nicer with a bit of meat thrown in. Maybe some bacon.
Butternut squash and cheese risotto
This risotto is sooooo good. It's hard for me to express exactly how tasty it is (even without the wine, which I left out). Very rich, so it's hard to eat much in one sitting but, Jesus, is it good. Butternut squash is an arse to prepare but for this risotto it is utterly worth it.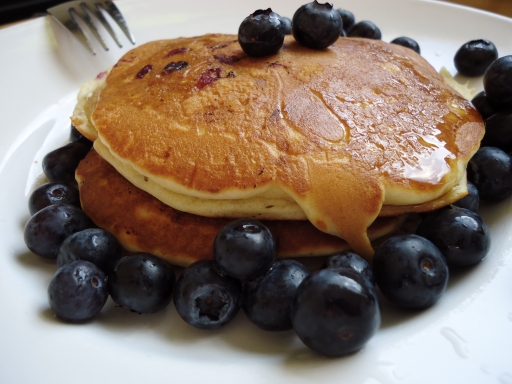 Blueberry pancakes (recipe from Mother's Little Book of Home-Baked Treats)
My first time making American pancakes! I always wondered how they got so thick; turns out that the batter is just much thicker. Not entirely easy to flip when you're a complete novice but I slowly go the hang of it (while shouting 'Who's the daddy!' at the frying pan). The two above were the ones that came out best, which goes to show just how oddly-shaped the others were.