Posted by

Janine

on 21 Jul 2012 in blog
Table of Contents
1. Olympics
2. Damien Hirst exhibition
3. Music at St Paul's Cathedral
4. Gone with the Wind
5. The Hollow Crown (aka Shakespeare on the telly)
6. AOB
***
1. Olympics
Shitttt guysssss. The Olympics start like next week! DDDDDD:
This is all good and really exciting, of course. I got quite giddy when I saw the Olympic rings up on Tower Bridge.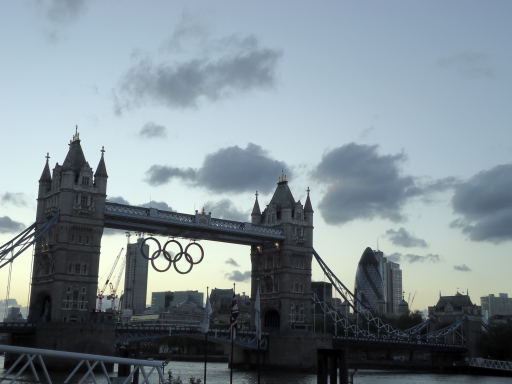 How awesome is that?
But, God, every single day we're bombarded with messages saying 'London is going to get more busy than you can even imagine. Don't bother trying to take public transport. No, don't. Seriously. What? You've got to get to work anyway? You're mad. It won't work. Honestly. You are actually mad.'
Every day my commute to and from work gets slightly more busy. Who knows what's going to happen once the games start, but something tells me it's not going to be pretty.
My commuting options for the Olympics are as follows:
- Chance it on the tube like normal. (Hahaha D:)
- Start work at 6am and so miss the crowds. (Hahaha. No.)
- Walk it at 2hrs each way. (Hahahaha. Oh God.)
Hmmm. Sounds fine.
In other Olympic news, I hope you're watching Twenty Twelve the spoof comedy about the 'Olympic Deliverance Team'. It is hilarious and also scarily realistic.
We are where we are with this and that's never a good place to be.
***
2. Damien Hirst exhibition
The other week, Claire came to visit and we went to an exhibition of some of Damien Hirst's artwork at Tate Modern.
I'm never fully sold on modern art, especially if it involves half an animal in formaldehyde, but I actually enjoyed this exhibition more than I thought I would.
Yes, there were the bits of animals, which were interesting and disgusting in turns.
But there were other parts that I really quite liked. Walking through a room full of live butterflies was magical. It's a bit sad to see the dead butterflies next door, but, God, the artwork made with them was beautiful. (This butterfly picture was actually sold as wallpaper. I kinda really wanted it, but it cost £250 per roll ;_;)
Also, I learnt that Damien Hirst was the director of the music video for Country House by Blur. Well I never!
***
3. Music at St Paul's Cathedral
The next morning, Claire and I toddled down to St Paul's Cathedral. Normally it costs about £15 to look around, but if you go to a service there you can get in for free (minus what you put in the collection plate).
So, even though I'm not religious in the slightest, I found myself sitting in a church service on a Sunday morning. It was hardly a chore though. The service we went to was one of the sung eucharists that they're putting on in the summer. From what I gather, a sung eucharist is like a normal mass, but all the prayers and things are sung rather than said.
So there we were, sitting almost directly under the dome, and listening to the St Paul's Catherdral choir, backed by the City of London Sinfonia, singing Haydn. For free.
It was breathtaking.
(If you ignore the irrational fear I get whenever I'm in a church, which is that someone will realise I'm just in there for the free music, and not for the God stuff, and shout out 'NONBELIEVER D:' in front of the whole congregation. Luckily, no one noticed this time. Phew.)
***
4. Gone with the Wind
Guess what book I've just finished reading!
If you guessed Gone with the Wind (aka 1011 pages of UST, plus something about a war), you'd be correct.
Now, here's where I confess my ignorance. I've never seen the film. I barely knew what it was about. I didn't even know it was based on a book! Shocking, I know.
Well, I still haven't seen the film, but now I've read the book I've realised why both it and the film are so popular. It's a really good story. Yes the writing does stray a little onto the purple side sometimes and, yes, it is also racist in places, but given that it was written nearly 80 years ago, it's (unfortunately) not that surprising.
I honestly wasn't expecting to enjoy the book as much as I did, but it was written really well. The backdrop of Georgia and the American Civil War are described in loving detail; you really feel like you're there when you're reading it. The plot is long, winding, shockingly feminist, and quite satisfying. And the characters, well, they might just be the best part of the whole thing. None of the characters are particularly likeable, but they are all fleshed-out and rounded enough to feel real and make you care about what happens to them.
So, yes. Very well written and enjoyable to read. I was pleasantly surprised.
Since I've finished it, I've started reading the Gormenghast trilogy instead. Very different but no less enjoyable. I'll make sure to ramble about them here when I'm done.
***
5. The Hollow Crown (aka Shakespeare on the telly)
Has anyone else been watching this? It's really nice to see something made for TV that's had so much money thrown at it. If this is what a Cultural Olympiad entails, can we have the Olympics next year as well, please?
I've now seen three of the four plays that they're putting on:
Richard II
(aka King Richard makes a bloody song and dance about everything but wears some gorgeous outfits while doing it)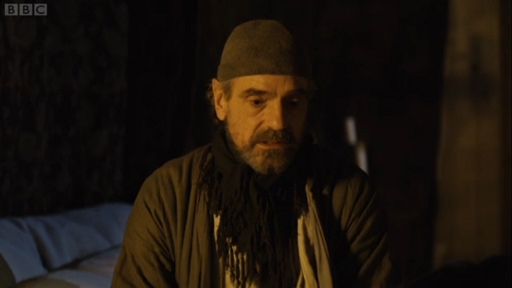 Henry IV - Parts 1 and 2
(aka Everyone's a dick and Falstaff drinks a lot)
I have to say, Richard II has been my favourite of the three so far. It was just captivating to watch and it looked wonderful too (heavy-handed religious symbolism aside).
Henry IV, on the other hand, only really became interesting in the last half of the second part (if by interesting you mean absolutely heartbreaking). The rest of it was mostly about some boring fighting and, seriously, everyone is a dick in this play. Not that the characters were very likeable in Richard II either, but I cared what happened to them more.
Part of me wonders if this is the plays themselves or the fact that the direction was far more aesthetically pleasing in Richard II. That said, I love the contrast between the two kings and their two courts in the two shows; one is bright and garishly opulent while the other is dark, cold and weary. And it was interesting to see how the show suddenly became lighter and more colourful once Henry V took the crown.
So, who knows what Henry V will be like? I shall wait and see.
***
6. AOB
I've been listening to this playlist recently :D