Posted by

Janine

on 14 Nov 2012 in blog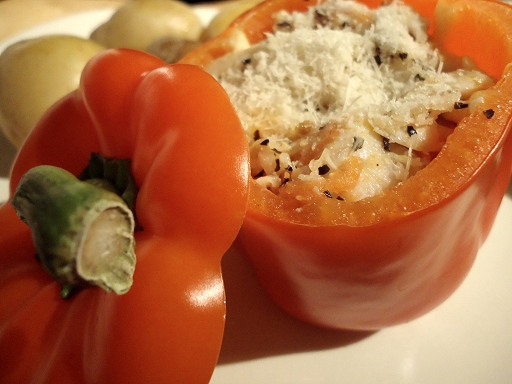 Peppers stuffed with cod
These tasted nice enough (I left the chilli out of mine because I'm not a huge fan, and I used dried basil because I couldn't find fresh). The peppers could have done with longer in the over though because they were very firm.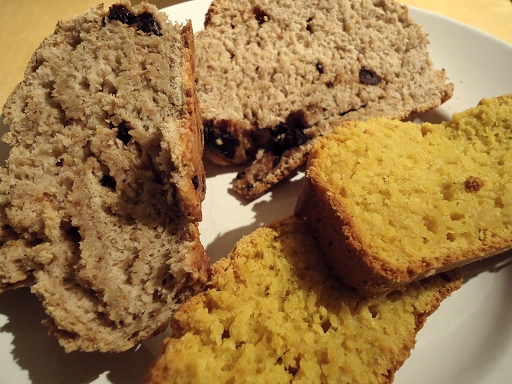 Black olive and pumpkin bread loaf
I don't know why the recipe suggests making these two loaves together, because, as far as I can tell, they have nothing to do with each other. The pumpkin bread (which, to my uninitiated eyes, seems to be more of a pumpkin cake) is really yummy and great eaten slightly warm on a cold day. The olive bread was a little bland but every now and again you got a hit of olive, which was fairly nice, and it goes well eaten with olive oil and balsamic vinegar. Also, the olive bread was quite dense, which I'd like to blame on the rye flour but was probably entirely my fault for not adding enough water and so finding it difficult to knead (throughout cooking I couldn't help a mild panic at the thought of what Paul and Mary might say if they were watching - a sign that I've been watching too much of The Great British Bake Off if ever there was one).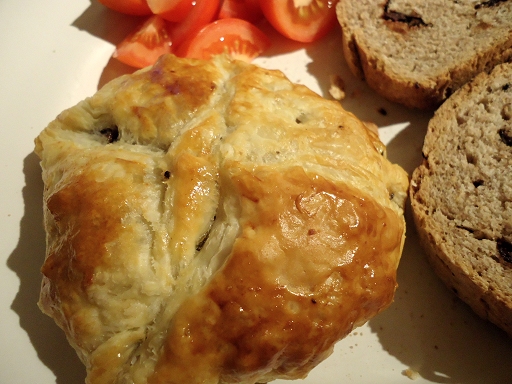 Minced meat and prune pies
These pies were hard to form because the warm mince left the puff pastry too floppy and my parcels didn't want to stay wrapped; I'm actually surprised they came out of the oven looking mostly ok! Taste-wise, I thought I wouldn't like the prunes as I'm not a fan of sweet in my savoury, but it turns out they're the best bit. The combination of the mince and the pastry is really really greasy, so you need a lot of prune in there for some sharpness. It's not a horrible taste though; it actually reminded me of Christmas.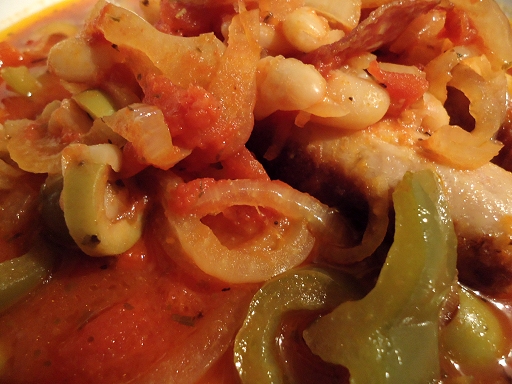 Sausage, salami and pepper stew
Once again, my photo-taking skills are foiled by stew, which always looks like a mess in the bowl. I didn't add the wine to this and I substituted yellow peppers for green ones. The taste was nice though; it tasted almost exactly like you'd imagine it to taste - tomato-y, olive-y and sausage-y but in a good way. Dipping fresh bread into the sauce was rather lovely. The crunchy bits of salami were also an unexpected bonus.