Posted by

Janine

on 09 Nov 2007 in blog
So it turns out that you can watch the first episode of the new series of the Mighty Boosh online (if you live in the UK at least; I'm not sure about other countries). What I mean to say is, I WANNA POUND YOU LIKE YESTERDAY'S BEEF. Possibly the best show in the world. I love baileys this show.
I went to the library today. And then did no other work at all. But at least I went to the library, right? What I did do was spend ages in Habitat looking at all the nice things. THEY HAVE SO MANY NICE THINGS. I wish I wasn't pitifully poor so I could buy something, anything!, from that shop. Is it so wrong to want to put nice things in my flat? (They had this cool crockery set with pictures of stag!people on the side.)
I then bought some Christmas cards. After last years 'let's make them myself!' fiasco, I realised that buying them was the best option. (Seriously, who's ever heard of a Christmas card without a bend in?)
Later I made myself a stew with the some leftover gammon that I had.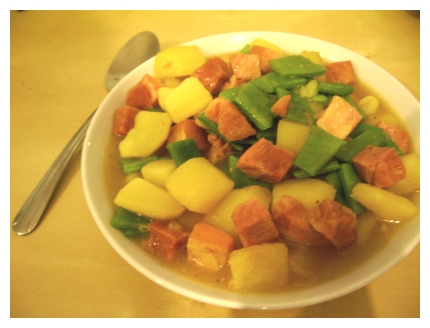 The gammon was tasty. But the whole thing was more salty than a wizened old sea-captain in brine. I'm now trying to rehydrate myself like there's no tomorrow. So thirsty!