Posted by

Janine

on 12 Nov 2007 in blog
So yesterday, when I was writing my coursework, I used the term 'cross-sectoral', meaning across different sectors. My spell-check, however, didn't like the word 'sectoral' and suggested that I used the word 'scrotal' instead. I found it quite funny. When I mentioned it to my flatmate, he asked me if maybe I had an spell-check for the over 18s only.
And then the idea of an x-rated spell-check wouldn't leave my head. It would be completely useless of course, but it would be quite funny. It took me ages to get to sleep last night because I kept giggling to myself. And so the first thing I did this morning was make this: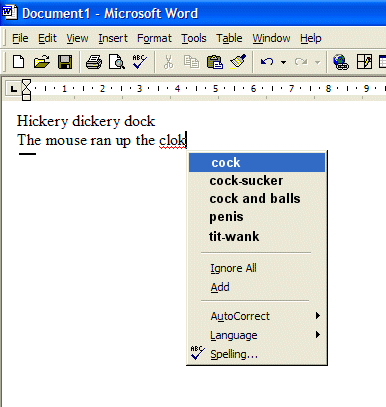 On the subject of cocks; this video (warning, NSFW because it's quite sweary) makes me laugh. Oh Prince Philip, what have you done?