Posted by

Janine

on 21 Sep 2015 in blog
Gosh. It's been a while since the last food post, hasn't it? Sorry for the wait! My cooking slowed down at various points over the past few months, and even when I had enough recipes under my belt, it took me a long time to write about them (mostly because I wanted to prioritise the writing of the birthday and holiday posts first). So, yes, things have been slow. I started a new job a while back and it's taken some time for me to find a new routine. I couldn't stop trying out new recipes entirely though. I found that if I left it too long, I'd start getting all sad and antsy, so I'd have to make sure to get a top up here and there :D
But who cares about all that? You just want to see the food photos, right? I just want to see the food photos. Let's get on with it!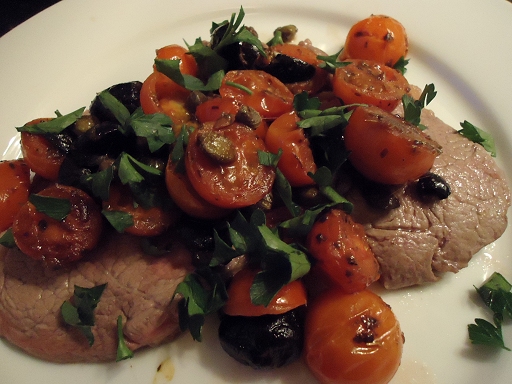 Beef pizzaiola (recipe from "Nigellissima: Instant Italian Inspiration" by Nigella Lawson)
I'm not sure how I feel about this recipe. It was... ok? Let's go with ok. I didn't use any vermouth as suggested by Nigella, but I don't think that was the cause of my troubles. Nigella says you can use sirloin or rose veal with this one, and I went for sirloin (because I am uncertain about veal), but I don't think that was the cause of my troubles either. Or maybe it was. You see, this recipe calls for the beef to be fried for 30 seconds per side. 30 seconds! What resulted was beef that was too rare for me. Perhaps my cuts of beef weren't good enough, but they were so rare that they were tough and chewy in places, which is not good. Add to that the fact that the capers and the olives and the anchovies made this dish really salty. It wasn't disgusting by any means, but it's not something I'll consider making again.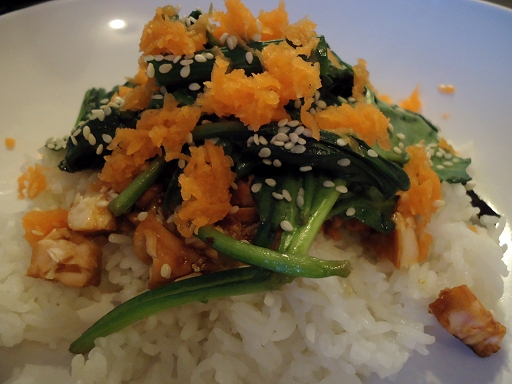 Salmon soboro
I don't think I get any marks for presentation for this one. After I'd dumped everything on top of the rice, I looked at it and realised that that's not how Japanese people would do it at all. (I imagine they'd have it in a smaller bowl, and arrange the toppings neatly on top while keeping them distinct from each other. I mean, I don't know for sure, but that's what I imagine.) This recipe said to use red chard, but suggested using spinach as an alternative; I did just that, because red chard was nowhere to be found. Either way, and presentation aside, this was really tasty. Yummy yummy. For me, the best part was poaching the salmon in pineapple juice, soy sauce and ginger. It made for such tasty salmon! I liked it so much that a little while later I cooked some more salmon the same way and then rolled it into sushi (which was nice too).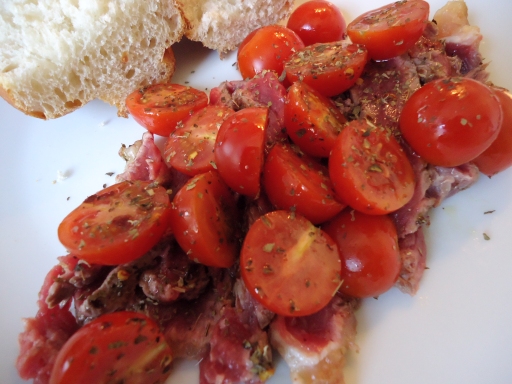 Tagliata for one (recipe from "Nigellissima: Instant Italian Inspiration" by Nigella Lawson)
This dish is actually called "Tagliata for Two" but as there's only one of me, I halved the recipe and it seemed to work just as well. This dish might look similar to the previous one from Nigella: a rare beef steak with cherry tomatoes and stuff on top. But they were worlds apart. Because this one was so good! I still think back on it happily. As before, this steak was more rare than I'd normally like. It's super-duper rare. Look at the photo! It's practically mooing! Oddly, I didn't find it a problem this time. Perhaps it was because I spent a bit more money on the beef, but it was not chewy at all. It was soft like butter! Just melt in your mouth stuff! Oh God! And then the toppings for it weren't nearly as salty as before; in fact, the tomatoes were really sweet, and with a little tang from vinegar too. (Nigella suggests adding dried oregano with the vinegar and then fresh oregano for a garnish. But who can find fresh oregano? Not me! So I used dried oregano for both.) The beef was soft and juicy; the dressing was delicious; I was mopping up every last drop with my bread. Yum yum yum.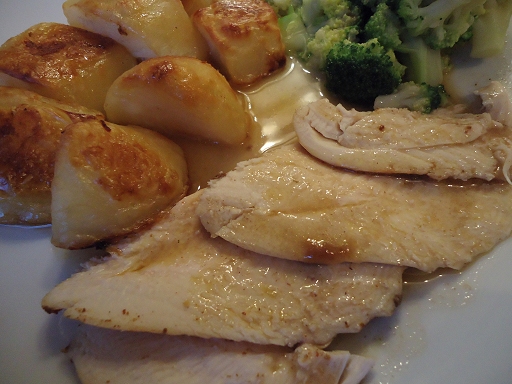 Moroccan-spiced roast chicken
This recipe was a success and a disaster all in one. The success is that it was really tasty. The gravy could have been thicker in my opinion, but it and the chicken were really nice: all sweet and buttery with a little bit of spice. The disaster was entirely my fault: the chicken wasn't cooked enough because I hadn't defrosted it well enough before I stuck it in the oven. I had thought it was cooked when I first ate it, and that's because the breast meat I ate was cooked, but when I went to carve up the rest of the chicken after happily eating it, I realised that other parts of it were worryingly pink. Thankfully, I didn't get ill and I reheated the leftovers thoroughly before I ate them anyway so there was no problem. Schoolboy error on my part though. Do you know how long it takes to defrost a chicken in the fridge? No; turns out I don't know either.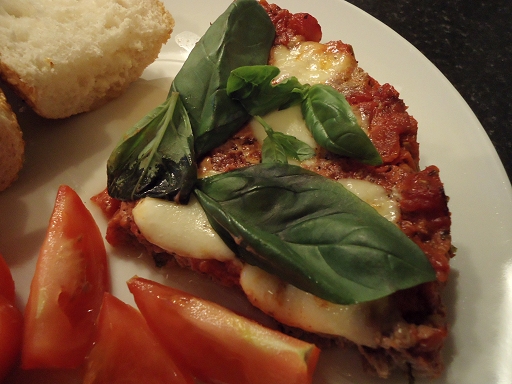 Meatzza (recipe from "Nigellissima: Instant Italian Inspiration" by Nigella Lawson)
After my disastrous attempt at a cauliflower-based pizza in the previous food post, I thought I might try making pizza again. But still not normal pizza! Oh no! That would be far too sensible! This time it was "meatzza", where the base, rather than being bread, is made of minced beef. It sounded like it would be nice. Why bother with all that boring bread when you can have beef instead? But, unfortunately, I found this one a little bland. Loads of tasty stuff goes into the beef: cheese, parsley, garlic. But where all that taste goes in the oven, I don't know. Do you ever get that thing where you try to make beefburgers at home but they come out bland no matter what you put into them? I had the same problem with this. It wasn't horrible, but it wasn't the taste-explosion I was hoping for. Maybe I just find the taste of minced beef boring? Who knows! Oh, and a word of warning: if you try to make this in a springform cake tin like I did (because it was the only cake tin I had that was about the right size), then make sure to put a tray underneath it in the oven, because beef juice is going to drip out of this one like crazy while it's cooking (is that where all the taste went?)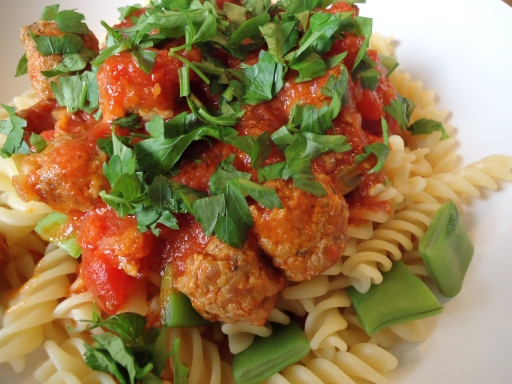 Shortcut sausage meatballs (recipe from "Nigellissima: Instant Italian Inspiration" by Nigella Lawson)
This was tasty. Once again, I left the vermouth out of this one but I didn't feel its loss. Nigella suggests Italian sausages to make the meatballs. I found some "Sicilian-style" ones and they were very tasty, which helped the overall dish. I've not got much to say about this, to be honest. It was a bit of a faff to make (rolling the sausage meat into balls then browning them takes time) but it was good to eat.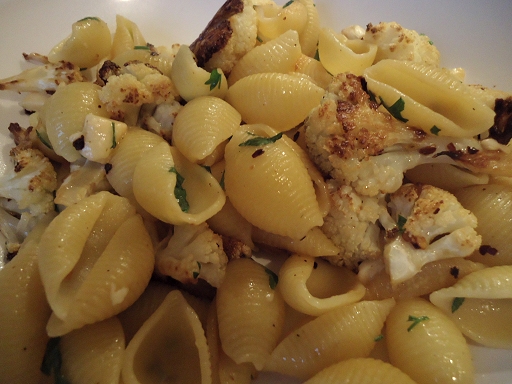 Cauliflower pasta
Ok. I'm not going to lie. I was scared before I made this dish. The fact that I've already referenced that bloody cauliflower-based pizza in this post shows just how much the (horrific) experience of eating it has stayed with me. I'd already tried to get back on the pizza wagon; now it was time to get back on the cauliflower wagon too. After the cauliflower-based pizza experience, I'd convinced myself that I didn't actually like cauliflower and only liked it when it was smothered in cheese sauce. So, with that in mind, was it really a good idea to make a pasta recipe that showcases cauliflower as it's main ingredient? And roasted, almost burnt and bitter, cauliflower at that? I was scared, guys! I was scared! As always, I left out the white wine in this recipe. That left just me and the cauliflower; there would be nowhere to hide. Thank God, then, that this recipe is actually super delicious! It's really really nice! I was in shock the whole time I was eating it. It turns out that I do like cauliflower! And I like it roasted! I actually love it roasted! Why have I never roasted cauliflower before? Guys, the roasted cauliflower goes all nutty and a little bit chewy, and then you have these chewy nuggets of strong pecorino cheese, and it's all garlicky and just a little bit hot from the chilli, and guys. GUYS. The look of this dish (overwhelmingly beige) does not do the taste of it justice. It is good. It is so good! (I feel like I've had an epiphany.)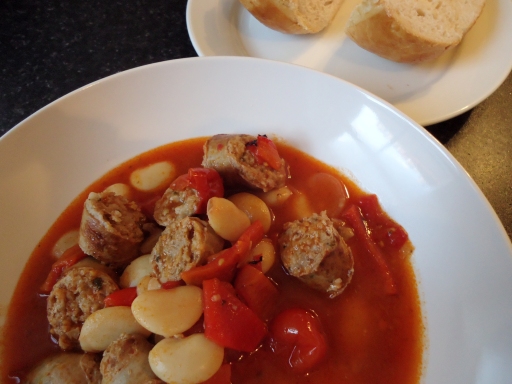 Sausages with beans and peppers (recipe from "Nigellissima: Instant Italian Inspiration" by Nigella Lawson)
You know the drill: I left out the vermouth from this one. It was still nice without it though. I used the same "Sicilian-style" sausages as I had done for the meatballs, so the taste of this dish was similar (i.e. good) but it had an extra smokiness from the roasted peppers. When cooking this up I had expected to get a stew, but what I got instead was more like a really hearty soup. And yummy soup it was too. Dunking my bread in it was good stuff. A nice, warming meal for the winter, this, I reckon.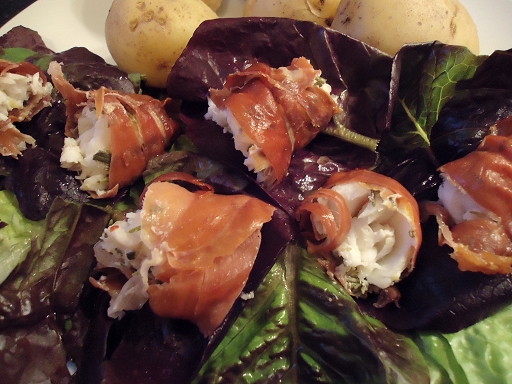 Monkfish wrapped in rosemary, lemon and Parma ham (recipe from "Nigellissima: Instant Italian Inspiration" by Nigella Lawson)
I made this one just a couple of days ago. Nigella said to serve the monkfish on radicchio or other red leaves. I can't find radicchio for love nor money so I used a red cos lettuce instead (which probably changed the taste quite drastically). My monkfish was maybe a little on the overcooked side (not that I mind that, myself); it was all down to the fact that I had no idea how to fillet a monkfish tail and so cut the fillets too small. I worked it out in the end though (thank God for helpful YouTube videos). I mean, to be honest, I didn't even know that you could fillet a monkfish tail! I've never cooked monkfish before, and I'm not sure I've even eaten it before. After cooking this recipe, I'm still not entirely certain what monkfish tastes like. I mean, this recipe was really tasty (all bacony and lemony and rosemary-y) but those strong flavours overpowered the fish a bit. But if you like eating fish without it actually tasting like fish (which, it turns out, I do), then you'll like this one.