Posted by

Janine

on 12 Apr 2015 in blog
I've been cooking a lot recently, with plenty of ups and downs. It's been a real roller coaster ride. One of my colleagues reckons that watching too much Masterchef has left me trying to run before I can walk. I think she's right. But it looks so easy on TV!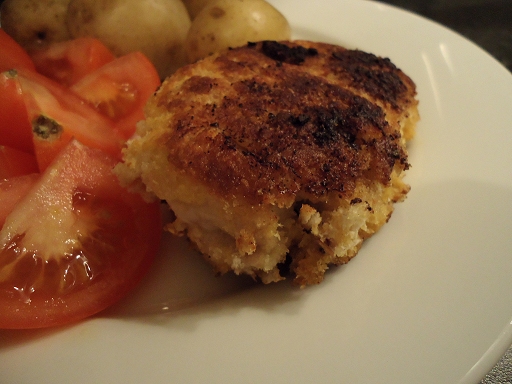 Chicken Kiev
I spent the whole cooking process thinking this was going to be a disaster. I forgot to buy the cocktail sticks that the recipe recommends holding the chicken closed with, so I had no way to stop the butter from coming out (I tried rolling the chicken twice in the flour/egg/breadcrumbs mixture, but that didn't work). As a result the butter oozed out while I was frying the chicken. Also, the recipe didn't recommend how long to cook the chicken for. I was terrified it wouldn't be cooked enough, so I probably cooked it for longer than it needed, hence the burnt parts on the outside (the extra butter that had filled the pan didn't help with that either). I was a sad person as I sat down to eat this, but I brightened instantly as soon as I cut into it. I don't know if there was some butter still inside the chicken, or if it had all soaked into the breadcrumbs or what, but butter oozed out when I cut into the chicken , just like it was supposed to! Plus, it tasted exactly like a shop-bought chicken Kiev. Identical. The recipe didn't say how much garlic to use, so I used two cloves, and it seemed to work. This was really tasty and a big, surprise success.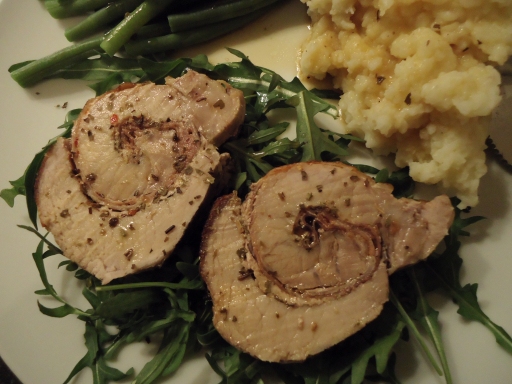 Pork loin with Parma ham and oregano (recipe from "Nigellissima: Instant Italian Inspiration" by Nigella Lawson)
Things I didn't use in this recipe: vermouth, fresh oregano (I couldn't find any fresh oregano, so I used dried instead). Things I learnt when cooking this recipe: when using string to tie up a joint for the oven, cut the ends of the string really short or tuck them underneath the joint, otherwise they'll get all black and singed and you'll worry that you're going to set the oven on fire. I felt really accomplished using a knife to open up a loin of pork, then stuffing, rolling and tying it. I felt less accomplished when I ate it and realised that it was far too dry and overcooked because I hadn't taken into account the fact that my loin of pork was 1/3 smaller than that called for in the recipe. Whoops. Texture aside though, this was really, proper tasty. Big, yummy flavours throughout.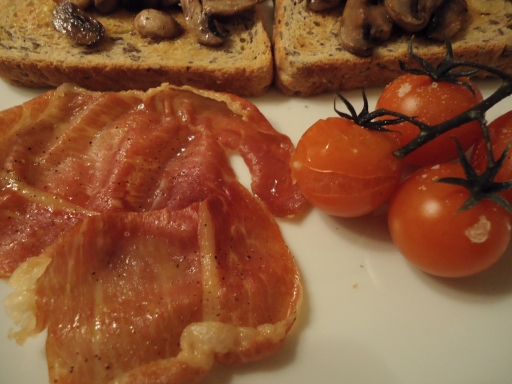 Prosciutto with roasted cherry tomatoes
This recipe is easy and quick. It's meant to be a breakfast, but I ate it for dinner like a rebel. I used up the leftover Parma ham from the previous recipe in this. Why oh why have I never thought of grilling prosciutto before? It goes really crispy and tasty, and my kitchen smelled wonderfully of bacon afterwards.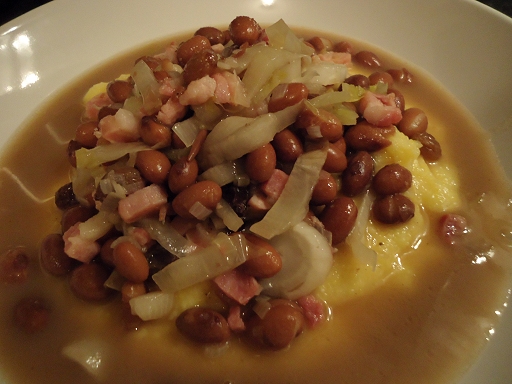 Venetian stew (recipe from "Nigellissima: Instant Italian Inspiration" by Nigella Lawson)
I wasn't sure about this recipe before I made it. For one, it contained many ingredients I had never eaten before: polenta, borlotti beans, chicory (ok, so the recipe actually called for radicchio, which I had also never eaten before, but I couldn't find any radicchio and the internet suggested chicory as a substitute). For two, it contained raisins, which I had eaten many times before, but had never enjoyed in savoury dishes. I was, therefore, pleasantly surprised when this turned out to be lovely! (It tastes far better than it looks.) The bitterness of the chicory was countered nicely by the sweetness of the raisins, the pancetta was salty and tasty, the polenta was creamy, and the cumin raised everything to another level. Gorgeous.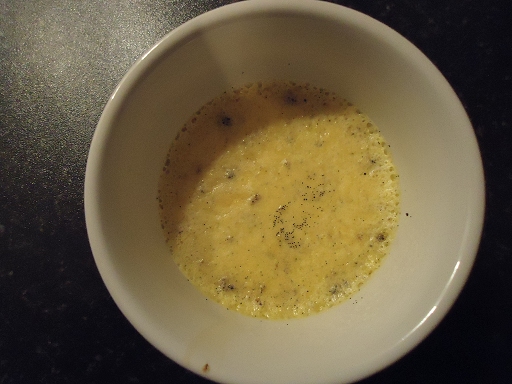 Rich and creamy pudding (recipe from "I ♥ Macarons" by Hisako Ogita)
This is one of the recipes in the book that is suggested as a way of using up the egg yolks left over from a macaron-making session. I had, in fact, made macarons just before making this, but those macarons were so disastrous that they went straight in the bin (more on that story later). I didn't have pudding moulds as small as those that the recipe called for, so I upped the cooking time to compensate. Unfortunately, I think I upped the cooking time a little too far because my pudding didn't have much wobble to it. It was still smooth and creamy though. I left the liqueur out of this recipe, so what I was left with was essentially a thick, set, vanilla custard. And very nice it was too.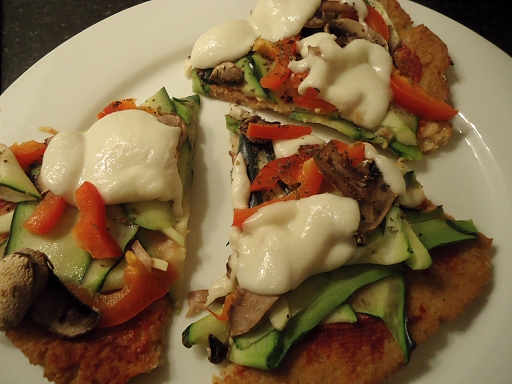 Cauliflower pizza
Other than the macaron disaster just mentioned, everything else I had made recently had been successfully tasty. Confident and ready for another success, I decided to try this fashionable carb-free pizza. It was, without a doubt, one of the most disgusting things I have ever made! I wasn't able to eat all three slices in this photo. I could barely even manage two slices! You don't know how sad I felt when I realised I had made two whole pizzas and would have to eat them up only one slice at a time (I'm still eating it out of the freezer now, and I'm still sad). Why did it go so wrong? I've cycled through blaming the recipe, my cooking skills and my genetics. Seriously. I think I might have that gene that means cauliflower tastes overly bitter too me. I also don't like the taste of burnt cheese, which is what was meant to hide the taste of the cauliflower in this recipe. The reason I blame the recipe is because it contains 1 tsp cayenne pepper, which is far too much; it overpowers everything. The reason I blame my cooking skills is because I may have burnt the cauliflower when "drying" it in a pan, which doesn't help with the whole bitterness thing. The only thing that seemed to go well was the topping, which would have tasted nice on its own. But the problem with the topping is that it is too wet, so the cauliflower base (which was actually holding together quite well), turned into soggy cauliflower mush when cooked with the topping. All in all, this was an absolute disaster. I'm on the verge of having nightmares. As a bonus, my whole flat reeked of cauliflower for days. Bloody hell.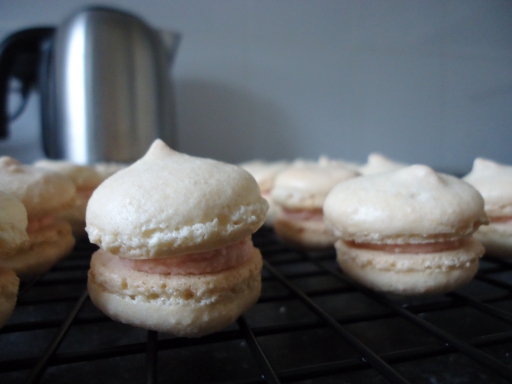 Vanilla macarons with framboise (raspberry) butter cream (recipe from "I ♥ Macarons" by Hisako Ogita)
I mentioned that I'd had a macaron disaster, right? It had been one whole year since the last time I'd made macarons, and I'd forgotten how to do it. One thing I'd forgotten was how fickle they are when it comes to humidity. Doing two loads of laundry and cleaning down the whole kitchen that day did not help. Plus, I tried making them with Italian meringue, which may have had something to do with it too. Basically, my macarons didn't dry. After two hours, I went at them with a hair dryer, but they still cracked when I put them in the oven. Cracked and ugly macarons I could have dealt with. My problem was that the macarons had come out far larger than I had expected (the Italian meringue really made them spread out) and I didn't cook them for long enough (note: I've had issues with the macaron-baking instructions in this recipe book before, so I basically ignored the instructions and have been trying to find my way by trail and error; with emphasis on the error). The macarons were basically raw on the inside. Raw macarons that had sat on the side for so many hours, plus a hair-drying session, seemed like they could be bacteria central, so they went straight in the bin before I could poison anyone. The next weekend I was ready to jump back on that bicycle, and the macarons in the photo are the result. I went back to trusty French meringue, severely limited my water usage and turned the central heating up high. Some of the macarons still cracked, but for a really rainy day, I think it was a success. I was wary of making the macarons too big again, so this time they came out shockingly tiny. Also, some of them were slightly underbaked, but not by much. You will see that they all have points on top from the piping; I think my batter was too thick, so I'll have to try to remedy that. But, everything aside, they were really tasty! Sweet and soft, and the raspberry butter cream was the star of the show. I normally find butter cream too rich, but I didn't find that with this butter cream at all. The recipe asked for raspberry purée. I wasn't entirely sure I could buy raspberry purée so I found a recipe online that basically said to mash fresh raspberries through a sieve and add a bit of sugar; I did just that and it was lovely. So, in conclusion: the second batch weren't the prettiest macarons out there, but the texture was fine and the taste was very nice indeed.