Posted by

Janine

on 26 Mar 2018 in blog
Let me tell you about a trip I took recently, to Burford in the Cotswolds. I went there with Linda, Tom, Steve, Heather, Nick, James and Eppa. And their kids. That's six kids in total. All under the age of 4. Intense!
We used to all meet up in someone's house every Christmas, but it was beginning to be a bit tight for space, so this year we decided to rent a place together instead and have a mini winter holiday! It was great. The place we rented was huge. It had six bedrooms and three bathrooms, so we all fit in perfectly. (More on the house later.)
It was really lovely to spend so long with everyone all together. We were there for three nights in total and it was lovely. Now, obviously, doing anything with six small children is quite challenging, so we spent a lot of time relaxing at home. (Although we did have a couple of group trips out: a little walk terminating in a local pub; and a trip to the model village at Bourton-on-the-Water.) I personally really enjoyed the relaxed format; it was a good chance to spend some quality time together.
Well done to Eppa for organising an Ocado delivery that arrived just after we did. We'd decided to split the meals between us, so each of us only had to cook the once. The kitchen was really big, and it was great to have everyone gathered around the long kitchen table for every meal; plus, all the food was tasty (good job, guys!) In between meals our time was spent on outings and playing with the kids. After dinner each night, the kids were put to bed and the adults would gather in the living room to chat and watch trash TV (we all got addicted to "Celebs Go Dating"). It reminded me of when we used to live together back in our student days. There's nothing like watching trash TV in a big group, when you can all laugh about what's going on (and jointly get frustrated when the wifi signal is too weak for the Amazon firestick).
In conclusion: great quality time. A+++ would do it again.
Burford itself is gorgeous. Not only does it look beautifully Costwolds, it is so old! The newest buildings there are from the 1850s, but most of the buildings are older and have medieval roots. The place where we stayed used to be an old coaching inn, hence the many rooms.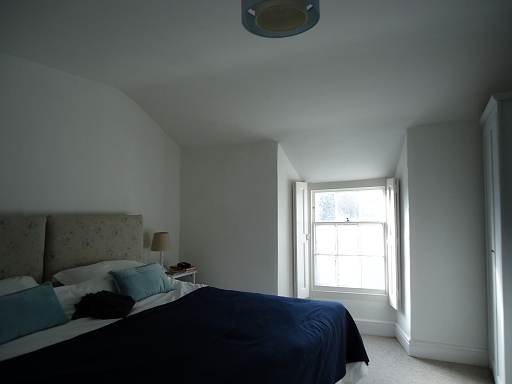 This one was my room. (I really loved the way the whole place was decorated, by the way.) The two rooms (and bathroom) on the top floor were taken by Nick and myself, so it was a child-free floor. As lovely as it was to spend time with the kids, I appreciated having a quiet place I could go hide in when things got too noisy.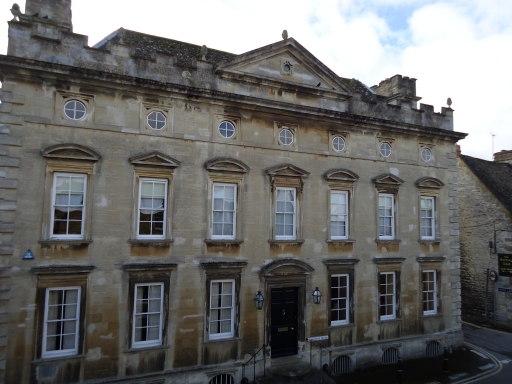 Here's the view from my bedroom window. Impressive, right?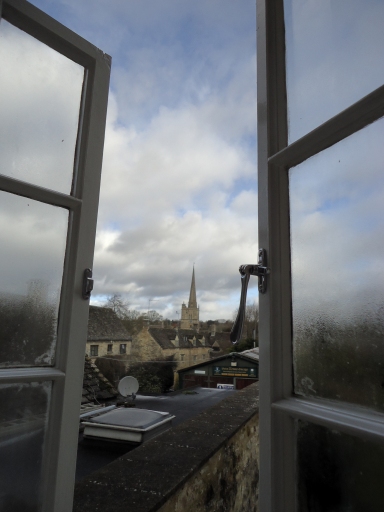 This is the view from the back of the house. I took this photo on a Sunday morning when the church bells were ringing and the birds were singing and it was so lovely I nearly shed a tear.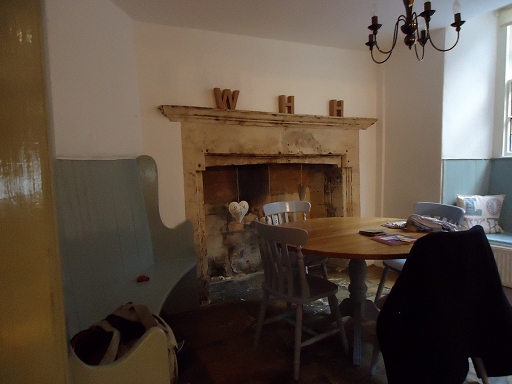 Our place dated, I think, from the 17th Century, and had a lot of surviving features (including an uneven stone staircase down to the kids' playroom, which is a nightmare when you have a toddler who has only just started walking; thank God there was a stair-gate we could put up). This photo shows the big old fireplace and what look like original settles from the time when the building was an inn. The flagstone floor was gloriously worn in places, suggesting where a frequently-used door used to be. The big fireplace can no longer be used, and so we didn't have much reason to be in this area, but it's so easy to imagine a time when it was the real hub of the place, with the fire crackling brightly and all the locals sat around talking.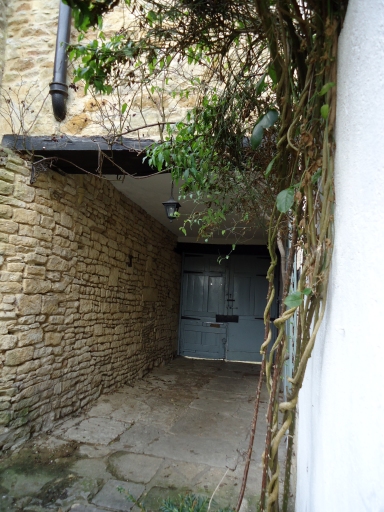 This was our entranceway, which was presumably to allow carriages through to the stables at the back. The stables are long gone and replaced by a lawn, but apparently the garden was once used as an ironmonger's forge as well.
I still can't get over how beautiful (and how huge) our place was. The rest of the town was just as gorgeous; take a look below. Walking around was an utter joy.