Birthday trip to Kew Gardens
Posted by

Janine

on 21 Aug 2017 in blog
I had a birthday recently. Normally I have great weather on my birthday but, alas, this year it was cold and cloudy. It's still cold and cloudy now. What has happened to summer? Anyone know where it went? I think we've misplaced it somewhere.
Anyway, let me start with the rundown of the presents I got: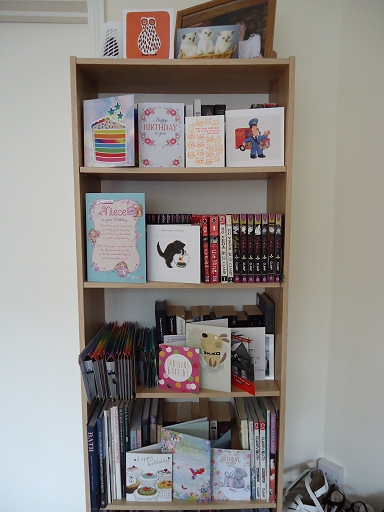 A lovely selection of cards.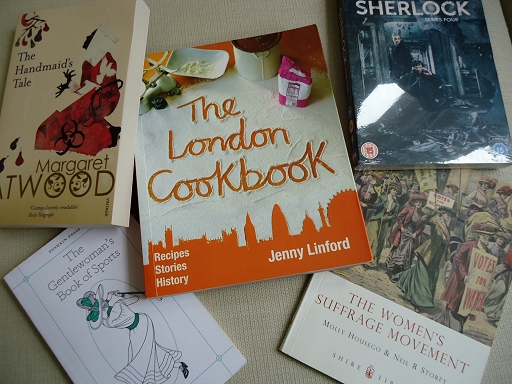 Books and a DVD. I just watched the first season of "A Handmaid's Tale" and really enjoyed it, so I'm looking forward to giving the book a go. The other books look very interesting, and "The Gentlewoman's Book of Sports" will apparently help save me from "morphine-mania" so that's good. I asked for the DVD of the fourth series of "Sherlock" so I could complete my collection. I don't feel particularly enthused about watching it though. (Well, the second episode of the series was good; at least there's that.)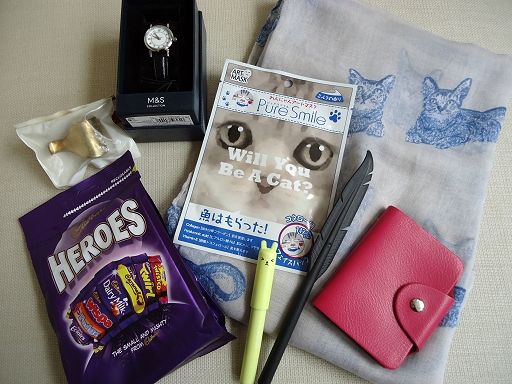 The rest of my presents, including a new watch because my current one looks very old and worn. The gold thing to the left is a picture hook for hanging pictures on my picture rail (I still love my picture rail). The pink thing to the right is a card holder. Mariya got me the really lovely cat scarf and the "Will You Be a Cat?" sheet face-mask with a cat's face printed on it (I haven't tried it yet, but can't wait to see how terrifying I look with it on). Mariya also gave me the super-cool biro that's shaped like a quill pen and the little, yellow bear-pen-thing, which is a lip gloss.
My parents came to London for my birthday and we went to Kew Gardens. Not only that, but my parents were very kind and gave me a year's membership to the gardens, so now I get to go back as much as I like!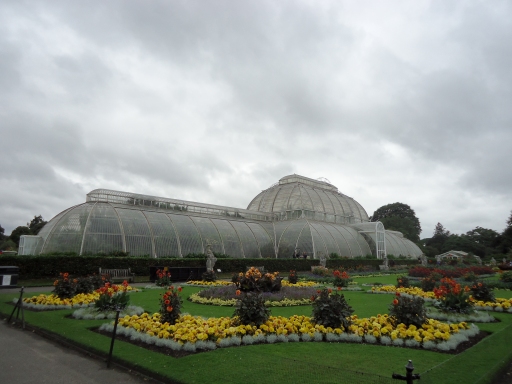 The palm house. Ignore the looming clouds; it's an English high summer!
The palm house looked very cool in a faded, Victorian kind of way. We walked up to the balcony, which had a great view of the plants.
Not pictured: the humidity that I worried would ruin my camera. (It didn't.)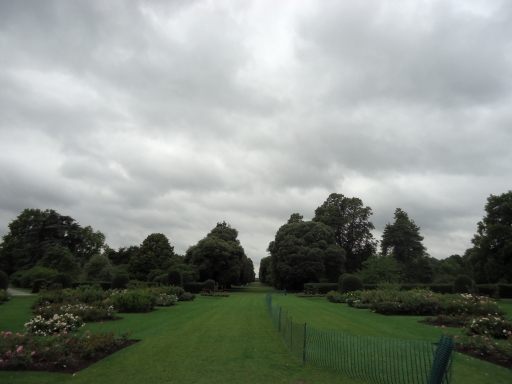 At the back of the palm house is Syon vista, which took my breath away.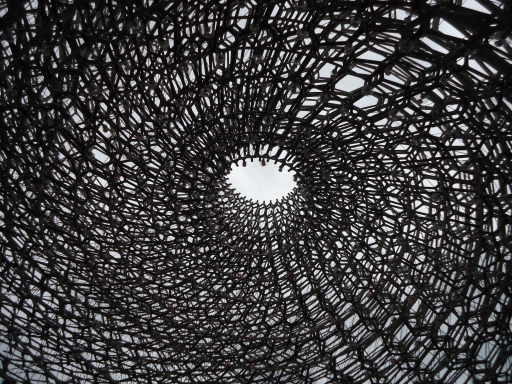 Then we went to the hive, which is a really cool, new structure. When you go inside they have music playing and little lights glowing. It's linked real-time to an actual bee hive, so the more the bees are active in the hive, the more the music plays and the lights glow.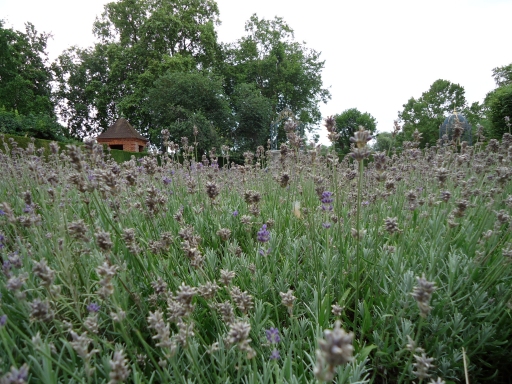 The garden behind Kew Palace contained aromatic plants. They smelled so good. Also, I love lavender.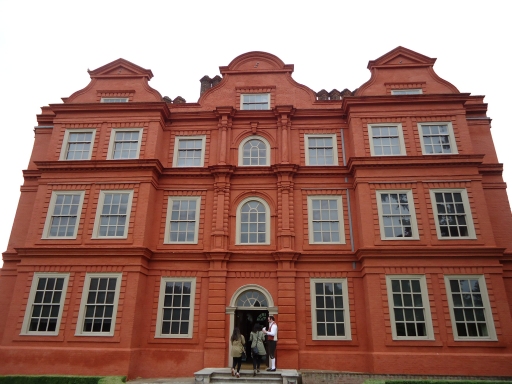 I really enjoyed looking around Kew Palace, but I was surprised by how small the rooms were in there.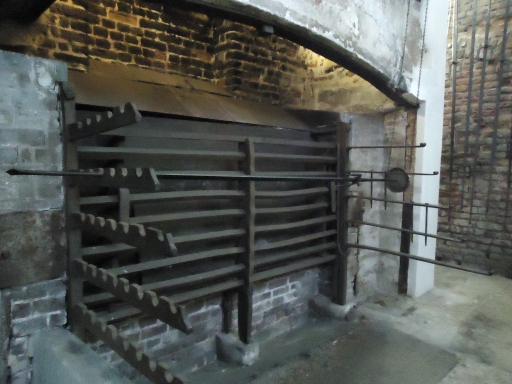 Even more fun was looking around the kitchens for Kew Palace. Look at the size of this fireplace! The kitchens included bread ovens, plus a tiny little oven that may have been used specially for meringues.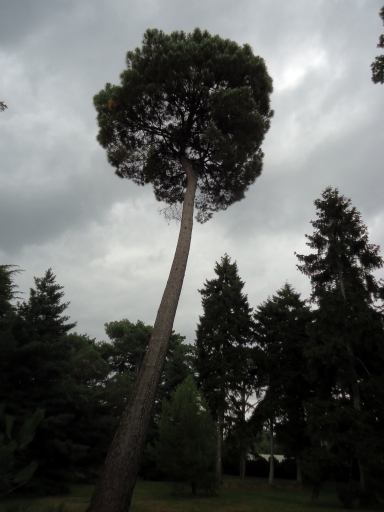 There are so many different species of plants in Kew Gardens. I have no idea what any of them are (I didn't read the signs). Here I present to you: a tree.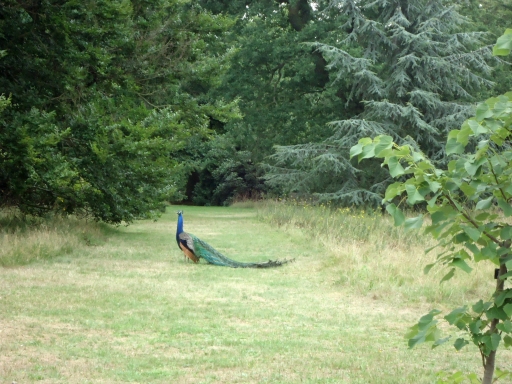 And then we saw this guy.
We spent all afternoon in Kew Gardens and didn't even see half of it. I'd better go back to see the rest sometime.
2 comments
How did I miss the birthday post? With a peacock in it, no less!
I hope you had a wonderful birthday.
Your presents and Kew Gardens looked amazing.
I will know I'm rich when I have a dedicated meringue oven.
Really lovely photos, again, as usual!
Thank you!!
The separate meringue oven is everyone's true dream.