Food post - 8 September 2017
Posted by

Janine

on 08 Sep 2017 in blog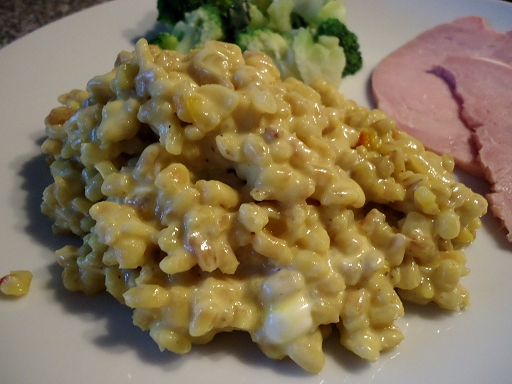 Saffron orzotto (recipe from "Nigellissima: Instant Italian Inspiration" by Nigella Lawson)
This was a "risotto" made with pearl barley. I left out the vermouth but added in the optional mascarpone. I love a good risotto, and I found that this orzotto, while nice, didn't come up to the same standard as a real risotto. The pearl barley has a chewy texture and earthy taste; it's nice but it's not rice. The addition of the mascarpone makes the taste very mild and creamy; perhaps too mild for me to rave about it.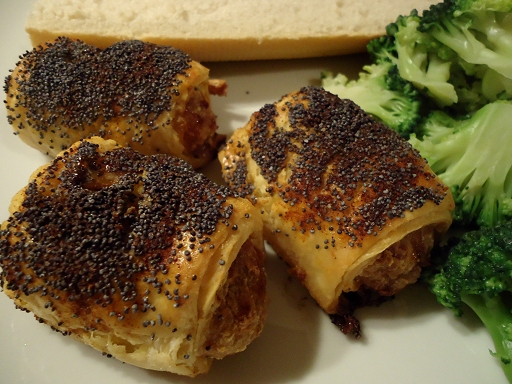 Martha Collison's pork and chorizo sausage rolls
There's an accompanying video to this recipe, and it took me a few minutes to realise: "Wait! That's talented and incredibly young Martha from 'The Great British Bake Off'!" I decided to make these at the end of a long week. "Let's relax by baking!" thought I, foolishly. FOUR HOURS LATER I was finally able to eat dinner. It then took me an hour and a half to clean up. (I slept for the rest of the weekend.) So, making puff pastry from scratch, when I make a huge disaster out of even normal pastry; that's no big deal, right? At least this was only rough puff pastry??? I am so surprised I ended up with anything that looks like a sausage roll. But, you know what, my pastry was tough (overworked, perhaps? or just old flour?) but it was edible, and it was even more edible after the sausage rolls been left to soften up in the fridge for a day. Texture aside, they were delicious. I'm not normally a huge fan of chorizo, but the taste with the chipotle paste was wonderful. (Why have I never cooked with chipotle paste before? It is the best.) One word of warning, though; puff pastry, sausage-meat and chorizo are all really greasy, so don't eat too many (i.e. three) of these sausage rolls at once or they'll make you feel ill. Also, I need to admit that I went a bit absent while cutting out the pastry (three hours in, or thereabouts) so I ended up with ten smaller sausage rolls rather than eight big ones. I didn't mind; it made it easier for me to have smaller portions to combat the grease content. Oh, but when you ignore the grease, these were so so tasty. Man.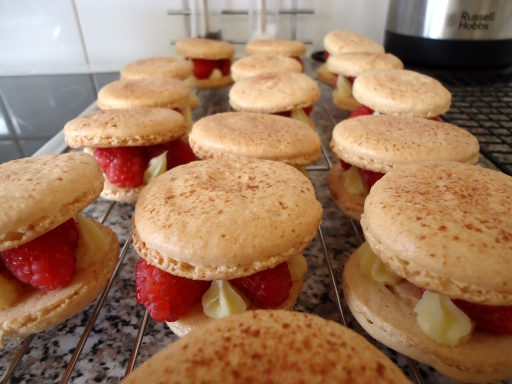 White chocolate and raspberry macarons (recipe from "Mother's Little Book of Home-Baked Treats")
I am happy to report that I have now made macarons enough times that I am slowly becoming more competent. Not good, mind, but I'm certainly panicking less. One of the main things I have learnt is to cook these over two days to avoid stress, so I made the macarons on one day and made the filling on the next. The only real issue with the macarons is that they're meant to be white and red, and instead they turned out golden and brown. This always happens to me. I heard that maybe putting an empty baking tray on the top shelf of the oven might help stop the browning? Perhaps I'll try that next time. I could also have put on more of the white chocolate ganache, but I refrigerated the ganache as I was told to, and then discovered it was impossible to pipe easily until I'd warmed it up to room temperature again. Sigh. (The bonus is that I had loads of leftover ganache to eat for the rest of the week.) Oh, and also my raspberries were big boys, so I only put three in most macarons, rather than the requisite four. Who cares about these minor points? The macarons tasted gorgeous, albeit very sweet (but macarons are always very sweet, so that's no surprise).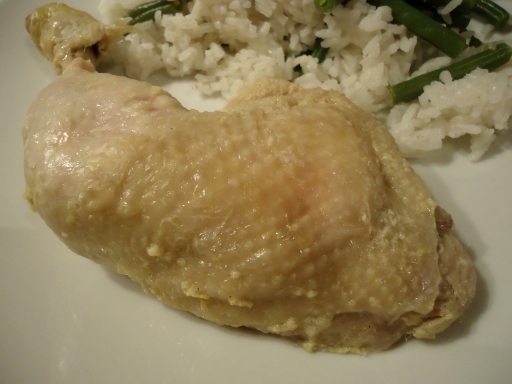 Steamed chicken legs with mustard ginger sauce (recipe from "Chicken Leg" by Hoe Yee)
If you read my last food post, you will have seen how frustrated I got by following the recipes from this book and ending up with raw chicken. Not so any more! I ignored the instructions in the book "steam for 20-25 minutes" and instead steamed the chicken legs for 50 minutes (I meant to steam them for 45 minutes, but my rice needed a bit longer, so I kept the chicken steaming away while I waited). The result? Fully-cooked chicken! Yay! You know, I've never steamed chicken before; I honestly didn't even realise it was possible. Turns out that steaming will fully cook your chicken and will give it a really succulent texture. (Seriously, the texture was so soft. I was blown away.) I mean, it does look awful though. The taste of this recipe was not as strong as I thought it was going to be; there really wasn't much of a mustard taste to the chicken at all. In fact, all I could taste was ginger (I left out the Shaoxing wine, as always). Hm. Maybe it's the recipe or maybe it's because I put a bit too much water in the steamer and all the marinade floated away. It's probably me, isn't it.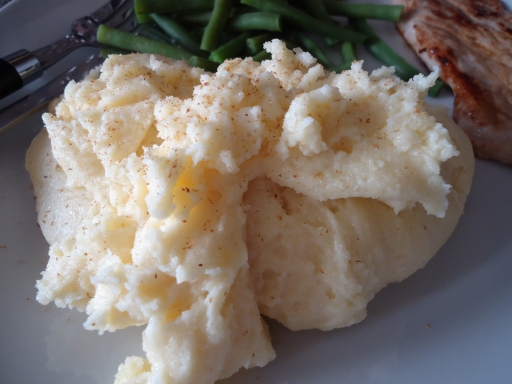 Mock mash (recipe from "Nigellissima: Instant Italian Inspiration" by Nigella Lawson)
This is "mashed potato" made from semolina. What a blast from the past! I've never eaten semolina as an adult, and I've never had it savoury. The texture is just the same as I remember (I was always a fan of semolina) and the taste is nutmeggy and cheesy. One word of warning though; I made a smaller portion than Nigella recommends and it turns out it cooked much quicker than she said it would. This was done in the blink of an eye, and then started getting overdone, thick and glutinous. Whoops. Overall, it was a nice dish, but not super-amazing. I'm impressed by how quick and easy it is to make semolina as a side dish, but it doesn't beat mashed potato made with actual potato.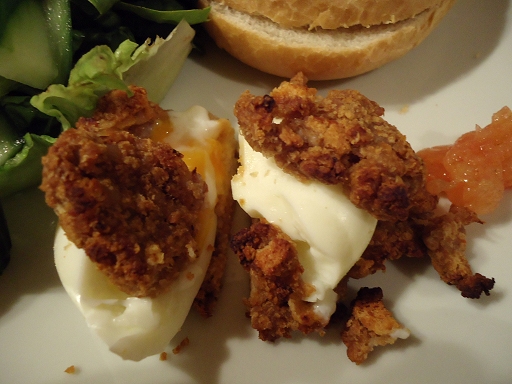 Scotch eggs with tomato
STOP LAUGHING. After being mildly successful with my macarons and sausage rolls, something had to give, and that something was these bloody eggs. And the thing is, the recipe initially looks so easy! I started realising it was not so easy when I discovered that I had to blanch my tomatoes and dry my breadcrumbs (I could have bought dried breadcrumbs, but I couldn't bear the thought of the packet sitting unused in my cupboard for the rest of forever). Still, that all went fine. I then realised that the recipe said to put the breadcrumbs in the sausage meat rather than on the outside... ok... But, actually, there were two major things that went wrong and it wasn't anything that I had flagged-up on reading the recipe. 1) It turns out that I don't know how to boil an egg. I'm not a big fan of eggs, so I don't boil eggs often. This means that I have no idea how "done" an egg will be after boiling it for 6 minutes. It turns out, it's not very done at all! So I wasn't careful enough when peeling my eggs and accidentally split one of them. 2) There was nowhere near enough sausage meat/breadcrumb mixture to cover the eggs. This really seems like an issue with the recipe, and it's the reason why the finished product looks so godawful. Fun fact: I tried so hard to smoosh the sausage around the eggs that I manage to break my one unbroken egg (I was only making two Scotch eggs in total). Goddammit. Still, looks aside, the Scotch eggs actually tasted pretty nice and the breadcrumbs were pleasantly crunchy in the sausagemeat. The runny yolks (or what was left of them) were fun, but even the whites of the eggs weren't properly cooked. Those eggs definitely needed to be boiled for longer beforehand. Oh, but that tomato sauce? It is basically half a squashed tomato and nothing else; it is so watery and bland. Whoever thought that would be a good idea? Sighhhh.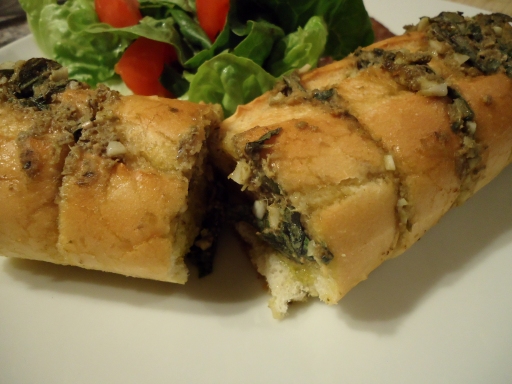 Garlic pesto bread
This recipe is geared up to be cooked on a barbecue, but seeing as I don't have one of those, I followed the instructions to cook the bread in the oven instead. Unfortunately, I went to buy my ingredients at the end of the day when all the fresh bread had sold out :( so instead I bought two part-baked mini-baguettes and then cooked them and cooled them before beginning on the recipe. The texture of the finished dish was crunchy but slightly soggy, because the bread had basically been steamed in the foil with the butter; the softness felt kinda right though, especially with all the oily butter in there. As for taste, it was like normal garlic bread but with a hint of extra cheesy, pesto-ness. BUT, maybe it's because I don't have a garlic crusher and so just chopped my garlic finely, or maybe I didn't have enough bread, but the (relatively-raw) garlic taste was so strong that it was burning my tongue! Not horrendous, but not super-lovely either.
2 comments
Bab, I'm well impressed that you tried to make puff pastry from scratch! I might try that recipe but with bought pastry 😋 I'm not talented young Martha from GBBO!
I was having an optimistic day! I'm normally a bought pastry kind of a girl. If you do make them, I hope you enjoy them. Give your new kitchen a good workout.