Posted by

Janine

on 05 Oct 2014 in blog
Hi! I'm back! Sorry for the long absence! I mentioned in the last post that I was doing extracurricular work stuff. It took longer than I originally thought it would, but not blogging regularly really freed up my time to focus on what I needed to. It's all done now though so I'm back again! And I have got so much to share with you, oh God. My blogging may still be a little slow while I try to catch up on my social life as well, but I'm going to try to get back on the blogging band wagon \o/
First of all, I haven't been trying out that many new recipes, and yet it's been so long that I've accumulated loads of food photos even at that slow pace. Let's get down to it!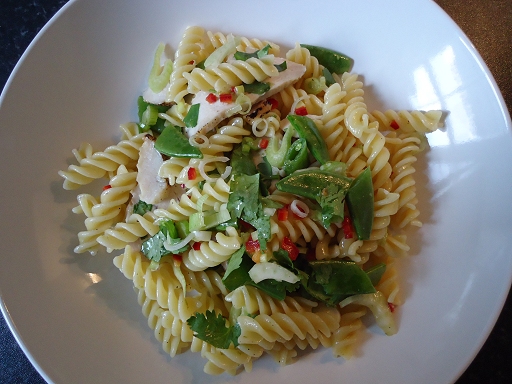 Chargrilled chilli chicken pasta salad
This dish was easy, tasty and refreshing for the warm weather. An overall success! I substituted fusilli pasta for the riccioli, which I couldn't find, but I don't think it affected the dish much at all. The chilli wasn't too hot (I always worry about it in salads) and the fennel (which I'd never eaten before) was really tasty. Also, anything containing lime and coriander will never go wrong in my eyes.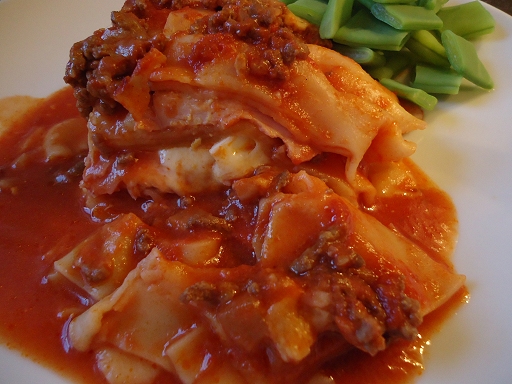 Quick Calabrian lasagne (recipe from Nigellissima: Instant Italian Inspiration by Nigella Lawson)
I'm not sure it's possible to ever take a photo of lasagne that looks good, but let's ignore that. Now, first things first, I love lasagne. It is best. And so, sadly, this lasagne was a massive let-down. It was not best. Problem 1: I have a massive and weird issue with eggs and tomatoes. I don't like eating them together, which meant that the boiled eggs in this lasagne just felt wrong. Problem 2: This is probably my fault for leaving out the red wine, but the taste was oddly lacking; all I was getting mostly was tomatoes. Problem 3: The best part of a lasagne is the oozing, creamy cheese sauce. This one only had a few mozzarella chunks, which didn't ooze anywhere near enough. In other words, this lasagne was a lot of work for little reward.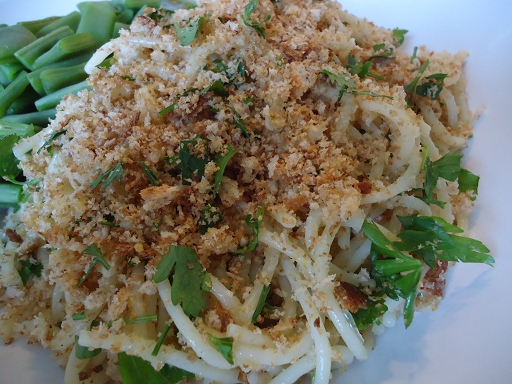 Spaghetti with lemon and garlic breadcrumbs (recipe from Nigellissima: Instant Italian Inspiration by Nigella Lawson)
For this one Nigella recommended spaghettini, but seeing as I couldn't find it, I used regular spaghetti instead. If you're wondering what this dish is, a handy description would be: double carbs flavoured with parsley, lemon and salt. I nearly had a heart-attack when I saw how much salt went into this, but it didn't taste overly salty (it felt like a close-run thing though). It tasted nice! But it was rather filling, because Nigella decided that pasta wasn't enough without a helping of bread on top. Weird. But not bad weird.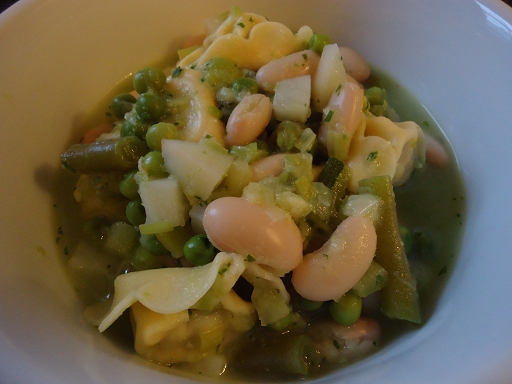 Tortelloni minestrone (recipe from Nigellissima: Instant Italian Inspiration by Nigella Lawson)
Well, I have to say, I've never made soup using filled pasta before. The novelty made this rather exciting to make, and I love the green colour of the soup base; it looked super healthy. The only problem is that I found the taste rather lacking. I don't know what it was, but maybe some more cheese or something meaty would have helped.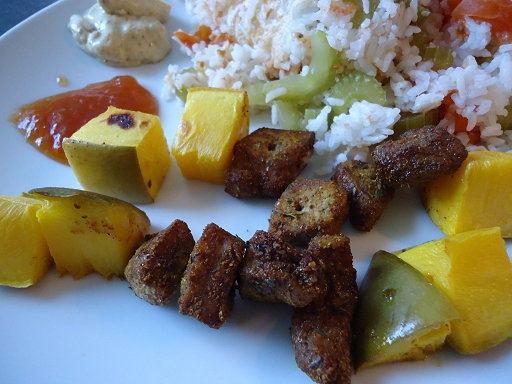 Mini pork and mango skewers
I don't normally like fruit in my savoury dishes, but this is an exception. It was bloody marvellous. So marvellous, in fact, that I made it for my friends at a barbecue the next week. The star is the korma spice mix; it is so yummy. Mayonnaise with a bit of the korma spice mix is a great dip that would work on a lot of occasions and went really nicely with the pork and the mango. Downsides weren't many but here goes: 1) Portion size was small; these are mini skewers. I would have liked some more pork to be honest. 2) The mango chutney and sweet chilli dip was not doing it for me, but I think that's because I bought a horrible brand of mango chutney. And 3) The pork was a little dry, which is maybe because I used metal skewers as opposed to wooden skewers. But those were minor downsides. This dish is super tasty.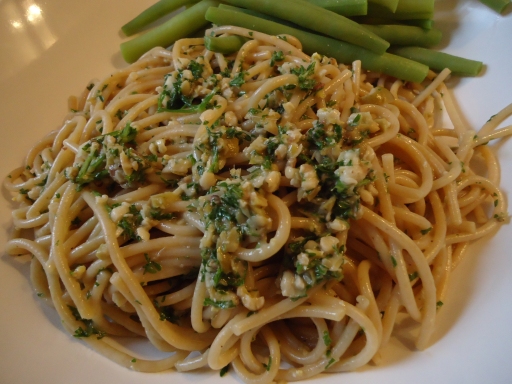 Spelt spaghetti with olives and anchovies (recipe from Nigellissima: Instant Italian Inspiration by Nigella Lawson)
Once again, I forced myself to eat anchovies in the hope that they'd grow on me. Nigella says to use five anchovy fillets per person but I only used three. The reason? The anchovy fillets in my tin were so large that there were only six in the tin in total. And they were really bony and prickly because they were so large. But, into the food processor they went (as per Nigella's instructions), with me hoping that the bones would break down with a whizz round. They didn't all break down. Thankfully, when I came to eat the dish (very carefully) I found that the bones were perfectly edible. I used curly parsley leaves (because that's all I could find) and they're quite hard too. It meant that the texture of the dish was rather knobbly (and rather terrifying if you think everything knobbly is going to be a massive fish bone. I did get something stuck in my gums for about 24 hours but I honestly don't know if it was a bone or a stubbly bit of parsley.) Taste-wise, though, this dish wasn't too anchovy-y. In fact, with the saltiness, the lemon and the parsley, it tasted pretty similar to the Spaghetti with lemon and garlic breadcrumbs, up there.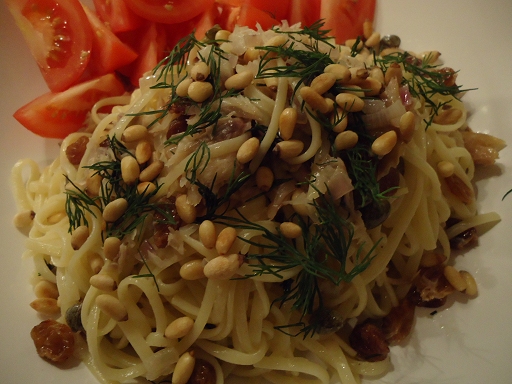 Pasta with mackerel and pine nuts (recipe from Nigellissima: Instant Italian Inspiration by Nigella Lawson)
This dish was meant to contain Marsala, which I left out. That's by the by. I like smoked mackerel and I like dill and this dish was smelling really good while it cooked. Unfortunately, when I came to eat it, it turns out that an initial worry about the sultanas was well-founded. I might be going against the rest of the world in this, but sultanas in a savoury dish are just wrong. My lovely mackerel pasta was ruined every other mouthful by sudden over-sweetness. Ugh ugh. No. (The sudden salty tang of the capers and oiliness of the pine nuts didn't help either.) Without the sultanas, capers and pine nuts I bet this would be a really tasty plate of pasta. With them, it's just noooooo.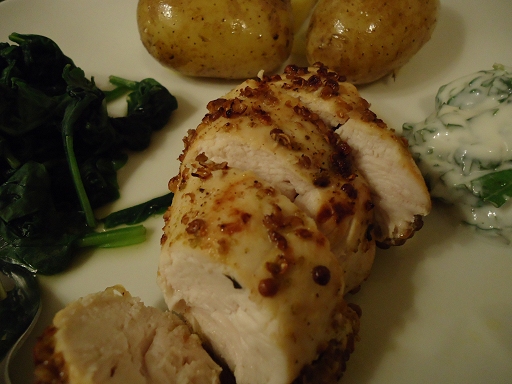 Coriander chicken with minted yogurt
I am starting to realise that I bloody love everything that contains lime. Guys, I think I might just really love lime. Especially if it comes with coriander. The coriander and lime chicken was really tasty (far more so than any picture suggests) and was gorgeous when paired with the minted yoghurt. One minor problem with this dish was texture. I don't have a pestle and mortar so I had to crush the toasted coriander seeds in the bottom of a saucepan using the end of a rolling pin. I don't think I crushed them enough, because they were kinda unpleasantly hard on the chicken. But not hard enough to ruin how much I enjoyed eating this thing. The other problem was that portion size was kinda small. More potatoes and veg please!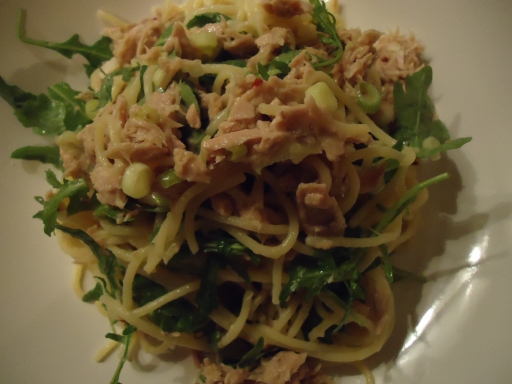 Spaghetti with tuna, lemon and rocket (recipe from Nigellissima: Instant Italian Inspiration by Nigella Lawson)
I made this yesterday. It's tasty and quick! I can easily see why Nigella touts it as a store cupboard staple. Again, though, we have a spaghetti dish with the overwhelming flavours of salt and lemon. Nigella, I'm beginning to sense a theme with you.