Posted by

Janine

on 30 Aug 2021 in blog
I've been having fun with a new cookbook recently. I wonder if you can tell.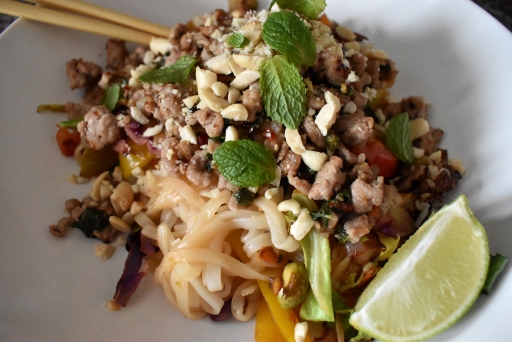 Crispy pork noodle salad
This is another Jamie Oliver recipe. I have made enough of his recipes now that I am wary about the balance of flavours. Will it be too sweet? Will there be enough umami? Thankfully this one was nice! The pork and the peanuts added a nice umami flavour, and the sweetness of the teriyaki sauce, sweet chilli sauce and lime juice worked well. If I were to tweak it, I might add some soy sauce for a bit more umami, purely because stir-fries without soy sauce feel a bit weird to me (the dominant flavour here is lime rather than soy). I have only two proper complaints to make to Jamie. 1) How on earth is 150g noodles meant to feed four whole people? It's not enough! I felt almost full after eating, but I was then hungry again in an hour or so. 2) Why do I simultaneously have to use two frying pans? This is hard. I burnt myself in the frenzy. Who even owns two frying pans? (Me, I suppose, but one is really old.) Honestly, this was such a chefy thing to do. Home cooks are not as au fait with multitasking as you, Jamie. Please be gentle with us.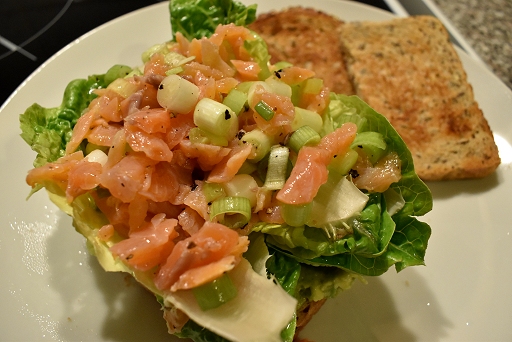 Smoked salmon and avocado on toast (recipe from "Nosh for One: Unique Meals Just for You!" by Joy May, which was a present from my parents)
This recipe was very easy and very delicious! My only issue is that it's hard to eat. The lettuce, which separates the avocado from the salmon, slides all over the place when you're trying to cut into the thing, which results in the salmon going all over the plate, instead of onto the toast and into my mouth where it belongs. There's lemon juice and olive oil in with the salmon, which tastes really nice, but I personally think that 1 tbsp olive oil per person is a bit much when you have rich salmon already.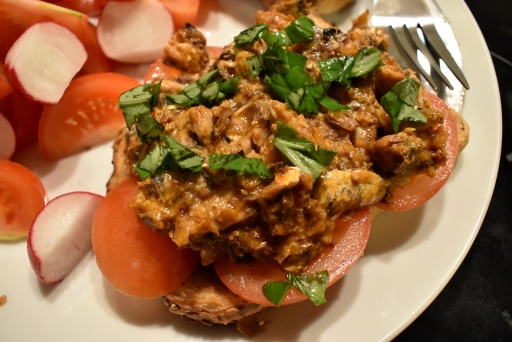 Sardines on toast (recipe from "Nosh for One: Unique Meals Just for You!" by Joy May)
I haven't had sardines on toast for decades, so this was a lovely piece of nostalgia for me. I'd never eaten sardines on toast with added tomatoes, basil and lemon juice before, but they made a really nice addition. The only complaint is that putting all that stuff on the toast makes the toast cold, so it's not quite like the warm, tomatoey, buttery deliciousness that I remember from my childhood.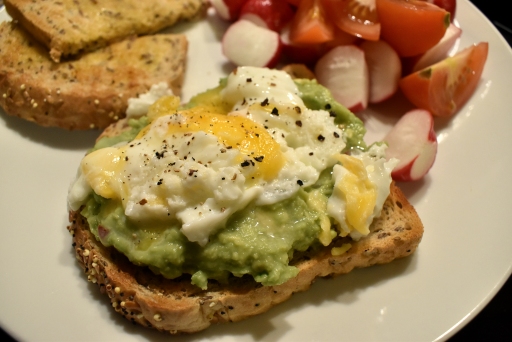 Spicy avocado on toast (recipe from "Nosh for One: Unique Meals Just for You!" by Joy May)
You are welcome to laugh at my poached egg. I freely admit that it is one of the worst poached eggs I've ever made. I don't poach eggs often so I always have to look up how long to poach them for. This recipe doesn't give a time; it just says "Leave until the egg is set". Seeing as, from the introduction, the book seems to be aimed a beginners, I thought "well clearly you don't have to time it; just leave it until it looks set". So I left my egg until the whites looked white, but boy it wasn't set. I picked the egg out of the water with my slotted spoon, only for the yolk to fall through the slots in the spoon and disintegrate into the water below. It tried to salvage what yolk I could, but it was not very pretty. That said, the recipe is delicious. Who doesn't like avocado and poached eggs on toast? There's lemon juice and chilli in the avocado to give it a big of zing, although my chilli wasn't very hot so I couldn't taste that much.