Food Post - 18 January 2021
Posted by

Janine

on 18 Jan 2021 in blog
Welcome to the first food post of 2021. I want to start the year as I mean to go on: trying to cook tasty food, with vastly varying levels of success.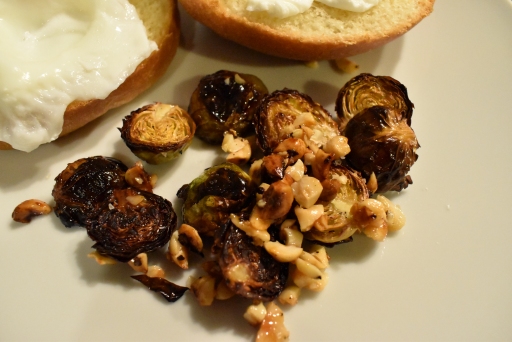 Crispy honey-roasted sprouts
Before we get into it, let it be known that I hate sprouts. I hate sprouts! There aren't many vegetables that I wholly dislike, but sprouts are one of them. They're like bitter balls of nastiness. But, welp, it was Christmas, and everywhere was advertising sprout recipes so I thought I'd try one. I managed to burn the sprouts (you can tell) because I left them in the oven for 25 minutes without checking on them. But actually, the burntness didn't add any bitterness that wasn't already there from the sprouts themselves. In fact, the hazelnut praline thing was sweet enough to combat the bitterness from all corners. It's surprising! I don't like sprouts and I don't like savoury food that's too sweet, but the two actually cancel each other out. These were edible! Edible as they were, this recipe could be improved by removing the sprouts altogether. That buttery hazelnut praline would be divine sprinkled on a dessert.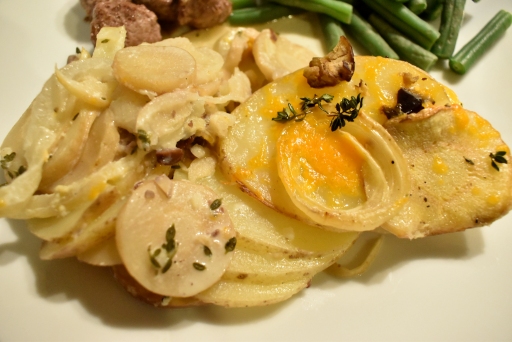 Potato and parsnip al forno
This Jamie Oliver recipe was a lot of effort for something that was, essentially, bad. It sounded so promising, and it looked really good when it came out of the oven all bubbling with the yellow melted cheese on top. But, for me, the taste was all wrong. It was far too sweet, and I've already mentioned how I don't like too much sweetness in my savoury dishes. You had sweet parsnips and sweet onions and sweet chestnuts all together. There was not nearly enough cheese and garlic to counteract all that sweetness. Plus, Jamie says to leave the skins on the potatoes and parsnips, but that just meant that the dish was horrible texturally as well, because amongst the soft creaminess of the vegetables you'd occasionally nearly choke on a long string of potato skin. Maybe if you like very sweet savoury dishes (and eating string), you'll like this one. But for me it was absolutely not worth the effort.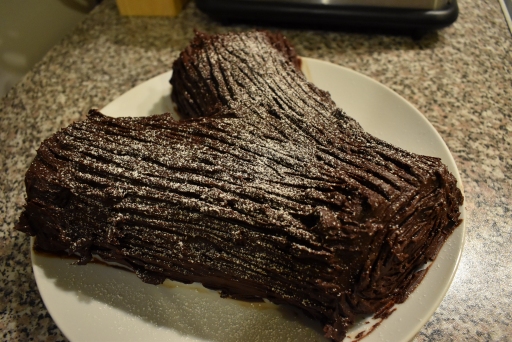 Mary Berry's Yule log
Faced with a sudden and unexpected Christmas by myself, I realised that I was now in charge of the Christmas food. And so I decided I was going to make the most of it and actually have a Christmas dessert that I like. My family normally has Christmas pudding after their Christmas dinner, which is not for me, and so I normally sit it out. Not so this year! My Christmas = my rules. And my rules say that the best Christmas dessert is a chocolate log. I chose this Mary Berry recipe because I figured that you probably can't go wrong with Mary. I was entirely correct! This recipe left me singing Mary Berry's praises oh my God. It contains fresh cream, and there's only one of me, so I was left eating this dessert after every meal (including breakfast) for a week, and yet I still looked forward to every serving. I made two changes to the recipe. One was that I could not find any caster sugar, so I substituted with granulated sugar; this didn't seem to affect the recipe at all. The other was that I forgot to make a note of what type of dark chocolate I was supposed to buy, so I ended up using 70% dark chocolate instead of the 40% given in the recipe. This would come to haunt me. Mary says to make the ganache topping in a rather unusual way by adding the chopped chocolate to the hot cream, rather than the other way around. I did as she said, but didn't stir it for long enough to melt my chocolate fully (which was more solid than hers anyway) because I was terrified of the ganache splitting in a hot pan. (The last ganache I made split terribly, and now I have ganache issues, or... gannissues.) So I was left with a ganache that was a bit lumpy. Mary then says to cool the ganache in the fridge so that it's thick enough to pipe. Alas, I did not realise I had used a more-solid chocolate than Mary, and so was very surprised when my ganache solidified completely in the fridge. Nevertheless I struggled on by putting the solid ganache in my piping bag and trying to warm it with my hands. This was a resounding failure: the ganache refused to become liquid enough to pipe and all the chocolate chunks left in it blocked up my piping nozzle anyway. In a fit of rage and panic, I took the ganache out of the piping bag, shoved it in the microwave to liquify a little more, then spread it on the cake with a palette knife and, as per Mary's alternate instructions, used a fork to create a bark texture. It turns out that little mistakes can become massive successes. Just look at the bark on that cake! It looks much more branch-like than it would have done if I had piped the ganache properly. And the little chocolate chunks, which had been the bane of my piping nozzle, actually helped to give a rough texture! Resounding success! In taste, Mary knows what she's doing, oh my word. The chocolate sponge was unbelievably moist and light, the whipped cream paired with it beautifully and the accidentally too-dark chocolate meant that this dessert wasn't too sweet (which can sometimes be an problem with these things). Instead it was a dessert that was light and rich with an almost-solid chocolate coating that was oh so chocolatey. It was good. I actually miss this cake now it's gone! I'm seriously going to have to consider making it again next Christmas, regardless of who's in charge of the food.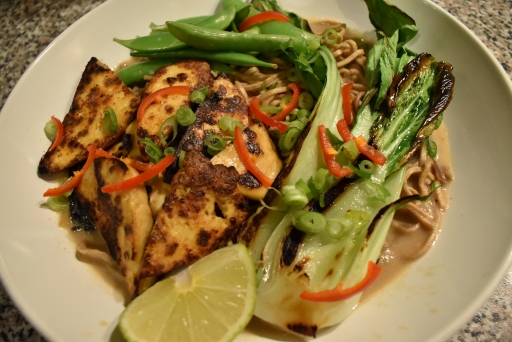 Barbecue tofu ramen
This recipe was a bit of a mission to make. To me it feels quite "chefy", meaning that it's one of those recipes that requires lots of multitasking. Almost every component of this dish was cooked separately, yet simultaneously, and with short cooking times so you don't have much time to think as everything is happening. I'm sure it's an easy dish to make if you're a chef and are used to these things. For me, I was "rabbit in the headlights"ing for a lot of it. Do you know what though? It's worth it. I was wondering if, as a vegan dish, this might be lacking in umami flavour, but not so. The broth is rich and savoury and creamy, the toppings lift it, and the tofu is super tasty (plus the charred, fried texture of the tofu makes it feel quite satisfyingly meaty). Disclaimer though: my dish wasn't fully vegan, because I bought a BBQ sauce that has honey in. My only complaint is how you're supposed to eat it. This is a dish for chopsticks. It's clearly not a dish for a knife and fork. So how am I supposed to eat that massive lump of pak choi? I tried picking it up and biting it, but because it was only charred it was still quite stringy and chewy. Not clever. I had to have a brief interlude with a knife and fork to cut the pak choi into chunks for chopsticks. Once I'd done that though, this dish was great. Takes a lot of effort, but makes a very good vegan dish.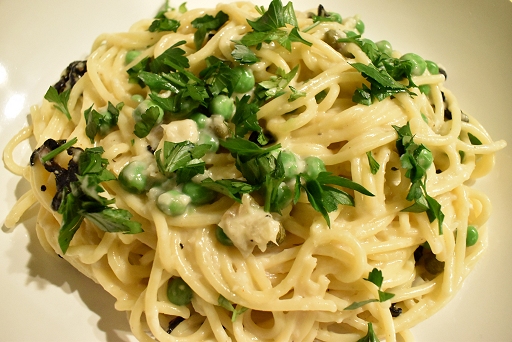 Vegan mushroom carbonara
This recipe was written by the same guy as the previous one and I can tell. This one isn't quite as "chefy" but it's still clear that the person who wrote this doesn't care how many pans they use. What do you mean I have to put my sauce in a blender and then I have to put it into a fresh saucepan? Why? Is an absolutely chunkless sauce really worth cleaning another pan? (It is not.) My other issue with this recipe was the timing for the mushroom bacon. It may be because I greatly reduced the recipe from six servings to one, but my mushrooms got really overcooked in the oven. After 30 minutes they were husks of charcoal. I did them the next day for 20 minutes and they came out perfect. As for the taste of this recipe, it was ok. It was nice enough, and the mushroom bacon is a perfect substitute for the little bacon chunks you get in a carbonara, but the sauce wasn't right. I don't have a blender, so whizzed my sauce up in a food processor; I thought this might leave me with texture issues, but actually the tiny chunks in the sauce did a good job of replicating the egg you'd get in a normal carbonara. My problem with the sauce was actually taste rather than texture: the taste was fine, but it wasn't the creamy, umami explosion you'd expect from a carbonara. Without being able to use Parmesan, this dish was never quite going to be a normal carbonara, I suppose. But did we really need to make a roux for the sauce? The richness that you'd normally get from the cream wasn't there, because the creamy texture just came from flour instead. Is there not some kind of vegan cream substitute that could be used? (I have no idea, but it feels like there should be.) Anyway, this was good and all, but don't serve it to non-vegan folks and call it a carbonara because they will be disappointed. It must also be said that I'm not a fan of peas, and I left out the wine. Would this dish have been perfect if I had just taken out the peas and added the wine? No-one knows.
7 comments
Hi! Love the food posts, keep them coming! My favorite way to cook sprouts is to cut them up into super thin strips (as thin as you can manage) and toss them in a pan with salt, pepper & olive oil for a few min until they soften. Then you can get fancy with it and add walnuts, or pomegranate seeds, or cheese. I find roasted sprouts a bit too heavy (mostly because restaurants load them with bacon) but this has a nice comforting warm salad feel. For vegan sauces I recommend nutritional yeast - it's sold in the health food section and it's a nice cheese substitute. I'm not vegetarian I've used it soups or on vegetables when I didn't have parmesan and it definitely gives it a kick of umami.
Ooh. I never considered slicing sprouts. Interesting! Hmm. I'm still not sure I'll ever be persuaded to enjoy sprouts, but if I find myself with some that I don't know what to do with, I want to try your method!
I've never tried nutritional yeast. If it tastes anything like marmite, I can see how it would be a good umami addition. I wonder why the recipe never thought of that for the carbonara; it would have made it more like the original dish.
Comment from:
Mariya Sklyar
Visitor
Hi! Good news - nutritional yeast doesn't taste like marmite, it's these little dried flakes that look a bit like bonito flakes. I don't think you're meant to eat them on their own, just sprinkle them on things. Speaking of a few vegan things I enjoy eating, there's a mac & cheese version sold in a vegan chain called by Chloe and even though I generally don't love mac & cheese, their version is delightful. I found this recipe online (haven't tried it myself yet) but if you decide to give it a go, I'd love to hear how it turns out. https://coveteur.com/2017/02/02/by-chloe-vegan-mac-and-cheese-recipe/
Ooh. Mac and cheese with butternut squash! I'm with you on not caring for mac and cheese (too rich for me; too much cheese) but I imagine a version made of cashews and butternut squash would be much lighter and more palatable.
First of all: FOOD POST!!!!
Secondly, I don't mind brussels sprouts, but I draw the line at putting dessert toppings on them. I handle them, in general, the way I handle all vegetables — by attacking them with butter, Mrs. Dash, and salt. It's worked for me so far, I don't want to mess with the formula.
The potato & parsnip al forno looks weirdly like my mom's scalloped potatoes. [*side eye*] I've never eaten chestnuts! I'll take your word for this recipe being bad, though. I don't even like scalloped potatoes.
Mary Berry is as close as we're ever going to get to a real-world Mary Poppins, and I'm not surprised that her recipe turned out spectacularly even though you encountered unexpected interference. That cake looks absolutely fabulous, by the way. I am actively jealous, and also hungry. (Cake for breakfast! Mary Poppins, I tell you!)
The barbecue tofu ramen looks like a restaurant dish. It sounds really great, actually; I love seared, sauced tofu.
This one isn't quite as "chefy" but it's still clear that the person who wrote this doesn't care how many pans they use.
MONSTER
CHEF PRIVILEGE
OUT OUT DEMON OUT
UNLESS YOU'RE GONNA COME TO MY HOUSE AND SCRUB THE EXTRA PAN, DON'T PUT IT IN THE RECIPE
That said, the finished product looks really tasty. I think veganism is a little weird — what's wrong with humanely-sourced dairy? what will become of cattle abandoned entirely by husbandry? they've been bred for docility, heaviness, and helplessness for actual millennia; expecting the whole species to be rewilded is as crazy as expecting domesticated cats & dogs to fend for themselves — but other people's food choices aren't really any of my business. So. I will take this recipe under advisement, if I'm ever asked to cook for vegans.
Thank you for another FOOD POST, so soon after the last one. In deprivation there is bounty, sometimes. Can't remember who said that… I think it was either Aslan, Jesus, or Superman.
FOOD POST!!!!!!
I've never heard of Mrs Dash before! I just looked it up and now I'm intrigued. Sounds like an excellent idea for anyone trying to cut down on salt.
The potato & parsnip al forno looks weirdly like my mom's scalloped potatoes.
I'll bet your Mom's potatoes are much nicer. This looked so much better than it tasted.
I am actively jealous, and also hungry.
Thank you! I'm still super proud of that Yule log. I am also jealous too: jealous of myself from four weeks ago because I still had some of this left to eat. I wish I could justify making and eating it more often. Maybe once a fortnight? That'd do me just right.
I've never been inspired to become a vegan (or a vegetarian for that matter); I just love eating meat too much. But I am very intrigued as to what vegan recipes taste like, because it's so far removed from what I am used to; I find it a lot of fun to try them out.
I think it was either Aslan, Jesus, or Superman.
I would watch this film.
I've never heard of Mrs Dash before!
Mrs. Dash is the food version of copying and pasting. It's actually not bad, but it makes everything you put it on taste like Mrs. Dash. Vegetables, pasta, orange rinds, old shoes, etc. It was made in the 80s for people with heart disease, and it's been helping the United States of America avoid learning anything about flavor profiles ever since (also I always use it with extra salt, totally eliminating any vague excuse for the product's existence).
But I am very intrigued as to what vegan recipes taste like, because it's so far removed from what I am used to; I find it a lot of fun to try them out.
Oh, look at the incredibly nice person! I've heard there were creatures like you in the wild, but I'd never met one before.
I would watch this film.
Me too.
Thank you for the reply!