Fun in the Midlands with a scotch egg
Posted by

Janine

on 16 Mar 2014 in blog
Hi, guys. Let's start, as always, with an acknowledgement that I've not posted here in ages. After the whirlwind Sherlock marathon that was January, I took a bit of a breather. Time was mostly spent visiting family, friends and new arrivals, celebrating Chinese New Year twice (with some amazing food, I might add), and celebrating a couple of birthdays.
And finally spring is here! Ok, that's not that much considering that this winter wasn't much of a winter at all. (Where was the cold weather?) But now, now spring is definitely here. There are crocuses, daffodils and bluebells in abundance, blossom on the trees and bees warming themselves in the sun.
We'll not talk about the part where I accidentally killed a bee by shutting the window on it (the decline of the bee population is entirely my fault, I'm sorry); or the part where all this sun forced me into spring cleaning mode because I can actually see the dirt in my flat for once; or the part where the warm weather caused one of my forgotten bags of flour to suddenly sprout beetles (ick ick ick); or even the part where the clothes moths are starting to come back, the bastards (I knew winter was good for something).
That aside, spring is great! No, really, it's my favourite season. And considering that spring took forever to appear last year, I'm glad it's turned up early this year. It's warmer and brighter and more flowery, and walking part of the way to work in the sunshine each day is just glorious.
So. So. I said that one of the things I was doing was celebrating birthdays. One of them was Nick's, who's just turned 30. Well done, Nicholas. To celebrate, we flocked up to the Midlands for a party.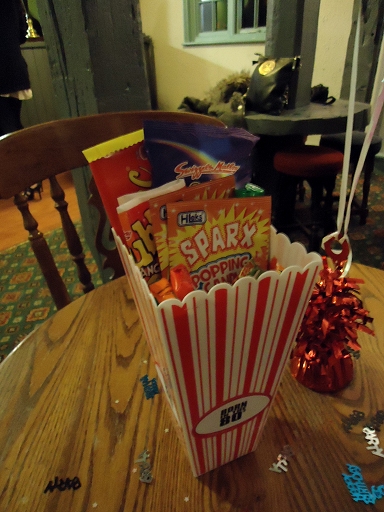 Old-school sweets at the party. Everyone loves a sherbet dip dab (not a euphemism).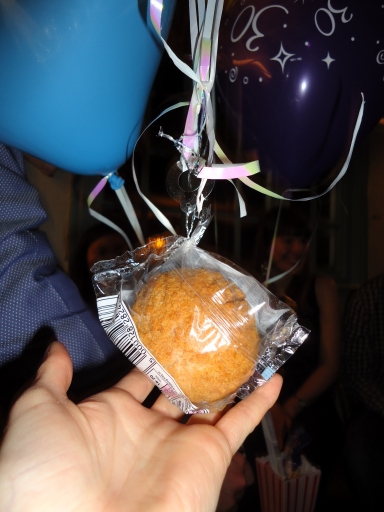 What did we do at the party? Well. Nick had received a scotch egg as a birthday present. And we proceeded to ruin it (I'm so sorry, Nick). By "ruin it" I of course mean "attach more and more helium balloons to it in an attempt to make it fly".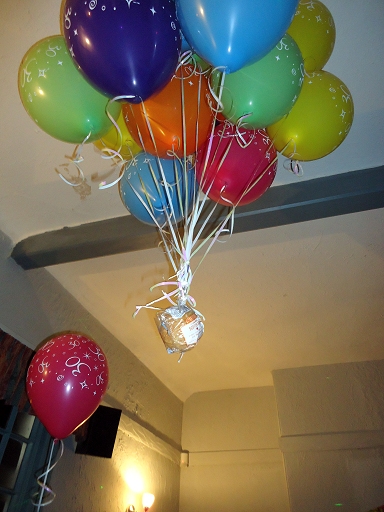 I can safely say that there's little that's more euphoric in this world than finally getting a scotch egg airborne. Once aloft, it floated its way around the room, gently teabagging everyone it came across.
Good times.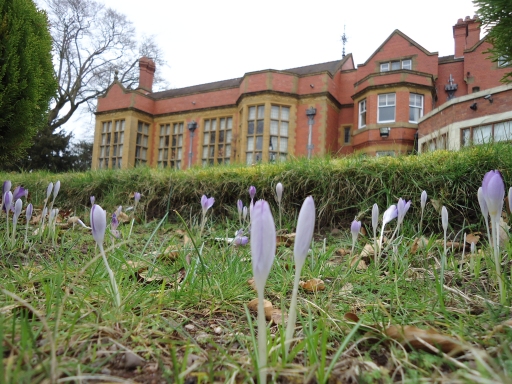 After the party, we returned to our hotel, which was a lovely old Victorian country house. (With crocuses coming up in the garden.)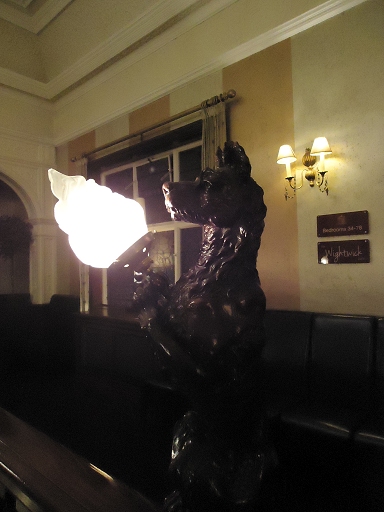 I loved these dog-shaped lights on the bannisters at the top of the grand staircase.
Oh yeah. And did I mention that my hotel room, which I got all to myself, was massive? It came with a large en-suite bathroom that caught the morning sun too. THE ROOM WAS BIGGER THAN MY FLAT, GUYS. I was sad to check-out the next day :(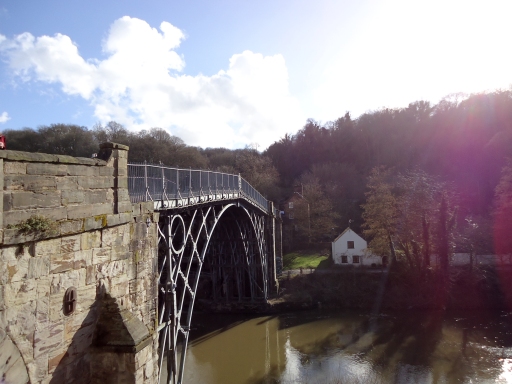 While up in the Midlands, we decided to head to Shropshire for some sightseeing. This here is the iron bridge that gives the town of Ironbridge its name. It's the first cast-iron bridge that was ever built. It dates back to the 1700s! That's cool. And the whole town is so pretty. Perfect for an ice-cream and a wander round.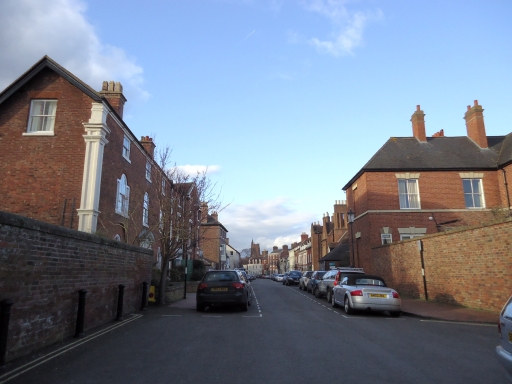 Next up was Bridgnorth, another very pretty place. I loved this street in particular. It just says "English country town" to me.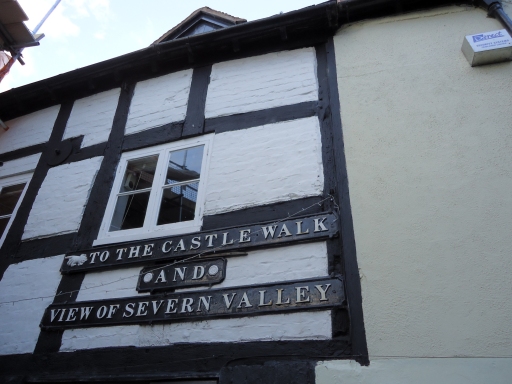 Bridgnorth is made of a "high town" and a "low town", with the high town being at the top of the hill and the low town being at the bottom. Here we are in the high town, heading towards...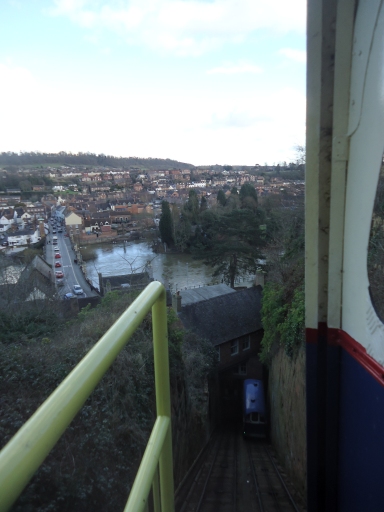 The cliff railway! Two mini railway carriages that will take you up and down the steepest side of the hill. It was such a pretty view. And the carriages were so old-school and quaint.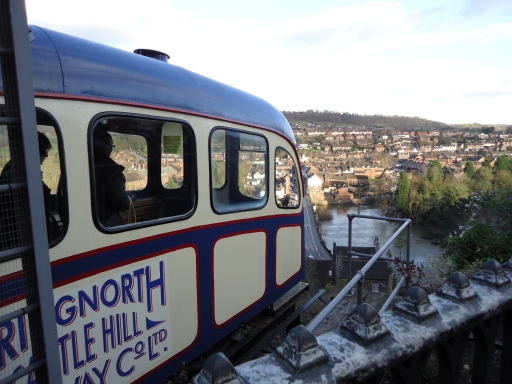 Here's one of the carriages from the outside.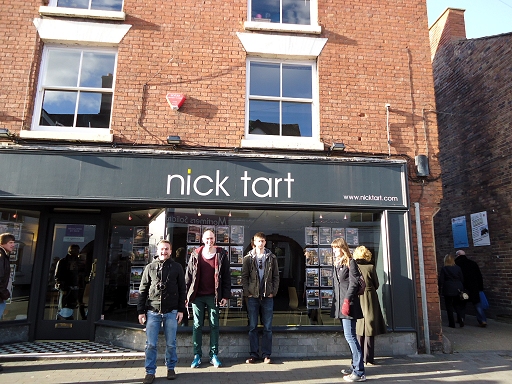 And then nice sight-seeing started to turn into... oh dear. Nick and friends standing in front of NICK TART.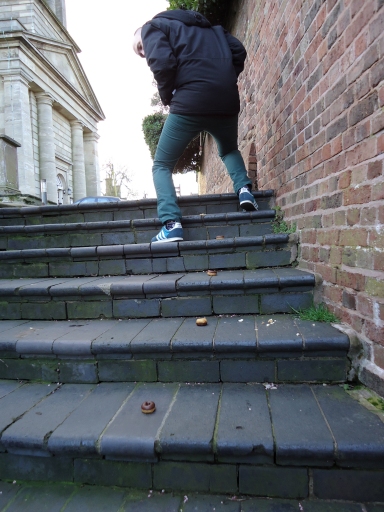 And oh dear. I don't even want to know, Nicholas.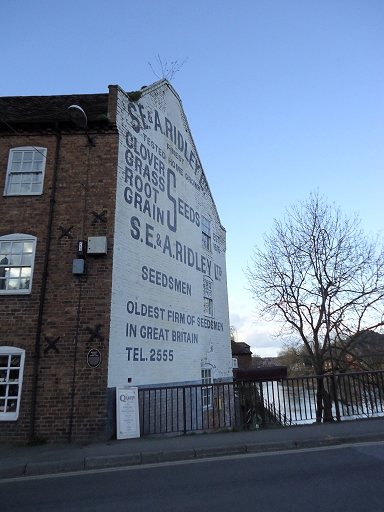 We also saw an advert for some seedsmen. Seedsmen.
SEEDSMEN.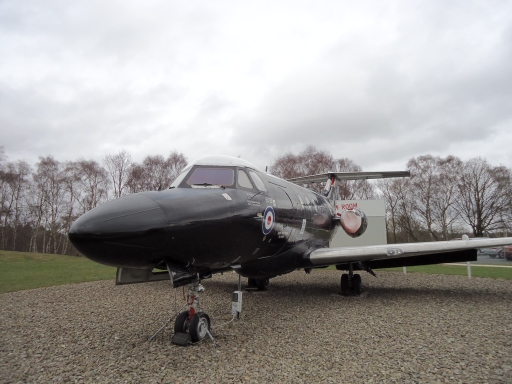 Finally, we topped off the weekend with a trip to Cosford RAF museum (because Steve loves planes and he was the one driving). It was cool though. I learned all about the Cuban Missile Crisis and the Cold War. Scary stuff.
That's all. It was a lovely weekend. Thanks to Nick for inviting us!
Now, if I can get my act together, we'll have a new food post coming sometime soon. Catch you later, guys o/
4 comments
Thanks! The scenery was so pretty. I miss it already :(
Aww, your friends look like so much fun! I have never attended a birthday party that included sight-seeing on the itinerary. The people I know stick mostly to the old birthday stand-bys of "getting really drunk and yelling about stuff that happened in high school" and "accusing other party-goers of flirting with their husbands/wives." Sometimes someone will drunkenly barf in the parking lot, too, just to change it up.
+1 for the candy
+500 for the ice cream cone-wielding dog lamp
+10,000,000 for the scenery
I couldn't not blog about the birthday of the year (and NICK TART)!
Oh Janny. When I was reading your food post, I was thinking, "I can't believe that she's posted about so much food and no mention of my bday." You can imagine my joy when I came to the next article. Ta.