Dooooooooom!!!1
posted on Oct 27, 2005 by
Janine
in
blog
Got too much work to do and not enough time to do it.
You know when someone puts an iron to your head and tries to steam you into the craggy tarmac of a disused car park? It kinda feels a bit like that.
But! Hopefully it'll get better once today is over, I will finish the report today, I will.
And on that hopeful note, I'd like to share some photos: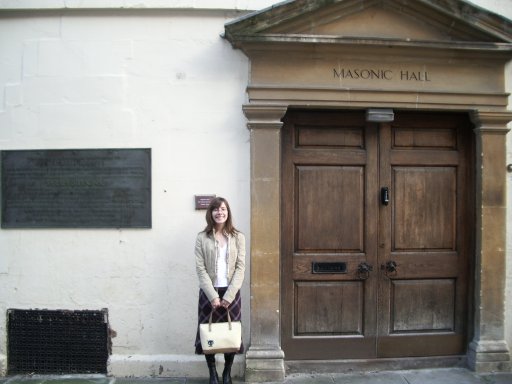 I had completely forgotten that I had this photo. A few weeks ago I finally found the masonic hall in town, and so I had to have my photo taken next to it. Why I find freemasons so fascinating is still beyond me.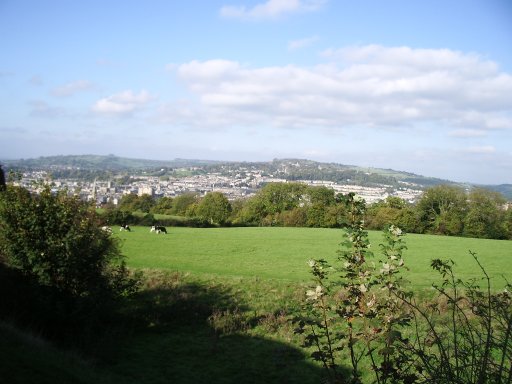 I see this view every time I walk home from campus. Today it was particularly beautiful (and there were cows) so I wanted to share it. And this is why I adore living in this place.
5 comments
Yep, the pink costume is my newest baby.
No halloween pictures?!
I didn't go out for halloween in the end, I had too much work to do *sigh*
Is that a new costume you had at the Lafayette Bar and Grill?
Well, just think of all the excercise you're getting! On a different note, since you must be completely overwhelmed with work, a logical thing for you to do would be….to check out the new pictures that I have uploaded on my web site! But, my boyfriend forgot his camera when we went to the Halloween party (a whole different story) and I don't have any pics of me in a costume. With the make up and the costume the final result turned out more like Marilyn Manson than Yukko ;)
The thing with having a nice view is that you have to walk up a really steep hill to see it.
I die a little bit every morning when I have to walk up that hill to uni.
That's a lovely picture! You had to rub it in, though, didn't you!