Posted by

Janine

on 20 Nov 2021 in blog
It's time for another food post! I went through a phase of not trying many new recipes at all, and then trying loads in a short space of time. Halloween recipes particularly inspired me, which you will see as we go on. Surprisingly there were no entire disasters this time, and quite a few successes, so my tastebuds were pretty pleased.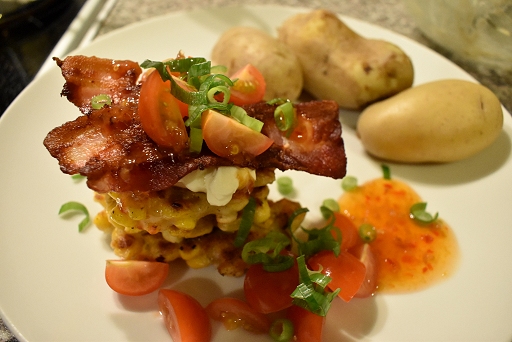 Sweetcorn fritters with crispy bacon
I wasn't sure what sweetcorn fritters would be like, as I've never had them before. I can now safely say that THESE WERE SOME OF THE TASTIEST THINGS I HAVE EVER MADE EVER. Just looking at the photo is sending me into gloriously-delicious flashbacks. Some of my fritters were burnt because it took me a while to work out exactly how long to fry them for, but that is honestly the only issue with the whole recipe. The fritters themselves are sweet with a hint of spring onion and on their own they would be ok, but with the toppings they transcend to another level. The mixture of the sweet fritters, the crunchy bacon, the creamy créme fraîche, the fresh tomatoes and the tangy sweet chilli sauce was divine. Heavenly! There is no other way to describe it. It's an amazing party in your mouth. The introduction to the recipe mentions sriracha but ignore that. The sweet chilli sauce in the ingredients list goes perfectly with the salty bacon, so I'd definitely recommend doing it that way. My God. Will I ever get over this dish?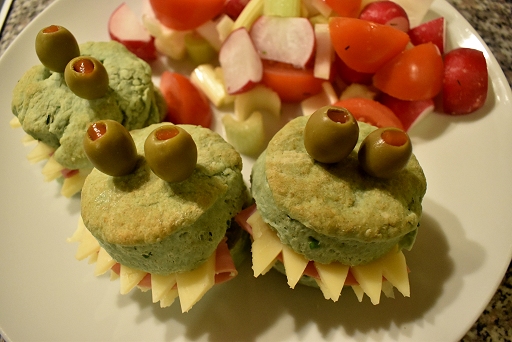 Monster bites
Here we get onto the Halloween recipes. These little monsters looked very fun. Their little faces! The only change I made to the recipe was that I couldn't find pre-sliced Edam so I bought a wedge and sliced it myself. (I was still able to get teeth out of it, as you can see.) This was only my second time making scones. They rose very nicely but I found they were slightly dry to eat; I don't know if they were a bit overbaked or if it's just because of the dry fillings. Taste-wise the scones didn't blow me away. I'm used to cheese scones, which have a strong flavour, whereas these only tasted slightly of chives. You definitely need the cheese and the ham in the middle to give them a decent flavour. I have also learnt that even though they might look like little sandwiches, they are still scones and therefore rich. You can see that I tried eating three at once here, and I definitely felt a bit sick afterwards. I'd say stick to one or two at a time, as nature intended. So, not the tastiest thing in the world, nor the easiest to eat, but their little faces more than make up for it.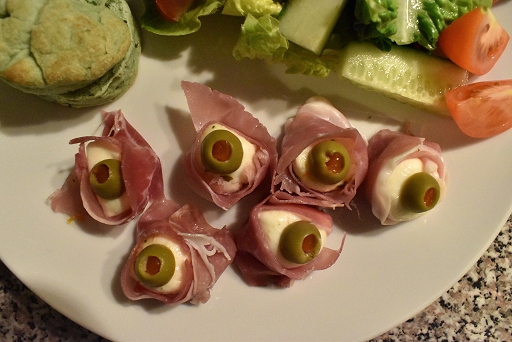 Platter of eyeballs
This recipe gets top marks for the way it looks. Just look at them! As soon as I made them and saw them staring back up at me, I had to take a moment to go "ew". Looks-wise, using prosciutto to give the eyeballs some "meat" is inspired. Taste-wise... eh. The thing these eyeballs taste mostly of is prosciutto. If you like prosciutto then you're going to love them. For me, I always find prosciutto a bit of a struggle because I first have to overcome my aversion to the raw meat texture. Mixing the raw meat texture with the fact that these look like eyeballs, plus the slightly-metallic, blood-like taste of the mozzarella balls because they had come packaged with tangy sun-dried tomatoes, meant that I found eating these not the most pleasant experience. But if you're looking to wow some Halloween guests with something very fun-looking then I say go for it anyway.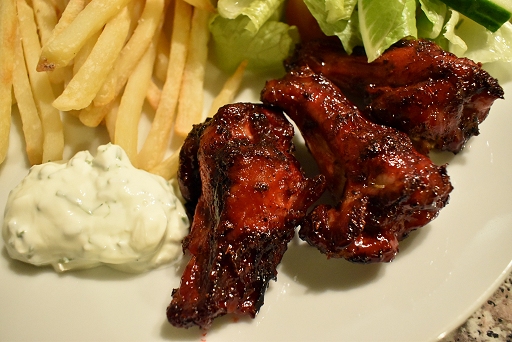 Devilled wings
As Halloween recipes go, these did not look spooky at all. But that is my only complaint. Just like the sweetcorn fritters up above, these were some of the tastiest things I have ever made in my life! Merely looking at the photo is making my mouth water. I normally like to watch TV while I'm eating, but I had to pause the TV while I was eating these because I literally could not concentrate on anything else. Caveat, the recipe calls for chicken seasoning, which I couldn't buy, so I substituted with a Cajun seasoning blend I had, so I don't know how they taste in their original form. But in this form they were good. My God. And so easy to make too! You just add spices to chicken, shove them in the oven and then paint on the glaze near the end. Sweet and rich and savoury and sticky, and the sour cream and chive dip takes them to the next level. You will get messy eating these. You will not care. The red food colouring isn't necessary, but I added it and loved the look of them. Glorious. The only thing I will say is that the amount of honey in the glaze tends to burn easily when you reheat any leftovers, so if you are planning to have leftovers then maybe don't put the glaze on the leftovers when you first cook them and just add it before you're going to reheat them. Sorry, I can't write any more. I'm just staring at the photo, distracted. Wow.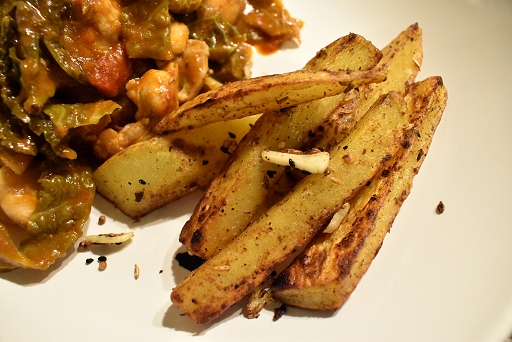 Bihari-style potatoes
These were nice, like curry-flavoured chips, but not much to write home about. Honestly I think the only thing they're missing is a bit of salt, so if you add that they might turn out amazing. (Just now, reading through the recipe, I realise I was meant to add salt and I forgot. So do it. Add the salt, please. Don't be me.) I also made a mistake when buying the ingredients for this recipe. I didn't know what a green finger chilli was, so I bought a normal green chilli. Turns out green finger chillies are the long, hot ones, which means that my chilli was not as hot as it should be. At the same time, the recipe calls for mild chilli powder, but I couldn't find any and so used hot chilli powder instead. I hope that means that my spicing evened out somehow. So these were nice, but would have been nicerer if I was on my A-game when making them.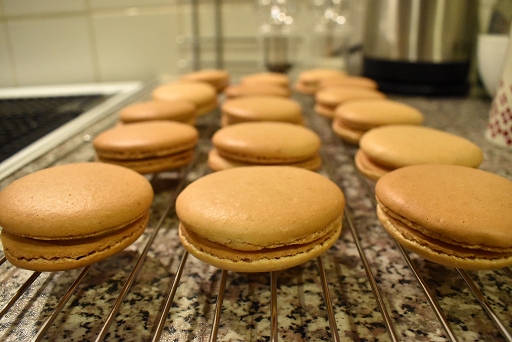 Caramel macarons with custard cream (recipe from "I ♥ Macarons" by Hisako Ogita)
It's been a while since I last made macarons but I'm happy to say that I've made them enough times that my prior knowledge hasn't left me. These were actually some of the best-looking macarons I've ever made! I think five things came together to make these work. 1) I bought an oven thermometer so I actually know what temperature my oven is. The recipe book, I learnt long ago, is out with the temperatures and timings. The book says to cook them at 190°C for 15-18 minutes. I cooked mine at 170°C for 15 minutes. 2) Speaking of timings, I cooked mine for a little longer than I normally would, and am happy to say that they were almost all fully-cooked this time and so didn't stick to the baking tray for the most part. The key was in learning that you have to poke them when you take them out of the oven, and if they wobble on their feet, they're not done yet. 3) I bought some posh anodised aluminium baking trays, and I'm so glad to discover that buying them was worth it. They spread the temperature a bit more evenly and the light colour means that the bottoms of the macaron shells don't get overcooked and brown. It was really lovely to see that the bottoms were the exact same colour as the tops. 4) I really held out when it came to drying the macarons before I put them in the oven. Normally I get bored and start worrying about leaving them out for too long, so put them in when they're not fully dry and end up with cracked ones. This time I let them dry for a full three hours (this is on a cloudy November day) and I had two cracked shells at most. 5) I think I mixed the macaron batter a bit more than I normally do. This made it more runny, which I initially thought would be a mistake because it made the macarons spread out more on the tray, but it left me with very smooth shiny tops, which I'm really happy about. So that's what went right with the macaron shells. The only thing that went wrong was that the feet were disappointing. In fact, the lack of feet was exactly what I experienced the last time I made caramel macarons. I think the extra sugar in the batter makes the shells more liquid in the oven and so the feet collapse back in on themselves while they're cooking. (Meaning, there is nothing that can be done to stop it.) As for the custard cream filling, the book calls it both custard cream and pastry cream and it seems to be what is commonly known as crème pâtissière. I have never made crème pâtissière before, and let's just say it was a disaster. Apparently it's not easy to make if you have no previous experience! Crème pâtissière is basically an egg custard, but you thicken it with flour as well as egg yolks. I have made egg custard before, so did ok when it came to not curdling the eggs. But the flour was my nemesis. The recipe says to cook the crème pâtissière on the hob until it starts bubbling (which is when the flour starts cooking) and then you leave it bubbling for a minute and it's done. What I didn't realise was that the mixture is so thick that it is impossible to see it bubbling while you're stirring frantically (to prevent curdled eggs). You're meant to stop stirring frequently to check for bubbling, which I didn't do. I stirred and stirred and stirred and by the time I realised it was bubbling it had been doing that for about 10 minutes probably. I was left with a crème pâtissière that, once it had cooled, was the texture of jelly and could be cut with a knife. I frantically Googled fixes and in the end whisked in some milk to return it to a proper thick cream consistency (I was left with little lumps, even after all the whisking, but thankfully you didn't notice them when you ate it). This fix works if you're going to eat the crème pâtissière immediately. However, once the finished macarons had been sitting in the fridge for about a day, all the milk had leached out of the crème pâtissière and into the shells, making the shells really soft, and reverting the crème pâtissière to the texture of jelly. Sometimes you'd bite into the macaron and the entire filling would come out with the bite, like a tomato sliding out of a sandwich. Texturally wrong and, alas, wrong on flavour too. I made the mistake of making the crème pâtissière with the same pan and spoon that I had used for making a curry the night before. Both pan and spoon were clean, but the curry smell lingered. Given that I cooked my crème pâtissière for much longer than necessary anyway, I ensured that I definitely ended up with a crème pâtissière that tasted of vanilla and curry. Not my finest work. But then, the shells looked good, so I'm taking that as a partial win. (One day I will write up a macaron experience that will be short, concise and not novel-length, but that day is not today.)