Posted by

Janine

on 28 Jul 2010 in blog
Hi!
Guess what? It was my birthday a few days ago. Woo! There was much cake and joy :D
Also, I got some lovely things. Let me tell you about them.
Lovely Thing #1
Nick sent me the most vile beautiful card in the world. Look at it!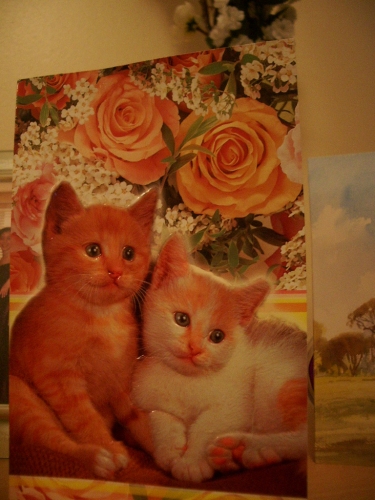 Look how beautiful it is! And Nick even wrote a beautiful message on the inside!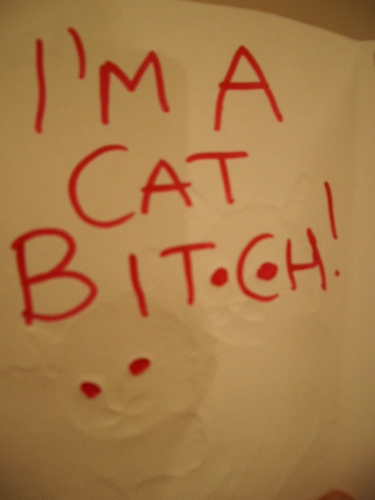 D'awww.
Lovely Thing #2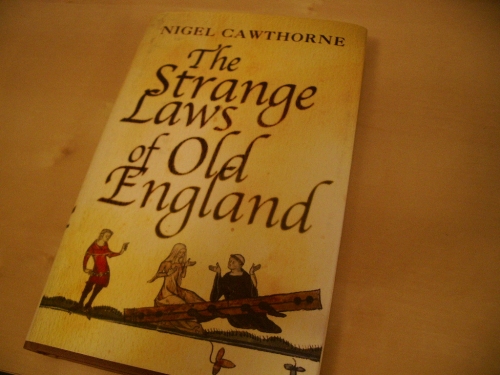 I am so chuffed with this book. I found it in a random pub when I was on holiday. I hastily tried to read as much as I could in the time I was there, but eventually we had to leave the pub and I had to say goodbye to the book.
But my sneaky parents were keeping an eye on me and ordered me my own copy from amazon.
It's very interesting in a light-hearted sort of a way. The law is a complex and shady subject!
Lovely Thing #3
I got a new tablet. I was fed up of my old one refusing to work every 5 minutes, so I decided to ask for a new one for my birthday. I just installed it today; it only took 2 hours! (Windows 7, your inability to install new hardware easily is criminal.)
Still, after much stress, I managed to get it working. And, I have to say, it's so much easier to use than my old tablet. I don't know why. It could be that I'm actually using a widescreen tablet for a widescreen, um, screen. Or it could be that I've never had a pressure sensitive tablet before. Either way, it's a joy to use.
To practice, I scribbled out a little doodle of Rochelle.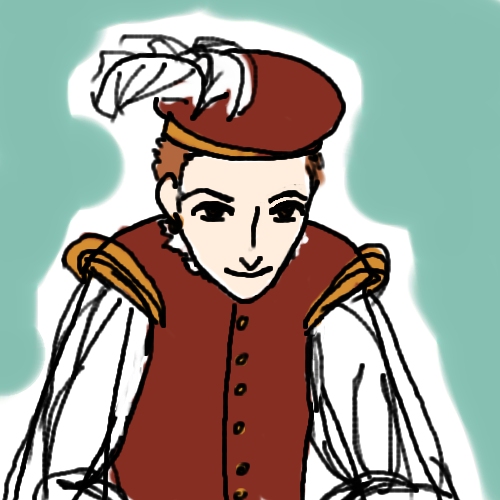 The good thing about vampires that are really old is that you get to dress them in lots of old costumes! This time I decided to draw 16th century Rochelle. I imagine him being rather young at this point; young enough that he hasn't had time to build up all his walls, so his youthful arrogance and ambition shine through. Or something :D
Lovely Thing #4
This one isn't a birthday present, but it is lovely!
I have just fallen hook, line and sinker for the BBC's new Sherlock Holmes drama.
Now, I don't normally watch dramas. It's not really my thing, but one of my friends mentioned having enjoyed the first episode so I decided to give it a go. I only had half an hour to spare, so I thought I'd watch the first part and then watch the end later. As it turns out, I couldn't turn it off; I watched the whole hour and 30 minute episode in one sitting!
The basic premise is that they've set Sherlock Holmes in the 21st century. It sounds gimicky and awful, but actually, it's really good! It's fun and fast-paced and has some amazingly funny lines.
I don't quite know what's wrong with me. I never normally become a fan of things so quickly, but I can't stop thinking about it. (Only 4 more days until the next episode!) :DDDD
6 comments
Thanks for the birthday wishes! I am now a year older and a year wiser wiserer wiser-er more wise ♥
Oh, I'm so sorry I missed your birthday! I was probably asleep or something. I hope it was really happy, though. So: HAPPY SEVERELY BELATED BIRTHDAY!!
I also swoon for Sherlock, despite the fact that the CSI: London title sequence, with its sizzling blood drops and spatter patterns and whatnot, scared me to death for all the wrong reasons. Benedict Cumberbatch is the most fairy-looking person I have ever seen in my entire life. He looks like he just ran out of the brugh, threw the coat on, and stumbled onto the set of the show. He is amazing! (Also the other guy is adorable too, but it is difficult to remain calm in the face of fairies.)
Get that card online asap. I can't believe it is better. It is also a shame that your photo doesn't show the 3D effect of my card. It makes you feel like those cats are actually in the room with you!!!
Lin! I got your card today! I think it might beat Nick's in the vile stakes. I'll try to take a photo of it and put it up here as soon as I can :D
Also, I spent my birthday wandering around Bond Street helping Deborah find a wedding dress for herself (those things are bloody expensive, let me tell you! £16,000? Jesus.) Then we went and had sophisticated lunch at the Wallace Collection. Lots of fun, all in all.
Oh Janny I am so honoured. I have to be fair though "I'm a cat bitch" comes from a Lady Gaga. However she is not a cat, but a free bitch.
@Tran: Perhaps if you'd actually sent your card in time, Janine would have put it up in that post… but I doubt it!
Comment from:
lucious linda
Visitor
hey jan, what did you get up to on your birthday? did you get rat arsed?
Have you received my card? can you please put it on your blog next to nick's and can we all vote whose is the most vile? please oh pretty please?
x-x