Posted by

Janine

on 15 Nov 2008 in blog
I finally got around to fixing my camera. It turns out that the best way to fix my camera was to CHANGE THE BATTERIES. Turns out, the old batteries had run out. No, wait, I'm not that stupid, hear me out; the old batteries were meant to be rechargeable but they'd stopped recharging. So, I just put in some common-as-muck non-rechargeable batteries and Bob's your uncle.
The good thing about having a working camera is that I am now able to show you a picture of my new coat, which is currently my favourite thing in my life right now.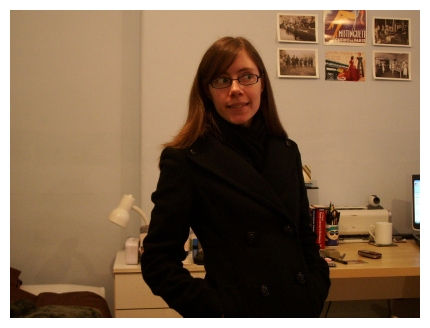 I spend my morning commute on the tube playing "whose coat is better than my coat?" It's a tough game; there are a lot of good coats out there on those commuters. Sadly, when the tube is too crowded I have to switch to a different game, which seems to be "which random person am I going to end up spooning today?" NOT COOL.
I went to get myself some euros today ready for my trip to go see Deborah in Ireland next weekend. I'm pretty excited. I think my subconscious thinks it's going to see a Lockon when it's there. You're wrong subconscious. Clearly Lockon lives in space now. But there might be a lot of nice accents to listen to anyway.
7 comments
Thanks! I'm glad you like the coat! It was only 70 pounds too. I saw some awesome ones for 95 pounds (proper military style ones. I love military style coats, but I'm worried to get one in case it goes out of fashion as quickly as they did last time) but none of those were the right size for me. So the coat I got in the end was as military as I thought I could get away with (double breasted, yeah!)
I really enjoyed Everything is Illuminated! It was so funny at the beginning that I thought, "this film is going to be a riot", but it actually turned out to be pretty moving by the end. I was moved. And, not that this part was moving but, I loved it when they brought him out the potato; I laughed like a loon. Also, I would like my very own seeing eye bitch.
Hmmm. Deathnote cosplay wouldn't be too hard I suppose. Who would you be? L? Or would you rather all the leather and be Mello? Or Ryuk?
I think it's not going to be long before I subconsciously end up doing Tieria cosplay all the time. I was really admiring this girl at work's hair, and thinking, maybe I should get my hair done like that. I only realised later that her hair was almost exactly Tieria hair, only brown instead of purple D:
SPEAKING OF WHICH. I hear Gundam00 starts airing on SciFi this Monday with two episodes. I hope you're all set to watch it!
@ Nick: I've posted my response to your question about cosplay under the appropriate entry…feel free to ask more questions
@ Janine: I saw someone w/ "L" bag on the train a few days back. Now I want to do Deathnote cosplay…
Janine, that is one lovely coat. I love coats in general and you look great in that one in particular. Did you get to see "Everything's Illuminated?"
Nick, I may not know you personally, but now too I am captivated by the story about your coat and am waiting for the images. Janine will post them up here, won't she?
Cheers,
M
I doubt I will be bringing it back at Christmas… it is too effing formal for my grungey casual wear. I'll take a pic just for you sexy!
I know that feeling! That happened to me when I bought a picture frame from Habitat. These namby-pamby eco-friendly paper bags are good, but when it comes to the crunch they just don't cut the mustard!
I want to see your new coat! What's it like! Do you have a picture? Or will I have to wait until crimbo to see it?
I bought a new coat when I was in Dublin. It rained so heavy that the paper bag it was in disintegrated on the way back to the hotel. The handles fell off so I had to carry the bag under my arm and loads of paper rubbed onto the jacket I was wearing. The coat is lovely though and makes me look like a proper young professional.
We would make such a dashing couple!