Tsubasa fangirling. Again.
posted on Apr 19, 2006 by
Janine
in
blog
OK. Two posts in quick succession because I deem this worthy of its own post.
Spoilers for recent Tsubasa chapters, up to 112 (slightly image heavy):
I seem to be getting excited about Tsubasa a lot recently. Firstly I am loving the X world that they are in currently. This would be because Kamui in the Tsubasa style is just...oh my.

And while I was busy adoring CLAMP for drawing so well and debating whether TRC!Kamui or TRC!young Ashura was the prettiest, they had to throw a spanner in the works with wet!Fay.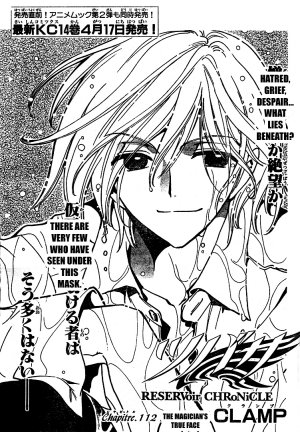 <3 <3 <3 Fay wins!
So chapter 112 was kind of interesting.
Kurogane was all: I know your game. Give me answers. *grabby grabby*
and Fay was all: *smile smile* *ANNGGGSSST*
Things are heating up! Fay's backstory is going to have to out itself soon :D
*tries hard not to fanart*
And yet, with all the tension and all the angst, Fay manages to be even more camp.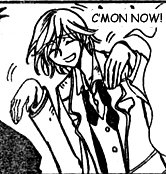 Look at those wrists! If they were any more limp, his hands would fall off!
Good golly I'm too excited about this chapter.
2 comments
I haven't tried absinthe myself, but my friends have. I don't remember what they said it was like, but I can imagine that being ~60% alcohol, that it doesn't taste very nice, even with the sugar.
There are english subtitles up there if you search for xxxholic, you just have to scroll down a bit to find them.
I like the opening song too! I downloaded the whole song from here.
The job search is going ok. I've applied to a fair number of jobs, but haven't been asked to any interviews yet. Good luck with your studying, yay for homework!
I'm posting my comment here for your reading convenience:
Hi! Yes, absinthe can be sold legally in the UK. That's where a lot of transactions for US customers are processed. I found this web site that claims to have the best possible version but it's 58 pounds/bottle so I'm a little hesitant to buy it, plus I'd have to get the spoons, glasses, sugar cubes. I am seriously considering it. They even have a short video of Johnny Depp doing the abythinse ritual. http://www.seborabsinth.com Did you actually try this stuff? How does it taste? The New Yorker ran a big (positive!) article about it recently.
Oh, I remember the chocolate egg thingy…soo good…but I have not seen the same one in the US.
Yes, I've seen the xxxHolic episodes but I could not find the ones with the English subtitles, only Chinese! Very annoying. I like the opening song. It's stuck in my head now…
I began studying actively for LSAT and registered for the June test. Now I am swamped with homework. :P
How's your job search?