Posted by

Janine

on 23 Jun 2012 in blog
I told you I had things to talk about other than food. Here they are.
Contents
1. :(
2. :)
3. u_u
***
1. :(
Sad news, guys. My parents' cat, Chloe, died on Monday. It would have been her birthday two days ago. She would have been 18 years old.
That was the last of my parents' pets to go. We got Chloe when I was 10 years old. 10 years old! I've known that cat for far longer than I've not known that cat. I can't say that she was the friendliest cat in the world, but she was family, and it's all a bit sad.
It's for the best though. I went to visit my parents last weekend and you could tell she was really ill. I think it was some sort of bowel cancer in the end. My parents were going to put her to sleep on Monday, but she passed away just before they were about to leave for the vets :(
Bye bye, Chloe. I'll miss you. But at least you're not suffering any more.
***
2. :)
In better news, apparently I have a new pet now. It's made of wood and has travelled all the way from Argentina in a package sent by Mariya on her holidays.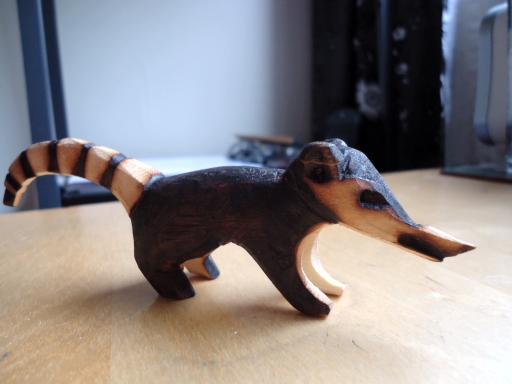 How adorable! It's a coati. Apparently their natural diet is crisps. How funny; that's my natural diet too!
***
3. u_u
The other weekend, I braved an early-morning train to Oxford and went to Blenheim Palace with Susan and Emma.
I've been there before, but only to the gardens (because the weather was so nice that we didn't make it into the house). This time the weather was a bit more miserable so we took in the house as well as the gardens. And how unusual it is to find a stately home that's still owned by the same family that built it, nearly 400 years ago.
We made the most of our entrance fee and spent six hours in the place. (We may or may not have hummed the Downton Abbey theme tune while we were walking around.)