My New Room and other stories
Posted by

Janine

on 13 Nov 2006 in blog
Here are the photos of my new room that I promised.
Points of interest:
- my huge new desk from ikea
- my coffee table (OMG I have a coffee table!)
- the mural on my wall (painted by my flatmate)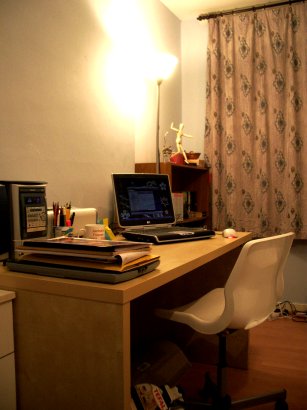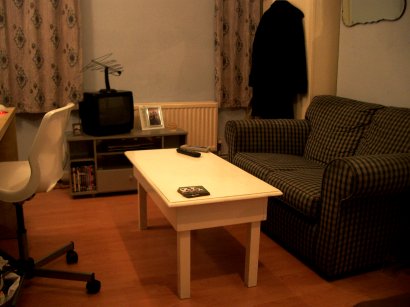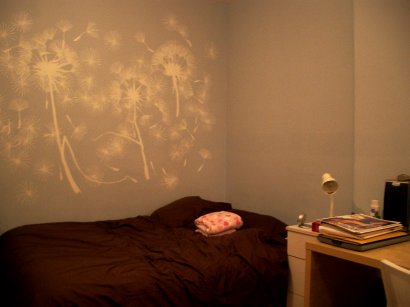 I walked to work this morning. It felt soooooo good! It only took me 25 minutes. No more sitting on the train for 2 hours, oh no. This is amazing.
The rest of the flat needs a bit of a clean, which I'll do once I get time (when will I have time? I'm going to flipping Milan next weekend).
I miss my parents to a certain degree, and I miss my old housemates to a greater degree. But! I think I'm going to enjoy living in this place (did you see that I had a coffee table?)
Who wants to pay me a visit? (n.b. You are only allowed to visit once I've cleaned the toilet. Yes, it is that bad (I have to be careful when I go to the toilet because I'm really scared of splashback)).
In other news about my down-belows: I've been getting pains every now and then, but is it just wind, or is it a bladder problem?
1 comment
HOLEY MOLEY, THAT ROOM LOOKS SWEEEEET. IN ADDITION TO A COWAFEE TABLE YOU APPEAR TO HAVE A SO-FAR. WAY COOL. VISIT DIBS.
ALSO VERY NICE NICE DESK.
i IMAGINED YOU IN A DINGY GROTTY CELLAR WITH RATS AND STUFF. ITS NOT WHAT iM WAS EXPECTING.
i GOT SKYPE NOW. SORT IT OUT.