Posted by

Janine

on 07 Mar 2007 in blog
You know, I've decided that I quite like putting up scrappy doodles. I try to draw them quickly and not get too bogged down in getting it just so, because that's when you start to lose the wood for the trees. Not inking the drawings helps; I have a tendency to be too precious about a picture, and it's quite liberating to try not to care too much.
So, here's another. Code Geass again.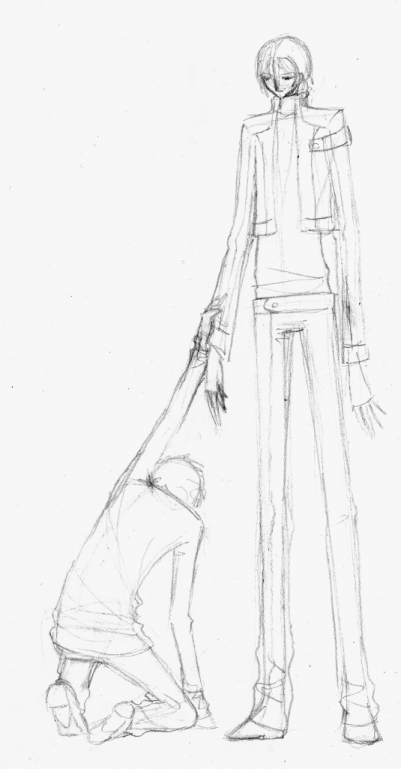 If you wanted to put some text to this picture, it would probably be something like:
Suzaku: I AM ANGSTING ABOUT MY PAST D:
Lelouch: ........
I think my sense of proportion went out of the window on this picture. Seriously. Lelouch looks like a giraffe.
Other things what I have been doing recently:
1. Listening to The Bravery and Wolfmother and dancing around like a loon. There's nothing better than dancing in the privacy of your own room. Who cares if you look completely stupid? Feel that rhythm! Pull those shapes!
2. Watching far too much YouTube. And this was going to lead into a long soliloquy about how YouTube is great, and the internets is great, because it's all about people doing it for themselves and generating content that is far more diverse and entertaining than anything you can find in the conventional media. And anybody can have a go, and the body of talent that the internet has to draw from (ie almost everyone in the world) is so huge, that this is just what makes this time that we live in so so exciting. But I decided that that would be too boring to write, so I didn't. Seriously though, maybe it's just that I'm not yet old and cynical, but I am geniunely excited when I think about it. Of course, on the other end of the spectrum, a lot of the internets is full of rubbish, but it is all a part of the great circle of life, Simba.