Posted by

Janine

on 07 Apr 2008 in blog
Hiya! I done it! Here's the next Clematis page. It's not too well done (and pen teething problems omg), but in the end, I just had to get something up. I feel awful for having let it languish for two months.
Anyway, onto different matters:
A week ago I had never heard of a 'rickroll' before. And then I managed to get rickrolled 3 times in the past 7 days. Goddammit. If you don't know what a rickroll is, then this helpful video will explain everything.
And apparently there's a plan for a group of people to rickroll Liverpool Street Station on Friday. I'd go, because I'd love to see that, but I'm lazy, so I'll see if someone videos and uploads it instead.
I'd love it if the BBC started rickrolling people. How brilliant would that be? Can you imagine it?
Next, here on BBC3, we've got another episode of Four Pints of Lager and a Packet of Crisps. And if you turn over to BBC4 now, there's a documentary on the life and work of John Milton.
So you turn over to BBC4 expecting a documentary about one of the great english poets, and what do you get? Rick Astley on repeat for 45 minutes. The bastards! It would be epic.
So this week there have been good things and bad things.
The bad things:
- I have managed to get myself the most painful mouth ulcer ever. It hurts when I open my mouth. It hurts when I move my tongue. It hurts when I swallow. It hurts when I DO NOTHING. Pain Pain Pain. I hope it goes away soon. Bonjela is my best friend.
- I've been going to the library every day. It's good, because it means I'm doing my next piece of coursework, but it is draining, and I have less time to sit around doing nothing.
The good things:
- Steve reminded me about The Twelves. Their remixes are very nice in a cheery bleepy way. Have a listen if you can.
- And today I found Tieria Search. So much Tieria fanart at my fingertips! \o/
And then I watched the first episode of the second series of Code Geass. I'm not entirely sure if the first episode of a series counts as spoilers, but I'll treat it as such anyway:
So this episode was a little disappointing. It all stems down to the fact that it's set (a year?) after the first series, and Lelouch has amnesia. And so, because Lelouch can't remember, we're given no conclusion to the cliffhanger events of the first series, and subsequently, I HAVE NO IDEA WHAT'S GOING ON.
Also, amnesia!Lelouch is not the Lelouch that we've all come to know and love.
The episode is pretty much an homage to the first episode of the first series. And at the end, luckily, C.C. unleashes Lelouch's memories, then Lelouch (while gesturing wildly, good old Lulu) forces a load of people to kill themselves, and we're back on track! And hopefully, from the next episode onwards we will get back into the plot proper.
Some points:
- The emperor has Geass? This is the single most exciting thing of the whole episode, and opens up a load of possibilities. I'm still hoping that Lelouch defeats him at the end and becomes the emperor himself, only then to realise that he's become the thing he hates the most. Haha. Like father like son.
- Who is Rollo? No really, who is he? Before this episode aired, I was certain that he was Nunally, who, somehow, could now see and walk, and was a boy. Hmmm...but now I'm not so sure. He does still look a lot like Nunally, but part of me thinks that he might be V.V. in disguise instead. Maybe he's a strange mixture of both. Also, I loved it already, when I saw it in the trailer, but Lelouch feeding Rollo on the motorbike is the cutest thing ever.
- It seems like they're going to push Lelouch/C.C. this series. It's a shame, because I don't really like C.C. I don't know why, I just can't seem to bring myself to like her. Personally I'd much prefer Lelouch/ZeroSuzakuNunally. Really! I know it's weird, but I can see it, I can!
Anyway, this episode wasn't as epic as it could have been. But we've got the old Lelouch back again, and I'm expecting something good from the rest of the series.
And a final note. The ending sequence is clearly THE BEST PART OF THE WHOLE SHOW, where CLAMP draw Lelouch as pretty as I knew they could.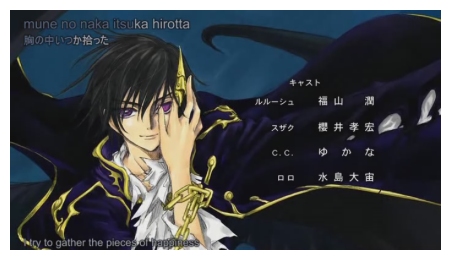 Kamui, is that you? Ahaha. Old joke is OLD.
I hope Sunrise continue with this theme, so that for the second series of Gundam00 we get an ending full of illustrations by Yun Kouga. Pleasepleaseplease make it happen!