A lot to say (mostly robots)
Posted by

Janine

on 02 Apr 2008 in blog
Alright. In non robot news.
I seemed to spend my weekend procrastinating from drawing. It seems I can't help myself. I'm in the throes of going to the library every day at the moment, but as soon as I get a free minute I'll finish that Clematis page I swear.
But I was procrastinating on good things! I was flicking through Jonathan Strange and Mr Norrell when I was at my parents house last week (because it was there). Inspired, I went on a search for information, and found that two of Susanna Clarke's short stories have been adapted for BBC radio 4, and that you can listen to them at the Friends of English Magic. I recommend having a listen to them; they stand alone easily, so there's no nead to have read Jonathan Strange and Mr Norrell first to enjoy them. I do love Susanna Clarke's stories. What I really love about them is not the fantasy aspects, but the historical aspects; she's has clearly done a lot of research for her writing, and it really shows!
I have also been procrastinating on VideoJug (thanks to Steve for pointing me in its direction). At first glance, it appears to be a website full of helpful how to videos. And most of them are helpful, but some of them are very funny (while being helpful too). My favourites include, How to Speak Geek, How to Give a Great Man to Man Hug, and How to Fight a Duel.
Then I watched Gundam00 episode 25 (the final episode of the first series). Let me talk to you about SPOILERS:
This episode was both kind of EPIC and SAD and REALLY CONFUSING at the same time.
The epic:
There is an awesome moment where Allelujah realises that depth perception is important he can work together with Hallelujah. Then he/they push their hair back and fight like there's no tomorrow!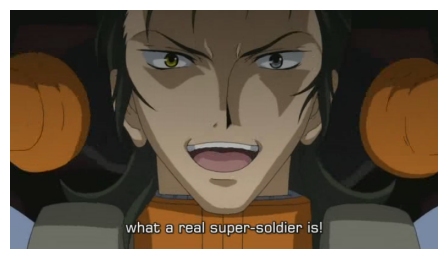 Yes, I know that I am classing a change of hairstyle as the most epic part of the episode, but it really was! I feel like I've been waiting for this all series <3 <3 <3
Then there was Setsuna's fight with Alejandro, in which Alejandro (in his gold, pimp mobile suit) gets seriously owned. I'm a little upset, because I used to think that Alejandro was the most complex and interesting of all the characters, but it turns out that he was just a one-dimensional bad-guy after all.
And then there was Setsuna's fight with Graham. I was kind of torn, during this one, as to who to cheer for. It was fast-paced and exciting and hilarious. It went something like:
Graham: I love you Gundam!!!
Setsuna: What? Did you just confess your love to a giant robot? You're a loony.
Setsuna: And you can't anyway because I am Gundam!!!!
Graham: You're more of a loony than I am, you loony!
The sad:
All three remaining miesters seemed to kind of die. I said die! It was really sad. But did they actually die? Will they be back in the next season? Everything was left hanging completely open.
1. Setsuna writes a goodbye 'I am dead now' letter to Marina, and he does look pretty beaten up after his fight with Graham.
2. Allelujah/Hallelujah gets hit in his Hallelujah!eye. Allelujah finds out that Soma, his arch-enemy, is actually Marie, the girl he used to love when he was younger, or something (haha, brilliant twist). Then Hallelujah says something about going first and then, dies? I think Hallelujah died! Will Allelujah die too? I don't know. What happened! Hallelujah can't die! He was much more interesting and crazybrilliant than Allelujah :(
3. Tieria doesn't look hurt, but appears to be dying anyway (internal injuries?). And he says 'Finally I can go to where you are...Lockon'
;__;
Tieria, that's really beautiful, but you can't die! I am seriously going to be well sad if Tieria is dead, but OMG if that doesn't force the final nail into the coffin of canon then I don't know what does. I'm not sure about Lockon, but from Tieria's point of view it was definitely love. Oh man, at the beginning of the series I really wouldn't have predicted that Tieria would have fallen head over heels in love, and with one of his team-mates no less. And I remember way back in February, when I decided to ship Lockon/Tieria just for the fun of it, I really didn't realise that it would actually become canon. Watching it unfold was the best thing ever.
Doesn't stop me hoping that Tieria isn't dead though (I have to see Tieria come into contact with Lockon's twin. I have to have to have to.)
The really confusing:
And then there was an epilogue, set 4 years later, and presumably just before the second series starts. There's lots of confusing in the epilogue, but mostly there's the following: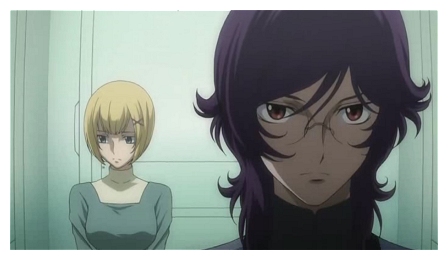 Tieria??? Is that you??? It is definitely Tieria's face, but he's got different hair. And more importantly, he says 'hmm', and (it's hard to tell but) he sounds a bit like a lady? Is it a lady Tieria? There are many theories around this. I think the most likely are:
1. Tieria had a clone. This kind of thing happens when you're a crazy android computer thing (what is Tieria anyway?). And Tieria's clone is a lady. Well, probably as much a lady as Tieria was a man, which is not much really at all. Is our Tieria still alive in this theory? Who knows!
2. In Tieria's dying moments, his brain was downloaded into a new body (yeah, crazy android computer things can do this too), which happens to be more girly, and have curlier hair than his old one. In this theory, it's still the Tieria we know and love in there. Hooray!
3. It's just Tieria! What, can't he get a haircut without crazy theories abounding? And you think he sounds different, but how can you really tell from just a 'hmm'? This is my favourite theory because Tieria lived! And more importantly, he gave himself Lockon's haircut! OMG!
As much as I like no. 3, I think it's probably the least plausible. Whatever happens, I want the old Tieria to be kicking around somewhere in the second series. I couldn't bear to have a new Tieria, with none of the personal growth and Lockon love ;__;
Bonus! The good:
The good thing about the epilogue is that it shows that Patrick is alive! Hooray Patrick! And Kati is there too! Part of me would be kind of delighted if they had finally hooked up, and that now Kati was Mrs. Colasour (because he is growing on her by the end of the series, despite her best efforts). Then again, Patrick would clearly become Mrs. Mannequin, because we clearly know who wears the trousers in their relationship.
Conclusion
A good series that had me completely absorbed. I loved the complexity of the situations and the characters, and I loved the sense of realism that the show had.
I am really confused about the next series though. Who's alive? What about Tieria? Do I really have to wait until October to find out? Hopefully it'll go the way of Code Geass, and we'll find out that the main characters didn't die in the cliffhanger, long before the new series starts. Magazine spreads, I await you!!!