Posted by

Janine

on 28 Mar 2008 in blog
Rargh! I just wrote this all out, and then accidentally deleted it. Let me try to go through it again.
So, I've been back from home for a few days, but I'm only just posting now because I am lazy. Don't worry, the Clematis page is coming, it's halfway done, but it's taking me a little while because I haven't drawn it in a while and I'm suddenly rusty.
I watched lots of TV over Easter, mostly about Jesus dying, surprisingly. Then I watched The Long Good Friday, which is about cockney gangsters and Bob Hoskins and not about Jesus at all.
I also managed to watch an old episode of Police Squad and rekindle my love for it. If you don't know, Police Squad was a comedy series that formed the basis of the Naked Gun films. It is hilarious. I strongly urge you to go check it out on YouTube.
Then I watched a documentary about the Mighty Boosh, and came to the realisation that Rich Fulcher is my favourite. You really can't tell if he's a comic genius or crazy like a scary man. He makes me laugh so hard. And he dances like a legend.
And while I wasn't watching TV I managed to reformat my computer to make it all shiny and clean and nice and to stop it crashing on me all the time. My happy computer makes me happy, and it's got a jolly lovely new wallpaper of everyone's favourite Tieria-chan, as drawn by Yun Kouga herself, from this website.
And of course I watched Gundam00 episode 24:
In which Tieria is sad and needs a hug.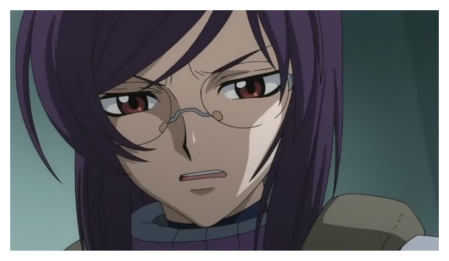 But instead he gets bitchslapped by Sumeragi.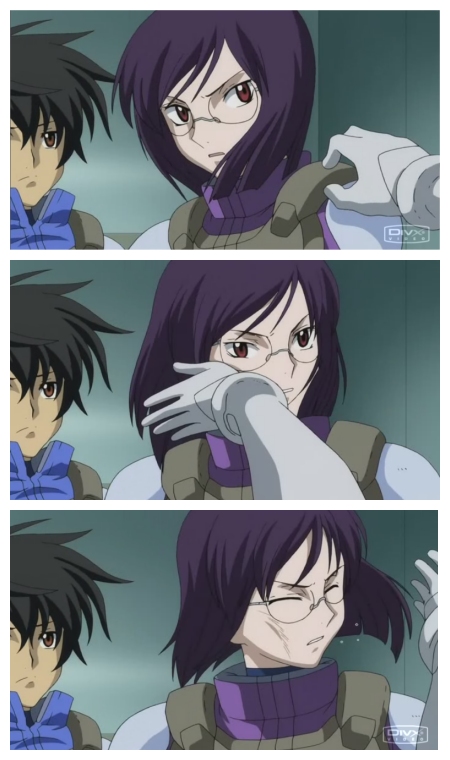 Hahaha EPIC bitchslap is EPIC. Because really, as much as Tieria needs a hug, he's been needing a good slap since episode 1.
And in non epic parts of the episode loads of people die, including T_T possibly PATRICK. I am a little worried because Patrick is my second favourite character after 'she's hysterical, somebody slap some sense into her'-chan. But I am not too worried because I've got this feeling that Patrick didn't die. He's the comic relief after all, and you don't kill the comic relief. I get the feeling that if we don't see him next week, he'll come barrelling back in during season 2, even funnier than before. So I've got my hopes up.
Just one more episode to watch now, in which I will be crossing my fingers that Tieria doesn't kick the bucket. I can handle anything else, just not Tieria no.
And once it's over, it'll be time for the new season of Code Geass. I'm not sure what to make of that. I used to love Code Geass like crazy, and when Gundam00 started (and had no character development and all robot fighting for the first 7 episodes) I was all, 'where's Code Geass, it was better than this'. But then somehow I got sucked into Gundam00, and now I can't seem to remember why I liked Code Geass more; it just doesn't have that touch of realism that Gundam00 has (not to mention the fact that, unlike Code Geass, Gundam00 has given me an OTP!!!1)
Hmm, but I haven't watched any Code Geass for months. I'm sure that once it starts I'll be all over it again and I'll have forgotten about Gundam00 completely.
But at the moment, in my head, it's shaping up to be a battle of Tieria vs Lelouch. Who to fangirl more? I don't know! My life is never easy. Woe.