Posted by

Janine

on 27 Jun 2010 in blog
So. I suppose I owe you folks an explanation. It goes a little like this:
1. I got hacked.
2. So I pulled the blog from the internet.
3. To get everything back up and running again, I had to reinstall the blog script and customise it all over again.
4. I went on holiday.
Point 4 isn't actually related, but it does explain why it took me so long to post :D
So, now I'm back and can have my blog fix again (going cold turkey is hard ;_;), there are a few things I'd like to point out:
- I am now running on a new version of the blog script and it looks like it has a few more bells and whistles and bells than before
- I think I've got everything looking and working ok, but I'm not entirely sure (see above). If you see something that looks off or doesn't work right, please let me know and I'll try to fix it.
AND NOW, because I'm back, I can post about all my wonderful adventures that I've been having in the mean time :D
Adventure #1: BATH
I took Mariya to Bath so we could be proper tourists for the day. We also met Steve and Heather there and had some French sandwiches :D
Among the touristy things we saw:
1. ROMAN BATHS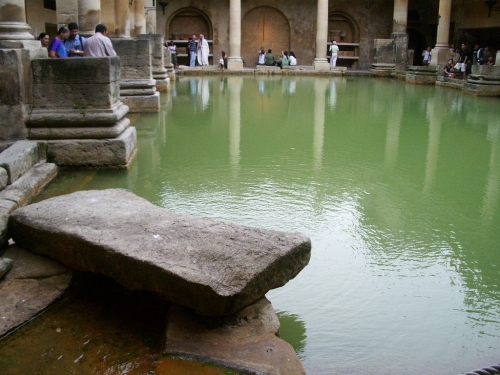 2. FASHION MUSEUM ABOUT FASHION
3. NON-ROMAN BATHS
Here. I'd never been to a spa before, but now I can happily say that I am a convert. Scented steam rooms are officially the best thing ever! I've tried to recreate the experience at home, but sadly, drinking mint tea while in the bath doesn't quite cut it.
4. SITTING IN DIDCOT PARKWAY STATION FOR AN HOUR
So much to see and do! Including a departure board and a ticket booth and a toilet and a Spar!
Adventure #2: LONDON
I went on a jolly to London with Susan and Emma and the three of us went up the monument near the Bank of England.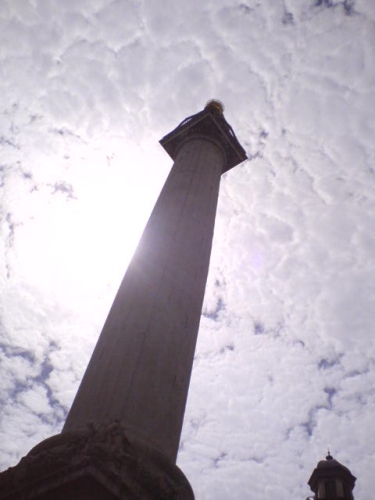 A large phallic object in the heart of my capital city? Why yes!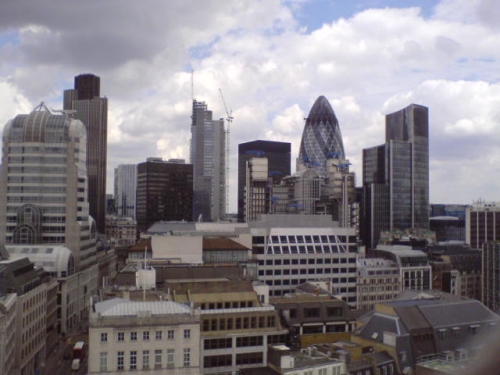 The views from the top were pretty cool (even if the stairs are murder on the old calves and feet).
Then we toddled along and had a look in the church of St Magnus the Martyr which used to stand right at the entrance to London Bridge. It's not beside the bridge any more because they knocked the bridge down and built a new bridge a few feet further upstream (crazy victorians). So we had lots of fun standing next to the church and saying: LOOK! I AM STANDING ON OLD LONDON BRIDGE EXACTLY WHERE IT USED TO BE. (Yeah, we're hardcore like that.)
Adventure #3: WEST SUSSEX
I went there for a week with my parents. It was nice in a quiet, walking in the countryside and enjoying the wonderful sunshine kind of a way.
The village we stayed in was very pretty and overflowing with flowers.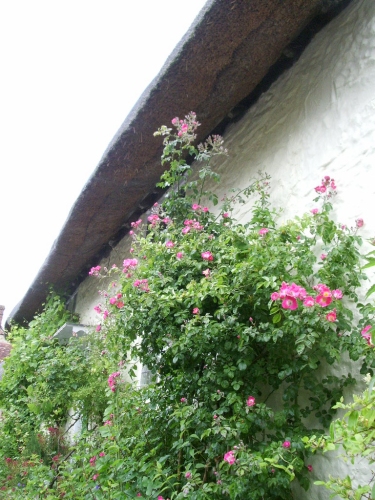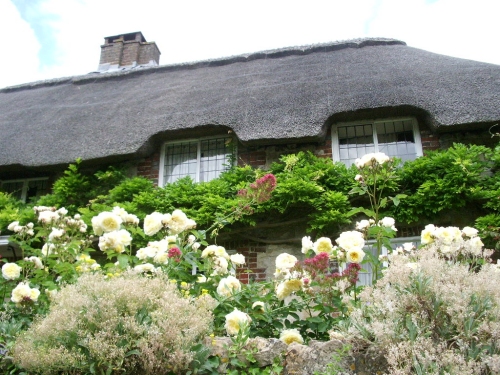 Things I did on holiday:
1. Saw some Roman mosaics (my parents love them some Romans like you wouldn't believe)
2. Walked up a lot of hills
3. Had a fun conversation with my Dad, in which he proposed that Elizabeth I was actually a man and that she he kept his country in line through the use of some tactical buggery.
Dad: Listen! I can do an impression of Elizabeth I! Sir Francis Drake, get over there, I'm going to bum you.
I love my Dad.
4. Importantly. I played some serious Phoenix Wright. I've just finished Justice for All and I can't get enough of those crazy lawyers. It is so much fun. The last episode, in particular, was brilliant. I cackled so loudly that my parents asked me if I was ok. Matt Engarde, you are hilarious.
4 comments
Feel free to save the picture. I just wish I could have taken more pictures that did justice to the place. The whole village was brimming over with beautiful flowers and pretty cottages.
XD Ah, that building is known as the Gherkin. Because it looks like a gherkin. Apparently. I've never been inside it, but I think it's pretty cool.
These pictures are beautiful, bb! I'm so glad to hear from you again~
I see in one picture – that building that looks like a bullet. The young lady I tutored kept on talking to me about it and how much she wants to work in that building. X3
And those flowers! *_* They are just LOVELY! I hope you don't mind, but i'm saving the one with the white roses, it just makes me all calm and happy~ |D
Thanks! It's good to be back!
When I was taking that photo of the monument, the sun was right in my eyes and I couldn't see a thing, so it's only luck that I caught the phallic eclipse the way I did. I don't think I saw any druids when I was there, but you can never be sure; I bet they can be pretty stealthy when they want to be.
Yay! Great to see that you're back! I tried to comment on the previous entry a couple of weeks ago and wasn't able to, so I've got my fingers crossed now.
Beautiful photos! I particularly liked the flowers and the large phallic object, which seems to be aligned with the sun in a way that would surely have pleased the druids. (Those LPOs seem to be all the rage in major cities; among many contenders in the US, I have to say my favorite is the Washington Monument in DC. It is very, um. Excited-looking.)
♥ your dad. Because: why not?