Posted by

Janine

on 05 Jun 2011 in blog
Hi!
Remember when I used to be a person who drew pictures? No, me neither.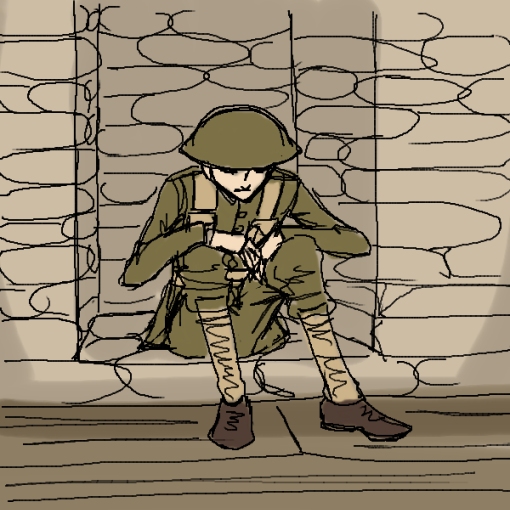 A very rough WWI drawing. (Hahaha. What do you mean they don't look like sandbags?) I've been reading a bit about WWI recently. Can you believe that it was nearly 100 years ago now? Wow. Horrific, horrific times. Apart from the uniforms though; the uniforms were cool.
Also, I have had my tablet for over a year now and this is only about the fifth time I've used it. Worthwhile purchase! Shhhh. I love my tablet, really.
In other news, I went to Helen's pre-Hen-do do on Friday. It was fun! We baked cupcakes and ate pizza and watched Flashdance. If you don't know the plot of Flashdance (Which I think will be a very very small number of people, but you never know) here is a handy summary:
- Girl is a welder by day and by night works in a bar full of greasy truckers who prefer artistic contemporary dance to seeing a lady get her baps out.
- She is so poor that she has to live in a massive warehouse.
- But what she really wants to do is dance at the conservatoire with all the poshos.
- I think some plot might happen in the middle. I wasn't paying attention.
- She does an amazing dance for her audition, but everyone agrees that it's not as good as Robert Webb's version.
Then we watched Confetti, which was not quite as hilarious as it could have been, given all the people that were in it, but it did contain Robert Webb's winky, which was welcome after all the sexual tension generated by that dancing.
2 comments
I'm sorry! But there are many subtle intrigues and diversions in the plot that didn't make it into my summary (at least, I think there are, I wasn't paying attention much) so you should still be able to get something out of it! I hope! D:
Also, thanks ♥
Oh my god. That is the plot to Flashdance! YOU RUINED IT FOR ME :[
I like the art, though. ♥