Posted by

Janine

on 05 Jan 2014 in blog
I'm back today with a more general post. Isn't this great? I think it's great. I've missed this. It's been so long!
Augh. If I ever talk about doing a distance-learning course on top of my full-time work again, please ask me to reconsider. This one was good, don't get me wrong, and it's going to be really relevant and useful to my work and I'm glad I've done it. But it took so much time! Coming home from work only to start studying again is miserable; especially if you're tired. At parts I felt like I was trying to swim through tar.
Still, now it's over! (Here's hoping I actually pass it.) I have so much free time and I'm spending all of it trying to run around and catch up on what I've missed. It may be a while before I'm fully up to speed again. (I may also have to do a tiny little bit of studying later in the year, just to finish things off, but not in January that's for sure!)
So, how was my Christmas? Mostly full of report and essay writing to be honest. Also watching Cooking with Dog and playing ridiculous computer games because studying isn't studying without a little bit of procrastination creeping in here and there.
I did have some breaks over Christmas though. I went to visit friends and family and it was nice. Yesterday (because it still counts as Christmas) I went to see James and Eppa and we ate homemade soup and scones while doing a jigsaw puzzle. Very relaxed but exactly what I needed. (Except for the aborted walk in the pouring rain. Thanks, guys, I didn't enjoy that part.)
Can we get to the presents now? I like doing the presents. That's what the spirit of Christmas is all about, right? That and eating copious amounts of cheese.
I got some lovely cards. Many of which were good. But my favourite one this year has to be the one hand-drawn by my Dad. It brightened my week.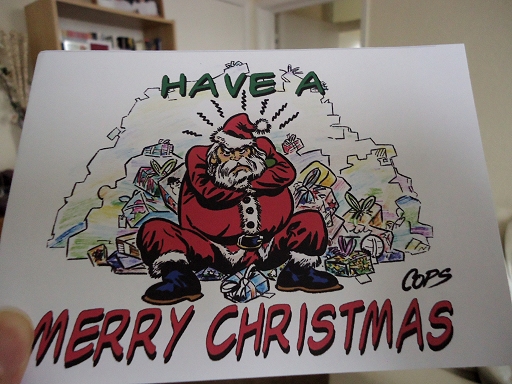 With a special mention going to the panda drawn by Mariya.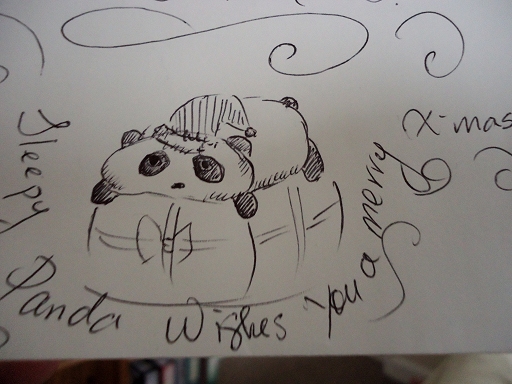 As for presents, I got lots of lovely things.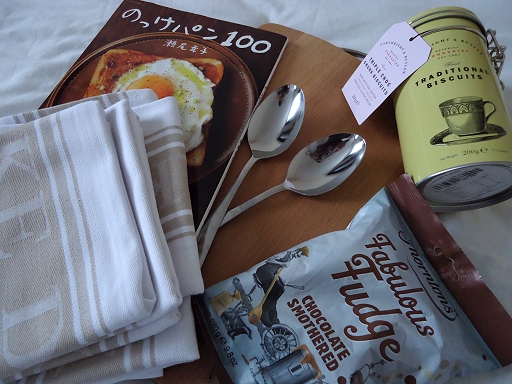 Kitchen stuff, including a Japanese book about toast with some tasty-looking pictures from Mariya. I am so excited to start cooking exciting stuff again.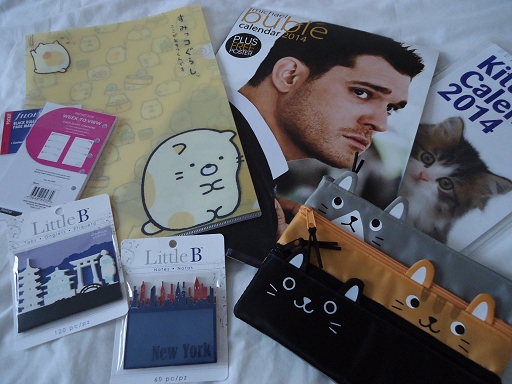 Stationary. I got the Michael Bublé calendar in a present lucky dip from Steve and Heather. It's 100% unofficial! I don't really know anything about Bublé. I suppose I should look up a video on YouTube or something? For now though, I've put up the calendar and the free poster. Just me and
Bublé (or Boobz as I like to call him) hanging out in the flat.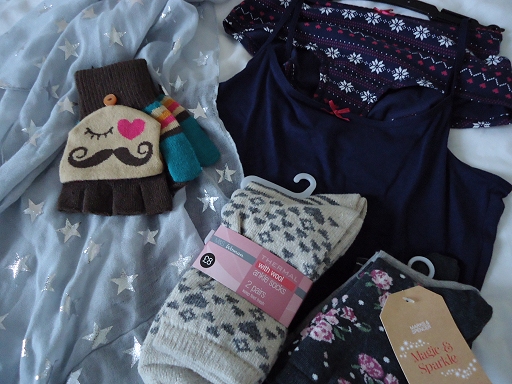 Clothes and underwear. The scarf and gloves come from Mariya. In fact, I'm wearing them both at the moment. I love being cosy warm in the winter.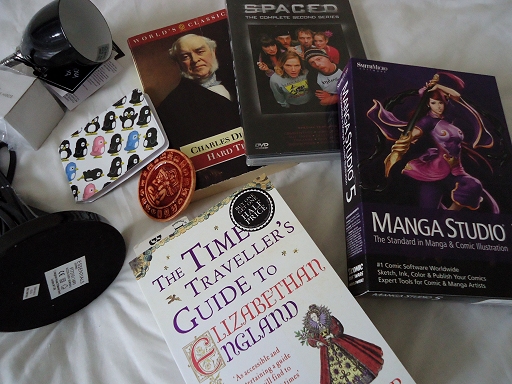 And other exciting stuff. The Time Traveller's Guide to Elizabethan England has hardly left my side since I received it. I am beginning to truly adore Ian Mortimer's history writing. It brings everything to life. And so many interesting facts! Did you know that if you start at Piccadilly Circus and walk along the road we now call Piccadilly that you'll eventually get to Bath? For serious! It was originally known as 'the road to Reading'. Aaa! Such a good book!
Another mention goes to the Manga Studio 5 software. It's a present from my Dad. Apparently some people he's worked with recommended it. At first I was sceptical. I hadn't heard of the software and I already have illustration software. Surely I didn't need more? I was so wrong. OMG. The software I currently use is 14 years old. And you don't realise quite how far illustration software has come until you try a new one. It is so easy to use! I've only tried arsing around on it so far, but everything I've drawn looks miles better than what I could have achieved before. The lines are so smooth! There are so many types of brushes! And because this is specific manga software some of the effects and brushes are so bloody kawaii. I can get automatic feathers and petals and flowers. I used to have to draw all that stuff by hand! Seriously. I haven't wanted to draw this much in years. I can't wait to get stuck in some more.
So, is there anything else I've been doing recently? Let me see.
National Portrait Gallery
I went to the National Portrait Gallery in October. It's one of the few fun things I've done in months so I loved it. Is it possible to get nostalgic about something only an hour later? Because that's what happened. I went with my parents for my Mum's birthday. We took the whole day and went through the whole gallery in chronological order. It was so great to see the fashions in clothing and painting evolving as we went along. And I was playing a game called 'who looks the prettiest in this room'? The winners for that one were Prince Rupert, John Constable (I'm a fan after my holiday earlier in the year) and Ira Aldridge.
Pride and Prejudice
I finished reading this book months back. It's one of those books where I was embarrassed to admit that I didn't really know much about it before. Personally, I'm not sure that Elizabeth and Darcy ever become that likeable but I still found myself caught up in the plot anyway. The best part though, is this tie-in documentary, Pride and Prejudice: Having a Ball, which I rewatched over Christmas and is so interesting (and not just because of the pretty costumes). Basically, it seems like Regency balls were a lot more like modern day clubs than you think. They're boiling hot, tiring, and everyone slowly gets pissed as the night goes on.
The Picture of Dorian Gray
I've been reading my way through the works of Oscar Wilde recently. It's a lot of fun. I feel like you could start a drinking game where you have to take a shot each time a rich, witty and beautiful gentleman dramatically throws himself down onto a divan and lights a cigarette. You would get drunk very quickly. I'm still reading my way through the book at the moment, but I finished The Picture of Dorian Gray a while back. I enjoyed it a lot, even if most of the characters are bastards. And. Seriously. I don't think I've ever read any story with such strong homoerotic overtones before. People weren't actually shocked when Oscar Wilde was convicted for homosexuality were they? I have never read men described so lovingly before, and I'm sad that I haven't because it's great to read. What? You want to describe how beautiful his lips are yet again? Why, go ahead. I'm not stopping you.
Yonderland
This is the new comedy outing from the team behind Horrible Histories. Here's the trailer. I had despaired that I would never be able to see it because it's on Sky. But I had forgotten that my parents have just gotten cable! We watched part of it while I was visiting for Christmas. My verdict so far? It's a little on the silly and childish side in places (which was right for Horrible Histories but maybe doesn't fit quite so much here) but it is enjoyable for the most part. And if you don't appreciate all the jokes, there is at least the bonus of watching Mat Baynton dance around in tight purple trousers.
I also discovered that my parents have access to Sleepy Hollow, which I've been very eager to check out. There wasn't enough time to watch it though. Not when we had plenty more episodes of Yonderland to get through.
Is that it? I think that's all I have to say today. I hope you all had nice Christmases and New Years too! I'll be back next week with more Sherlock. For now, it's time to go play at drawing stuff again.
6 comments
Oh piss. Friendship ruined by me! I'd better go chop some celery.
I'm not the one you need to worry about. Tran was practically in tears.
@Herr Nicholas
Sorry you didn't get a mention! #IGotDistractedByBublé
@Herr Commandant
It's not creepy to read things I have knowingly published online so no probs! Nice work with the assumed name though. I literally had no idea that this comment was from you. Wait. I mean: Who are you? Have we spoken before?
Manga Studio is clearly more popular than I thought! I'd never heard of it before. I can't really compare it to Photoshop, say, but against 14-year old software it is the best thing.
I have some more Austen waiting on my 'to read' pile so I'll have to see how I get on with that one too. I've found that with her writing I sometimes can't tell who's saying what, which is frustrating, but other than that it's fairly fun to read. What I found most interesting was to get a glimpse into the preoccupations of the women of Austen's social class at the time. (Read: better get married if you want anyone to take you seriously over the age of 23.)
I'm so glad you enjoyed The Time Traveller's Guide to Medieval England! I'd definitely class it as one of my favourite non-fiction books.
And if you've been watching Sleepy Hollow I'd love to know what you think. Is it any good?
Thanks for the mention #be-atch
(I am hoping that by spacing my comments widely and posting under an assumed name, you will not find me super-creepy.)
1. Your dad is a very talented artist! Man, wish I could draw like that.
2. Your gifts look very cute/cool. I am especially partial to the neat glittens. Christmas: It's Literally All About The Presents.
3. I have heard amazing things about Manga Studio; can't wait for new drawings!
4. I would love to visit the National Portrait Gallery, wow.
5. I am actually thinking about reading Pride & Prejudice! I might throw it on the pile, anyway. I just found this quote by Austen: "By not beginning the business of mothering quite so early in life, you will be young in Constitution, spirits, figure, and countenance while Ms. Wm. Hammond is growing old by confinements and nursing." Of which I approve completely, of course. Maybe I'll give the old girl another chance.
6. Oscar Wilde!
7. Mortimer's book on medieval England was really great, so I'm sure the Elizabethan iteration is excellent, too. I can't imagine being able to actually experience the contexts of his books in the first person. Like being in Middle-earth or something! Wait…
8. More Sherlock!
9. Sleepy Hollow!!
10. I'm just going to leave before I think of something to add as #10.
11. !!!!!!!!!!!!!