Fake Tales of San Francisco
Posted by

Janine

on 28 Aug 2005 in blog
No more work for me! (paid work that is)
I have now reverted back to the position of dirty slacker student. Sadly that means that I have no excuse not to do my coursework *shakes fist*
Moving swiftly on, a quiz:

You are Mokona Modoki.
Hyperactivity is your main trait; you constantly
annoy people, and they in turn annoy you.
But, in your circle of friends, you're admired for
your courage and loyalty.
You're quite friendly, always trying to make a
friend out of your enemy.
Which TSUBASA RESERVoir CHRoNiCLE character are you?
brought to you by Quizilla
I'm quite happy to get Mokona. You see, Mokona amuses me no end, but also annoys me at the same time. Really though, Mokona is great, with being not only cheerful all the time, even in dire situations, but also for being the most lewd character in the whole manga. No really, both of Mokona=Modoki are filthy; I blame the parents.
So yesterday I met up with Mariya and we did some fun stuff. Firstly, I decided to throw some of my money away in Virgin Records. I bought Silent Alarm by Bloc Party; I really didn't mean to, but it was only $10! There's no way the CD would be that cheap in the UK. I also bought (I think) part of the Tokyo Babylon OVA (it seems there are two stories, and I only got one). I have heard that it's not very good, but I don't care because it's got Subaru in it I want to watch it.
And then we went for lunch at a sushi place (my second time eating sushi!), it must be a really popular place because there was still a queue to get in when there was only 10 minutes before the place shut for lunch. This was in the Village, which is a very nice place. We then followed a man in drag (as you do) for a while, and ended up in a festival. It was cool, there was a good band playing salsa and stuff and also a rubbish band, made up of drag queens, none of whom could sing.
Finally we went to a hookah (I said hookah!) bar. I can honestly say that I've never been to anything like that before. It was cool though, we drank mint tea from an ornate teapot and smoked Rose flavour tobacco. I was a bit worried, seeing as how I've never smoked before, that I might look like a loser and start coughing all over the place, but I didn't so it was all good. Hookahs (I don't know what the plural of hookah would be) are cool, and it's the closest to being Yuuko that I think I'll get, without doing all that opium business. So we took photos!
Tsk! Don't put your shoes on the furniture!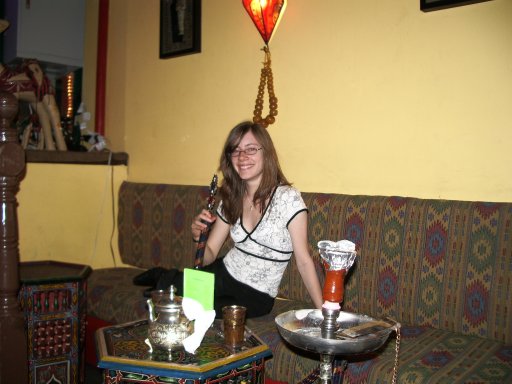 And today I went into Manhattan to do some fruitless clothes shopping. It's strange to think that it may have been my last trip into Manhattan before I go home. It's so soon now! I even dreamt about flying home last night, although for some silly reason due to local laws, we could only fly as far as New Jersey, the horror!
Edit: Added a link to Mariya's website on the links page. My FTP was playing up yesterday, so I couldn't add it before.
5 comments
Yes, yes I have. (Doesn't mean you should not try, or you can also get someone else to lick them for you ;)
Man, I'm jealous, I want to be Yuuko! Of course I'm nothing like her.
On a slightly related note: have you heard that it's actually impossible to lick your own elbow?
I took that quiz too and here's the result:
"you are Yuuko Ichihara.
To say the least, you're a bit strange; however, that doesn't keep you from a raging social life. You enjoy helping people, usually for what they can give you in return. Many of your exploits are successful; unfortunately, when you mess something up, you really mess it up. " I think that's pretty accurate. Though I cannot claim that my social life is "raging," but that's 'cause I keep it in check. ;)
Man, I am biting my elbows, or it is my nails,…?? well whatever that I did not take you shopping. If you want to meet up tomorrow (I know, I know…very late notice) I will willingly offer my extensive shopping expertiese.