Posted by

Janine

on 24 Aug 2010 in blog
Hi o/
I've been meaning to blog for ages, but I've just been so lazy!
It seems that all my mind is able to comprehend at the moment is Sherlock Sherlock Sherlock :D So I've not been very good company.
The final episode, by the way, was wonderful, and just as fast paced and funny as the first. But I shan't spoil you if you haven't seen it yet. And if you haven't, then why not?
The most important thing that I learnt from the final episode, of course, is that THAT COAT comes with A FUR COLLAR ATTACHMENT.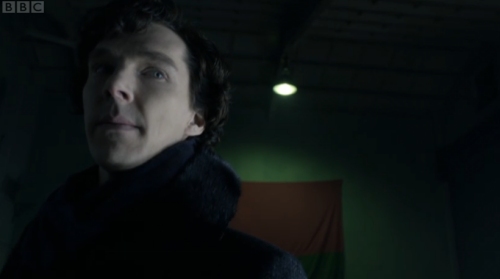 FUR. COLLAR. ATTACHMENT \o/
(In the words of Steve and James, from when I bought my own jacket with a fur collar attachment: That coat is rogering on all cylinders.)
In unrelated news, I really need to remember how awesome Peter Serafinowicz is. He's a very funny man.
Here, have a look at his video about markets.
10 comments
Queen of YouTubes! Not sure how I feel about that XD (Nonsense! I'm adding it to job application forms as we speak.)
OH GOD THAT WAS AWFUL. THAT WAS REALLY, REALLY AWFUL. THE CLOTHES! THE HAIR! THE LYRICS!! ACK.
It is always tremendously heart-warming when your boyfriend can't tell you he loves you with a straight face. Dump him, Kylie! He is probably gay! But, I kind of liked her shoes, which would cost about $289 (£187.65?) now, so I suppose it all worked out.
You are unquestionably the Queen of the YouTubes. Wow!
That would be beautiful.
Mrs Hudson would be all: Look at him, all happy. I always knew a girlfriend would cheer him up.
And John would pull his WTF face. A lot.
And then Sherlock and the precipice would sing a romantic duet and I've got a tear in my eye already.
Well, you know, I thought NumberWang was a real show for about the first thirty seconds there, so I'm going to go with: Yes? 473!
YAAAAAAAAAAY!!!
And we might well be seeing the cold master of logic and reason unexpectedly falling. But in love? Or over a precipice? Who can tell?
Or maybe he'll fall in love with a precipice?
"No, John, I won't hear it! She's marvelous. Especially that little rocky bit over there, that hangs down over the ledge. She loves me, John! Can't you see that? You're blind, all of you!"
A game show? Like NumberWang?
Ahaha. Actually, the email addresses are only revealed to me, when I get an email notification of each comment.
There is already going to be another series of Sherlock \o/
It was confirmed earlier this week (scroll down to where it says 'Recommissions')
Only three more episodes. That makes me kinda sad, but at least they're keeping the 90 minute format, which I quite enjoy because it gives them time to get their teeth into a story.
I just noticed that your comment form says, "Your email address will not be revealed on this site." Will it be revealed somewhere else? Possibly on a game show?! That would be kind of amazing, actually.
Well, pretty much everyone I know who's seen Sherlock thinks it's fabulous (I even burned it onto DVDs for my parents, who stayed up all night watching all three episodes in a row) — so maybe you're right, and the PBS run will silence the haters. (Not that they are an overwhelming majority; I read three negative-ish reviews on three personal blogs, which is far from a groundswell of bad press.)
…Although I do think it's a little odd that people are calling PBS a "cable channel." It is digital now, I guess, but it's about as far from cable as anybody could ever get; 'PBS' stands for 'Public Broadcasting Service,' and it's probably the only channel that everyone in the entire nation is guaranteed to receive at all times. It is famous for playing Sesame Street during the day, the BBC News in the afternoon, and lots of classy UK shows in the evening, most of which are either branded as Mystery! or Masterpiece Theatre. Sometimes PBS shows turn out to be unbelievably popular among the general population, and other times they only get watched by a handful of library-dwelling dweebs such as myself. But, I'm crossing my fingers for Sherlock. More fans = more seasons?
Especially seeing as most fight scenes seem to entail Sherlock getting strangled half to death, which is, you know, fine.
You always hurt the ones you love :]
I think there will be less criticism once the show airs on PBS. I was able to have a conversation with nearly everyone in my department at work about this show. Even my granddad is a fan! Of course, that probably has something to do with the fact that it was shown on BBC1 on a Sunday evening (it really is a primetime show). I don't know anything about PBS so I don't know if the show would have the same exposure that it does over here.
I almost agree about the muscle definition thing though XD Don't get me wrong, Cumberbatch wouldn't make nearly as convincing a Sherlock Holmes if he wasn't the lean person that he is, but there's something about him that's just a little too gangly to do a convincing fight scene.
A minor complaint, really. Especially seeing as most fight scenes seem to entail Sherlock getting strangled half to death, which is, you know, fine.
God, it's like almost everyone in the world is a fan of this show. It's a wonderful wonderful thing.
Only truly discerning, awesome people like it, I think. I have seen some advance criticism from US viewers, and most of it involves lard-assed reality-tv fans whining that Cumberbatch's Sherlock lacks muscle definition and blindingly white screw-in teeth. This is just how we roll in the US, sometimes. Maybe when Sherlock hits PBS in October, some smarter fangirls will come leaping out of the woodwork. (Lots of the people who like the show now are in the US, of course, but we had to strike preemptively and so we don't really count.) (Doctor Who is too high-concept for many Americans.) (We kind of suck, remember.)
MISTER SIMONELLI GASP YESSSS.
I am so glad that you're a fan of Sherlock too! (I was considering how I could force you to watch it, and now I don't have to!) God, it's like almost everyone in the world is a fan of this show. It's a wonderful wonderful thing.
I agree with you about Benedict Cumberbatch looking like a fairy. I'd never actually considered it in those terms before, but you are exactly right (it's the cheekbones). Of course, he is far too sane to be a real fairy. Maybe he's more of a Mr. Simonelli character (only, you know, even more arrogant).
Glad you liked the picture of Rochelle! Sadly, he's not my vampire; he was created by a friend, but I steal him every now and then to draw him in pretty outfits.
…SHERLOCK SHERLOCK SHERLOCK. ☆〜(ゝ。∂)
SHERLOCK!
Sherlock.
I am afraid to look at the websites, lest I explode. Also I am have some trouble finding the porn, no, wait, not porn, I didn't mean porn, I meant: fanfic.
That was a very pretty drawing of your vampire, btw. I forgot to mention it then and I feel that going back would look stalker-ish.
(Sherlock!)